Details for the Current Monkey Knife Fight Promo Code
Despite being one of the highest-rated DFS apps for nearly three NFL seasons, Monkey Knife Fight is far from a household name even amongst the most avid daily fantasy players. That has, in part, been due to a lack of desirable new player offers and promotions. This latest promo code offer from MKF aims to change that.
Over their first two years of operating, Monkey Knife Fight never offered a promotion other than their $5 free game offer. This is similar to Yahoo's advertising of $10 in bonus money, which has not changed in four years. Some companies don't incorporate lucrative bonus offers into their overall marketing strategy.
However, Monkey Knife Fight made the first major announcement that they now offer a 100% Deposit Match Bonus, Up to $100, for all new players! This is a fantastic offer and the perfect way for DFS players to double their initial bankroll. This goes to show that MKF is getting more and more serious about acquiring new players.
Use the Monkey Knife Fight promo code STRIKE when making your first deposit to cash in on this fabulous opportunity! You just can't beat getting free money to have action on all of your favorite sports.
Free Entry Bonus for Eat Watch Bet Readers
As an additional bonus to EatWatchBet subscribers, register using our exclusive promo code STRIKE to receive a free entry. This can be used to enter any $5 game on Monkey Knife Fight throughout the upcoming NFL and college football seasons. It can also be used during the PGA Tour FedEx Cup Playoffs, which will be going on for the next several weeks.
The second major announcement was their purchase of a long-time DFS staple, FantasyDraft. For over five years, FantasyDraft offered an innovative and highly competitive take on traditional salary cap DFS. After trying a members-only rake-free approach to the salary cap format that FanDuel and DraftKings both offer, FantasyDraft decided it was time for a major change and sold their player pool to Monkey Knife Fight.
Part of the deal was a great promo offer to existing FantasyDraft players: transfer your account funds to Monkey Knife Fight and receive a free entry into a $100 contest in which you compete against the house to win $550 in prizes. As a result of both promotions, MKF has seen its player pool grow substantially! It'll be interesting to see how much they can build on that high level of success in 2022.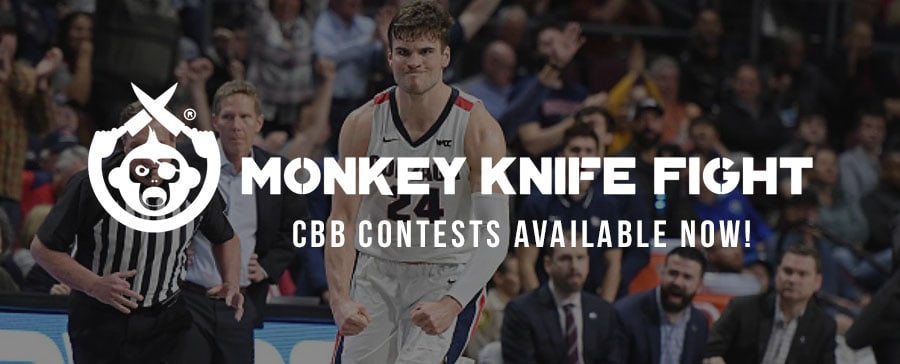 Monkey Knife Fight Promo Code Details
We keep the table below updated with the latest terms and conditions for our exclusive Monkey Knife Fight bonus offer. The terms currently attached to our promo code offer will expire once the NFL season ends. Check back often to see if MKF moves up in our DFS rankings.
| | |
| --- | --- |
| Promo Code | STRIKE |
| Promotion | 100% Deposit Bonus up to $100 and free $5 Contest Entry |
| Dates | Valid: 10/1/2022 | Expires: 10/31/2022 |
| Terms | New users only, minimum deposit and rollover requirement apply. |
How to Use a Monkey Knife Fight Promo Code
Monkey Knife Fight's promo code system is built right into their registration process, so using our promo code will be an essential step when creating your new account. Prior to registering and funding your account, we recommend reading through the current terms of service. Once you are ready to play, simply click on the 'Sign Up' button at the top of the page to get started.
After you create your account and verify your email address, you are ready to use our promo code and make your initial deposit on the Monkey Knife Fight site. It's super convenient to make a deposit, which can't be said for some other DFS sites. It's refreshing to see a DFS app that makes adding funds a simple process.
Once your account is funded, your bonus funds and free game entry can be found in your account. Both can be used to enter a contest directly from the game page. This is a fantastic way to get involved in all of the major sporting events in the world.
It is worth noting that your deposit bonus will be awarded in what's called MKF Dollars. Though they don't have any real cash value, you are able to use MKF Dollars in place of cash when signing up for any new contest. Be sure to use any MKF Dollars as soon as possible because they expire after three months.
Notice that we use the word game more with Monkey Knife Fight than we do with FanDuel and DraftKings. That is because Monkey Knife Fight offers a completely different take on daily fantasy sports than any of its major competitors. We recommend reading through the FAQ section of this page for a complete breakdown of how games work on MKF.
Tips for Winning at Monkey Knife Fight This Week
October at MKF means one thing: football! Whether its college football or the NFL, Monkey Knife Fight offers plenty of profitable opportunities to win BIG! Let's check out this week's sports schedule.
There are 16 games on the NFL Schedule for week 5. A couple of the top matchups include the Cowboys at Rams and the Bengals at Ravens. If you need help finding winners for any of your DFS games on Monkey Knife Fight, check out our NFL Props articles for all the latest and greatest tips!
If college football is more your thing, you'll be pleased with the lineup for Week 6 of the CFB season. Most of the Top 25 teams will be in action, but the games that will garner the most action will be Tennessee at LSU and Utah at UCLA. Monkey Knife Fight will have options available for More or Less, Rapid Fire, and Stat Shootout.
Last but certainly not least, The World Cup starts this month! Check out the latest World Cup Odds and some best bets before entering your action on Monkey Knife Fight.
By now, you probably have gathered that Monkey Knife Fight is neither truly daily fantasy sports nor sports wagering, so what exactly is it? We address this question and several others in the FAQ section below. As one of our highest-rated DFS products, we want to ensure all of our subscribers understand what it is MKF is and why we think it is such a ground-breaking product.
What is Monkey Knife Fight?

Monkey Knife Fight is prop-bet-based fantasy sports. It marries traditional prop bet sports wagering with daily fantasy sports. You do not play against other players; rather, all of the contests on Monkey Knife Fight are you vs. the house. This solves several competition problems that have plagued the DFS industry for years, including entry limits, high rake levels on GPP contests, and low odds of winning those GPP contests.

Is it easier to win on Monkey Knife Fight?

Yes, Monkey Knife Fight offers several contests that offer considerably better odds than any of the typical cash games you would find on FanDuel and DraftKings. For example, a typical PGA contest would have you pick either golfer A or golfer B to have a lower round. You would answer two of these questions, get both questions correct, and win 2.5x your entry fee. Nevertheless, the odds are clearly in the house's favor so play with discretion.

What terms are attached to a Monkey Knife Fight deposit bonus?

The terms attached to our current Monkey Knife Fight deposit bonus promotion are fairly straightforward. All of your bonus funds need to rollover a minimum of two times before you are eligible to withdraw them.

Is Monkey Knife Fight legal in the US?

With their unique format and young age (relative to FanDuel and DraftKings), Monkey Knife Fight is currently legal in fewer states than the other DFS websites we partner with. According to the Monkey Knife Fight website, their app is currently available in 37 of 50 US states as well as Canada.
How do I deposit and withdraw money from Monkey Knife Fight?

Like competitors FanDuel and DraftKings, our recommended method for funding your account is through PayPal. You can fund your Monkey Knife Fight account with credit cards or debit cards like Visa, Mastercard, Discover, and American Express. This will make withdrawing any winnings a much more straightforward process. Once you have linked your PayPal account, making deposits and withdrawals is a breeze and the money is always in the same place.

What game can I use my free entry on?

The free entry you receive when you register using our promo code can be used on any $5 Monkey Knife Fight contest. With MKF this means you can enter any contest you like, the payout simply changes based on the contest you choose.

What is the minimum age to play on Monkey Knife Fight?
The minimum age to play on Monkey Knife Fight depends on the state that you live. This can range from 18 to 21 years of age.
Who owns Monkey Knife Fight?
Bill Asher founded Monkey Knife Fight a few years ago. Bally's bought Monkey Knife Fight back in January of 2021. The app has continued to grow in popularity since then.
How quickly does Monkey Knife Fight process payouts?
Customers can choose to receive their withdrawal requests via e-check or paper check. E-check is the fastest method, as they are completed in only 3-5 days. A paper check can take up to 10 business days to arrive via snail mail. Withdrawals must be at least $20 and no more than $5,000.
Rapid Fire is one of the many types of bets that Monkey Knife Fight offers on its app. Instead of a standard Over or Under prop, you'll be asked to quickly select who you think will be the highest scorer of the two players listed. For example, you may bet that Russell Wilson will have more passing yards than Patrick Mahomes in Week 1 of the NFL season.
Stat Shootout is another fun game that MKF offers its clients. More and more players are entering this type of game each day. Here's a step-by-step guide on how it works.

Simply choose the game you want to wager on and click Stat Shootout. After doing this, you will be asked to draft three players to complete a certain prop (i.e., 0.5+ Home Runs). In this example, if all three players you drafted hit home runs, you'll score a huge payday!
Is Monkey Knife Fight legit?
Yes, MKF is one of the most reputable names in the daily fantasy sports industry. Though not quite a conglomerate like DraftKings and FanDuel, MKF is one of the best places for folks in the US to play DFS. Any serious DFS player should have MKF in their arsenal of choices.
What should I do if I or someone I know has a gambling problem?
If you or someone you know has a gambling problem and wants help, pick up the phone and call 1-800-GAMBLER. That will put you or your friend in touch with a trained professional that can help you treat your gambling problem.
Is my money safe with MKF?
Yes, the staff at MKF goes to great lengths to make sure that all of their clients' personal info and funds are safe and secure. They use the highest level of security possible, so you can rest easy knowing that your account is in good hands.
If you live in a state with legal sports betting, there are a wide variety of massive promo offers available this October. These promotions are each set to run throughout the 2022 NFL season. Follow the links below for more details.
New Daily Fantasy Sports players have more apps to choose from than ever. Several of these new apps feature new contest formats that simply were not available in the market even just one year ago. With such a competitive market, the promo code offers available in 2022 are also considerably better than what we have ever seen in the DFS industry. Our top two offers for October come from Vivid Picks and Underdog Fantasy:
Monkey Knife Fight Promo Review and Rating
We gave the current Monkey Knife Fight promo code offer an overall rating of 4.5 out of 5. While the $100 instant deposit match is significantly lower than the $500 you could receive with our FanDuel promo code, the terms attached to the deposit match are much more straightforward, and the product you receive is significantly different.
A DFS company like Monkey Knife Fight has a distinct advantage over its competition simply because there is no other fantasy product in the industry that rivals what they do. If you are looking for daily fantasy sports in the form of prop betting, MKF is what you are looking for. These folks offer different games and a plethora of fresh DFS options.
MKF has a fantastic mobile app that is available at the Apple App Store or the Google Play Store. The app is easy to download, easy to use, and has a ton of positive reviews online. MKF also has a solid desktop site as well for folks that prefer to go that route. Most DFS players are pleased with how easy it is to win money on MKF, as well as how simple entering contests is. In short, new customers love Monkey Knife Fight!
We love how easy the MKF app is to operate. Every sport that they offer games on is clearly displayed along the top of the app or website. After clicking on the sport you want to see, a schedule is displayed that shows what time each event starts.
As a result, they have gotten away with not offering the top promo code and deposit match offers. That being said, the fact that they were willing to roll out a $100 bonus in addition to the free entry shows that they are aggressively marketing to the US fantasy sports player. We expect MKF to possibly increase their bonus offer for new players before the 2022 football season kicks off.
As of October 2022, we have Monkey Knife Fight rated just outside of the top 5 daily fantasy sites for the rapidly approaching 2022 NFL season. That being said, we update these ratings daily, so check back often to see if Monkey Knife Fight makes any changes to improve their rating this season.
| Review | Underdog Fantasy Promo Code Offers |
| --- | --- |
| Details | Offering more contests and large payouts than any of their competitors, Monkey Knife Fight has perfected prop-based fantasy sports. However, they lag behind the competition when it comes to new player promotions. Their $100 deposit bonus is 20% of what FanDuel offers and the terms are not as friendly as sites like Underdog and Yahoo. With this in mind, our current 4.5 rating puts them in the middle of our DFS app rankings as we head towards the 2022 NFL season. |
| Author | Chris Lollis |
| Rating | 4.5 (out of 5) |