Miami Dolphins GM Chris Grier has done a masterful job of reworking a roster that overachieved to win 5 games in 2019. They enter the 2021 season with a win total set at 9.5 games. While a football team is always the sum of its parts, this season feels like it lies solely on the development of Tua Tagovailoa.
Coming off a near career-ending injury, Tua was shaky as a rookie, and on the year completed a league-worst 7 big-time throws. Prior to the injury and slow start last season, Tua's career trajectory had only been up following his arrival in the second half of the 2018 CFP National Championship game. Can he right the ship and carry Miami over its win total this season?
In this article, we will break down the Dolphins' offseason, both sides of the ball, and share a lean on the team's 2021 win total.

Place any $20 NFL Bet, Get $200 in Free Bets
Place any $20 NFL bet at PointsBet and get $200 in free bets if your team completes one pass. This one is guaranteed to cash! Here are the steps to lock in this offer:
1. Register at PointsBet
2. Use the promo code BVFBMULTI1
3. Place any $20 NFL bet
4. Get $200 in free bets
Miami Dolphins 2021 Offseason
Brian Flores' rebuild of the Miami Dolphins is already ahead of schedule in Year 2, after a somewhat surprising 10-6 campaign in 2020. They were a Week 17 win away from making the playoffs with a combination of Ryan Fitzpatrick and Tua Tagovailoa at the helm.
A trade during the 2021 NFL Draft put them at pick #6 where they drafted Jaylen Waddle out of Alabama. This wasn't unsurprising due to the Dolphins' need for an impact receiver, yet they might have missed out on a more important position by letting OT Penei Sewell slip to the Lions at #7. With pick #18 they selected high-upside but oft-injured EDGE/LB Jaelon Phillips.
They lost S Bobby McClain to the Football Team and let LB Kyle Van Noy go back to New England. They also cut FA Center Matt Skura, leaving their offensive line even younger than last season.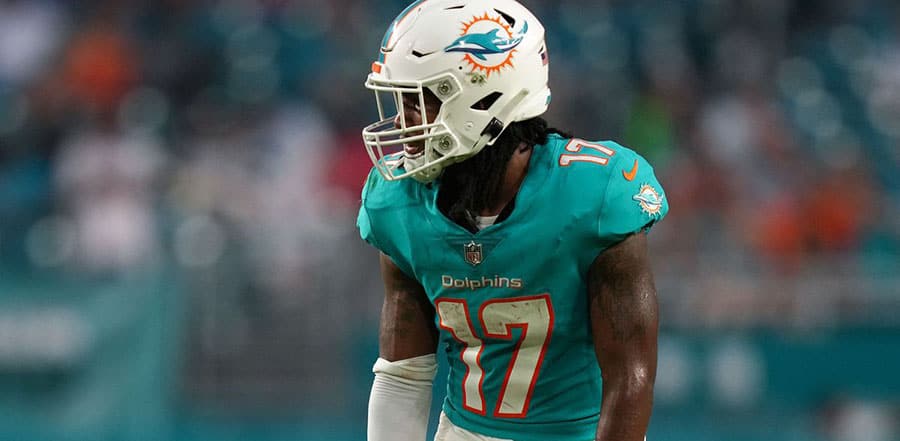 2021 Offense Outlook
The Miami offense is a tough one to protect. Let's start with the good. One of Miami's biggest holes was at Wide Receiver in 2020, with DeVante Parker leading the team with 793 yards. #2 Wide Receiver Preston Williams missed significant time with injury and will go into 2021 on the PUP list. Miami brought in WR Will Fuller, one of the better deep threats in the NFL. Fuller's downside has always been his durability, but when active, Fuller is one of the league's best in terms of release and separation from defenders.
The Dolphins also used the #6 pick on Jaylen Waddle, who is projected to start as a slot WR. Waddle is an incredible athlete with elite-level potential, however, it is yet to be seen if that potential can be unlocked in this offense.
The Dolphins should also be healthier at RB with the return of Myles Gaskin and the signing of Baltimore RB Malcolm Brown. Salvon Ahmed was serviceable in 2020 but is better suited behind a healthy Gaskin.
Moving over to the bad… The Dolphins offensive line situation is still in question. Last year they were a bottom-five unit in terms of protection. 2020 first-round pick Austin Jackson had a rough first season as the Dolphins' starting LT. They moved Robert Hunt inside to RG and drafted Notre Dame Tackle Luke Eichenberg and moved him to LG, both of which were good moves for overall production.
The Dolphins brought in Matt Skura from the Ravens to play Center but ultimately cut him as rosters condensed. Surprisingly, in 2020 QB Ryan Fitzpatrick was one of the best in the league under pressure, scoring as the top QB in terms of Football Outsider's DVOA on plays under pressure. Whether that was luck or skill from Fitz-magic, it's predictable that Tua Tagovailoa will not post the same success in 2021.
The Dolphins are technically still rebuilding, despite their 2020 success, so the long-term forecast is still positive on Flores' offensive line development. However, they will need big leaps forward and more talent in order to field a competitive unit in 2021.
And now, the unknown. Is Tua Tagovailoa ready to start in the NFL? Does he have what it takes to become an elite QB at this level and justify his draft position? My analysis in this department is a giant question mark. Despite putting up elite accuracy numbers at Alabama, Tua was in the bottom percentile of accuracy in 2020.
Tua seemed to shake off the long-term injury concern centered around his college career-ending hip injury, however, he did show a degree of rust (or nerves) when entered into the starting lineup. That being said, Brian Flores did not display a high level of confidence in his rookie QB. Flores' play calling was incredibly conservative and he even benched Tua at times due to poor performance.
It's not uncommon for a rookie QB to play with a condensed playbook, especially when given the job mid-season, however, Flores simply did not produce the optimal game script for victory during the 2020 season. Whether Tua truly has the talent to succeed in the NFL is yet to be seen, but regardless, Brian Flores is going to need to extend his trust over his Quarterback.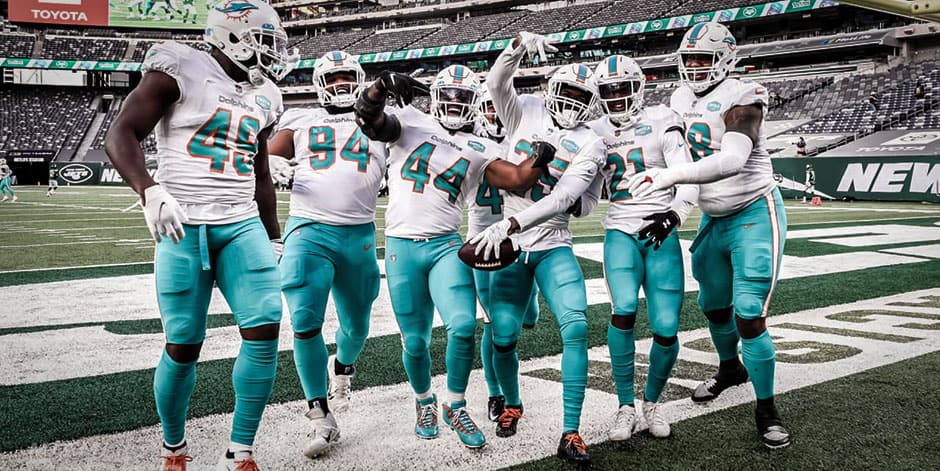 2021 Defense Outlook
The Miami Dolphins defense was a happy surprise in 2020, performing as the 11th best defense, in terms of defensive DVOA. The Dolphins dodged a bullet this offseason, restructuring the contract of star CB Xavien Howard after he initially requested a trade. Howard and Byron Jones proved to be one of the best man-to-man coverage units in the league in 2020.
To build upon this, Miami drafted Safety Jevon Phillips and EDGE/LB Jaelon Phillips. The Dolphins did lose S Bobby McClain in free agency which will deplete their depth at the position, despite addressing it in the draft.
My biggest concern with this Miami defense is potential regression. They were number one in the league in turnovers and were top five in pressure on opposing QB's. The Dolphins secondary might have the chops to remain strong, but the front seven feels even thinner than in 2020. The pressure rate seems unattainable, especially after losing Van Noy and trading away Shaq Lawson. (Mind you they traded Lawson to clear cap space and ended up cutting the return piece, Benadrick McKinney, due to an awkward scheme fit).
The Miami defense is built to play in a lot of nickel formation, so the lack of a star pass rusher isn't overly concerning. Justin Coleman from Detroit is an interesting addition, as he is predominantly a coverage LB which could serve well in Flores' DB blitz schemes. Coleman, though, has been disappointing thus far in the league and Miami will need to get more production out of him in order to justify the move.
Overall, I believe this unit is due for regression and while they will still field a competitive defense, we cannot expect the same turnover margin as 2020.
Dolphins Win Total Bet - Under 9.5
The Miami Dolphins rebuild is going along well, but a 9.5 win total number is simply too aggressive for this team. Although they hit the 10-win mark in a 16 game season last year, it is not necessarily indicated that they will reach that number again in 17 games.
I expect this team to get better overall, however, I don't believe this will immediately transfer over to their win total. One reason to go against my thinking is that their schedule is on the softer side, although they project as a middle-of-the-pack team, talent-wise.
Despite their relative "ease" of schedule, I only have them favorited in 8 of their 17 games in 2021. For those reasons I'm rolling with the UNDER 9.5 wins (good through -140) or UNDER 9 at +110 or better.
Browse Latest Articles