Details of Current MI Lottery Promo Code Offer
Michigan residents and visitors to the state can take advantage of this outstanding offer by registering this May with the promo code EWB. Keep in mind that this offer is for new Michigan Lottery players only.
We have updated the table below with further details about this bonus offer from the Michigan Lottery. Our promo code does not have an expiration date but the Michigan Lottery can change the details of the offer at any time.
| | |
| --- | --- |
| Promo Code: | EWB |
| Offer: | 50% Match on 1st 2 Deposits OR 25 Free Games |
| Offer Dates: | Offer valid through 5/31/2023 |
| Expiration Date: | Current offer has no expiration date |
| Terms: | New users only, must be 18+ years of age |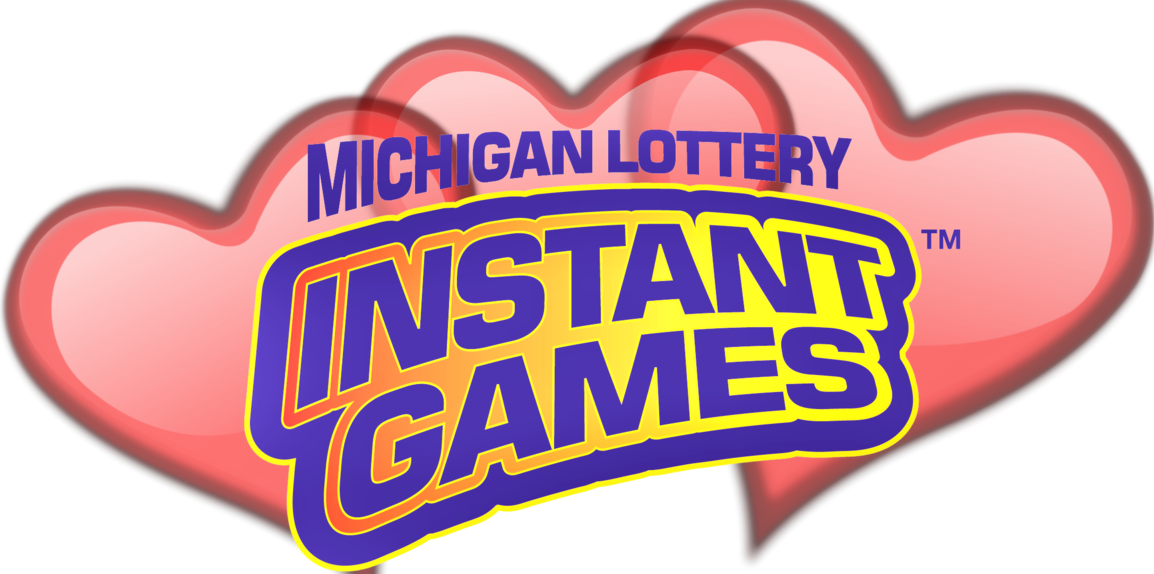 How to Use a Promo Code for the Michigan Lottery
Luckily, the Michigan Lottery makes the entire sign-up process a breeze, whether you are using the website or the app. If you have ever signed up at a Michigan sportsbook, the process will feel very familiar. Simply head over to the website or log in to the app.
Once you're there, click the green Register button in the top right-hand corner. You'll then be asked for your email, password, and promo code. This is where you'll put our promo code of EWB to receive either a 50% on your 1st 2 deposits OR 25 Free Games!
After entering all your personal information, you'll be ready to play all your favorite games like Wheel of Fortune or Love That Loot! One nice benefit of this promo is that you get to choose which welcome bonus you want! Lotteries aren't usually this generous, so Michigan residents should take advantage of this offer while they can!
How Does the Michigan Lottery Bonus Offer Stack Up Against Other States?
Michigan is ahead of the game when it comes to their lottery, as most states in the US don't even offer an online lottery option. Only 9 US states currently have an online lottery. Because of that, there aren't many bonus offers to compare with Michigan's.
The Michigan Lottery's 50% deposit match offer on your first 2 deposits isn't nearly as generous as Pennsylvania's. Michigan caps its offer at $200 while Pennsylvania's limit is $500. However, Michigan may decide to up the ante on its offer in the near future.
Even with the lower Deposit Match, the Michigan Lottery's bonus offer is still a pretty sweet deal. The bonus offer is a nice touch and it allows folks to try out the website and app with no risk.
Compare the current MI Lottery to the promo code offers from VA Lottery and PA Lottery. Unfortunately, Michigan residents can only use the Michigan app, but it is still good to know what other lottery apps are offering new players.
Michigan Lottery Online Games
Frankly, there are too many games to list here! Not only does the Michigan Lottery offer all the traditional instant win games like Golden Gala and Wheel of Fortune, but they also have some other fun options.
Road Trip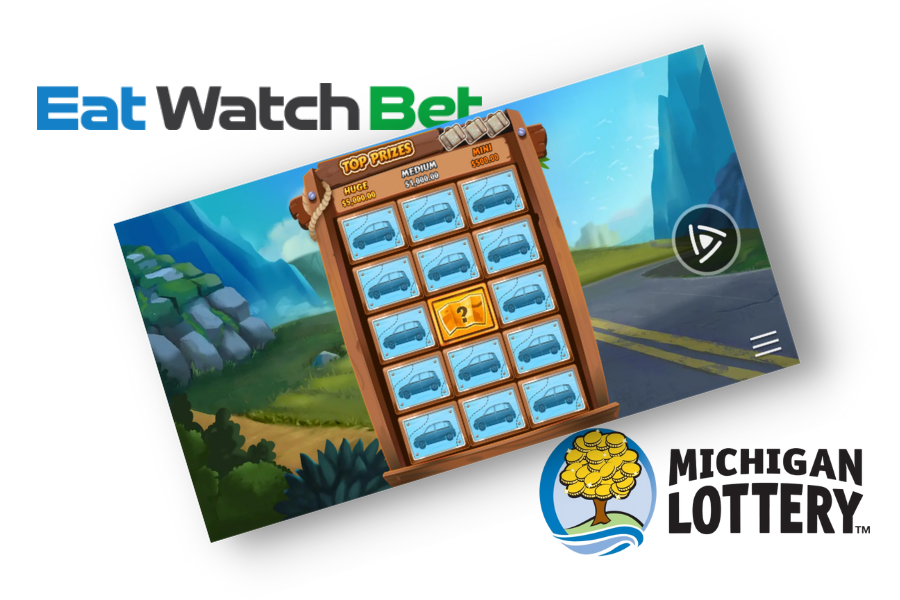 Road Trip is an exciting draw game that lets you purchase tickets for a chance to win big!
Reveal a hat, camera, sunglasses, binoculars, or water bottle symbol on your ticket, and you'll win the prize amount associated with it. Collect from non-winning tickets with the map symbol and you'll get the total amount collected. If you reveal three Bonus symbols in the same game, then you'll get to play the Bonus Game where you can open suitcases full of prizes like a wild symbol, mini top prize, medium top prize, or huge top prize. Match three prize amounts and walk away with that prize; match all three top prizes and take home the corresponding reward!
There are many more Michigan online lottery games just like Road Trip.
Fortunes of Cleopatra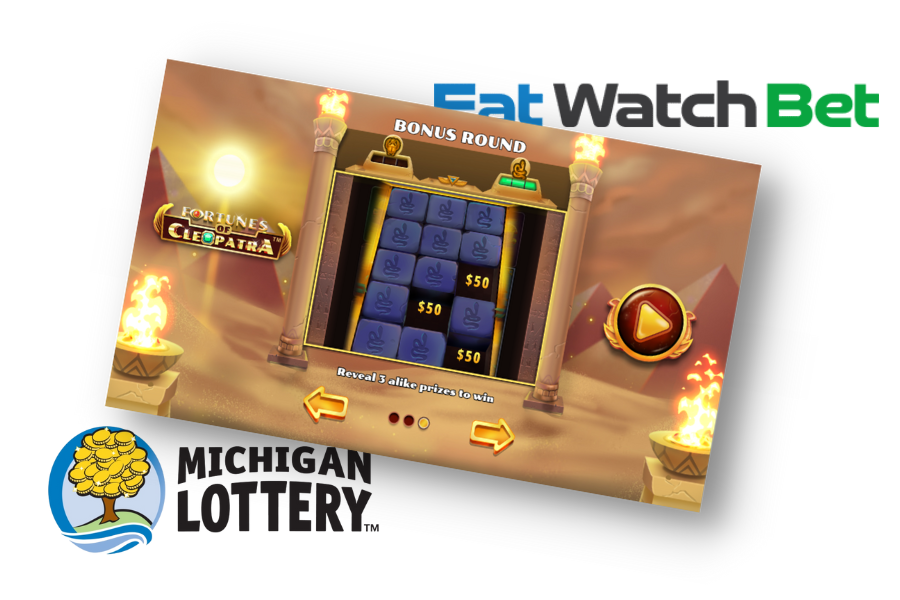 Fortunes of Cleopatra is an exciting online game card game with a 5x3 grid of symbols and Prize Table offering the chance to win big! Look out for wild symbols that fill an entire column with three wild symbols matching other paying symbols. Reveal three Extra Reveals (Scarab) or bonus (Snake) symbols to unlock 10 Extra Reveals or play the Bonus Game respectively, where you can open stones to reveal either a prize amount or wild symbol. Match three matching prize amounts (or two matching amounts and one wild) and win the corresponding reward!
For those that love to play games online that are exciting and exhilarating, Fortunes of Cleopatra is for you.
Queen of Diamonds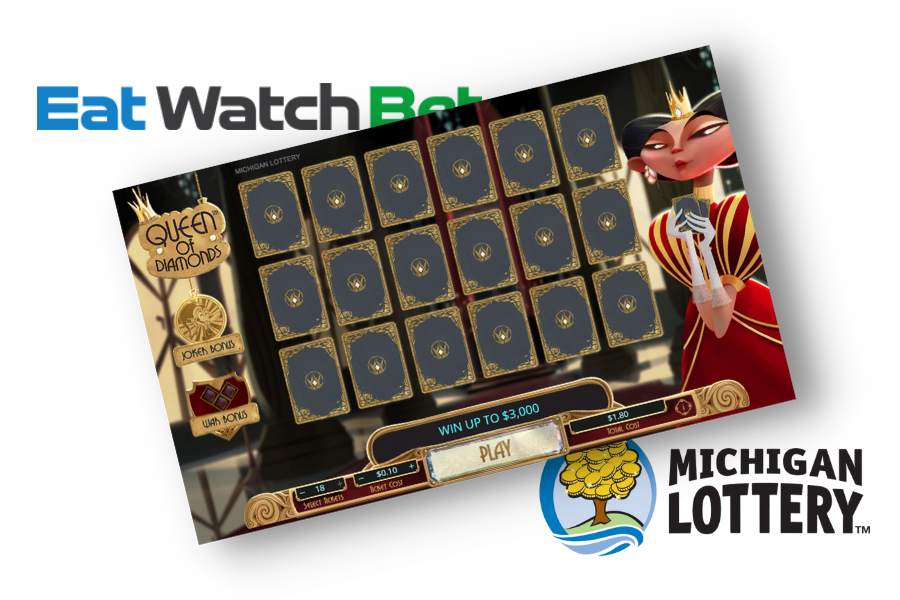 One of the most popular online lottery games the Michigan Lottery website has to offer is the Queen of Diamonds.
Queen of Diamonds offers up to 18 tickets in sets of three, each featuring a playing card and prize amount. Look out for the queen card to win the associated prize, three golden cards to enter the War Bonus Game, and a joker card to unlock the Joker Bonus Game. In the War Bonus Game you must click BATTLE for each round to reveal your card and the queen's - whoever has the higher card wins that round prize. Collect prizes in the Joker bonus round until revealing three X cards which ends the bonus round.
As we mentioned, there are many more instant games you can find on the Michigan Lottery mobile app or the webiste. The best part is that the Michigan Lottery bonus code we gave you works in these fun and entertaining games. So if you like online gaming, even if you like to get in to the action with free play games, you'll love all of the Michigan Lottery games they offer.

MI Lottery FAQs
Though the Great Lakes State has had a lottery since 1972, an online option wasn't made available until November of 2014. That's when Michigan became just the third state in the US to offer iLottery.
Since an iLottery is still a fairly new concept for Michigan residents, we'll go over some of the most common concerns in our FAQs section below.
Is the MI Lottery website legal?
Yes, the Michigan Lottery's website and app are held to the same standards and regulations as any traditional retail lottery location. Both the website and the app are run and overseen by the state.
Who can use the Michigan Lottery promo code?
All new players aged 18 and over in the state of Michigan can take advantage of our special offer by registering with the promo code EWB.
This isn't limited to only Michigan residents, though. Players from any state can purchase tickets on the Michigan Lottery app and website as long as they are physically located within the state.
Is the Michigan Lottery safe?
Absolutely! The Michigan Lottery website uses state of the art tech to ensure your data is protected.
The Michigan Lottery puts a lot of effort into protecting its players by using advanced encryption technology, customer support services, and other security protocols.
How do I create a Michigan Lottery account?
Creating a new account is easy! Simply go to the Michigan Lottery website or download the Michigan Lottery mobile app, click "sign up" and follow the instructions.
You will need to provide your name, address, date of birth, social security number, and valid email address in order to create an account. Once you have registered your Michigan online lottery account with the site or app you can start playing any of their exciting instant games or purchase tickets online.
Can I use my bonus funds for any game?
Yes, you can use your bonus funds on any eligible game offered on the Michigan Lottery's website or app. That includes scratch-offs and all your favorite draw games.
The Michigan Lottery promo code is an excellent way for new players to jump into the action without risking their own cash. Don't miss out on your chance to double your money or get 25 free games.
What online games can I play on the Michigan Lottery website and app?
The Michigan Lottery offers a plethora of different types of games on its website and app. Michigan residents and visitors can enjoy Instant Keno, Draw Games, Fast Cash, Pull Tab, Keno, Second Chance, raffle games and tons of games online.
The best part of all of these games? You can even use our Michigan Lottery coupon code to get a deposit bonus.
How much does it cost to play the Michigan Lottery online?
It depends on the type of game you want to play and the top prize that is offered. For example, folks in Michigan can play three different types of Keno and the price ranges from .10 to $20.00. The top prize payout on these Keno games is $500,000!
However, you can offset some of these costs if you use our MI Lottery promo code when you sign up.
How much does it cost to play Michigan Powerball?
For a single Michigan online lottery draw, it doesn't cost much at all.  The cost to play Powerball is $2, and there is an optional Power Play feature that can multiply non-jackpot prizes by two to ten times for an additional $1 per play. Just head over to the Michigan online lottery website and buy your PowerBall tickets. You can even sign up for the Michigan lottery subscription service.
Can a trust claim lottery winnings in Michigan?
In Michigan, it is not permitted for a trust or legal representative to claim a prize on behalf of a winner in order to keep their identity confidential. However, winners of in-state draw game jackpots are not required to publicly reveal their names to claim their prize. 
Where does Michigan lottery money go?
Almost all money spent on Lottery tickets is returned to the state to supplement state education programs, with contributions going towards the School Aid Fund and prizes and commissions being given out to players, vendors and retailers. 97% of all money they make goes directly to supporting education. This includes online lottery sales and revenue generated from Michigan lottery retailers
Who runs the Michigan Lottery?
The Michigan State Lottery is ran by Brian O. Neill, the Commissioner. Neill is legally blind and had previously worked with the Lottery in various roles, including Chief Deputy Commissioner, Deputy Commissioner for Administration, and Deputy Commissioner for Compliance & Legal Affairs. The Michigan lottery headquarters is located in Lansing, MI.
Does the Michigan Lottery have a customer support team?
Yes, customers can reach out to the Michigan Lottery customer support team by calling 1-844-887-6836. Folks can also address any questions or concerns via email or their live chat function. For more info, check out the Michigan Lottery FAQ page.
What if I have an online gambling problem?
If you or someone you know is experiencing difficulties with gambling, please contact 1-800-GAMBLER or the Michigan Department of Health and Human Services. The Michigan Lottery also takes responsible gaming seriously and encourages its players to monitor their play activities.
Michigan Lottery Review
It is rare to find a state lottery that offers its customers the chance to choose their bonus offer, and that is exactly what the Michigan Lottery has done. Residents of the Great Lakes State should choose the offer that best fits them.
The Michigan Lottery website is very well laid out and easy to navigate. The app currently has a 4.7 rating in the App Store with almost 47,000 total reviews. That high of a rating speaks volumes!
Our overall grade for the Michigan Lottery comes in at a respectable 4.5 (out of 5). If Michigan ever gets its 50% Deposit Match closer to Virginia's cap of $500, we'll bump their rating up considerably. But for the time being, download the Michigan lottery app or head over to any of the Michigan lottery retailers and buy your Michigan lottery tickets!
| Review | Michigan Lottery |
| --- | --- |
| Details | The folks of the Michigan Lottery sought to give their residents a high quality iLottery experience, and we think they succeeded. Not only do they offer a great sign-up bonus, but they have a wide variety of games to choose from. The app is easy to use, registration is quick and painless, and the 2 bonus choices are just the cherry on the top. |
| Author | Mike Noblin |
| Rating | 4.7 (out of 5) |