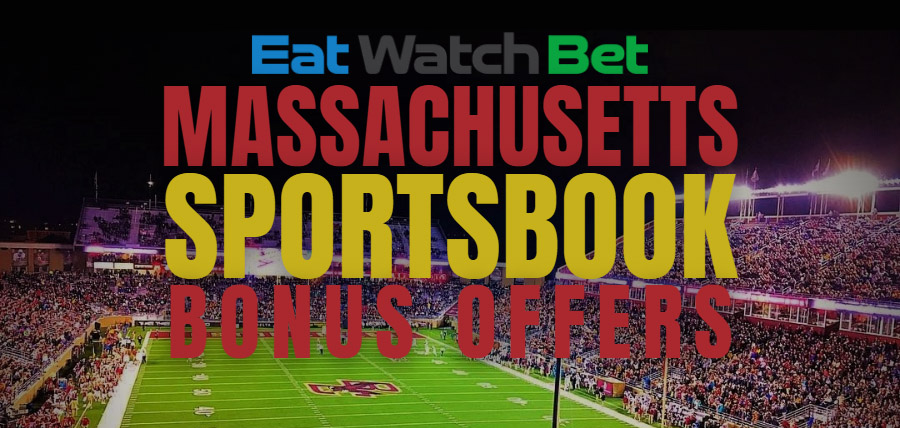 With retail sports betting recently becoming legal in Massachusetts, it was only a matter of time before we started seeing some amazing bonus offers to pop up.
According to the Massachusetts Gaming Commission, retail sports betting launched on January 31, 2023, while mobile sports betting apps launched on March 10th. With those dates came the bonuses and promos, which we'll cover extensively.
Massachusetts bettors must be 21+ and present to place wagers in the state. If you or a loved one is experiencing problems with gambling, call 1-800-327-5050 or visit www.mahelpline.org/problemgambling to speak with a trained specialist for free, 24/7. Further support can be obtained by visiting gamblinghelplinema.org or GameSenseMA.com.
Massachusetts Sportsbook Promo Codes - MA Bonuses 2023
This gives Massachusetts residents the perfect amount of time to look around for the best Massachusetts sports betting promos available so that they know the bests online sportsbooks to sign up for. Whether wanting to use one platform or many, knowing the best sign-up offers and bonus codes may help you make those decisions when navigating betting markets.
You'll be sure to receive a deposit bonus, 2nd Chance bet, bet credits, first bet insurance, or some other type of welcome bonus when you join one of these sites. Check out these Massachusetts sportsbook bonuses, no matter if you're a fan of the NFL, NBA, or any other major league sports.
When looking for which online sports betting platforms to use, you want to find reputable legal sports betting sites with great ongoing promotions. These next couple of sites fit those boxes and are ones sports bettors will definitely want to check out if they want a good Massachusetts sports betting promo.
BetMGM Massachusetts Bonus Code
BetMGM is a pretty big name when it comes to gambling and placing sports bets. They're a great retail sportsbook for those interested in watching sports through a live stream while betting and who want to have access to a robust rewards program.
For new users of BetMGM's online sports betting apps, you'll receive bet insurance up to $1000. This means if you lose your bet, then you'll receive up to $1,000 in bet credits equal to however much you lost. This is perfect for first-time betters who are worried about losing money.

FanDuel Massachusetts Promo Code
FanDuel is perfect for those looking for a large variety of bet types. With an easy-to-use mobile app and the option to cash out in the middle of certain games, it's a perfect sportsbook for those both familiar and unfamiliar with online sportsbooks.
FanDuel will be offering new users its iconic Bet $5 Get $200 deal. That means if you win or lose your first bet, you'll be given $200 in Bonus bets. This is perfect for those looking to try out online sportsbooks and online sports betting apps.
Frankly, FanDuel is one of our favorite sportsbooks. They have a clean and intuitive layout that makes placing bets a breeze. Plus, their constant promotions mean you can save money while having fun betting on sports.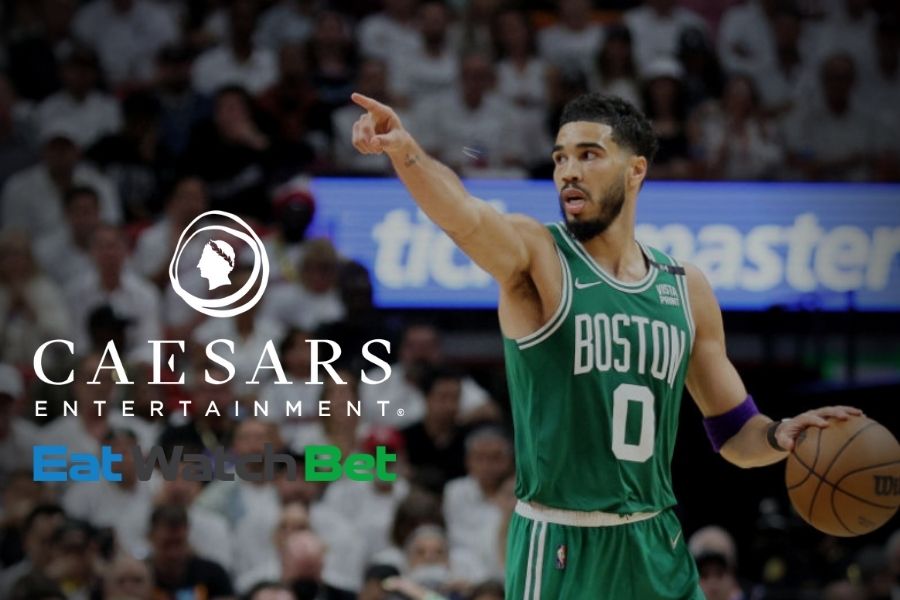 Caesars Sportsbook Massachusetts Promo Code
Caesars Sportsbook Massachusetts allows betting for a wide variety of different sporting leagues. They're a respected name in the industry, with a reputation dating back decades. Caesars Sportsbook also has a great rewards program which you can get a taste of from its great sign-up bonus.
Make a $50 bet and Get $250 in bonus bets. That means you won't have to worry about losing your bet if you want to check out Caesars Sportsbook. You'll also get tier credits and Reward credits on top of this already great offer.
DraftKings Massachusetts Promo Code
You'll be able to find awesome Massachusetts sports betting bonuses through DraftKings now that their sportsbook is available in Massachusetts. This is one of the best sportsbooks out there, with its wide variety of sports and leagues to bet on and consistent promotions.
For signing up, you'll be able to receive a $200 on your first $5 bet. That's a lot like an odds boost - but an insane boost. This is one of our favorite bonuses because it's both generous and easy to use. Plus, it encourages you to make a smart and informed bet without risking too much of your own money.
Overall, this is a great bonus for those looking to get into online sports betting in Massachusetts. With its large selection of markets and leagues, plus its ongoing promotions, DraftKings makes for a great pick when it comes to Massachusetts sports betting.
Common Types of Massachusetts Sports Betting Promotions
You may be eager to know what other types of promotions you can typically get from one of these sites. These bonuses are what help to make these sites so attractive to new and old customers alike.
Second Chance Bet
Second Chance bets are ones that give you a refund on your first bets, but only up to a certain amount. Typically, this is returned as a site credit, meaning you can only use it for sports betting on the site, and it can't be withdrawn as cash. This is great for people wanting a little first-bet insurance.
Deposit Bonuses
Deposit bonuses require you to make a deposit and bet a certain amount of that deposited money. However, they match a certain amount of that deposit up to a certain limit allowing you to get your own money back as a site credit.
Odds Boost
An odds boost allows you to have better than normal odds on certain bets. Some sports betting operators even let you pick the bet the odds boost is used on. However, you have to win the bet for the odds boost to really matter.
Bonus Bets
Bonus bets are for those looking to receive no-strings-attached Bonus money. Though this money can only be used as a site credit, you can still make more of your own money from just one sports betting promo code.
Tips for Using Your New Bonus Codes
If there's one thing we love, it's bonus codes and promotions. It's like getting free cash to bet on games and live in-game bets. However, before you jump in and start collecting those bonuses, we wanted to give you a few tips to help you out along the way.
Don't Forget to Use a Promo Code
If a sports betting site requires a promo code, don't forget to enter it upon sign-up. Otherwise, you may not get the bonus or promotion that was offered to you. This happens more often than you think, so always double-check that the code was entered correctly. There's no going back once you sign up and forget to use the bonus code or the promo code.
Read the Terms and Conditions
It's important to read all of the terms and conditions of any offer before accepting it. This ensures that you understand all of the rules so that there aren't any unwanted surprises down the line. For example, many sportsbooks have a timeline in which you must use the bonus code. If you don't meet this timeline, you won't be able to use the code and will miss out on a great opportunity.
Compare Offers
If you have a limited amount of money to deposit and can only pick one sportsbook, then it's best to compare the different offers available. Some may have better odds, while others will offer higher bonuses. Finding the perfect combination of these is key to making sure you get the most out of your sports betting experience. After all, you don't want to tie up your own cash on a sportsbook that's not for you.
Maximize the Bonus
As we mentioned, many sites do a 100% deposit match. That means if you deposit $100, they will give you an additional $100. That's a great way to get more bang for your buck. However, you want to ensure you get all the bonus money you can and max out any promotions that are available. That way, you can make the most of your sports betting experience. If you only deposit $100 on a $500 max, you're missing out on $400 that they were willing to give you.
Bet on the Sports You Know
Just like you, we get excited about betting on sports. Even games we don't understand or follow. However, you have to be careful not to get too wrapped up in the thrill of the bonus codes or promotions and start betting on sports you don't know. It's important to bet on the sports that you are already knowledgeable about and understand how they work. Otherwise, it can be easy to make bad bets that won't pay off in the end. That being said, make sure to use the sites that you can trust and stay away from those with a bad reputation.
Can I claim deposit bonuses at more than one sportsbook in Massachusetts?
You can create multiple accounts across various Massachusetts sportsbooks, whether online or through sports betting apps, allowing you to earn multiple welcome bonuses. Not only will you be able to use the multiple deals these sites offer, but you'll be able to see which sites are best for Massachusetts sports betting.
Massachusetts Online Sportsbook Bonuses Age Limit
The age limit for Massachusetts online sports betting will be 21 and older. That is the age limit for all other gambling activities in the state, and sports betting sites will likely enforce it.
Get Started With Massachusetts Sportsbook Promos
Promo codes and bonuses on legal sports betting sites are what help make MA online sports betting sites more attractive to customers. These help individuals figure out the best sports betting app for them with the sports betting promo codes they like the most.
There are many Massachusetts betting promo codes that both new and old customers in the betting markets will enjoy. Though many of the codes can't be redeemed at retail sportsbooks, they can still be utilized for online betting on a variety of sports betting sites. Claim online sportsbook bonuses today and get access to a variety of ongoing promotions throughout the Massachusetts online sports betting industry.
Now that Massachusetts bettors will be able to use legal online sportsbooks, be sure to enjoy sportsbook promo codes such as Second Chance bets, insurance for bet loses, bonus bets, deposit bonuses, welcome bonus bets, and specifically MA sports betting bonuses that'll let you get started on sports bets and sports wagering.
Massachusetts Sportsbook FAQs
We get tons of questions here at Eat Watch Bet about Massachusetts online sports betting. Here are a few of the most frequently asked questions—
How do I know if an online sportsbook is legal in Massachusetts?
All licensed legal sportsbooks will have their official license, given by the Massachusetts Gaming Commission (MGC), prominently displayed on their website. Additionally, these websites should have secure encryption technology in place to protect your data and are legally obligated to provide a safe environment for bettors.
Can I use my mobile device to bet on sports in Massachusetts?
Yes. Many legal Massachusetts sports betting sites offer mobile apps that you can download from the App Store or Google Play Store, allowing you to bet on sports from anywhere within the state. Additionally, many sites offer a mobile-friendly version of their website that allows you to access the same features and betting options as the desktop version.
Where can I find Massachusetts sports betting bonuses?
Most legal online sportsbooks in Massachusetts will offer various welcome bonuses, deposit bonuses, and bonus bets. We highlight not only the best sportsbooks across the state but also the best bonuses. So be sure to check out our list of the best Massachusetts sportsbook bonuses to get the most bang for your buck.
How old do I have to be to bet on sports in Massachusetts?
The legal age for online and retail sports betting in Massachusetts is 21. You must be this age or older to place bets with any licensed bookmaker, regardless of whether you're playing online or at a physical location. If you think you'll skirt around this limit, don't be too quick. Every site does a thorough verification process to make sure you are of age before they will let you bet.
Do I have to physically be in Massachusetts to bet on sports?
Yes. You must be physically located within the state of Massachusetts when placing bets with a licensed sportsbook. All sites use geolocation technology to make sure that you are within the borders of Massachusetts before they will let you bet. If you attempt to place a bet from outside the state, they'll deny your bet. Trust us, we've tried.
Can I use more than one bonus for a single sportsbook?
Unfortunately, no. You can only use one bonus at any given sportsbook. Additionally, you cannot transfer bonuses from one bookmaker to another, so make sure that the bonus you choose is the right one for you and your betting style.
Can I share the promo codes with friends and family?
Of course! Just because you're limited to a single use of a bonus doesn't mean you can't share the wealth with friends and family. Keep in mind that many sportsbooks have referral programs that will allow you to earn extra rewards for each person you bring in.
Do I have to pay taxes on sports betting winnings?
Yes, you are required to pay taxes on all sports betting winnings in Massachusetts. All legal bookmakers will report your winnings to the IRS, and you will need to declare them as income on your taxes. Despite this, Massachusetts has one of the more relaxed tax rates. Their current tax rates are 15% for retail sportsbook winnings and 20% for online sportsbook winnings. So if you do have a big win, you won't be hit too hard like some other states - looking at you, New York!