How to Play DFS at Lucra
Lucra is disrupting the DFS in a good way! Their unique philosophy and business model allows players to wager against each other instead of the sportsbook. To get started with Lucra, here are 3 easy steps:
1. Download the App
Lucra offers a phenomenal app for any iOS device. Unfortunately, they do not offer an app for Android, but they plan on setting that up in the near future.
2. Use the Promo Code EWB
Since Lucra is a relatively new DFS app, they are offering all new players a free $10! The crazy thing is you don't even have to make a deposit. Just enter your personal info and use the EWB promo code.
3. Use the Free $10 on Any Contest
After receiving your $10 in bonus funds, use the search button on the app to find a contest that piques your interest. If you don't see anything you like, you can click the Create A Contest button to come up with your own wager.
Where states offer Lucra?
Lucra has been approved in 37 states: Alabama, Alaska, California, Colorado, Connecticut, Delaware, Florida, Georgia, Hawaii, Idaho, Illinois, Indiana, Kansas, Kentucky, Maine, Massachusetts, Minnesota, Mississippi, Missouri, Nebraska, New Hampshire, New Mexico, New York, North Carolina, North Dakota, Ohio, Oklahoma, Oregon, Pennsylvania, Rhode Island, South Dakota, Texas, Utah, Virginia, West Virginia, Wisconsin, and Wyoming! Lucra is also legal in DC!
In addition to living in an eligible state, players must meet the age requirement for their state. This is usually 18 years of age, but could be 19 or 21 depending on your state. Lucra accepts all major credit cards and debit cards.
Details for Current Lucra Sports Promo Code Offers
Lucra Sports is changing the way we play fantasy sports and bet on player props with one sleek app. Rather than compete in traditional salary cap contests filled with sharks and max-entry players, compete against one opponent in player prop style contests. It's so refreshing to see a new DFS company that thinks outside the box and tries to bring something new to the market!
To attract new players, Lucra is offering $10 in free play with no deposit required to anyone who signs up with the promo code EWB. If you are ready to try something new and start winning more often then Lucra is for you.
| | |
| --- | --- |
| Fantasy App | Lucra Sports |
| Promo Code | EWB |
| Bonus Offer | $10 free on registration |
| Terms | New players only, no deposit required. |
| Last Verified | March 2, 2023 |
Lucra Rewards Program Review and Tips
Lucra has a stellar rewards program, which is impressive for a newer DFS app. Players are awarded 5 points for every referral they get and 1 point for every $20 they bet.
Once enough points are accumulated, players can visit the Lucra Clubhouse to redeem their points for some cool swag or Lucra Bucks. There are five different prize levels:
Rookie: 10 Points: $10 in Lucra Bucks or $25 in Lucra Apparel

Starter: 25 Points: $30 gift card or $20 in Lucra Bucks

All-Star:50 Points: $50 in apparel or $30 in Lucra Bucks

MVP: 75 Points: $50 in apparel or $50 in Lucra Bucks

HOF: 100 Points: $100 in either apparel or Lucra Bucks
Lucra Bucks can be used on the app for wagering. In a sense, they function like Free Bets would on a sportsbook app. Everyone is raving about the clothing options that Lucra offers. Players can buy t-shirts, hats, hoodies, joggers, and other slick-looking items.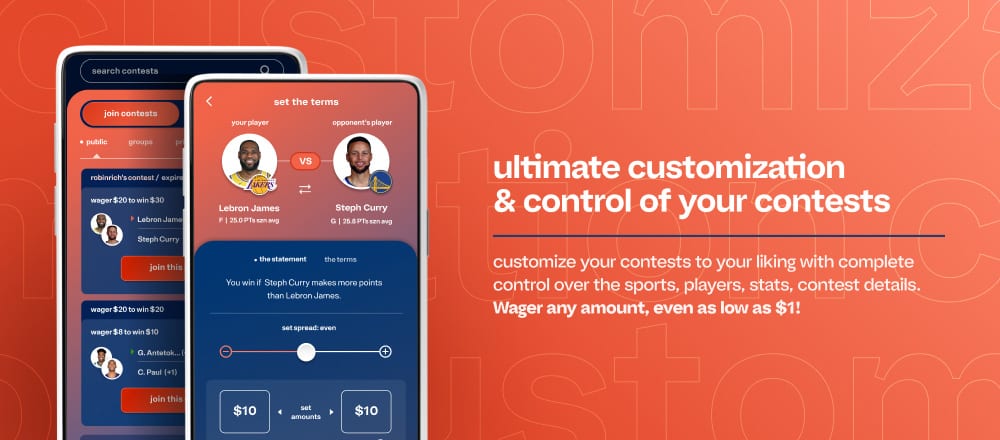 How is Lucra Sports Different from Traditional Daily Fantasy Sports Apps?
While the prop contests at Lucra may not feel incredibly different from what PrizePicks and Underdog offer, they have in fact revolutionized the way these apps work. Rather than play against the house, on the house's terms, you play against other sports fans, on your terms.
Imagine taking your smack talk to the next level by challenging your buddies to a friendly competition. Not only that, you can win money while you're at it!
The idea of this DFS platform is brilliant for several reasons. First, Lucra has to stake nothing. Wagers on Lucra work exactly as they would if you were betting with a friend. Second, growth is built into the business model. While the contests on Lucra are fun, they are more fun when you challenge a friend, smack talk to one another, and track each other's overall record.
While Lucra is using real money stakes, the wagering terms are extremely simple and easy to understand for even the most casual fans. The app calls itself social-first and aims to bring social engagement in sports wagering to the next level.
"Winning is fun, beating your friends is better" is the company's motto as they bring a vast offering of skill-based contests to their user's smartphones. Anyone can design a contest across multiple games or even different sports and challenge their friends. You can create match ups to compete for real money and bragging rights.
Everything is fully customizable and Lucra's public contest feed makes it easy for fans to find new opponents within the app. Contests within the app are always head-to-head, and the built-in prop tool even lets users race athletes from different sports against each other (for example James Harden will have two more fouls than the number of Tom Brady's touchdown passes).
With the vast array of customization options, Lucra users can get more creative than we've ever seen in traditional sports betting.
Will Social Betting Work for Lucra?
Early findings show that each Lucra user has referred 2 new users to the platform on average and an average user has a network of more than four friends. Keeping the social engagement between players should help Lucra to keep the marketing cost and the user churn down.
The developers behind Lucra are hoping that the app can dramatically expand the sports betting market, catering to the more casual users. Based on three weeks of pre-release data, the team behind Lucra thinks that they might have something special on their hands. Almost 45% of Lucra users could grow their bankroll in the early going and more than half of the user base has won a contest.
The platform also seems extremely approachable with the average amount wagered in Lucra contests hovering around $10. A typical NBA slate has no shortage of contests and games available in the $5-$20 range.
This low-stakes, casual sports betting experience also helps the app to reach a wide array of users. Over 15% of Lucra's active users are women, which is close to five times as much as the female userbase of your everyday sportsbook.
Transparency is also key for the developers of Lucra. Each user can see the marketplace fees associated with creating contests and these fees are the lowest amongst similar apps on the market.
Lucra recently announced a $10 million Series A investment led by Raptor Group, with individual investors including Milwaukee Bucks owner Marc Lasry, professional tennis player John Isner, and Buffalo Bills wide receiver Emmanuel Sanders. After changing the way DFS is played in 2021, we expect to see even more innovation and growth out of Lucra in 2023.
Lucra Sports FAQs
Since Lucra is the first peer-to-peer sports gaming app in the world, a lot of folks may have questions about how they operate. In this section, we'll dive into some of the most commonly asked questions to arm you with the information you need.
How much capital has Lucra Sports raised so far?
Since being founded in 2019, Lucra has raised over $11.6 million in capital. This just goes to show how strongly some folks feel about Lucra's potential in the marketplace.
How many states is Lucra available in?
As of March of 2023, Lucra is available in 37 states as well as the District of Columbia.
What withdrawal options does Lucra offer their players?
Folks who request a payout can opt to receive a direct deposit or a paper check in the mail. Direct deposits only take 3-5 business days to complete while paper checks can take up to 10 days.
How does Lucra benefit the player?
There are several benefits to playing with Lucra. The two main positives are paying less juice and getting to bet directly against your friends.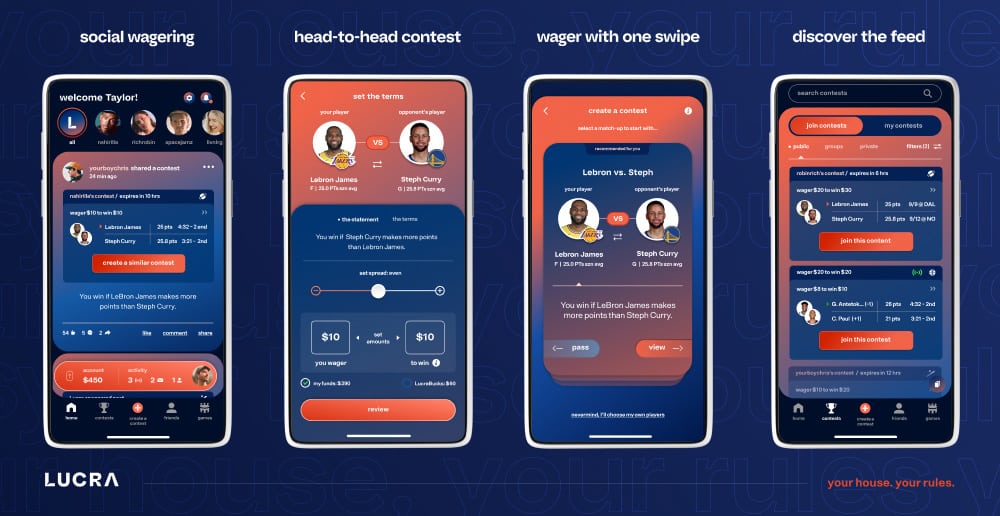 Lucra Promo Code: Pros and Cons
Lucra is disrupting the DFS industry in a good way. They know that most folks prefer to play DFS contests against one person instead of millions. Let's see how their bonus offer stacks up.
Pros for the Current Lucra Bonus
Lucra is currently offering the only no deposit required bonus in the industry.
Get $10 just for registering on the Lucra app.
Offer allows new players to try the app without having to deposit.
The perfect DFS choice for fantasy players looking to play against friends.
Cons for the Current Lucra Bonus
App makes it hard to find the right contest.
Social betting has no proven history.
App is only available on iOS devices currently.
Lucra Sports Review and Rating
If you have not already noticed, we are huge fans of what Lucra is building. The app itself looks great, and the registration and cashier features are well thought out.
That being said, the overall UX could use some improvements. Contest filtering is one area we would like to see addressed. That being said, the app has gotten better with every update and it's clear the team is building a product that is going to be a real force in the DFS industry.
| Review | Lucra Sports |
| --- | --- |
| Details | Lucra Sports has quietly built one of the best fantasy products we have tested in recent years. The in-app experience is already nearly flawless and the concept of eliminating the house is something players are going to love. Combine that with the first of its kind social aspect and we think Lucra is the next big thing in fantasy. The best part for readers that have not yet signed up is that you can try the app for free with the current $10 no deposit bonus offer. |
| Author | Chris Lollis |
| Rating | 4.9 (out of 5) |