This is certainly shaping up to be a fantastic weekend of sports. We've got the PGA Tour at Bay Hill for the Arnold Palmer Invitational, the start of some of the conference tournaments in college hoops, and UFC 285 in Las Vegas, Nevada! The main card of UFC 285 starts at 10 pm Eastern Time on Saturday, March 4.
The main card features 5 fights and ends with an incredible heavyweight matchup of Jon Jones vs. Ciryl Gane. Jones is currently a -166 favorite over at FanDuel Sportsbook. For those of you who are wondering, here's how to stream UFC 285.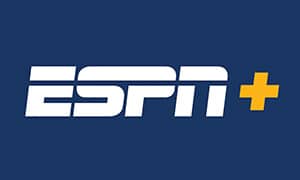 Stream the Prelims Free with ESPN+
Or Get the PPV Event and 1 Year of ESPN+ for Just $124.98
Best Way to Stream UFC 285: ESPN+ and PPV
The best way to stream UFC 285 is simple because the only way to stream it is with an ESPN+ subscription. Viewers have the choice of paying $9.99 a month or a yearly fee of $99.99. Going the yearly payment route instead of monthly will save around $20.
ESPN+ has a ton of cool features that all hardcore sports fans will appreciate. For example, ESPN+ carries exclusive coverage of PGA Tour events, out-of-market MLB games, NHL coverage, and coverage of La Liga and Bundesliga soccer matches. Subscribers also get access to the entire ESPN 30 For 30 lineup, which is highly entertaining for all types of avid sports fans.
Unfortunately, folks that want to watch UFC 285 in its entirety will have to also pay a Pay-Per-View fee of $79.99. It's kind of a hefty price tag, but consider having a few friends over to split the cost with you. Splitting up the price among 4 people brings the cost down to only $20 per person.
Thankfully, ESPN Plus is currently offering a bundling option for new subscribers. Folks can get a full year of ESPN Plus and the UFC 285 Pay-Per-View for only $124.98. That option provides maximum savings, and people can enjoy all of the perks of ESPN Plus for an entire year!
What kind of UFC 285 coverage does ESPN+ give without paying the PPV price?
Folks who have an ESPN+ subscription but choose not to pay the $79.99 pay-per-view price will still get to see a large portion of UFC 285. However, they will only be able to watch the Early Prelims and Prelims, which will air from 6 pm to 10 pm Eastern Time on ESPN, ESPN+, and ESPN Deportes. Once the main card of UFC 285 starts, only people who paid the pay-per-view price can watch.
Here is the Early Prelim lineup for UFC 285:
Ian Machado Garry vs. Song Kenan
Mana Martinez vs. Cameron Saaiman
Jessica Penne vs. Tabatha Ricci
Da'Mon Blackshear vs. Farid Basharat
Esteban Ribovics vs. Loik Radzhabov
Also, here is the Prelim lineup for UFC 285:
Cody Garbrandt vs. Trevin Jones
Derek Brunson vs. Dricus Du Plessis
Viviane Araujo vs. Amanda Ribas
Julian Marquez vs. Marc-Andre Barriault
So, as you can see, the ESPN+ subscription alone will get you 9 fights of UFC 285. That's a pretty good chunk of UFC coverage for only $9.99 per month. That's one of the reasons we highly recommend ESPN+ to all devoted MMA fans.
What does the main card look like for UFC 285?
We get it! You hate to pay the $79.99 unless you're sure to see some amazing matches. The main card of UFC 285 is fantastic, as it includes:
Bo Nickal vs. Jamie Pickett
Mateusz Gamrot vs. Jalin Turner
Geoff Neal vs. Shavkat Rakhmonov
Women's Flyweight Title: Valentina Shevchenko vs. Alexa Grasso
Men's Heavyweight Title: Jon Jones vs. Ciryl Gane
Obviously, the main event of the evening will be the Heavyweight Title Bout between Jones and Gane. Both fighters are 6-4 and around 240 pounds, and they've both only been defeated once in their respective careers. Jones has a nice 3.5-inch edge in the reach department, which could come in handy for him in this bout.
Oddsmakers aren't expecting much of a battle for the Women's Flyweight title. Valentina Shevchenko is currently a -650 favorite over Alexa Grasso at Caesars Sportsbook. Can Grasso shock the world and pull off the big upset?
Another interesting matchup will be the lightweight fight between Mateusz Gamrot and Jalin Turner. Gamrot is a pretty heavy favorite of -210 over at DraftKings, but fight fans shouldn't sleep on Turner. The 6-3, 155.5 pounder has a massive 77-inch reach, which gives him a 6.5-inch advantage over the shorter Gamrot. Turner has been beaten 5 times in his career, but he's more than capable of pulling off the upset.
So, does the UFC 285 main card justify the $79.99 pay-per-view price tag? Absolutely! It's not that often that you get to take in 2 Main Events on the same card! Enjoy the action, and best of luck if you're placing any bets!