The Kansas City Chiefs will be facing off against the Baltimore Ravens in a highly anticipated Sunday Night Football matchup. The Chiefs are looking to continue their undefeated season with another high-quality win while the Ravens are looking to bounce back from a tough overtime loss to the Las Vegas Raiders. Kansas City will be traveling to Baltimore for the contest that will kick off at 8:20 on NBC. While this is only a week two matchup, there is a lot riding on this game.
The Ravens are in one of the most competitive divisions in the entire NFL and every game will matter for them in terms of winning that division and their playoff seeding. The Chiefs are looking to continue their impressive win in week one and carry on their revenge tour after their Super Bowl loss to the Tampa Bay Buccaneers.

Bet $20 on Any Week 2 NFL Game and Get $200 Free
PointsBet is offering new players a $200 bonus on any $20 NFL or College Football bet. Follow these steps to take advantage of this offer before it is gone:
1. Register at PointsBet
2. Use the promo code BVFBMULTI1
3. Place any $20 bet
4. Get $200 in free bets
Current Odds and Line Movement
This should be a good game to close out the Sunday slate, however, don't wait to get your bets in if you are interested in betting the Chiefs or the under. The odds for this matchup have moved from Baltimore +1 to as high as Baltimore +4. The total has been as high as 57 points but is currently sitting at 54.5.
The odds below show you the best number (or lowest juice) available for every bet you can make on this Chiefs/Ravens matchup:
Best Odds for Kansas City Chiefs at Baltimore Ravens - 9/19/2021
Shop Live Odds for Every NFL Game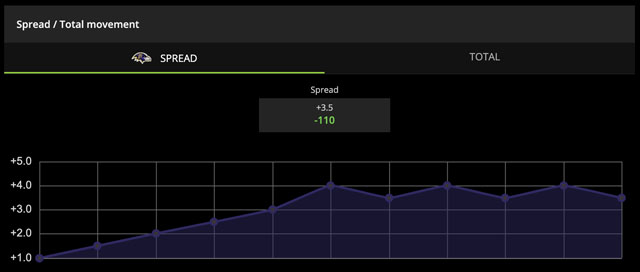 What to Expect from Kansas City in Week 2
The Kansas City Chiefs are coming off of a very impressive win against the Cleveland Browns. It appeared like the Browns may get the best of the Chiefs in the first half. However, Kansas City buckled down and forced two turnovers. That sealed the game for them. Their passing offense looked as good as ever against a very talented Browns secondary.
Despite having Denzel Ward guarding him for a good chunk of the game, Tyreke Hill still finished the contest with eleven catches for 197 yards and a touchdown. Travis Kelce had a very solid game as well, finishing with seven catches for 71 yards and two touchdowns. The Cheifs steered clear of the running game which may become a common theme for the season. Their featured back Clyde Edwards-Helaire only had 11 touches. They will be looking to and likely will continue this offensive domination in week two.
The Chiefs' defense held their own against an elite Browns' offense. They struggled a bit against the run, giving up 5.5 yards per carry to both Nick Chubb and Kareem Hunt, however, they will not face a running back rotation of that caliber again this season unless they face off against the Browns in the playoffs. They did not allow the Browns to get into the endzone through the air.
However, they did not make Baker Mayfield's life too difficult either. He completed 21 of his 28 passing attempts and only threw one interception. Along with this, the Chiefs front four struggled to get much pressure on Mayfield either. No one on the Chiefs recorded a single sack throughout the course of the game. However, the Browns have a very talented offensive line and the Chiefs pass rush will have an easier task in front of them in week two. While they will likely not bring the Ravens' offense to an absolute standstill, they should have more success than they did in week one.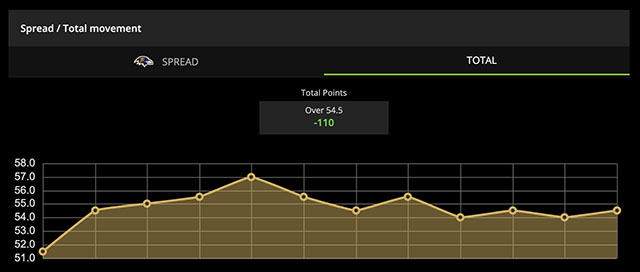 What to Expect from Baltimore in Week 2
The Baltimore Ravens had a very tough loss in week one. They forced their game against the Raiders to go to overtime and had a chance to steal a week one win after a goal-line stop. However, all hope was lost after a Lamar Jackson fumble that sealed the game. This was not a bad performance by the Ravens by any means. They were coming into the game with their first and second string running backs out with injury. This is a big hit to any team, however, with the Ravens being one of the most run dominant offenses in the entire NFL, it makes the losses of J.K. Dobbins and Gus Edwards hurt even more.
Despite missing Dobbins and Edwards, the Ravens still had a very solid game on the ground. As a team, they ran for 189 yards and two touchdowns. Along with this, Jackson had a solid passing game as well. He completed 19 of his 30 passing attempts for 250 yards and a touchdown.
Defensively, the Ravens did an incredible job stopping the run. As a team, the Raiders only rushed for 82 yards. 31 of those yards coming from a trick play by Marcus Mariota. However, they struggled greatly to stop the pass. Derek Carr picked their secondary apart throwing for 435 yards, two touchdowns, and one interception on a 60.71% completion percentage. This is not a good sign heading into a game against one of the best quarterbacks of this entire generation. If they are not able to finetune these things in their pass defense, Mahomes will have a heyday and the Ravens will begin their season 0-2.
Our Pick
Our pick is for the Kansas City Chiefs to cover the current spread. Their passing offense will be far too much for the Ravens to handle. If Derek Carr can throw for 435 yards and two touchdowns, it is scary to think of what Patrick Mahomes may be able to do. As we saw with the Browns, it is almost impossible to beat the Chiefs in a shootout. The Ravens would have to play a perfect game to win. As for the total, we are going with the under. There is a very strong case to be made for the over, however, the Ravens likely will not be able to do their part to get the total points to where they need to be.
Browse Latest Articles