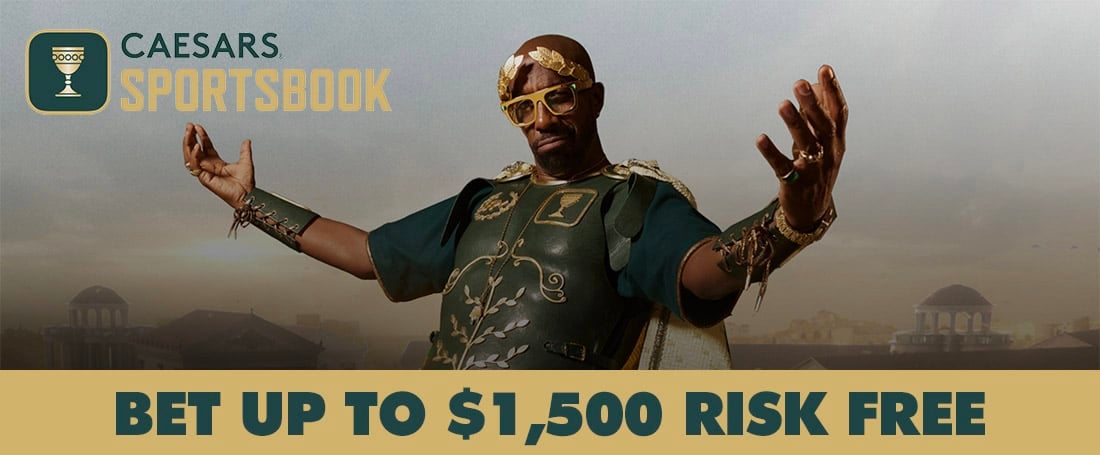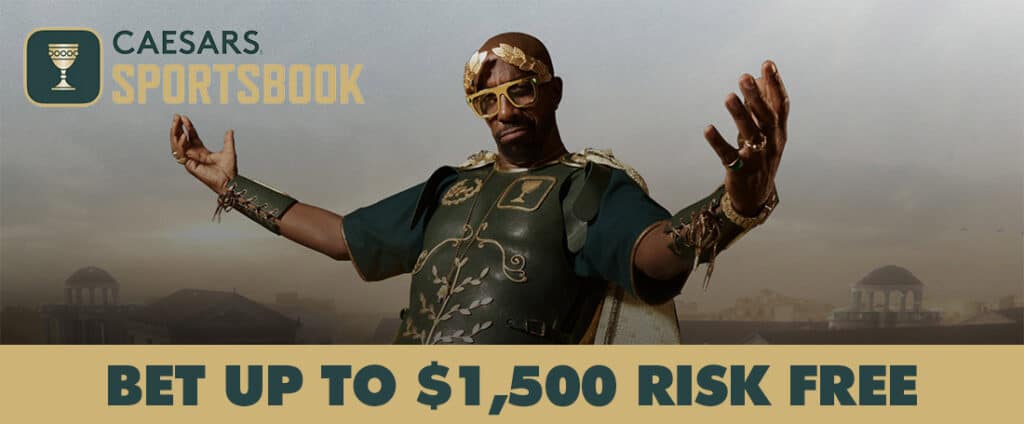 It is pretty standard for sportsbooks to offer "risk-free bets" as a welcome bonus. It is a great way to entice new players to join that site in particular, with valuations ranging from $10 to $2,000 depending on the sportsbook. Caesars Sportsbook is known for offering some of the most lucrative risk-free bets in the industry.
There is a lot to know about risk-free bets, how they work, and how to use them properly. With the right help, new players can make the most of those risk-free bets and turn them into significant winnings before long. For advice on how to use your risk-free bets, check out our College Football Betting Guide.
How Does a Risk-Free Bet Work?
Before you can take advantage of a risk-free bet, it helps to know how they work. Because so many sites offer than as part of their sign-up promotions, they can have different requirements to use them properly.
The idea is simple: the sportsbook offers a bonus to new customers as a risk-free bet. If you place your first bet and win, that's it. You win, and you collect your winnings. But not everyone wins that first bet.
With a risk-free promotion, you receive your money back if you place your first bet and lose. But there is a caveat. It isn't your cash back.
The refund pays out in the form of site credit, a "free bet," or another form of bonus cash that can only be used in the sportsbook's app. The free wager(s) amount will usually be the equivalent of whatever your first wager happened to be.
Things to Be Aware of When Using Risk-Free Bets
It can be easy to see "risk-free bet" and click the sign-up button. But there are many things to be aware of before you choose and go with that sportsbook. There are six things in particular that you should be checking out before committing to one sportsbook.
How is the bet refunded?
Considering how you get the funds from that risk-free bet is essential. Mostly, they come in some form of site credit or a free bet. You will need to wager the refund in a single bet with the latter. However, with site credit, you can spread the refund out to mitigate the level of risk involved.
Bet Limits
Just about every risk-free bet will come with a limit. You can still bet above that amount, but the risk-free bet only covers up to that amount. So, if you bet $300 but the risk-free bet is up to $250, you would only get credits or free bets back for the $250.
Time Limits on the Risk-Free Bet
Every sportsbook will have a time limit set on when you can use that initial risk-free bet. Typically, it ranges anywhere from 7 to 30 days from the time of registration; be sure to check the fine print with your sportsbook.
Time Limits for Site Credits and Free Bets
Likewise, there will be a built-in time limit on that free site credit or free bet should you lose the first bet. The time frame can vary quite a bit here. For some, it is a few days. Others will give you up to a year to utilize that site credit. Again, check the fine print before you sign up to know all the timelines for the promotion.
Playthrough
The goal of any player is to make money and withdraw. But it isn't as simple as that, and you won't be able to withdraw the money you get from losing a risk-free bet. A certain number of wagers are required before those funds will be available for withdrawal.
Minimum Odds
There are probably going to be minimum odds involved as well. Generally, the odds will be -120 or greater (-110, +120, +250, etc.), so you can't just take a massive favorite and collect in that way.
How to Make the Most of Your Risk-Free Bet
So, if you have recently signed up or are considering signing up, knowing how to utilize those risk-free bets is essential. The only true way to "beat" those offers and give yourself a risk-free profit is to look at all the lines offered across the sportsbooks and find a situation where you can bet on both sides of one game.
However, finding a bet that meets these criteria is easier said than done. But if you look, you may find a sportsbook offering some sort of odds booster capable of giving players a leg up. Finding the right odds boost also requires a little heftier investment to pull off, so keep that in mind.
There is no truly "safe" way to do it. You always run the risk of a cold streak where you lose the initial bet and then lose the free bet. It is something to consider as that is sometimes the nature of the game.