Well well well, this sure looks familiar! Though some folks are probably sick of hearing about these two teams, Georgia and Alabama will fight it out once again for the national title. Alabama took care of business in the Cotton Bowl against Cincinnati while Georgia laid a surprising beatdown on Michigan in the Orange Bowl.
Is this the game that Kirby Smart and the Bulldogs finally get over the hump? Or, will Nick Saban and the Crimson Tide continue their unbelievable run? Let's take a look at the live odds for this National Championship game before breaking down what we expect to see from each team's offense and defense.
Live Odds for the National Championship: Georgia Bulldogs vs. Alabama Crimson Tide
What to Expect from the Georgia Offense in the CFP Title Game
Stetson Bennett silenced a lot of critics by the way he played against Michigan in the Orange Bowl. The 5-11 senior threw for 313 yards and 3 TDs against a very good Wolverines defense. Bennett has put up some impressive yearly stats (2,638 passing yards, 27 TDs) but can he exorcise some demons against the Alabama defense?
Though Alabama's defense put on an impressive performance in the SEC title game, Georgia still rushed for 109 yards. Zamir White (772 yards / 10 TDs) and James Cook (651 yards / 7 TDs) will once again get the bulk of the offensive touches in this game. However, expect offensive coordinator Todd Monken to call more play-action passes as he did against Michigan.
Georgia's main choice of attack is their running game, but don't forget that this Bulldogs team ranks 3rd in the country in yards per pass. Tight end Brock Bowers is Georgia's best pass catcher, as he leads the team with 52 catches for 846 yards and 12 TDs. Bennett also loves throwing the ball to wideouts Jermaine Burton and Ladd McConkey, as they each have 5 TD catches on the year.
What to Expect from the Alabama Defense in the CFP Title Game
The Crimson Tide defense did a fabulous job of stifling Cincinnati's offense in the Cotton Bowl. Alabama will look to carry that momentum over into the national championship game. This group ranks 2nd in both yards per rush allowed and rushing yards allowed per game.
Georgia's offensive line does a great job of protecting the QB but they gave up three sacks to this Alabama defensive line a few weeks ago. Will Anderson leads the country with 17.5 sacks so Bennett will have to get rid of the ball as quickly as possible.
Alabama's secondary was gashed several times by Georgia during the first meeting. The Crimson Tide gave up 340 passing yards and were burned on a few deep passes. However, Jordan Battle and Demarco Hellams each picked off a pass in that game, which turned the momentum considerably.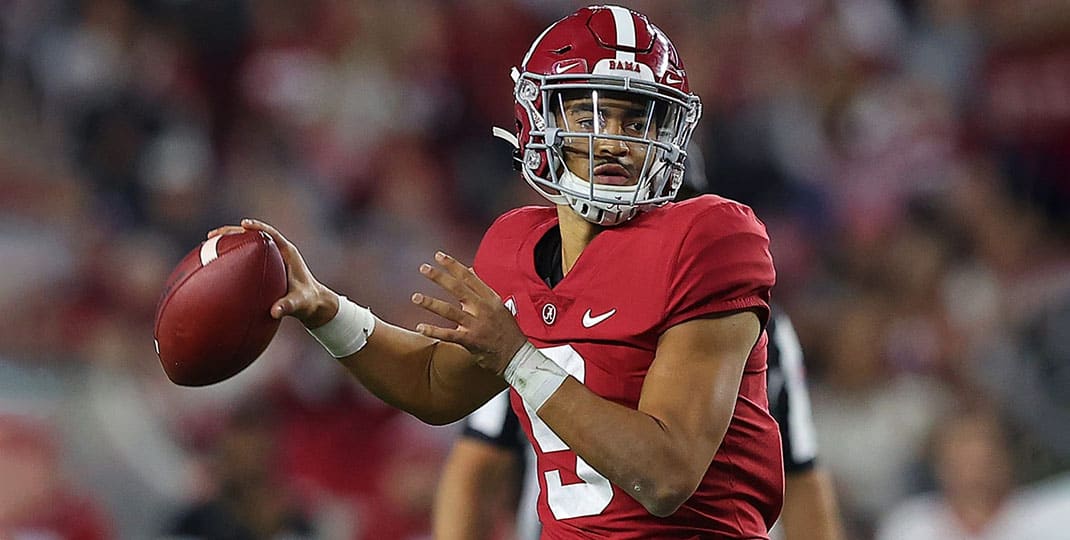 What to Expect from the Alabama Offense in the CFP Title Game
Bryce Young sliced this Georgia defense for 421 yards and 3 TDs in the SEC title game. The Tide will need a similar performance from the 6-foot sophomore this time around. The Heisman Trophy winner has the uncanny ability to stay calm, even in the biggest of moments.
Tide fans were thrilled to see that Brian Robinson looked much healthier against Cincinnati in the Cotton Bowl. The Tuscaloosa native ran for 204 yards in that game while averaging nearly 8 yards per rush. Georgia stuffs the run incredibly well, but expect offensive coordinator Bill O'Brien to still get Robinson plenty of carries in this game.
Jameson Williams may be the fastest wide receiver in the country and he torched the Bulldogs for 184 yards and 2 TDs during the first meeting. The Ohio State transfer has caught 75 passes for 1,507 yards and 15 TDs this season.
Unfortunately for the Tide, John Metchie tore his ACL against Georgia in the SEC title game. Georgia may be able to double team Williams more often because of that.
What to Expect from the Georgia Defense in the CFP Title Game
The Bulldogs did a good job of shutting down Michigan's efficient rushing attack in the Orange Bowl. Georgia ranks 5th in the country in yards per rush allowed and 3rd in rushing yards allowed per game. The main reason why is nose tackle Jordan Davis, who is remarkably agile for a guy that's 6-6 and 340 pounds.
Georgia's secondary has played the pass well all year long, as they rank 4th in yards per pass allowed. However, this unit was exposed a bit in the first meeting against Alabama.
Look for defensive coordinator Dan Lanning to blitz Young quite a bit more during this game to try and take some pressure off his defensive backs. Georgia only hurried Young 8 times in the first meeting and didn't even register a sack.
Best Bet: Alabama +3
We know that Georgia will be out for blood after getting embarrassed by Alabama last month. However, Nick Saban as an underdog has to be an auto-bet.
Since 2008, Alabama has only been an underdog six times. The Crimson Tide has won five of those games outright. Saban is also 4-0 against Kirby Smart in his career and 24-1 against his former assistants.
Stetson Bennett has played well all season, but he's still got a little too much gunslinger in him. We think Alabama defensive coordinator Pete Golding will find a way to pressure Bennett into a couple more turnovers in this game.
Alabama was a 7-point underdog against Georgia back on December 4. The Tide won that game by 17 points. The oddsmakers are giving Alabama a little more respect this time around, as they're only a 3-point underdog.
Even with that 4-point adjustment, you can bet Nick Saban will still be selling the "disrespect" message to his team. The attitude of this Alabama team completely changed after their loss to Texas A&M back in October. In our opinion, they shouldn't be an underdog to anybody.
This game will be closer than the SEC title game was but the Crimson Tide will still be victorious. Alabama has a huge edge at QB and their passing game will prove too much for this Georgia secondary once again. Take the points and best of luck with all your national championship game action!