Fubo Sportsbook Review Summary
Fubo was founded in 2015, and they've become one of the most successful live streaming companies in the world. The company did over $600 million in total revenue in 2021, and early forecasts expect them to easily surpass the $1 billion mark for 2022. Even hardcore sports fanatics will be impressed with the expansive variety of live sports channels that Fubo TV offers.
Fubo decided to parlay its success from live streaming into the sports betting arena by starting its own sportsbook (Fubo Sportsbook) in November of 2021. They have undergone successful launches in both Iowa and Arizona, and sports bettors from both of those states have been giving Fubo Sportsbook some rave reviews. Because of this success, we expect Fubo Sportsbook to expand into a few more states very soon.
This review will take a look at every feature of Fubo Sportsbook's website and app. As Fubo starts trickling into more states, its success should continue to skyrocket. We highly recommend giving Fubo Sportsbook a shot. We think Fubo has a bright future as an online sportsbook.
Fubo Sportsbook's popularity should only rise from here on out, especially since they have partnership deals in place with both the NBA and MLB. They also have agreements with both the New York Jets and the Iowa Cubs (AAA Affiliate of the Chicago Cubs). This should only help Fubo grow its brand and respectability in the online gambling marketplace.
Fubo Sportsbook recently announced that they have agreements in place to enter both the Pennsylvania and New Jersey sports betting markets. That is huge for Fubo because those are two of the largest sports gambling markets in the US. Fubo will also offer an online casino in those two states, so that is a definite plus for their revenue numbers as well.
---
What Fubo Sportsbook Players are Saying
One crucial aspect to consider when comparing sportsbooks are the opinions of their current player pool. We've curated reviews and ratings for Fubo Online Sportsbook across both the App Store and Trustpilot. Find the current Fubo Sportsbook rating on each platform, as well as an aggregate rating across all reviews, in the table below.
Our team picked through hundreds of Fubo Sportsbook app reviews to identify what current players think are the best and worst features in the sports betting app. Though this was a cumbersome process, we wanted to provide you with the most accurate information that we could.
It is worth noting that online reviews tend to be more negative than positive, so an aggregate rating of 4.3 is considered a very good rating for an online sportsbook or a sportsbook app from existing players. This just goes to show that Fubo Sportsbook is off to a great start in both Iowa and Arizona!
| | |
| --- | --- |
| Sportsbook App | Fubo |
| App Store Rating | 4.3 (202 Reviews) |
| Trustpilot Rating | 3.7 (1 Review) |
| Total Reviews | 203 |
| Aggregate Rating | 4.3 |
| Best Feature | Easy to Use App |
| Worst Feature | Availability (Currently 2 States) |
Fubo Sportsbook Website and App
Fubo's website and app are both easy to use and pleasing to the eye. It's pretty amazing to see how well the Fubo Sportsbook app integrates with your Fubo TV subscription. Fubo has its own live sync technology that lets you bet on a game while you are streaming it live, which is unlike any other sports betting app on the market.
The layout of the website and app is also a plus. All of the sports are clearly displayed along the left side and you can toggle between the home page and the live betting options at the top. This is ideal for folks that like to do a lot of in-game wagering!
The only beef we have with the Fubo Sportsbook site and mobile app is all of the dark colors. Some folks may love it, but we think it's a bit drab and could use some brightness.
---
Fubo Sportsbook Odds and Juice
Here's an area that Fubo Sportsbook can improve on. While Fubo's odds and juice for point-spread sports like basketball and football are about right in line with their competitors, they don't offer very nice prices on moneyline sports like baseball and hockey. When betting on these sports, BetMGM usually offers 5 cents less in juice than Fubo.
All that being said, we have to remember that Fubo is new to the sportsbook industry. Once Fubo Sportsbook grows its market share, it may very well start to offer better prices on all moneyline-driven sports. Never underestimate the power of juice, as it can either cost or save you hundreds of dollars over the course of a season.
One odds area that Fubo Sportsbook excels in is Futures. We have noticed that for PGA Tour golf tournaments, Fubo Sportsbook often has better odds to win than FanDuel Sportsbook.
The same is also true for NFL Futures. Fubo Sportsbook currently lists the Buffalo Bills at +650 to win the Super Bowl, while FanDuel is only offering +600. That may sound like a small difference, but it is worth noting.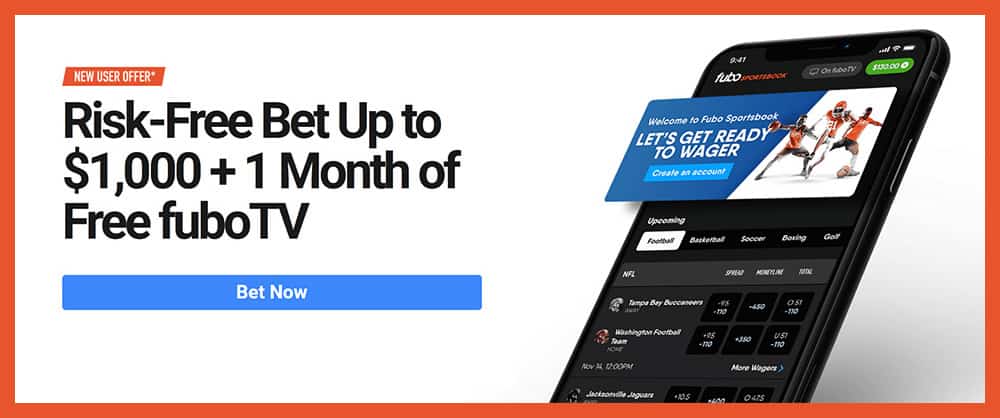 Fubo Sportsbook New Player Promotions
New player promotions and a solid welcome bonus are where Fubo Sportsbook really shines. Their current risk-free bet promo is right in line with FanDuel Sportsbook's current offer. It's even better than FanDuel's risk-free bet promotion because it also comes with a free month of FuboTV.
That's a cool add-on perk for sports fans because a month of FuboTV would normally run around $70. Just be sure to cancel this after your free month is up, or you will be charged. You may not want to cancel it, though, especially since FuboTV easily integrates with Fubo Sportsbook and their live betting options.
That's an amazing feature! The only thing better than live betting a game is being able to see the odds right on your TV screen! Fubo sets itself apart from the competition with this nice little add-on. All you need is a Fubo Sportsbook account!
It's pretty impressive that a brand new sportsbook app like Fubo offers a new player promo that beats out sportsbook veterans like DraftKings, Unibet, BetRivers, and BetMGM. It'll be interesting to see what kind of new player promos Fubo will offer for the 2022 football season. We can't wait to see what they offer new players in Pennsylvania and New Jersey whenever they go live with online sports betting in those states.
For this promo, if your first bet loses, you'll receive Fubo Sportsbook credit to cover the loss for up to $1,000. This is one of the best risk-free promos in the sports betting industry.
---
Fubo Sportsbook Customer Support Overview
Here's another area that should improve as Fubo Sportsbook continues to grow. Their customer support options aren't bad by any means. However, they currently do not offer customer support via phone, which is kind of a turnoff for an online sportsbook.
The live chat feature, email option, and FAQ library are all great features but some sportsbook problems require the help of a live person. Again, this will probably change once Fubo Sportsbooks expands into a few more states.
Fubo Sportsbook Cashier Options
This is an area where Fubo Sportsbook really shines! They offer a ton of different cashier options for both depositing and withdrawing money. Customers can use credit cards, debit cards, ACH through online banking, and PayPal. The fact that Fubo Sportsbook accepts PayPal is a major plus, and it helps set them apart from some of its competitors.
The only downside of Fubo Sportsbook's cashier options is their withdrawal processing time. It currently takes at least two business days for customers to get their money back. While that isn't terrible by any means, it pales in comparison to some competitor sportsbooks that complete withdrawal requests in a matter of hours.
---
Fubo Sportsbook App Review Summary

Fubo Sportsbook is one of the latest sports betting apps to hit the U.S. market. The sportsbook offers the same sleek design and layout that customers have come to know and love at FuboTV. The sports betting app is directly integrated with FuboTV, allowing you to bet on the game you are watching live. While Fubo may be a new name to the industry, they already have some of the best features available on the market including one of our top-rated bonus offers.
Price: Free
Price Currency: USD
Application Category: Game
Pros
Intuitive mobile app that works alongside FuboTV.
Industry-leading new player offers.
Website and app feature a sleek design.
Cons
Availability limited to 3 states.