FanDuel has a loaded lobby for the NFL Championship weekend including a $1.5M Sunday Million contest that pays out a top prize of $300,000. With only four teams left, and each boasting fairly top-heavy/run-heavy offenses, pricing is tight. This should make for a fun Sunday of daily fantasy football.
While we paid down at the RB position with our DraftKings Conference Championship lineup, we elected to fade Hill and Kupp on FanDuel and go considerably more balanced. If Kupp struggles to reach value against the 49ers and Kelce outperforms Hill on Sunday, this lineup is likely a winner.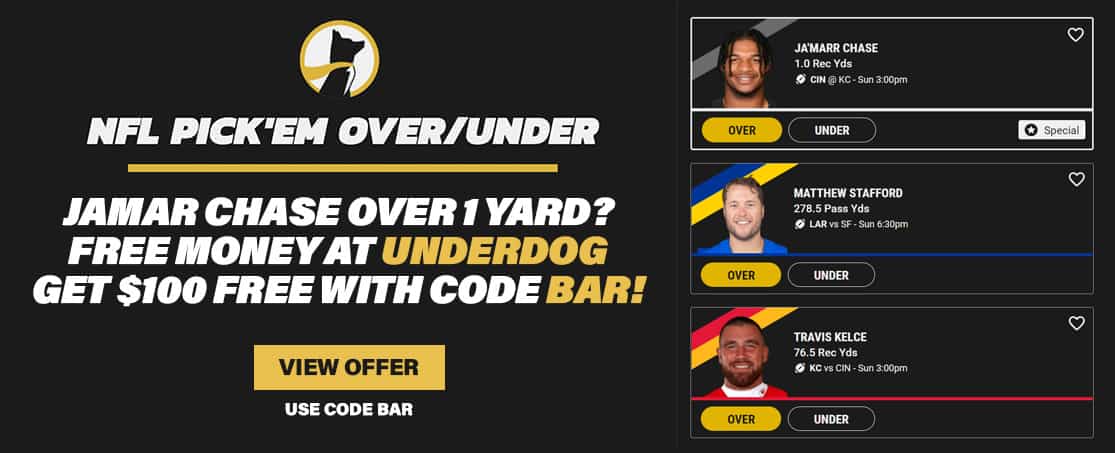 QB: Joe Burrow $7,500
Burrow has put on masterful performances in his first two career playoff games as his combined numbers are off the charts. He has thrown for 592 yards and 2 Touchdowns. The key to his success on Sunday against the Kansas City Chiefs will be more about his offensive line than him, as he will need time to throw the football. Either way I look for Burrow to have a big game in this one whether he gets sacked once or nine times.
RB: Clyde Edwards Helaire $5,700
CEH as they call him had a tremendous game in the Chiefs miracle win over the Bills. He rushed for 60 yards, but he was there when it mattered and that's what makes him stand out to me this week. I look for him to carry more of the workload in this week's game.
RB: Joe Mixon $8,200
Mixon found the end zone in the win over Tennessee and rushed for 54 yards. But where he was most needed was the passing game where he caught 6 balls for 51 yards. I look for even more production out of Mixon in this one. Mixon will be the key to controlling the clock and keeping the high powered Kansas City offense on the sidelines.
WR: Jamarr Chase $8,000
Stacking Chase with Burrow is a great decision that you surely won't regret. The NFL ROTY award winner is a great play this week after his tremendous game last weekend against the Tennessee Titans. I don't see him being kept out of the endzone in this one either.
WR: Tee Higgins $6,400
With all the focus likely going to Jamarr Chase or Tyler Boyd, Higgins is likely to find himself open often throughout this AFC Title Game and if given the time Burrow will surely find him. Which makes Higgins a great play for this week at an affordable price.
WR: Odell Beckham Jr $6,300
OBJ has suddenly found a career resurgence after leaving Cleveland earlier this year. He caught a touchdown in the wildcard win over Arizona and I expect him to find his way into the end zone again in this one against the 49ers as 99% of the focus of the passing game will be shifted towards Cooper Kupp.
TE: George Kittle $5,700
No tight end, including Kelce, has more upside than George Kittle in this slate. Prior to the two meeting this season, Kittle averaged over 100 yards and a touchdown per game against the Rams. While he was relatively quiet in the two meetings this season, he did catch 10 of 14 targets. The Rams were great against the run in their first two playoff games and, if they are able to slow Mitchell and Samuel down on Sunday, Kittle may run more routes than usual. Routes run are key for him as only Kupp, Samuel, and Hill average more YRR than Kittle (2.54).
Flex: Travis Kelce $7,700
Kelce always finds a way to get the football. That was put on display when he scored the game winner in the Chiefs huge overtime win over the Bills last weekend. Over the first two games of the playoffs Kelce has put together great numbers going for 13 catches, 204 yards, and 2 Touchdowns. He was even the main engineer behind the Chiefs legendary 13 second drive that forced overtime in the game. Expect him to have another big game as the Chiefs look to make their third straight Super Bowl.
DST: 49ers $4,200
These are four of the best offenses in the NFL, and picking a defense for your DFS lineups this weekend will not be easy. The 49ers pass rush has carried them through this recent run and have 5 sacks in each of the last three games. They have also intercepted Stafford four times in two games this season.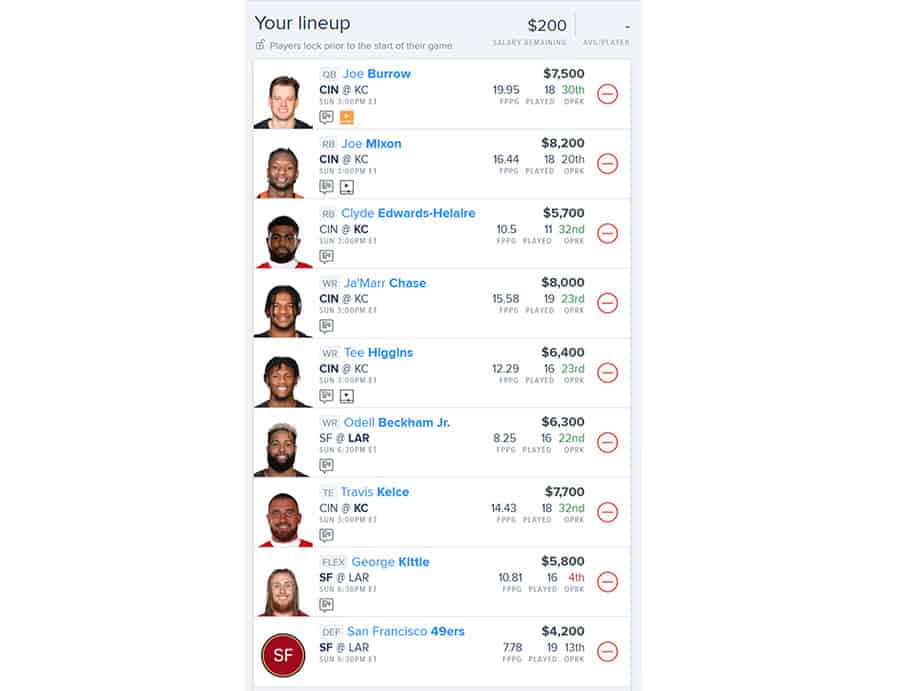 Total Salary Spend - $59,800