Just when we thought he was out, he pulls us back in. Steph Curry has been on a different level the last two weeks, raising his scoring average from 25.9 in the three previous series to 34.3 points per game in the first four games of the NBA Finals. That is also far and away his highest scoring average in the Finals across six appearances.
Curry's scoring outburst follows a few days where his health was slightly in question after Al Horford landed on his ankle in Game 3. We look ahead to NBA Finals Game 5 with tonight's DFS lineup suggestions. Also, be sure to check out our Best Bets for Game 5.
FanDuel's main offerings for Game 5 of the NBA Finals start with their headliner, a $600,000 contest with an increased entry fee of $15. Monday's grand prize for winning this contest is $100,000 to the winner. Additionally, there is once again a $150,000 contest available ($150k Mon NBA Shot) with the usual $4.44 fee to enter and a top prize of $30,000 going to the winning player.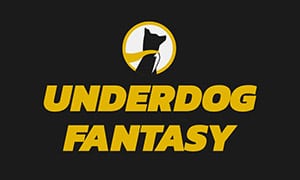 MVP (2x multiplier): Steph Curry
FanDuel Price: $15,500
Curry is averaging a ridiculous 50.4 fantasy points per game in the Finals. He's either scored at least 30 points or had more than 10 combined rebounds and assists in every game, and he's also averaging two steals per game this series.
Watching Game 4, it felt as though Curry was playing like he had something to prove to himself and his doubters. He did just that with a 43-point scoring masterpiece. We'll ride that momentum back to San Francisco and expect another big night from the two-time MVP.
Star (1.5x): Jaylen Brown
FanDuel Price: $14,500
Brown got into some foul trouble in Game 4, yet still managed to take 19 shots and score 21 points. Where he fell short in terms of fantasy value was his lowest rebounding and assist total of the Finals so far, managing just six rebounds and two assists. His 32.2-point fantasy output was lower than expected given where his peak has been this postseason, and we're expecting a bounce-back performance in Game 5.
Pro (1.2x): Al Horford
FanDuel Price: $10,500
Horford has alternated strong fantasy performances (38.7 in Game 1, 35.6 in Game 3) with a couple letdowns in the Celtics' Game 2 and 4 losses. With Robert Williams III getting shaken up in Game 4, there's a chance Horford has to step up his presence in the paint to make up for any lost minutes for the Time Lord. Horford averaged 36.5 fantasy points per game when Williams missed Games 4-7 against the Milwaukee Bucks in the conference semifinals.
Utility: Draymond Green
FanDuel Price: $11,000
Green can claw and scrap his way to a solid fantasy performance with the best of them. He put together a 34.8-point fantasy scoring effort in Game 4 on 2 points, 9 rebounds, 8 assists, and 4 steals in a Warriors victory and knows exactly what he needs to contribute for this team to win. We'd be ecstatic if he repeats that in Game 5.
Utility: Derrick White
FanDuel Price: $8,500
White has maintained an average of nearly 30 minutes per game in the Finals, averaging 21.4 fantasy points per game and spurring some key Celtics runs in the process. If Boston is going to take control of the series on the road in Game 5, White will likely factor into why that will be. We like him in our lineup tonight among the remaining options in this salary cap range.