The stars showed out in Game 3, with Jayson Tatum, Jaylen Brown, and Steph Curry making up the top three fantasy scorers. The players that provided the highest fantasy value per their salary cap number were Robert Williams (4.8x), Klay Thompson (3.7x), and Brown at 3.2x. We've got each of those three players in our Game 4 lineup that is locked in for Friday night.
FanDuel's marquee DFS options for Game 4 of the NBA Finals start with their $500,000 contest that costs $9.99 per entry with $100,000 at stake for the winner. Beyond that, there is a $150,000 contest open ($150k Fri NBA Shot) with an entry fee of $4.44 that awards a $30,000 prize to the winning player.
On DraftKings, we have a $1.25 million contest with $250,000 top prize that has a $25 entry fee and a $150,000 contest with $15,000 top prize that has a $4 entry fee. Looking for prop picks for Underdog and PrizePicks? Check out our Game 4 Player Props article for our favorite plays for tonight. Here are the players we are targeting in our Game 4 DFS lineups: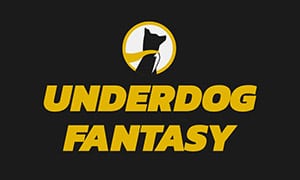 MVP/Captain: Jaylen Brown
FanDuel Price: $14,000 | DraftKings Price: $14,700
It's becoming a very real possibility that the Celtics hoist the Larry O'Brien trophy this season and Jaylen Brown is named the Bill Russell NBA Finals MVP. Brown is averaging more points in this series than anyone not named Steph Curry, he leads the Celtics in rebounds per game along with Al Horford and trails only Kevon Looney among all players, and is fourth among all players in assists per game. It helps that Boston is up 2-1 and favored again on Friday, yet it's hard to make the argument anyone is playing better than Brown for the Celtics as they look to take a commanding series lead in Game 4.
Jayson Tatum
FanDuel Price: $15,500 | DraftKings Price: $11,200
Tatum's fantasy track record in the playoffs mostly speaks for itself. We are not going to miss starting him after a game in which he scored 26 points while not shooting particularly well and racked up rebounds and assists to finish with 47.7 fantasy points. He's debunking his reputation of inconsistent playoff performances in this series by finding other ways to help his team win, all to the benefit of fantasy players.
Klay Thompson
FanDuel Price: $10,000 | DraftKings Price: $7,200
It's still not familiar to see seven players in a head-to-head matchup with higher cap numbers than Thompson in DFS. Yes, his drop in consistent performance has justified this change. We're very interested to see how Klay builds off a 39.1-point fantasy performance in Game 3 with an injured Steph Curry on the floor. We're expecting a high volume shooting night for Thompson and hope that he connects on a lot of those.
Utility: Andrew Wiggins
FanDuel Price: $12,000 | DraftKings Price: $7,400
Wiggins is another Warriors players who will need to step up his performance in several facets to make up for some potential drop-off in Curry's ability to play at a high level for sustained minutes. Not only is he averaging nearly 17 points per game in the Finals, he's providing rebounding (6 per game), defensive effort (2.7 combined blocks/steals per game), and long range shooting (1.7 threes per game) which all contribute to strong DFS outputs.
Robert Williams
FanDuel Price: $8,500 | DraftKings Price: $6,200
Williams entered this series as somewhat of a question mark due to a lingering knee injury that has limited his minutes. He's averaging 21 minutes per game so far, and is coming off an incredibly strong defensive performance in Game 3 with 10 rebounds, four blocks, and three steals. While that will be hard to duplicate, Time Lord is continuing to prove that every shot in the paint has to go through him. That should make daily fantasy players eager to have him in their lineups again tonight.
Outside Looking In: Marcus Smart
FanDuel Price: $10,500 | DraftKings Price: $7,800
Smart goes for 24 points, seven assists, and five rebounds in Game 3 and his salary cap number decreases by $2,000? We'll jump at the chance to have him in our lineup again in Game 4 despite the five turnovers at this price point. His role is the Celtics offense is easy to overlook at times, but his ability to push the ball in transition, facilitate others scoring, and knock down three-pointers (3-of-7 in Game 3) all add to his fantasy value.