We have spent the last several articles discussing American football. While the NFL remains the most popular sport in the world to wager on, there are some ample opportunities for profit in European football. The money won betting on soccer is just as green as the money won betting on the NFL.
The Covid-19 pandemic forced this 24-team tournament to be moved from 2020 to 2021. Even so, the UEFA is still calling this tournament the Euro 2020. The matches will be played across 12 different sites so there will be no constant home-field advantage for any team.
Need some action to sustain you through the dog days of summer? Consider putting a few units on the UEFA Euro 2020 tournament which starts on June 11th. In this article, we will discuss four bets in the Euro 2020 that we think have some betting value to help pump up your bankroll this summer.
Looking for an even easier way to cash in on the EURO 2020 action? Check out our complete list of the top EURO 2020 promotions.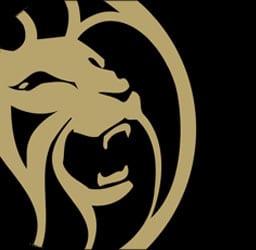 Bet $20, Get $100 Instantly
Bet $20 on any EURO game and receive $100 regardless of the wager's outcome!
Let's take a quick look at the current betting odds from our friends over at BetMGM.
EURO 2020 Odds to Win Outright
Live Odds from BetMGM SportsBook
| Nation | Odds |
| --- | --- |
| England | +470 |
| France | +480 |
| Belgium | +650 |
| Spain | +700 |
| Germany | +750 |
| Italy | +750 |
| Portugal | +900 |
| Netherlands | +1300 |
| Denmark | +2500 |
| Croatia | +3200 |
| Poland | +5500 |
| Turkey | +5500 |
| Nation | Odds |
| --- | --- |
| Russia | +6000 |
| Switzerland | +6000 |
| Sweden | +7500 |
| Ukraine | +7500 |
| Austria | +9500 |
| Czech Republic | +10000 |
| Finalnd | +10000 |
| Hungary | +10000 |
| North Macedonia | +10000 |
| Scotland | +10000 |
| Slovakia | +10000 |
| Wales | +10000 |
Best Bet to Win EURO 2020: Germany +750
Everybody knows Germany can defend. With a back four of Ginter, Hummels, Rudiger, and Kimmich playing behind holding midfielders like Ilkay Gündogan and Toni Kroos is as good as it gets in the 2021 Euros. The reason we are getting so much value here (+750) is a lack of offensive creativity heading into the 2020-2021 Euros.
However, given the current form of Kai Havertz along with the return of Serge Gnabry and Thomas Muller is reason for optimism that the German attack can return to form ahead of the group stages. We saw Germany cruise to victory, scoring 7 goals in a friendly against Latvia last week, and the balanced attack shows exactly why this attack could be dangerous.
In international friendlies leading into the tournament, we saw Germany lean heavily on Joshua Kimmich to create opportunities going forward. However, with Kimmich moving to the back four, Germany was able to build out of the back and generate goals in a variety of different ways. In fact, all seven German goals came from a different player against Latvia. By the end of the game, Gündogan, Gosens, Muller, Gnabry, Werner, Havertz, and Sane had all found a way to get on the board.
We still think the strength of this team is on defense, so if Germany can continue to find goals with Havertz, Muller, Sane, Werner, and Gnabry, they are going to be a tough out and strong bet for the 2020 Euros.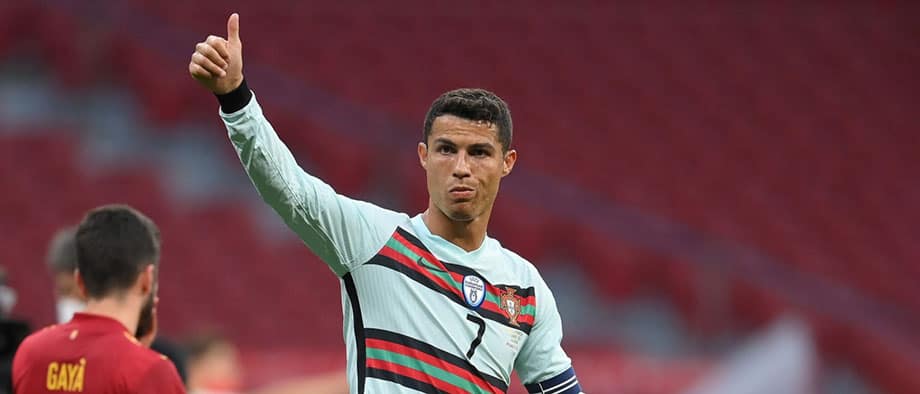 How Far Can Ronaldo Carry Portugal? Portugal +900
Sure, England and France are both fantastic teams but did the books forget that Portugal is the defending champs? Also, the linemakers must have forgotten that the best soccer player in the world, Cristiano Ronaldo, is still on Portugal's roster. What is scary for the other 23 teams in the EURO 2020 is that this Portugal team has even more talent than the one who won it all in 2016!
Ronaldo may be 36-years old but he is showing no signs of slowing down just yet. The 6-1 183 pound forward has put up dazzling numbers once again during the 2020-21 season. He has scored 29 goals in only 33 total matches.
Portugal is not just a one-man wrecking crew either. Prime-time players like Diogo Jota, Ruben Dias, and Joao Felix round out a squad that looks like a dream team of soccer. Portugal's deep 26 man roster gives them a distinct advantage in this 31-day tournament.
The only reason why Portugal is listed at +900 is because of the tough draw of being in Group F with France and Germany. Most soccer gurus are calling Group F the 'group of death.' Oddsmakers are betting that even though Portugal has the best overall roster, they won't be able to sustain their dominance in such a grueling group. However, we beg to differ and will gladly take the generous +900 odds on Portugal as our best bet.
Best Longshot Bet to Win the EURO 2020: Ukraine +7500
Ukraine has been on a major roll ever since the qualifying stages and we look for them to continue their hot streak in the EURO 2020. They scored 17 goals in their eight qualifier matches and did not lose any of them. With their current good form, there is a chance that Ukraine could pull a huge upset in their very first match in the EURO 2020 on June 13 against The Netherlands.
An outright upset or even a draw would set Ukraine up perfectly in Group C. After the tough matchup against The Netherlands, Ukraine should be heavily favored in their next two games over North Macedonia on June 17 and Austria on June 21. Andriy Pyatov is a hardnosed goalkeeper that provides some veteran leadership to the Ukraine roster.
At 75 to 1 odds, Ukraine offers some good value for sports investors. They have two legitimate scoring threats in Andriy Yarmolenko (one of Ukraine's best all-time scorers) and young phenom Roman Yaremchuk (25-year old striker who has been a goal-scoring machine of late). These guys should give The Netherlands some major headaches in a few days.
Why Is England the Favorite: England +470
We'll go to the top of the betting board with a bonus bet. England should not have any trouble coming out of Group D as the best team. Manager Gareth Southgate has an abundance of goal-scoring talent on his roster.
The Three Lions will get several games in their friendly confines of Wembley Stadium where they have only lost two times over their last 24 matches. England also comes into the EURO 2020 in outstanding current form. England won seven out of their eight qualifying games and that sent a message to the soccer world that they would be a top contender in the tournament.
England striker Harry Kane will be the team captain for the EURO 2020 and has been playing like a man on a mission of late by scoring 12 times. 27-year old Jordan Pickford should get most of the starts at goalkeeper since Nick Pope has been struggling with an injury. Jack Grealish is one of the best midfielders in the game today and he will be a key factor in the Three Lions' success.
Let's summarize why we love England as our bonus bet to win the EURO 2020. The Three Lions benefited from a great draw by being in Group D and avoiding the 'group of death.' They get a few games at their home venue. They have plenty of offensive firepower to outscore any team in the tournament. The +470 odds on England are simply too good to pass up.
Favorite Prop Bet for the EURO 2020: Harry Kane to Win Top Goalscorer (+500)
Our favorite prop bet is a bit of a correlated wager. We love Harry Kane to be the top goalscorer in the EURO 2020. Kane is in the best current form of any player in the tournament. We expect Kane to put up some dominant performances, especially in the earlier rounds against some of the softer defensive teams.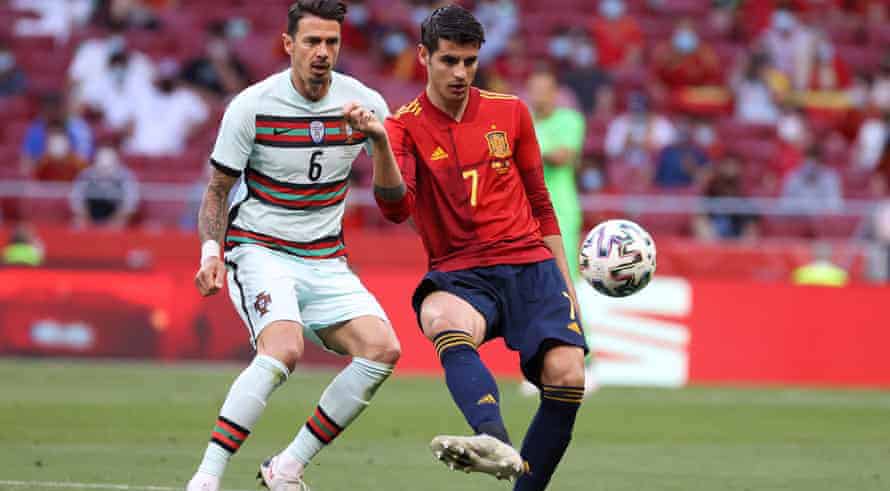 Euro Teams to Avoid
In addition to our favorite bets for the 2020 Euros, we wanted to share a handful of teams we think bettors should avoid. Each of these teams has a glaring flaw that will make a run through the Euros near impossible.
Spain (+750) - While Spain dominated possession against Portugal in their 0-0 draw, it was clear they were playing to win while Portugal really was not. Portugal could have started Bruno Fernandes rather than bring him on late, it certainly would have helped their possession stats, but they chose not to. Spain's flaws going forward were glaringly obvious. For yet another international tournament, they are left relying on Alvaro Morato going forward. While a really nice player, Morata simply lacks the quality to play the number 9 in this system. Spain simply does not have the firepower to compete this summer.
Netherlands (+1300) - The Dutch have been a bettor's favorite since the Robben/Sneijder/Van Persie/Kuty days. However, like Spain, this Dutch team lacks quality moving forward. That being said, this time it isn't on the striker, rather on the players surrounding him. Similar to Poland with Levandowski, the Netherlands are going to try to defend like crazy and hope Memphis can find a way to get a goal or two. We don't think the back four is good enough to stop the better teams in this EURO tournament, and Memphis simply isn't enough to carry them forward.
Browse Latest Articles