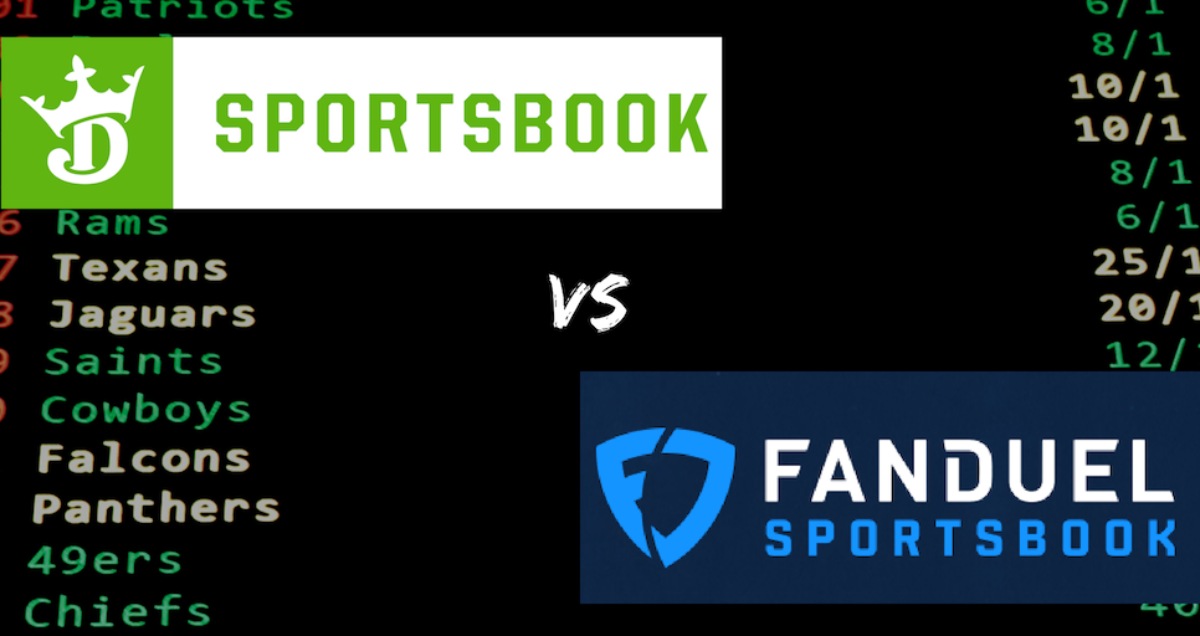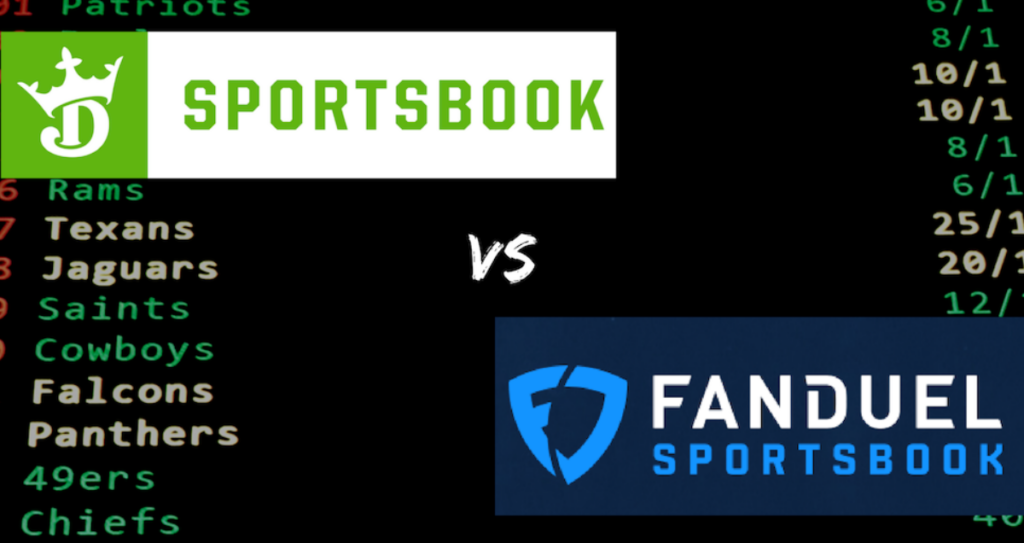 From the outside perspective, it can be challenging to differentiate DraftKings and FanDuel. After all, both companies started in DFS and have since branched out into the online sports betting and online casino realm.
So, what is the difference between the two? Let's take a deeper look at DraftKings vs. FanDuel. Hopefully, this article gives new players the information needed to make the best choice.
We'll start by giving you an overview of what factors we considered when comparing DraftKings and FanDuel. Then we'll dive into the details of each one in terms of features, bonus offers, customer service, and more.
How we compared the sports betting giants.
When we set out to compare FanDuel vs. DraftKings we looked at a few factors. We took a holistic look at these two daily fantasy sports giants, both of which are the biggest names in the industry. We looked at their market share, betting markets, and other features to determine which is the better option.
Market share of each daily fantasy sports site.
The first thing we looked at when comparing DraftKings vs. FanDuel was their market share. It's no secret that these two daily fantasy sports giants are the top dogs in the industry, but just how much of a lead do they have?
This is an important factor because you want to make sure that whichever sportsbook you choose has enough customers for there to be an adequate selection of bets.
Sports betting options.
Another area we looked at when comparing FanDuel vs. DraftKings was their sports betting options. Both companies offer a wide selection of bets on popular sports ranging from football to hockey and everything in between. Whether you want to bet on NBA games, table tennis, or any of the NFL teams, we want to make sure they have all of the options.
The type of bets available can also vary from one site to the other, so you want to make sure that whichever one you choose has the bet types that best suit your needs. From parlay insurance to odds boosts, we open each of the sportsbooks to see what they offer.
Mobile betting app usability and user experience.
What everyone is concerned about is the user experience and usability of mobile betting apps. We looked at both DraftKings and FanDuel's mobile apps to see how easy they are to use, whether they have any bugs, glitches, or crashes, and if they're compatible with various devices.
We also evaluated the design of each app and how intuitive it is for users to get started betting on their favorite sports.
Sports betting odds and lines.
When comparing sportsbooks it's always important to look into the betting odds and lines that are offered. We wanted to make sure that whichever sportsbook you chose, whether it's DraftKings or FanDuel, has competitive betting lines.
We did some research on each sportsbook and compared their lines with other top sportsbooks in the industry.
Offers, bonuses, and promos.
Lastly, and most importantly, when it comes to choosing a sportsbook, you need to make sure that the book is offering competitive offers, bonuses, and promotions.
We looked at what DraftKings and FanDuel offer regarding bonuses and promotions for both new and existing customers. We evaluated how generous their offers are and how easy they are to take advantage of. After all, what good is a bonus if you can't withdraw it?
What are the Key Differences Between DraftKings and FanDuel?
Let's not waste any time getting right into the differences between the two. Identifying these differences should help players make the right choice, especially since there are so many similarities between the two.
FanDuel Sportsbook
The mini-contests offered by FanDuel offer much smaller lineups. These contests are terrific for players who want to set their lineup and place their wager. On the other end of this spectrum, FanDuel also offers season-long leagues where players can set new lineups weekly.
The "short lists" and "guru suggestions" help players who might not be the most fantasy-savvy make their picks, giving them a better shot to win. There are also contests for experienced players with a certain amount of money won or contests entered, allowing for a more experienced competition.
Players can earn money by referring other players, which is a great way to bolster the bankroll. FanDuel rewards payout as you enter contests and hold real value on the site as they are used to enter real money contests.
DraftKings Sportsbook
DraftKings has a more comprehensive late swap option, which allows players to make late changes to their lineups. They also have several bonuses added to their scoring system that FanDuel does not offer.
DraftKings may also be more widely available. They currently have offerings in the US, Canada, Australia, Austria, Ireland, Malta, Germany, and the UK. They also have a referral system, offering a $10 bonus ticket for every friend referred.
For high-stakes players, DraftKings may be the better option as the rake is much lower. There are also statistical differences between both sites, particularly in fantasy football.
Most of the market share: DraftKings Sportsbook.
While these two powerhouses are very close, DraftKings Sportsbook has most of the market share. They have had a major presence in the US sports betting industry since before it was legalized when the federal sports wagering ban was lifted, and they continue to be one of the top online sportsbooks in the country.
Currently, DraftKings has around 78% of the market share, whereas FanDuel has around 73%.
Why does this even matter?
Well, the bigger the online presence of these sports betting operators means more online sports betting for you.
When the only difference between Fanduel and DraftKings is a mere 5%, that's not enough to sway you one way or the other.
With that, let's jump into the sports betting options each sports betting site offers.
Best sports betting options: Both DraftKings and FanDuel.
When it comes to options, you want everything on the table. Both sports betting sites offer NFL, NBA, MLB, and NHL leagues and college football and basketball games.
You can also find golf, soccer, tennis, auto racing, boxing, and more on both platforms. What's great is that you don't have to limit yourself regarding these sports betting options since they both offer the same.
Both DraftKings and FanDuel offer live betting as well, giving you a chance to quickly jump in on any exciting moments that may occur during a game or match. You can also find several alternative lines regarding both teams playing each other and various props bets available.
When it comes to types of bets, both offer plenty of options. These include moneylines, point spreads, totals, parlays, and teasers.
So which one is better?
We call this a tie. Both FanDuel and DraftKings sportsbooks are loaded with tons of betting options, so sports bettors will have everything at their fingertips.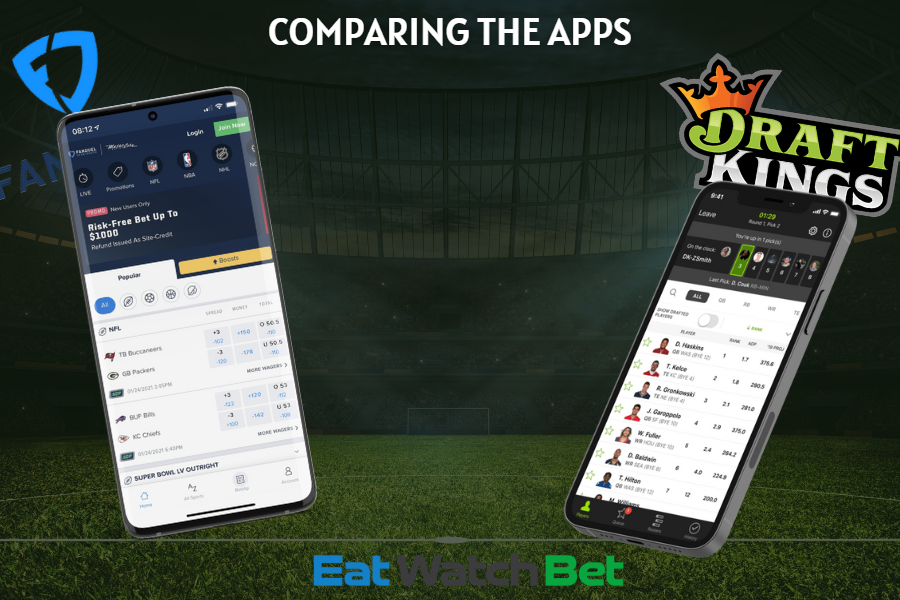 Best mobile app: DraftKings Sportsbook
As you're scrolling through games, lines, and odds, the mobile experience is particularly important.
DraftKings offers one of the best sports betting apps out there. The navigation and UI are both intuitive and responsive, so you won't have to worry about getting stuck in menus or dealing with a clunky user experience.
While the FanDuel app has live streaming and DraftKings does not, DraftKings has something a little better.
In May 2020, DraftKings entered into a partnership with Sportradar, a global sports data company. Through this agreement, the DraftKings app was enabled for non-video live streaming. How is this better? Sportradar's expertise gives users of the app access to real-time updates of sports events. However, not just updates, but actually usable insights to make educated decisions.
Overall, DraftKings is easier to use and more intuitive than what FanDuel offers, giving it an edge in terms of the mobile experience.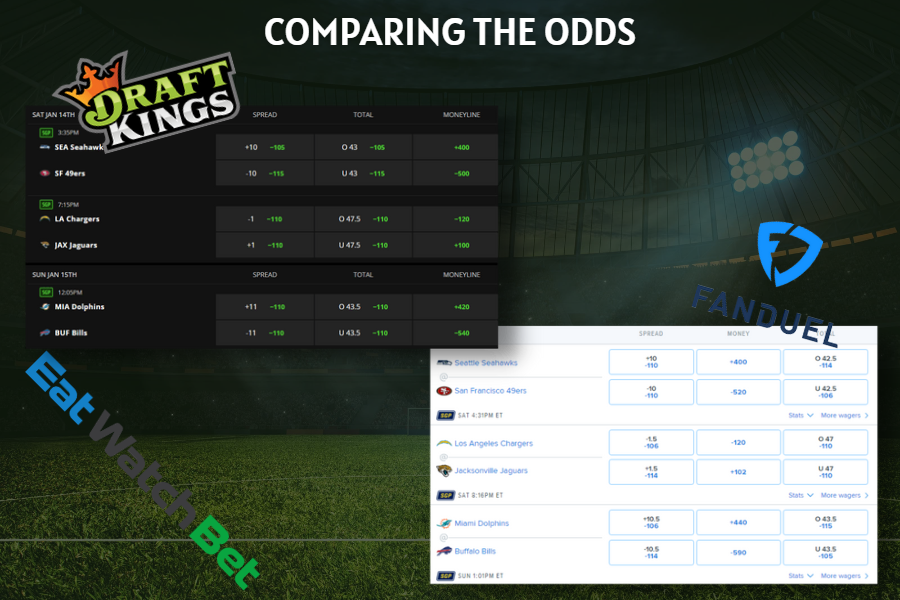 Odds, lines, and juice: Another tie between DraftKings and FanDuel.
This was just too close to call so we're deeming it a tie between DraftKings and FanDuel when it comes to the lines, odds, and juice.
Both sportsbooks offer competitive lines with low vigorish on most sports wagering options. Compared to other sportsbooks, we wouldn't say either had the best odds, but definitely worth a shot.
When we took a sample of NFL game odds this past season, we saw little to no difference between the two sportsbooks. We looked at various NFL teams to ensure the lines weren't swayed by another factor.
For example, DraftKings had slightly better odds compared to FanDuel on the Seattle Seahawks vs. San Francisco 49ers on the moneyline at -520 vs. 500. But for Jacksonville, FanDuel took it at +102 as opposed to +100.
So you can see how close it is. It goes back and forth for nearly every game, and it comes down to the sportsbook you feel most comfortable betting with.
In the end, we have to give this one a TIE. Both DraftKings and FanDuel are offering competitive lines on all types of bets, from money lines to props.
Best promotions and offers: DraftKings Sportsbook.
On any given day this could swing one way or another because their offers and promotions are continuously changing.
Right now, the best offers and promotions come from DraftKings Sportsbook. They have several of their own bonuses and rewards that you can take advantage of as well as exclusive ones for new and existing customers.
For example, DraftKings has a bet $5 to get $150 instantly, compared to the FanDuel welcome offer of bet $5 to get $150 in bonus bets. Of course, we have to look at the terms attached to these bonuses.
Sure, DraftKings has a 25x rollover requirement on their bonuses, which is massive compared to the rest of the industry, and the FanDuel promo has a 1x rollover, but that doesn't make it the main deciding factor.
DraftKings also offers a $500 deposit bonus on the first deposit of your own money, and they have a loyalty program that is one of the best in the industry. The DraftKings loyalty program, when compared to other sports betting sites, is just phenomenal. You can earn points and use them in upcoming bets. That's what swayed it for us. We love an online sportsbook that takes care of existing and new customers alike.
Ultimately, DraftKings is ahead of FanDuel in terms of promotions and offers. They have more bonuses available as well as no-risk bets for new customers which makes them a better choice if you're looking for the best deals.
DraftKings vs FanDuel Sportsbook Battle Verdict: DraftKings
After looking at everything, we have to give the edge to DraftKings when it comes to sports betting.
We thought one or the other would totally blow the other out of the water, but that wasn't the case. We expected to see the FanDuel sportsbook offer more high-stakes contests or DraftKings to offer more bonus games, but in the end, it was a wash. Both offer so much when it comes to popular sports.
There were some minor differences between the two but DraftKings sportsbook offers slightly more for sports bettors.
The mobile experience on the DraftKings app is much better, and they offer more promotions and bonuses. We absolutely love the DraftKings loyalty program (the FanDuel players club isn't bad, but they don't offer as much as DraftKings). They also have a partnership with Sportradar that gives users of their app real-time updates and access to usable insights.
The lines, odds, and juice are pretty much a tie, so that wasn't the deciding factor.
Our recommendation - Try both DraftKings and FanDuel.
While DraftKings may take the crown in the end in the FanDuel vs DraftKings sportsbook debate, we've got to give both sportsbooks credit for their offerings.
FanDuel Sportsbook offers a great daily fantasy sports mobile platform and some really cool features that you'll want to check out (we are particularly fond of the Fast Pick game).
DraftKings has its own set of perks like access to data-driven insights and no-risk bonuses for new customers.
So our recommendation is to create a sports betting account on both sportsbooks and see which one you like the best. Who knows? You may find that you love both equally! Give them a shot, and if you don't like what you find, then move on to the next online sportsbook or online casino. The worst possible outcome is you walk away with bonus money from their bonuses. So at the very least, don't miss out on bonus bets.
There are so many daily fantasy sports and sportsbook options out there, so don't settle for just one. So whether you decide to go with DraftKings or FanDuel – enjoy your sports betting experience either way.
21+ to wager. Please Gamble Responsibly. Gambling problem? Call 1-800-GAMBLER. Call 1-800-NEXT-STEP (AZ), 1-877-770-7867(CO), 1-800-522-4700 (KS, NV), 1-800-BETS-OFF (IA), 1-800-9-WITH-IT (IN), 1-877-770-STOP (7867) (LA), Call 1-800-327-5050 (MA), Call 1-800-GAMBLER or visit mdgamblinghelp.org (MD), 1-800-270-7117 for confidential help (MI). Call 877-8-HOPENY or text HOPENY (467369) (NY), 1-888-532-3500 (VA).