The DraftKings NFL Week 15 main slate currently includes 9 games and dropping with the Washington/Philly and Seahawks/Rams games both already rescheduled. Stay vigilant as games get moved and players get added to the COVID/reserve list.
We have updated our picks to include only players from games that have not been rescheduled and will continue to do so as we approach kickoff to the Week 15 Sunday slate.
DraftKings NFL Week 15 Quarterback Picks
Best Value: Jimmy Garoppolo - $5,800
Jimmy G faces off against the 31st ranked pass defense in the NFL when the Niners take on the Falcons this Sunday.
Kyle Shanahan has certainly leaned on his quarterback in recent weeks, calling for 25+ pass attempts in three consecutive weeks.
Garoppolo certainly hasn't disappointed, accounting for two touchdowns in as many weeks and nearly 300 yards, as well.
I really like his price point this week and think his floor is pretty high if you're looking for a solid value.
Other top value plays: Teddy Bridgewater ($5,500), Tua Tagovailoa ($5,700)
Top Scorer: Kyler Murray - $7,900
Since returning from injury two weeks ago, Kyler Murray has regained his early-season form.
Despite accounting for zero touchdowns last week against the Rams in primetime, Murray was still able to pick up 22.42 FPTS due to his 67 yards on the ground and 383 through the air.
Murray goes up against a Detroit defense that has been solid at times but still has a propensity to give up some points. This is a must-win for a Cardinals team that is fighting for seeding in the NFC and I would expect Murray and the offense to have their foot on the gas well into the third quarter.
Other top choices: Matthew Stafford ($7,000), Aaron Rodgers ($7,500)
DraftKings NFL Week 15 Running Back Picks
Best Value: James Robinson - $5,400
We will take the bait here and hope that Robinson gets a shot to work as the workhorse back in the Jaguars' offense again this week. If the Jags locker room and coaching staff want to make a statement, James Robinson is clearly the guy to make it.
He couldn't ask for a better opportunity as the Texans are the NFL's worst run defense, allowing 147+ rushing yards per game, a full 8 yards-per-game worse than the 31st ranked Steelers.
Robinson has played well when given the chance this season, averaging 4.8 YPC on the year and 5.2 YPC at home. His fantasy split is also considerably better in Jacksonville where he's averaged 17.3 PPG compared to just 9.4 PPG on the road.
Other top value plays: Chuba Hubbard ($5,700), Sony Michel ($5,800)
Top Scorer: Najee Harris - $7,800
Not really going out on a limb here, but the highest-paid running back on the slate this week should also provide the highest point total.
Harris has been a workhorse for the Steelers all season long, logging seven 20-plus carry performances in the last nine weeks. When he gets a volume of touches he seemingly always produces, piling on yards and finding a way to get in the endzone often.
Harris also remains one of Big Ben's top safety valves, grabbing at least three receptions in all but two games this season. At $7,800, I would even consider Harris' price point a little low based on the production I would expect out of Pittsburgh's top back.
Other top choices: Cordarrelle Patterson ($6,900), Joe Mixon ($7,200)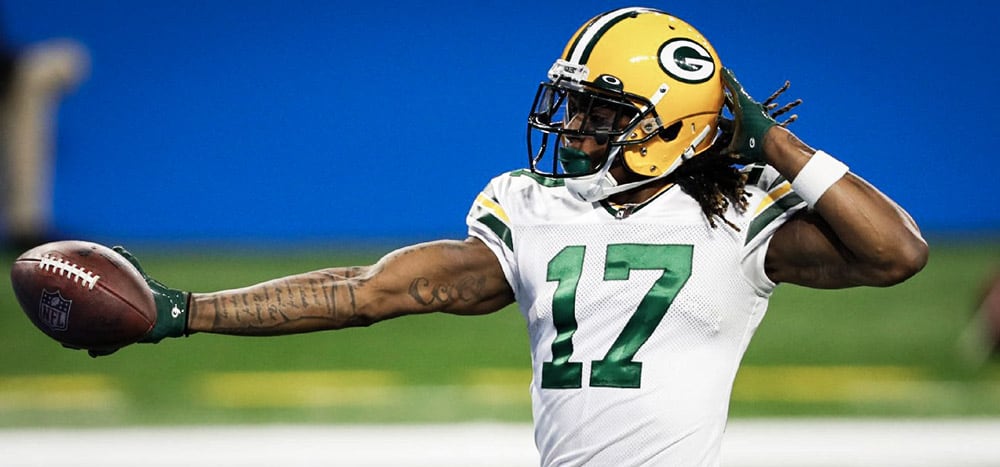 DraftKings NFL Week 15 Wide Receiver Picks
Best Value: A.J. Green - $4,900
Addition by subtraction here. Green should see plenty of targets with top option Deandra Hopkins sidelined this week against the Lions.
Kyler Murray has shown comfort in finding the veteran wideout, hitting Green on 7 of 10 targets last week for 102 yards.
I fully expect Murray to look for Green early and often in what should be a game the Cardinals roll in.
Other top value plays: Russell Gage ($5,800), Brandon Aiyuk ($6,300)
Top Scorer: Davante Adams - $8,900
Adams remains as consistent a receiver as possible, accounting for over 20+ FPTS the last three weeks and 10+ FPTS in every game this season.
Adams and Rodgers are the most prolific combo in the league, aside from maybe Cooper Kupp and Matt Stafford.
Give me Adams to continue his hot streak this week against a slightly suspect Ravens secondary.
Other top choices: Cooper Kupp ($9,000), Diontae Johnson ($7,500)
DraftKings NFL Week 15 Tight End Picks
Best Value: Mike Gesicki - $5,000
Gesicki bounced back in week 13 against the Giants after doing next to nothing the previous week.
The tight end from Penn State saw 11 targets in Week 13 and with Tagovailoa's top option Jaylen Waddle out this week, we should see Gesicki get plenty of work.
$5,000 is just too low a price for an option receiving double-digit looks.
Other top value plays: Tyler Higbee ($4,000)
Top Scorer: George Kittle - $7,500
Kittle's production since Week 10 has been out of this world, aside from a Week 12 stinker against the Vikings.
San Francisco is battling for a playoff spot and will rely on their trusty safety net all day this week.
Kittle should see plenty of targets, especially near the red zone in this one.
Other top choices: Zach Ertz ($5,400)
DraftKings NFL Week 15 Defense Picks
Miami Dolphins - $3,700
No defense has been better since Week 9 when the Dolphins embarked on a current five-game win streak.
The Dolphins have caused havoc with a variety of blitzes and square off against the same Jets offense they topped four weeks ago.
I wouldn't be surprised to see multiple sacks and turnovers for the Miami D in this one.
Other top choices: Dallas Cowboys ($3,600)