With 4 of the NFL's top 6 offenses in action, the Sunday slate on DraftKings should be loaded with scoring. Pricing is tighter than what we saw with the Saturday slate but we feel like we have a winner for Sunday. Before I jump into the position-by-position breakdowns, here is a look at my optimal lineup for the Sunday Divisional slate on DraftKings: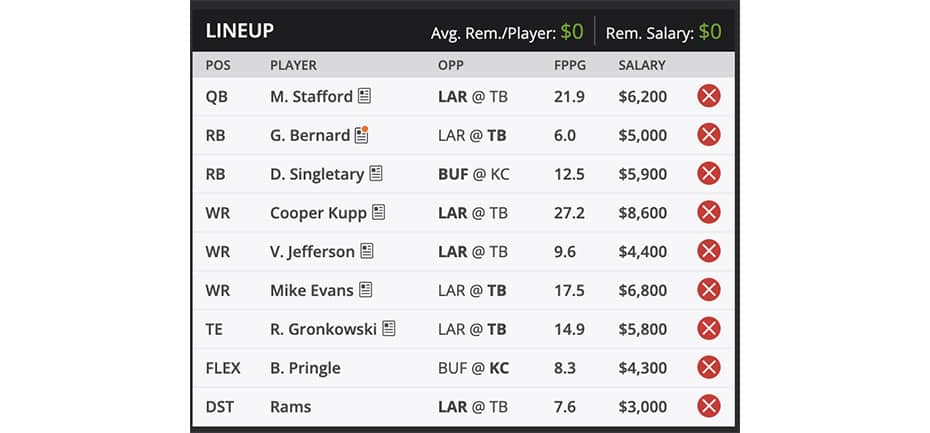 Quarterback Picks for DraftKings
Best Value: Matt Stafford - $6,200
On a Sunday slate that is hosting potentially the top four fantasy quarterbacks in the league this year, I will go with Stafford as my value play for the week.
Stafford has a few down performances in weeks 15 and 16 but has bounced back well putting up FPT performances of 20.26, 19.52, and 24.28, respectively in recent weeks.
Stafford has an automatic option in Cooper Kupp and should be able to exploit the Tampa Bay Buccaneer's banged-up secondary.
Top Scorer: Josh Allen - $7,600
I've tried to deny it for weeks it seems, but Josh Allen is simply on a tear right now and should be the top option on everyone's board.
The Kansas City Chiefs defense is playing much better than early in the season, but Allen seems to be rolling.
He also plays just fine on the road away from Buffalo and has accounted for 20+ FPTS in six straight weeks, including a pair of 40 FPT performances.
Running Back Picks for DraftKings
Best Value: Ke'Shawn Vaughn - $4,700
Vaughn was a very serviceable option for Tom Brady and the Buccaneers last week with Leonard Fournette and Ronald Jones Jr. out, which is the case again this week.
Vaughn racked up 17 carries and a pair of targets through the air en route to a 14-point performance.
I'd expect a few fewer carries this week considering the blowout last week likely increased that, but Vaughn is still the featured back in this Buccaneer offense for at least one more week.
Top Scorer: Devin Singletary - $5,900
For as good as Allen has been, Singletary has been nearly as great from the running back position for the Bills.
Singletary rushed for 81 yards and a pair of touchdowns last week against the Patriots and faces off against a mediocre rush defense this week in the Chiefs.
He should approach the 15 carry mark yet again this week and if he is able to find the end zone similar to weeks past, Singletary will actually provide great value while also being the top-scoring back this Sunday.
Wide Receiver Picks for DraftKings
Best Value: Stefon Diggs - $6,500
It's not often you find Stefon Diggs on the best value list, but with such a top-heavy slate of wideouts playing this week, he certainly presents those options.
Diggs was just decent last week against the Patriots, but that game was far out of hand early on and the Bills probably dialed back the playbook by halftime.
Diggs will be needed heavily this week against the Chiefs and will likely warrant a larger target share.
Prior to last week, Diggs saw 14, 9, and 13 targets in three games and that is where I expect him to be this week, as well.
Other top value plays: Odell Beckham Jr. ($5,300)
Top Scorer: Cooper Kupp - $8,600
At nearly $2,000 more than any other wideout, Kupp is clearly the go-to pick this week at wide receiver.
Kupp has notched double-digit fantasy points in every single game this year and topped 20+ points in all but four games.
Simply put, Kupp is the surest thing in the fantasy football world these days and that will not slow down this week.
Other top choices: Tyreek Hill ($6,600)
Tight End Picks for DraftKings
Best Value: Rob Gronkowski - $5,800
This isn't your classic bargain bin value pick here, but Gronk is a value in my book this week considering the usage he is likely to get.
Aside from Mike Evans, Tom Brady is actually dealing with a pretty bare cupboard of assets so expect Gronk to see plenty of targets.
He did see six last week in the Bucs opening-round win, including a touchdown grab, but that number will likely grow as the games get closer and closer throughout the playoffs.
Top Scorer: Travis Kelce - $6,500
Five touchdowns in fours games and a pair of 100+ yard performances is what Kelce has produced for the Chiefs heading into the divisional round.
Patrick Mahomes and Kelce have proven to be among the top combos in the league, consistent as just about any other.
Kelce will see all the targets he can handle against one of the top defenses against the pass in the league, but I would still expect him to get his numbers one way or another.
Defense Picks for DraftKings
Los Angeles Rams - $3,000
The Rams defense has been spotty throughout the year but certainly has the ability to generate pressure and rack up sacks and TFLs.
With the Bucs lacking some running back depth and potentially becoming very one-dimensional, the Rams can apply some unique pressure and rack up some points.