The NFL Conference Champions will be decided this week and DraftKings has rolled out a massive slate of contests including another Millionaire contest. This is my favorite DraftKings lineup for Sunday, and I think it gives you the best shot to finish in the cash and build up a bankroll with the Super Bowl mere two weeks away.
Find my picks for the NFL Conference Championship slate using nearly the entire $50,000 budget to build the optimal lineup of Chiefs, Bengals, Rams, and 49ers players. The running back position is the clear weak spot for this slate, so paying down there and rostering 3 of the big 4 receivers (Kupp, Samuel, Hill, Chase) may be the best route.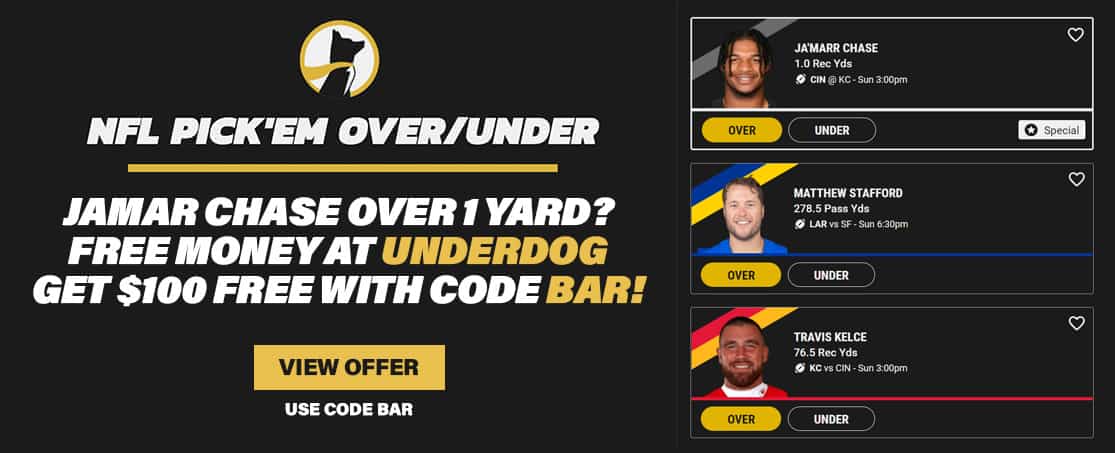 QB: Matthew Stafford - $6,300
Stafford averages around 22 fantasy points per game. He is a great stack option with Cooper Kupp in this lineup as well. He has lit it up thus far in the playoffs as he has totaled 564 yards and 4 Touchdowns in two playoff games against the Cardinals and Buccaneers making him a great play in any lineup.
RB: Cam Akers $5,000
Akers returned from a long absence and got 41 carries over the Rams first two playoff games. I expect more of the same this week as the 49ers will focus more on shutting down the passing game. The 49ers pass rush has 15 sacks in the last 3 games and sacked Stafford 5 times in week 18. Look for McVay to use a steady dose of Akers on Sunday to keep that front four honest, making this a solid volume play.
RB: Darrell Williams $4,200
Williams returns to the Chiefs lineup this week and we are willing to take a shot that Reid plugs him right back into the rotation. While McKinnon was solid over the past three weeks, Darrell Williams has been the third down back for Kansas City all season. He averaged over 13 DraftKings PPG in the 10 weeks prior to injury and offers a ton of upside here. Even if he doesn't get a ton of action, the low points in your lineup will be offset by the salary savings which allows you to roster the high-end trio of Cooper Kupp, Deebo Samuel, and Tyreek Hill.
WR: Cooper Kupp $8,800
Between him and Deebo Samuel, both guys are the key players for this week's lineups as they are the best two players on the field in not only their game but the AFC game as well. Despite everyone knowing the ball is going to Kupp, he has been nearly unstoppable in the postseason totaling 14 catches 224 yards, and, 2 Touchdowns over the first two playoff games against Arizona and Tampa Bay.
WR: Deebo Samuel $7,200
Like previously mentioned with Kupp, Deebo is one of the top players on the field and he will surely find his way into the endzone in this one. Especially after not finding the endzone in last week's win, it's hard to imagine Deebo Samuel going another week without ending up in the endzone for six. Deebo averages about 10 Carries and 4.5 catches per game in this post season and I expect an even bigger breakout game for him in this NFC Championship Game.
WR: Odell Beckham $5,100
The Rams passing attack has really narrowed down to two primary targets in these playoffs making Beckham a high floor play in Conference Championship contests. He's still relatively affordable on DraftKings this week considering he has scored at least 12.9 points in 4 of his last 5 games. While he did struggle against the 49ers in week 18, the Rams built an early 17 point lead and (unsuccessfully) tried to bleed the clock through the entire second half of that game.
TE: CJ Uzomah $3,400
Uzomah is always a great option since the KC Chiefs are likely to focus on Jamarr Chase, Tee Higgins, and Tyler Boyd, leaving the big Tight End open in the red zone for some poached Touchdowns. As Chase and Higgins will be the focus of the night for the Kansas City Chiefs, which is why I'm expecting a big game from CJ Uzomah as long as Joe Burrow has time to throw the football in this one.
Flex: Tyreek Hill $7,000
Hill is the fastest player on the field when it comes to the four remaining teams and he is sure to get the ball no matter how many men you put on him. As one of Mahomes' favorite targets he is sure to be heavily featured no matter who the Chiefs lineup against week in and week out. I expect Tyreek Hill to find the endzone at least once if not twice as he can only be double covered so long without Kelce going off.
DST: Chiefs $3,000
Joe Burrow was sacked nine times against the Tennessee Titans. In this one, it is fair to say he will be facing a much better defensive front so you should expect more of the same. Even if the Chiefs end up giving up points, they will certainly get it back off of sacks or forcing Cincinnati Bengal turnovers in this one.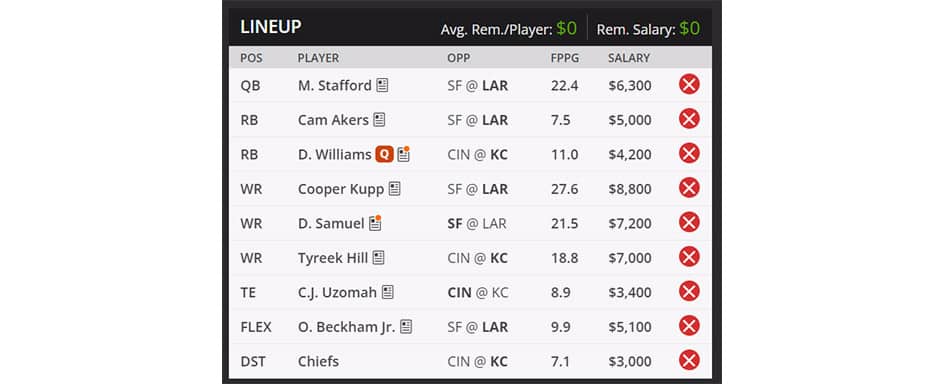 Total Lineup Salary - $50,000