DraftKings has rolled out three huge slates for the NFC Divisional Round games with one on Saturday, another on Sunday, and a third covering all four games this weekend. We will break down all of the top plays at every position for Saturday in this article, but let's start by taking a look at my optimal lineup for Saturday.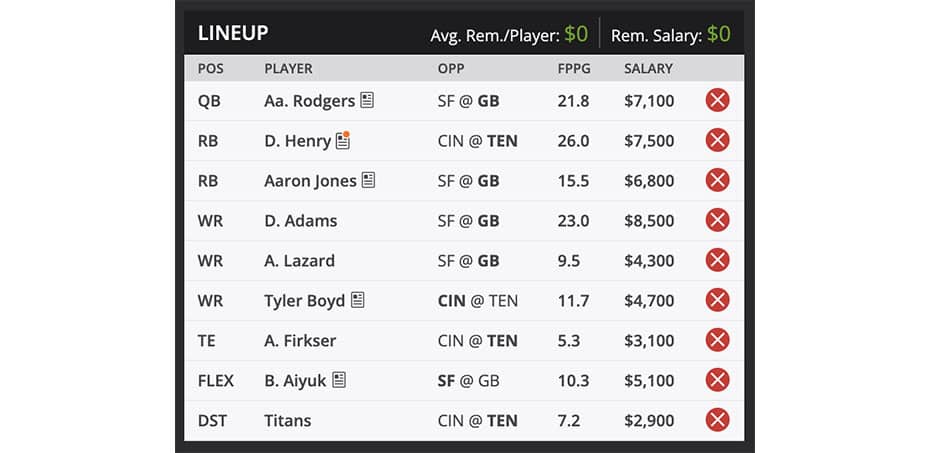 Saturday Divisional Round Quarterback Picks for DraftKings
Best Value: Jimmy Garoppolo - $5,200
There are only four options at quarterback on the late for Saturday and although Jimmy G has been hobbled by injury in recent weeks, I still like his chances to possibly find the end zone a few times against a pretty poor Packers defense.
The 49ers seem to be clicking at the right time, with a rushing attack that is headed by Deebo Samuel and Elijah Mitchell.
That said, the running game should open up some opportunities through the air and Garoppolo certainly has some weapons to use down the field should those areas open up.
If you're looking to save some money somewhere in your lineup and be a bit of a contrarian, this is an area to circle.
Top Scorer: Aaron Rodgers - $7,100
The argument could certainly be made for Joe Burrow this week, but give me the known commodity who has done this in the playoffs time and time again.
Rodgers is coming off a bye week and will be home against the 49ers, who aren't exactly stout against the pass. Rodgers and wideout Devante Adams are about as sure a tandem that exists.
Give me Rodgers to have a big day at Lambeau and be the top scorer among all fantasy players today.
Saturday Divisional Round Running Back Picks for DraftKings
Best Value: Elijah Mitchell - $5,800
I was pretty surprised by the low price tag associated with Mitchell this week. At just $5,800 you're getting a featured running back in an offense that loves to run the football.
Mitchell has seen at least 21 carries in six straight starts while rushing for 90+ yards in all but one of those games.
He's also accounted for four touchdowns in the same span and is used a little bit in the passing game, as well. Give me Mitchell as a must play today given his low price point.
Saturday Divisional Round Top Scorer: Derrick Henry - $7,500
Call it a hunch. Henry has been activated off IR ahead of this week's matchup against the Bengals, who are the 21st ranked rushing defense in the league this year from a fantasy perspective.
It's difficult to know whether Henry will be his full self after requiring surgery that has kept him out since week 8, but that may play so some advantages today.
At just $7,500, you're certainly getting a discount on what could be the top scorer of the week and a difference maker. Give me Henry on a hunch this week, with the hope that many players avoid him.
Saturday Divisional Round Wide Receiver Picks for DraftKings
Best Value: Tyler Boyd - $4,600
Tyler Boyd is simply a steal this week, as he has been for the last five. The Bengals wideout is a must play in all lineups to allow some room to spend at other positions.
Boyd doesn't get targeted all the often, but he certainly makes up for that by finding the end zone has frequently as he does.
Boyd has caught a touchdown pass in four-straight games despite only seeing a high of five targets in that same stretch.
With some many weapons at wideout, Burrow likes to go with the matchups and find Boyd when the time is right. For $4,600, he's certainly worth a flyer this week to find the endzone again and bolster your lineup elsewhere.
Other top value plays: Allen Lazard ($4,300)
Top Scorer: Davante Adams - $8,500
There's no duo I trust more than Adam and Rodgers this week or any week for that matter. Cooper Kupp won the wide receiver triple crown, but Adams wasn't very far off from those historic numbers this year.
Adams has seen 7+ targets every week since week 7 and that should only increase now that it's playoff time.
The Packers were able to rest up last week, which should help the veteran wide receiver be ready for this week's game against the 49ers, who are 22nd against the pass from a fantasy perspective.
Other top choices: Ja'marr Chase ($7,100)
Saturday Divisional Round Tight End Picks for DraftKings
Best Value: Anthony Firkser - $3,100
Firkser has become one of Ryan Tannehill's more reliable options over the past few weeks, corralling a pair of touchdowns in as many weeks.
With the return of Henry, there should be a few openings in the passing game on play-action and Firkser may be able to find pay dirt for the third consecutive week.
Saturday Divisional Round Top Scorer: George Kittle - $5,300
Kittle has undoubtedly been a disappointment in recent weeks, but still remains the best option on the tight end board today.
Kittle's targets have been middling the last four weeks, but he's always due for a breakout game. I'll take the potential here, especially for a price that is as low as it has been all year.
Saturday Divisional Round Defense Picks for DraftKings
Cincinnati Bengals - $2,700
The Bengals defense is not one I would normally pick but given the bleak slate and solid offenses this week, it's who I would roll with.
Off all the teams playing Saturday, the Titans offense certainly has the most dud potential considering the question mark around Henry's true ability to play today.