Sports bettors were treated to a slew of marquee matchups as well as a full board of games to wager on in Week 1 of college football. What makes college football so exciting is the number of insane upsets that happen every week. In Week 1, for the first time in 13 years, three underdogs of 19 points or more won outright on the same day!
In the spirit of unlikely upsets, here at EWB, we'll be recapping a list each week of crazy bets that paid huge dividends for bettors! Here's the list for Week 1 of college football. Needless to say, the bettors who had these winning tickets had a Labor Day weekend that they'll never forget!
Let's get it started with a $10, 14-leg college football parlay from WynnBet that turned into almost $80,000 when the Louisivill/Ole Miss total stayed under 74.5 on Monday night.
On the cusp of hitting a 14-leg CFB parlay at +799357, nbd 😏

This WynnBET player is ONE leg away from turning $10 into $79,935.70

Does Lou vs. Ole Miss stay UNDER 75.5 total points??

Share your answer below‼️ pic.twitter.com/FhsN7Ud2Dn

— WynnBET (@WynnBET) September 6, 2021
Safe to say size matters when it comes to parlays... There isn't anything too crazy on this ticket, 14 legs, each leg somewhere between -105 and -116. Clearly, this is a bettor that specializes in betting unders as he found 14 of them on the week 1 college football slate. You will have to wait for next week's article to see if he can run it back with 14 overs.
For anyone wondering...it feels good. Damn good. 💪@br_betting @FDSportsbook #GamblingTwitter #CFB pic.twitter.com/zyr8q56y47

— Prop Holliday (@PropHolliday) September 5, 2021
Bettor Cashes 9 Leg Parlay at FanDuel Sportsbook
According to our research, @PropHolliday had the largest parlay payday of Week 1 in college football. What's impressive about this parlay is that none of the games were really that much of a sweat, with the exception of Florida Atlantic +23.5.
The Owls trailed the mighty Gators 21-0 heading into the fourth quarter. Florida was actually covering the point spread with just a few minutes to go in the game.
A so-called "meaningless" touchdown with only a little over one minute left turned a $100 FanDuel Sportsbook wager into nearly $27,000 for @PropHolliday! We would have killed to see his reaction as N'Kosi Perry hit Brandon Robinson for that 13-yard touchdown pass to just sneak inside the number!
Gambler at BetMGM Scores BIG with 15 Team Parlay WIN
A bettor at @BetMGM hit a 15-leg college football parlay yesterday.

Turned $15 into $14,618. pic.twitter.com/tZsVp9Uqdu

— Darren Rovell (@darrenrovell) September 5, 2021
A sports bettor at BetMGM turned a tiny little $15 wager into a hefty payday of $14,618!!! Want to see something really crazy? Check out how many of the bets were on FCS teams!
Say what you will, but it takes a massive amount of chutzpah to put little-known teams like Bethune Cookman and Portland State on your parlay card! After cashing this ticket, we think this sports bettor should also try his hand at PowerBall. Just for clarification purposes, this ticket was a mix of pregame odds and live betting.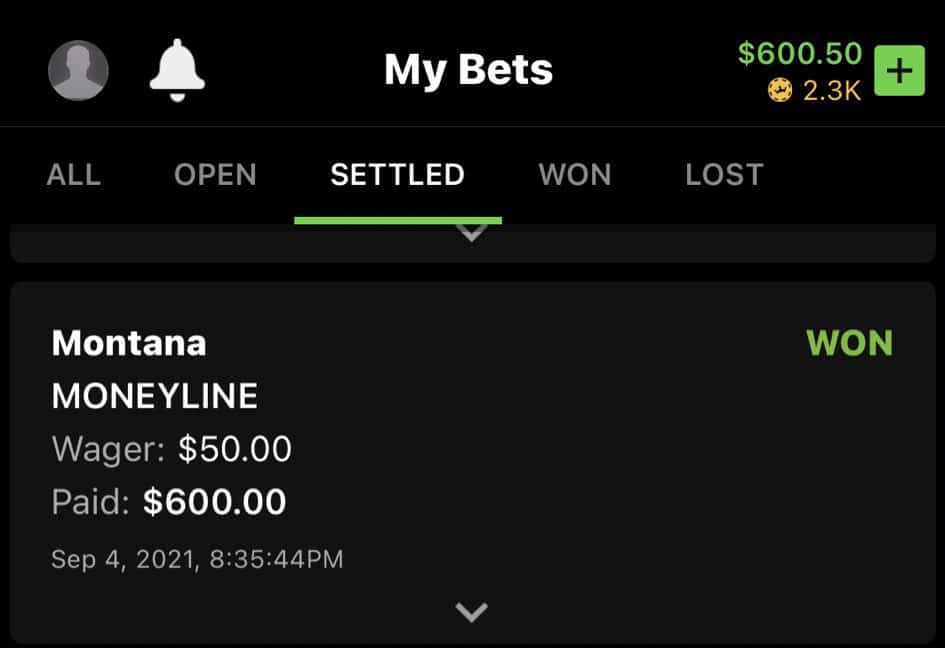 Sports Bettor at DraftKings Cashes Montana +1200
The most unlikely upset of the Week 1 college football slate was the #20 ranked Washington Huskies losing at home to the Montana Grizzlies!
Most sportsbooks made Washington a 22.5 point favorite in the contest, but @Kinglid131 didn't even take the large number of points! He took the Grizzlies on the moneyline at the juicy price of +1200 and turned a $50 bet into $600!
Washington got off to a great start as QB Dylan Morris scored on a one-yard run early in the first quarter. That would be the only points the Huskies would score the rest of the way as Montana pulled off the shocker 13-7! Nice call @Kinglid131, you may have been the only person in the whole world who had that ticket!
East Tennessee State Stuns Vandy; Cashes +950 ML Ticket
A bettor put $100 on the East Tennessee State ML before the game.

The bet paid out $950 with the upset 👏 pic.twitter.com/B5PLbwynVn

— DraftKings Sportsbook (@DKSportsbook) September 5, 2021
Here's another moneyline underdog that nobody saw winning the game outright! Well, almost nobody! A sports bettor at DraftKings plopped $100 down on the East Tennessee State Buccaneers to beat the Vanderbilt Commodores at the nice price of +950.
It's not often that an SEC team loses to an FCS team, but the ETSU Bucs ended up ruining new Vandy coach Clark Lea's debut! The surprising thing was that after taking a 3-0 lead, Vandy's defense gave up 23 unanswered points to start the season off on the wrong foot. ETSU ended up winning 23-3 and made one lucky bettor at DraftKings look pretty darn smart!
Did Anyone Call All 3 HUGE Upsets?
In addition to ETSU and Montana pulling off mammoth upsets, Northern Illinois also took down Georgia Tech as a 19 point underdog during Week 1. The Huskies pulled to within one late in the game and ended up winning on a gutsy two-point conversion attempt! Anyone who took Northern Illinois on the moneyline cashed a +700 ticket!
To our knowledge, no one picked all three outright upsets in a moneyline parlay. If someone would have done so and bet $100, they would have walked away with nearly $90,000! Now that would have been a Saturday to remember! We'll be back next week with the craziest bets from Week 2.
Browse Latest Articles