It was another wild college football weekend in Week 2 as once again there were several massive upsets. Several crazy bets also won during Week 1 of the NFL season last weekend.
A couple of bettors cashed some prop bets with astronomical odds while two others hit a huge parlay to pad their betting bankrolls. Here are some of the crazy bets from last week that paid off handsomely for a few lucky sports bettors.
Book
Offer
Link
[rating stars="5.0"]
Bet $20, Get $200 Free
On Any NFL Game, Win or Lose
Get Offer
[rating stars="4.9"]
Free Authentic NFL Jersey
Plus a $5,000 Risk-Free Bet
Get Offer
[rating stars="4.9"]
Bet $10, Get $250 Free
On Any NFL Week 2 Wager
Get Offer
Jacksonville State Stuns Florida State as +28 Point Dog
Absolutely still not over how Jacksonville State (+28) upset Florida State last night.

The Gamecocks radio call is fantastic👏pic.twitter.com/VLZD41p87x

— PointsBet Sportsbook (@PointsBetUSA) September 12, 2021
Who gave the Jacksonville State Gamecocks a chance to beat the Florida State Seminoles? Apparently, nobody did! We couldn't find a single ticket on the Jacksonville State moneyline which was around +1500 before the game at several online sportsbooks.
Heck, BetMGM even put up a live moneyline of +2800 on Jacksonville State to beat Florida State. There has been no word on if anyone actually took them up on that generous offer.
Jacksonville State moneyline CASHES in at +2800 👀

Craziness in Tallahassee!

— BetMGM 🦁 (@BetMGM) September 12, 2021
After playing Notre Dame so close in Week 1, Florida State let Jacksonville State hang around the entire game. The Gamecocks took advantage by throwing a game-winning Hail Mary pass that shocked the entire college football world. There's probably a lucky bettor out there somewhere that cashed in on the beautiful 15 to 1 odds but we couldn't find them.
Sports Bettor at DraftKings Cashes HUGE SNF Prop Ticket
HUGE WINNER 🚨

A bettor put $500 on Van Jefferson to score the first touchdown of the game.

Payout: $20,500pic.twitter.com/wzJIyW0ck6

— DraftKings Sportsbook (@DKSportsbook) September 13, 2021
A sports bettor at DraftKings had a fabulous start to the NFL season by cashing a +4100 ticket on Los Angeles Rams wide receiver Van Jefferson to score the first touchdown of Sunday Night Football. We would have paid to see his reaction when Matthew Stafford threw that 67-yard bomb to Jefferson.
The fact that Jefferson was down but no Bears defender touched him made this outcome even more dramatic. Turning $50 into $20,500 seems like an unbelievable way to start the NFL regular season. Congrats to this skilled bettor over at DraftKings!
Colorado Gambler Turns $10 Free Bet into $800 Win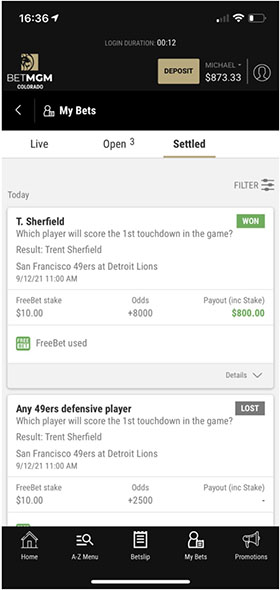 A sports bettor named Michael took full advantage of a $10 free bet at BetMGM Colorado. Michael put that $10 free bet on Trent Sherfield to score the first touchdown of the San Francisco 49ers @ Detroit Lions game. Nice call and congrats Michael!
We're betting that Michael was a bit worried when Kyle Shanahan put Trey Lance into the game with the Niners on the three-yard line. Lots of folks believe that Lance will be used to run the ball down around the goal line. Luckily for Michael, Shanny didn't call a QB draw and Lance's first NFL pass was a touchdown to none other than Trent Sherfield.
FanDuel Sports Bettor Wins 5 Team NFL Moneyline Parlay
Five teams. All underdogs. $11K win.

It's so...It's so beautiful 🥺

(IG: soliddblanco/@FDSportsbook) pic.twitter.com/sratlasnE9

— br_betting (@br_betting) September 13, 2021
It's hard enough to pick one NFL moneyline underdog winner but this bettor at FanDuel picked five of them to cash this gigantic parlay! $100 turned into over $11,000 as soon as the Miami Dolphins squeaked out a one-point victory on the road against the New England Patriots.
Between that Dolphins nail-biter and the Bengals overtime win over the Vikings, we'd say this bettor experienced plenty of stress on his way to this impressive victory!
Another Sports Bettor at FanDuel Cashes a 6-Teamer
$25 → $3,632.12 💰

This bettor CRUSHED the early afternoon slate of NFL games yesterday with this awesome 6-leg parlay 🤑

(via IG / therealgiorgiob) pic.twitter.com/cNqoW9tMUn

— FanDuel Sportsbook (@FDSportsbook) September 13, 2021
FanDuel was obviously the place to be yesterday for NFL moneyline parlays! This sports bettor brought home plenty of cash before dinner time as all six legs of his parlay came in before 4:30 PM EST.
We're betting it felt pretty darn amazing to turn $25 into $3,632! That's one heck of a payday in Week 1 NFL action!
Browse Latest Articles