Is it September yet? The NBA Playoffs, NHL Playoffs, and even the PGA Championship are fun to bet on, but we all know that football will always be a king amongst hardcore sports investors! Fear not, my fellow sports bettors! September will be here before we know it and our wagering lives will be complete once again!
One fun way to pass the time is to check out the college football futures odds and see if there is any value on the board to get down on. Today we will check out the Big 12 Championship odds and cover three teams that may be worth putting a few dollars on. First things first, here are the current odds from the fine folks over at Fanduel Sportsbook:
Current CFB National Championship Odds
Updated Odds from FanDuel
| Team | Odds |
| --- | --- |
| Oklahoma | -175 |
| Iowa State | +250 |
| Texas | +700 |
| Oklahoma State | +1600 |
| TCU | +1600 |
| Team | Odds |
| --- | --- |
| Baylor | +3000 |
| Kansas State | +5000 |
| West Virginia | +5000 |
| Texas Tech | +8000 |
| Kansas | +25000 |
While Oklahoma (along with Texas) are trying to make a move into the SEC, the rest of the conference is trying to find a way to take out the Sooners on the field. Oklahoma has won five straight Big 12 titles, but currently hold only a slight edge over Iowa State in the betting odds.
Favorite Bet to Win Big 12 Championship: Iowa State +250
Okay, we will admit it: We have had a man-crush on Cyclones coach Matt Campbell for quite some time. This guy is the best coach in the conference and one of the best in the country! Lincoln Riley is a brilliant offensive mind and the Sooners will be tough to beat, but we think this is the year that Iowa State gets it done in the Big 12. We are a little disappointed that the odds are only +250 on the Cyclones, but there is still some value in that number and it certainly looks better than Oklahoma's -175 odds.
Iowa State shocked Oklahoma by beating them during the regular season in 2020. The Cyclones did eventually lose to the Sooners in the conference championship game, but only by six points! Nevertheless, the win in October last year over Oklahoma will give Iowa State a nice mental boost for 2021.
Campbell and his Cyclones will not be intimidated going up against Oklahoma like most Big 12 teams are. Iowa State has all of their key starters coming back on the offensive side of the ball in QB Brock Purdy, RB Breece Hall, and TE Charlie Kolar. Purdy is a seasoned veteran who knows how to win and take good care of the football.
Hall was a unanimous All-American selection in 2020 as well as the Big 12 Offensive Player of the Year! Heck, this kid was even sixth in the Heisman Trophy voting last season behind five NFL draft picks! The scary thing is Hall's stat sheet may look even better in 2021 because all of the big starters on the offensive line are returning this season as well.
Kolar is an absolute beast of a man (6-6, 257 pounds) and provides Purdy a nice reliable target over the middle when protection breaks down. Kolar knows how to find the end zone as evidenced by his 17 career touchdowns. Though underrated, we expect Kolar to be a nice NFL prospect heading into next year's draft.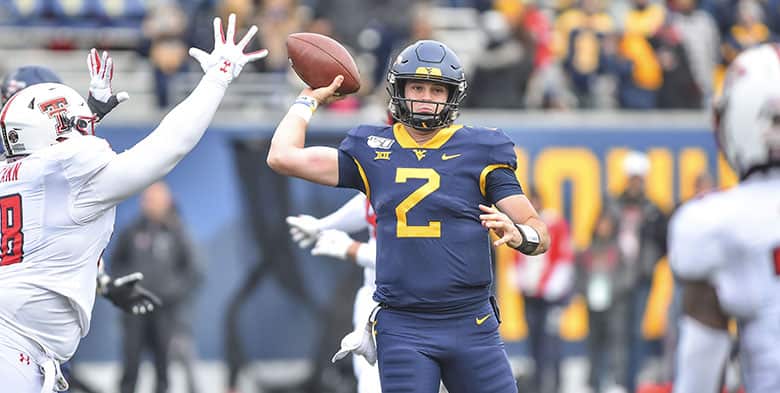 Best Longshot Big 12 Title Bet: West Virginia +5000
We simply cannot resist taking a flier on the Mountaineers at this 50 to 1 price tag. Neal Brown is one of the best young coaches in college football and he has this West Virginia program headed in the right direction. The 'Neers went 6-4 in 2020 and should take another giant step forward in 2021.
A new coach really is not able to develop a new program until around year number three. Guess what year this will be for Brown and his staff? Bingo, year three! So, we are getting West Virginia in what should be their best year since the Rich-Rod era, at +5000 odds at most US sportsbooks.
You may be shocked to learn that the Mountaineers defense led the conference in points per game allowed last season (20.5). Unfortunately, West Virginia does lose some key contributors on defense to the NFL. The good news is there is a strong defensive nucleus returning with guys like Dante Stills, who can really be a disruption in their opponent's backfields.
On the offensive side of the ball, Leddie Brown returns at running back after he had a breakout year in 2020! The 5-11, 210 pounder scored 11 total touchdowns and ended up with over 1,000 yards on the ground. Quarterback Jarett Doege played decently last season with 14 touchdown passes. However, the Lubbock native must take his game to a higher level in order to keep defenses from stacking the box and keying on Leddie Brown.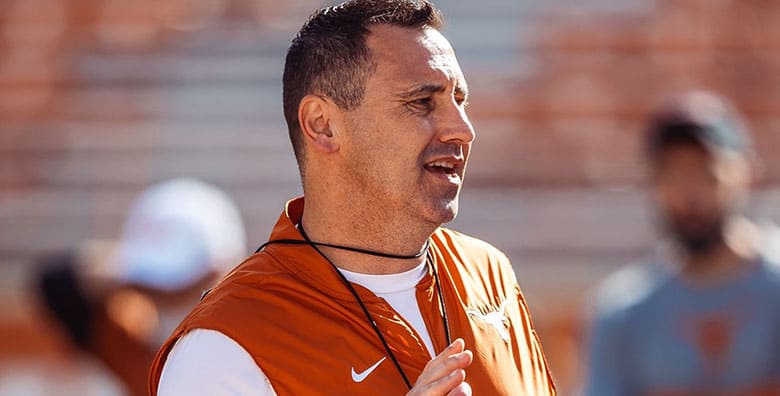 Bonus Bet for Big 12 Championship: Texas +700
Is Texas finally back? Shoot, everyone in Austin has been asking that same question since the Colt McCoy era ended back in 2009. Former head coach Tom Herman found out that everything is indeed bigger in Texas, and that especially includes the expectations for the Longhorns football program.
Poor ole Herman posted four straight winning seasons and a 32-18 overall record for Texas but the big oil-money boosters were not pleased enough to keep him around. For Longhorns fans, they now enter the exciting Steve Sarkisian era. Don't forget that Sark has a decent track record as a head coach, both at USC and at Washington. We are a big believer in Coach Sark, so we will take the 7 to 1 odds.
Sark knows how to run an offense (just look at what he did with Mac Jones at Bama) and he learned some invaluable recruiting lessons from Nick Saban. We expect Sark to do some impressive things right off the bat with this Texas offense. Running back Bijan Robinson has loads of potential and Sark will find ways to get him the ball on a more frequent basis.
The loss of QB Sam Ehlinger will sting (didn't it seem like he was there for 7 years?). However, sophomore QB Casey Thompson looks like the real deal as a legitimate dual-threat guy for the Horns. Thompson torched the Colorado Buffaloes defense in the Alamo Bowl back in January.
The Horns defense will be the team's question mark, as they lost four stud players to the NFL (mainly Joseph Ossai). However, DeMarvion Overshown will provide plenty of leadership from the linebacker position. The former safety really found his stride last season after he moved to linebacker.
Browse Latest Articles