If you're looking for something different than traditional sports betting sites, Betr sportsbook is a platform you have to check out. The Betr app and Betr website will change the game when it comes to betting on sports.
Though not available yet, you'll be sure to have access to discount codes that incentivize why you should join. Whether a new customer or a returning one to the website, you'll surely have access to deals and discount codes whether a free bet or a matched wager to kick off your Betr experience.
Whether you are new to sports betting or have been doing it for a while, Betr is definitely a site you want to check out for its unique approach to sports betting. Though Betr hasn't been widely launched in the US yet, when it is take a look at this new approach to an online sportsbook.
What is Betr?
Betr is the first direct-to-consumer sports betting company that focuses solely on micro-betting. With a soon-to-be-available micro-betting app, this site is made for those interested in sports betting on the go.
Betr is specifically designed for the everyday person. Those using the app will have the ability to bet on individual plays and players. Micro-betting will soon be introduced to the sports betting world with Betr.
What Are Microbets?
Micro-betting allows betters to bet on smaller parts of a game such as a certain play in a football game or a free throw in a basketball game. Though different than prop-betting, there's a similarity in that your bet isn't tied to the overall outcome of a sporting event.
This allows for instant gratification when it comes to your bets. Instead of waiting for the final score, you can win or lose your bet following the outcome of a certain play. This allows for a more fast-paced betting experience when it comes to all of your favorite major sports.
Founders and Investors
Betr was founded by Jake Paul and Joey Levy. Paul, a very controversial influencer began his career on Vine before conquering other platforms like YouTube and even working with Disney Channel. Now, he is a professional boxer along with his role as an entrepreneur.
Paul didn't have much experience with sports betting, but once meeting eventual co-founder Joey Levy, that all changed. Together, the two have founded Betr, a betting company that aims to disrupt the current online sports betting world.
The duo is not the only two that have high hopes for the company. Big-name investors such as Travis Scott, Richard Sherman, Dez Bryant, Desean Jackson, and various Florida funders also have faith in the success of Betr. This powerhouse of investors paired with these two co-owners will help attract customers to this much-anticipated betting site.
Coupon Codes
Since everyone loves a good deal, Betr is sure to have coupon codes and promotions available when they launch. These deals can range from free bets to deposit bonuses.
Coupon Code for Ohio Users
As Betr has only just recently launched in Ohio this January, there aren't many promo codes in circulation for the site. That being said, one discount code for Ohio users is for being one of the first 10,ooo people to sign up and activate their account.
This welcome bonus allows those lucky first 10,000 to receive $100 in bonus cash. So if you live in Ohio, sign up quickly so you'll have a chance to access this Betr promo code.
Anticipated Coupons and Offers
Though there aren't many promo codes since Betr hasn't launched, there are some anticipated coupons and promotional offers. Most likely, there will be a bonus for new customers of Betr who sign up and create an account.
Such promo codes may entail free bets, deposit matches, free plays, or wager matches. There will also probably be a rewards system where you can earn points and save money while betting. Only time will tell what discount codes and exclusive rewards one will get for using Betr, whether an old or new customer.
How to Sign-Up
Since the Betr app and Betr site aren't live outside of Ohio, you aren't able to sign up yet to make a micro bet. Though the anticipation may be killing you, you don't have to sit in the dark.
You can put your phone number on the site's page to get notified when the site goes live. Though we don't know when to expect the launch, be one of the first to know by signing up for notifications.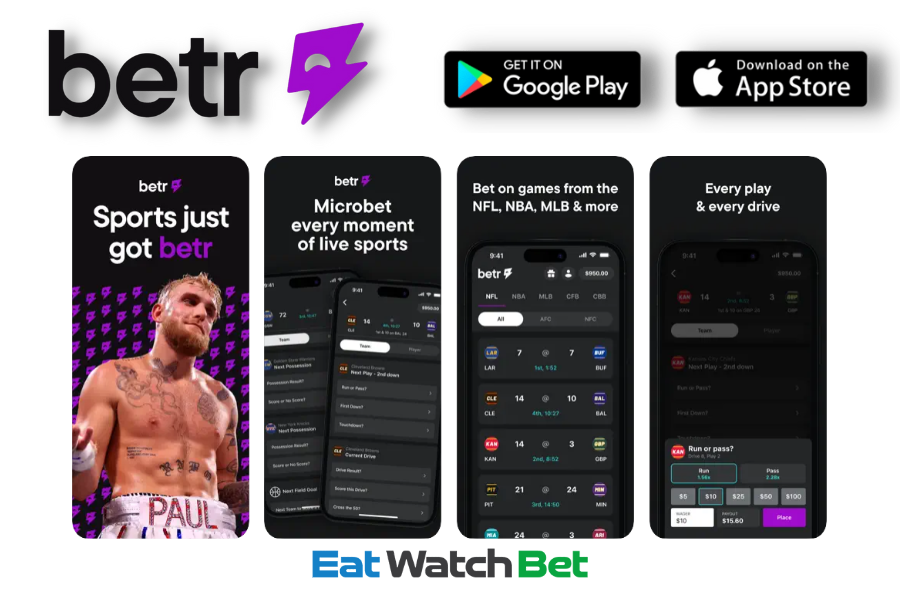 Micro Sports Betting Available
Micro-betting allows you to wager on a single outcome or play in a game. While there are a few options for micro-betting on Betr, there are endless possibilities across all major league sports for there to be micro-betting.
From the NFL to the NBA, from boxing to hockey, enjoy fast-paced, live betting when Betr is fully launched. Make sure to keep an eye out for new customer discount codes when the page goes live.
Pitches & At-Bats
When it comes to baseball, you'll be able to bet on a single pitch. Will the player hit the next pitch or strike out? What will the outcome of the next at-bat be? The next five at-bats? Will the batter make it to the next base? These and more are all possibilities for making a micro bet on Betr.
Plays & Drives
For football fans, bettors will be able to bet on a single drive. Will they make the next touchdown? What about the next field goal? These are all possibilities for wagers on Betr.
You'll also have the opportunity to bet on a single play. Will they run with the ball or pass it to the next player? Will yards be lost or gained? Keep up with your favorite NFL or MLB team (amongst other) while earning money in the process.
Shots & Possessions
Considering the shorter possession times in basketball, live betting becomes a little more tricky if you're doing micro-betting. But definitely not impossible.
You'll be able to bet on specific possessions. Will they make that free throw? What about the next couple of free throws? Is the next shot going to be 2 or 3 points? Figure out what are the odds and make this fast-paced game even more exciting by using Betr.
Customer Service
The customer service feature is currently live, allowing you to fill out a contact form with your email, name, and question. You are also able to contact them on social media. This may be the perfect place to inquire about deals and discount codes Betr may offer.
Once the site is fully launched, options for getting in contact with a customer service representative will most likely expand.
Payment
Right now, it's expected that Betr will be accepting typical payment options you could find on any other betting site including PayPal, E-Check, or Crypto Currencies. However, you will not be able to use a credit card. Joey Levy announced the banning of credit card use for user safety.
Another interesting aspect of Betr's payment method is how they will enforce deposit limits for users ages 21-25. Levy hopes that this measure will "bring the sports betting experience on par with other entertainment services."
How does the Betr app work?
It's pretty simple. You just download the app, create an account, deposit money, and place a bet on the next moment of the event. You'll be able to track your betting history and keep betting throughout the event. It's quite a bit different than other sportsbooks like DraftKings, Bet365, and, Barstool sports, as it's based on microbetting with crypto instead of traditional bets with fiat currency.
Does Betr have a website?
They do, but unfortunately, you can't bet from their website, as bets can only be placed through the app. You can find their website at https://betr.org.
Is Betr owned by Jake Paul?
Yes, Jake Paul is a co-founder of the popular Betr Sportsbook app. Jake Paul and Joey Levy have launched Betr, a sports betting company that specializes in micro-betting rather than gambling on the overall outcomes of games. Jake Paul is the CEO, and Joey Levy is the President of the company.
Currently, they only offer real-money games in Ohio. That may change soon as they continue to grow and expand. However, even if you are not located in Ohio, you can still enjoy Betr's free-to-play experience in 48 other states. You can bet coins to win more coins which can then be exchanged for real prizes. Unfortunately, any discount code or coupon code you want to use is only good in Ohio for real-money games.
What is BetterBetting crypto?
BetterBetting (BETR) is a cryptocurrency that runs on the Ethereum platform. It's used in place of money to place bets on the Betr platform, and users can trade it with other cryptocurrencies as well.
Where can I find a promo code?
We post promo codes and deals right here on this page as well as our social media platforms. So if you're looking for the latest promo codes and deals, make sure to check back often. Sometimes we'll see that Betr is offering odds boosts, and we'll post various promotions like that as well.
Where can I get free promo codes?
Right here, of course! Betr is always updating its promos, bonus codes, deals, and other various promotions so someone needs to stay on top of them. That's where we come in. As they publish a new promo code or coupon code, we post them here so you can be the first to know by signing up for notifications.
Do promo codes actually work?
They sure do! Our team of experts has tested out hundreds of promo codes and verified them to be working. So when you see a Betr promo code or coupon code on our site, you can be sure it will work.
How do you get more coins on Betr?
Betr users can take advantage of the loyalty rewards system to earn more coins. By logging into the app on a daily basis, Betr users can accumulate coins which can be used to bet on various sporting events through the app.
How do I place a bet on Betr?
With BETR technology, users can play or lay bets with peers by registering a BETRWallet and buying BETR to send to their wallet address. They can then go to BETR.bet or download the Android app for the best odds and bet or lay pre-game and in-play on multiple markets. Currently, only ETH and BETR are available for betting, with more cryptocurrencies coming soon.
What type of bets can I make with Betr?
With Betr, you can make micro bets on sports games from major leagues like NFL, NBA, NHL, and more. You can also bet on specific plays or drives during the game or live bet as the action unfolds.

So, for example, if you're watching a baseball game, you can wager on the next homerun or strikeout. Baseball is just an example, but you can bet on boxing, football, and so much more on the Betr Sportsbook.

There is also a wide range of prop bets available such as player statistics, over/under scores, whether a certain event happens in the game, and more. Betr also has fantasy sports betting, so you can make predictions on teams and players across multiple games.

Before you place bets on any of those, new customers must remember to use a promo code to make the most of the Betr sportsbook.
This there any relationship to BETR Health?
There is no relationship between BETR Health and the sports betting platform. BETR Health is a healthcare technology company whereas the Betr platform is focused on providing sports betting services. The two companies are completely separate entities and do not share any business relationship whatsoever.

While we can provide discount codes for the Betr platform all day, unfortunately, we don't have any BETR Health promo codes.
Check Out Betr
We don't know when we can expect Betr. But the Ohio launch in January gives us hope that the Betr website and the Betr app will go live all across the United States soon. With the introduction of micro-betting to the sports betting landscape, Betr is sure to revolutionize the way you participate in live betting.
But there is only one way to find out how the service actually is; you have to join Betr and create an account. Once Betr goes live, we imagine there will be more coupon codes and deals one will have access to allowing you to increase your savings so you can bet more. So look out for a Betr promo code as those become available.
Whether betting on the next pitch, the next free throw, the next at-bats, the next drive, the next player, or whatever single play you want, Betr is the place to do it. Convenient, accessible, and much anticipated, join the site and see what all of the hype is about.
| Review | Current Betr Promo Code Offer |
| --- | --- |
| Details | Most sports fans have likely heard of Betr, thanks to it's investor Jake Paul. Betr is the first sports betting app to focus solely on microbetting. This form of betting allows users to focus on the thrill of betting on live games. The app has a modern feel and great overall betting experience, but currently lacks the cashier options to be a viable sportsbook option for most bettors. |
| Author | Chris Lollis |
| Rating | 4.3 (out of 5) |