We have the best Betly promo you won't find anywhere else. With our exclusive bonus code, you'll get free bet credits up to $250 - depending on where you play. This is the best promotion for Betly in the month of November! We don't know how long this promo will last, so don't wait much longer!
If you're looking for a reliable sportsbook to place your bets, Betly might be the answer. Betly sportsbook offers new customers an impressive welcome bonus, as well as ongoing promos and bonuses such as free bets, money-back offers, odds boost, and more. It's so refreshing to see a sportsbook take care of its existing customers and not just focus on acquiring new ones. But more on that later.
We are going to take a closer look at what makes Betly stand out from the competition and why it could be a great sports betting option for both new and experienced bettors in West Virginia, Arkansas, or Tennessee.
What is the current Betly promo code?
When it comes to signing up for an online sportsbook or casino, we always look for the best welcome bonus. After all, who doesn't want to get a free bet or a 100% match on their initial deposit?
Fortunately, Betly is no different than the rest in this regards. They have some of the most generous welcome bonuses in the industry. The current Betly promo code will earn you a 100% match on your first deposit up to $100 (or $250 depending on which state you're in).
While that might not seem like a big deal, keep in mind that this bonus can be used to increase your bankroll and get you started with a bigger betting budget. This can make the difference between going home a winner or heading to the ATM after a losing streak.
Additionally, Betly also has frequent promotions that can help you maximize your winnings. Once you create your Betly account (more on that in a minute), you'll begin to receive their regular promotional emails, which include free bets, cashback offers, and more.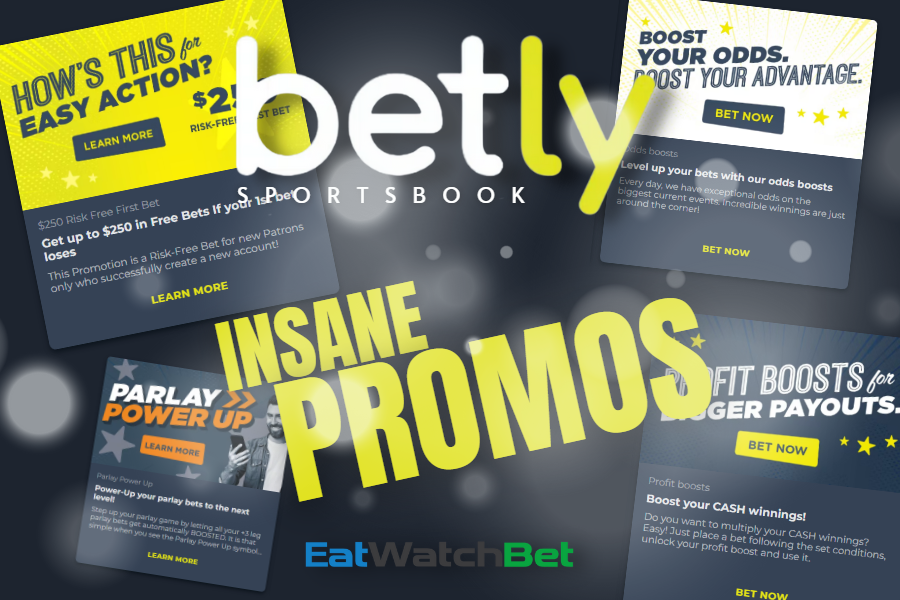 Ongoing Betly Promotions
One thing that really makes the Betly promo codes stand out from the rest of the competition is their ongoing promotions.
For example, they currently have both odds boosts and profit boosts for all new and existing members.
Odds boosts are promotions where Betly will increase the odds on a certain match or event. This can result in higher winnings if your bet comes through. So, as of writing this Betly sportsbook review, they currently have the Marlins, White Sox, and Padres on a moneyline parlay at +590; however, they've boosted that to +620 for tonight only. The Betly odds aren't bad, to begin with, but the boost makes them better.
That's a pretty slick deal, but it's only for tonight. Will they have another tomorrow? Sure, but it'll be a completely different Betly bonus.
Profit boosts are similar, but it's a percentage boost to your winnings as opposed to increased odds. For example, for those betting on the WNCAAB tournament can get a 35% boost on all winnings. That is a huge bonus and one that you won't find with any other sportsbook.
So, if you're looking to get the best bang for your buck when it comes to betting on sports or playing casino games, then Betly is definitely worth checking out.
What makes Betly the Best Sportsbook?
What we like the most about Betly is the sheer number of sporting events they cover, all of the bet types they offer, and their awesome promotions. With this winning combination, you're sure to find something that interests you.
Huge Selection of Sports
No matter what types of sports you like to bet on or what leagues you follow, Betly has you covered. They offer action on all the major US and international sports, including football, basketball, baseball, hockey, soccer, tennis, golf, MMA/UFC fighting, boxing, cricket and horse racing.
Additionally, they also have some sports we've never even thought about betting on. Have you ever bet on handball? How about darts? These are all available at Betly.
What's better than their massive selection? You can live-bet on all of them, too. So, if you see something happening in real-time that you want to capitalize on, Betly makes it easy.
All Bet Types
Whether you're a novice or a seasoned bettor, Betly has all the betting options you could ever want. They offer traditional moneyline, spread, and total bets as well as parlays, teasers, futures, props and more.
This makes it easy to find different ways to make your betting decisions.
Their bet card is super simple to use, so even newbies can get up and running in no time.
Excellent Promotions and Odds
This is what really got us excited about legal online sports betting with Betly. Their ongoing promos are top-notch, and they make it so you can always find a new way to maximize your winnings.
Sure, their welcome bonus is nothing to scoff at, but with most online sportsbooks the bonuses end there. Not with Betly. Once you're a member, you'll get regular emails with promotions like free bets, cashback offers and more. We really liked their profit boosts which are unlike any other sportsbook.
Additionally, Betly's odds are also competitive with other online books. You won't get the best lines around, but they're definitely good enough to make profitable wagers on a regular basis. And when you factor in the bonus offers, that's just money in your pocket.

Give the Betly Sportsbook App a Shot.
At this point, you're probably ready to make some online sports bets with the Betly app. We get it, and we were excited as well.
However, we were more than impressed with what we found when we tested out the Betly app. Not only did they have a slick, modern interface, but they also made their great bonuses easy to find and use.
While we loved the Betly sportsbook online platform compared to other online sportsbooks, we especially enjoyed the mobile app. We thought it was really intuitive and offered everything you need to make your bet in a flash.
There is one thing we would improve, though. The app was a little sluggish as we were navigating through our bets. This didn't happen all the time, but it was noticeable during our tests.
Create your Betly Account with the Betly App.
No more messing around; it's time to download the app and get your new account!
Creating your sportsbook account on the Betly app is easier than ever. All you need to do is enter a few pieces of information, like your name and address, and then you'll be ready to start playing in no time.
Once you've verified your account, it's time to deposit some funds into Betly. They offer a variety of payment methods, so you can use all the major credit cards, PayPal, and other online wallets. In our experience, deposits were credited to our account within minutes of making them.
Start Betting with the Betly App Now!
Now that you have your Betly account all setup, it's time to start betting. We think you'll love their huge selection of sports, excellent promos and competitive odds.
It's easy to find what you're looking for on their app, and once you have your bet card ready, it's just a matter of making the wager. Betly makes it super simple, so don't worry about being overwhelmed or confused by the process.
We've been betting with Betly for a few weeks now and we've been very pleased with our results.
Betly FAQs
If there's something there's no shortage of, it is questions about online sports betting. We've provided some answers to the most common ones below to help you get started with legal sports betting.
Is Betly sportsbook legit?
Of course! In every jurisdiction they operate in they're licensed and regulated by the local gaming commission. So you can rest assured that your money is safe and secure with them.
What states does Betly online sportsbook operate in?
One of the downsides to Betly compared to other online sports betting services is that they operate in only three states — West Virginia, Arkansas, and Tennessee. That means you can use the Betly Sportsbook mobile app to get your risk-free bet credit in any of those states.

Will Betly expand to other states?

We've heard rumors about Betly launching in other states, but nothing has been confirmed yet. If they do expand to other markets, we'll definitely let you know.

Can I use the Betly mobile app outside of those three states?
Unfortunately, no — Betly's online sportsbook is only available in West Virginia, Arkansas, and Tennessee. That means if you're not in one of those states, you won't be able to access their online sportsbook. Trust us, we've tried. We had one of our experts located in New Jersey try to access the Betly app, and they were blocked each time.
Which in-person casinos is Betly in?

As of right now, only Betly Sportsbook West Virginia offers an in-person experience. They currently have two locations: one at the Mardi Gras Casino and Resort in Cross Lanes and the Wheeling Island Casino and Racetrack in Wheeling. While there has been talk about Betly Sportsbook Tennessee opening sports betting options in the Volunteer State, nothing has been officially announced. So, for now, sports bettors can make their in-person betting at these West Virginia options.
How does the current promo work?
The process is simple. First off, Betly is currently offering a really exciting welcome offer for new customers in West Virginia. Basically, if you make an initial online bet up to $100 and win, you're all set. But, if your initial bet loses, Betly will cover your loss 100% up to $100 ($250 for sports bettors in Arkansas and Tennessee), which they'll credit back into your account as bonus bet credit. Sounds great, right? Just keep in mind that the bonus bet credit expires 30 days after it's issued and you'll need to wager it at least once to qualify for withdrawal. And, of course, you'll need to be a new customer who's at least 21 years old and physically present in West Virginia to take advantage of this offer.
Is the current promo code really risk-free?
Absolutely! Betly will cover your first bet up to $100 if it loses. So, there's no risk involved in taking advantage of this great offer. Plus, once you register, you'll be eligible for ongoing promos and bonuses like free bets and money-back offers that can help maximize your returns on future bets.
How does the Betly promo compare to other sportsbooks?
The welcome bonus itself isn't too bad — $100 for your first online bet if you're a new customer in West Virginia or up to $250 for customers in Arkansas and Tennessee. But the real perks are when you get into the Odds Boosts or the Profit Boosts. That makes Betly really separate itself from the rest of the pack in their sports betting markets.
Do I need to create an online sports betting account?
Yes, you can't even make your first wager without creating an account. Don't worry, though; the process is quick and easy, with all kinds of security measures in place to protect your personal data and financial information.
What if I have more questions about Betly?
No problem! Betly has a great customer service team that's available 24/7 to answer any questions or concerns you might have. You can give them a call, or send an e-mail. We found that their response times vary depending on the time of day. However, their app and the Betly website have a comprehensive FAQ section that should answer all your basic questions. So, don't hesitate to check there first and get the answers you need quickly!
What if I have a gambling problem?
Whether you or someone you know has a gambling problem, Betly has resources and support available. They provide links to local organizations that can help with problem gambling, as well as educational materials that encourage responsible gaming in the first place. Don't hesitate to reach out for assistance if you need it.