The current bonus offer from Betcha fantasy is fairly straightforward, with next to no fine print. Find the complete details for the EWB promo code offer in the table below. We update these terms anytime Betcha updates their offer.
| | |
| --- | --- |
| Promo Code | EWB |
| Deposit Bonus Offer | 100% Bonus, up to $100 |
| Free Entry | $5 Free Entry with $20+ Payout |
| Offer Date | Begins: January 1, 2022 | Expires: February 28, 2022 |
| Terms | Must play through deposit to withdraw bonus funds. |
There are a handful of takeaways from this offer when compared to the top promotions from FanDuel, DraftKings, and primary competitor PrizePicks.
The total bonus size is considerably lower than FanDuel and DraftKings, but is equal to the top offers from PrizePicks and Underdog.
The terms attached to the Betcha offer are much more player friendly than most operators in the industry. The rollover requirement is 20x+ lower than FanDuel and DraftKings.
The free entry leg of this welcome offer is on par with what just about every DFS app is offering heading into the NFL postseason.
What is Betcha?
If you're into Daily Fantasy Sports, you have to check out Betcha! Betcha is a new cutting-edge DFS app that provides a highly entertaining experience for all sports fans. Betcha's goal is to create the perfect solution for folks who love sports betting, DFS, Twitter, and eSports.
Betcha offers users one of the smoothest gaming experiences through both its Apple and Android app. The Betcha team has a massive buit-in advantage over the majority of their competitors because their app is already completely polished, great looking, and easy to use.
Betcha may be a new DFS app, but big things are expected of this company very soon. Betcha recently raised over $4 million in angel funding from some of the most respected names in the sports betting industry.
In this article, we will assess some of the Pros and Cons of Betcha. After reading this article, you'll be able to decide if you want to download the Betcha app and set up an account. If you decide to play on Betcha this NFL season, we strongly recommend reviewing their complete FAQs section on ZenDesk.
What are the Betcha Bucks Players Receive from Promo Code Offer?
Betcha currently offers a 100% deposit bonus for up to $100. The offer applies to all first-time depositors and no promo code is required. The $100 will be put into your account as Betcha Bucks.
Betcha Bucks don't have any cash value but you can use them to enter any DFS contest just like you would with cash. Be sure to use your Betcha Bucks quickly, as they expire if they aren't used within 60 days.
Anything you win using your Betcha Bucks is yours to keep. That being said, players will need to play through their deposit at least one time before being eligible to withdraw any bonus winnings.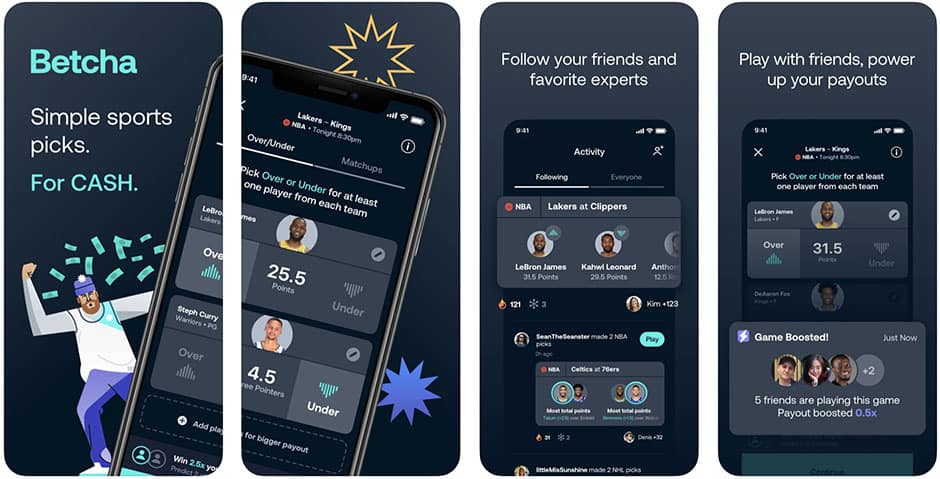 Strengths of the Betcha Fantasy App
Betcha succeeds in a variety of different aspects, which is impressive for such a new DFS app. Here are a few reasons to consider playing with Betcha this football season.
1. Large Variety of DFS Options
Seasoned DFS players want to play as many sports as possible. Betcha offers DFS matchups in all the four major sports (Football, Baseball, Basketball, Hockey) but they also offer other exciting options as well like NASCAR, Soccer, and Golf.
The daily lineup of choices that Betcha offers is phenomenal. With so many fantasy sites focusing on only the major sports, it's refreshing to see that Betcha offers a sport for everyone. All you have to do is click on the game you want to have action on, then a lineup of choices will come up for that specific game.
2. Simple Sign-Up Process
Betcha makes the sign-up process quick, easy, and headache-free. The app downloads in only a couple of seconds for all iOS and Android users. The Betcha website will even send you a download link straight to your phone, which is even more convenient than searching through your phone's app store.
3. Easy to Use App
We love the overall layout of the Betcha app. Users can quickly scroll through all the available sports for that day or week. Matchups are listed by what time they start, which is great for DFS players that want to stay in action all day long.
The Betcha app is so easy to use that even folks who aren't that tech-savvy can find their way around. Users are also able to follow the hottest handicappers with the click of a button.
While we have not yet added Betcha to our current list of Best DFS Apps for the 2022 NFL season, they are likely to make an appearance once we complete this initial testing. This app is so smooth, so easy to use, and packed with unique features you will not find anywhere else in DFS.
4. A+ Referral Program
Betcha offers its users a very generous referral program. All you have to do is click on a promo code link to send to as many of your friends as you want. Each time one of your friends signs up, makes their first deposit, and then enters a contest, you'll get $100 worth of Betcha Bucks!
5. Sense of Community
Betcha knows that betting is more fun when it's done in a community. Heck, that's why #GamblingTwitter is so popular these days! Betcha allows you to follow other sports bettors and chat with them about why they like a certain bet or DFS play. This makes for a much more enjoyable experience!
6. Fun Contests
Each time you correctly predict an outcome, you earn XP which increases your ranking on leaderboards and contests. Users who finish at the top of the leaderboard at the end of each week are rewarded with extra Betcha Bucks in their accounts. This can boost your DFS bankroll in a hurry if you have a couple of hot weeks!
Areas for Improvement for the Betcha Fantasy App
As is the case for any DFS or sports betting app, Betcha has a couple of areas that could be improved for an even better experience. Keep in mind though that Betcha is a newer app, so they'll likely improve these areas in the not too distant future.
1. Low Max Bet Amount
DFS high-rollers (folks with a large betting bankroll) may find the maximum bet of only $100 to be kind of annoying. Betcha allows deposits of up to $1,000 per day so it's a bit odd that the max bet is so low. However, this point will only apply to a small percentage of DFS players as most folks like to bet small amounts.
2. Not Many Cashier Options
For depositing, Betcha only accepts credit and debit cards at this time. While that is sufficient for the large majority of DFS players, adding PayPal and/or Bitcoin would be a nice add-on as far as depositing funds is concerned.
The only way to make a withdrawal is to request a paper check in the mail. It takes 3-5 business days to process withdrawal requests, plus however long it takes for the mail to run. That's quite a while to wait for a payout. However, we expect Betcha to expand upon their cashier options very soon.
We highly recommend Betcha to all of our readers and feel they are conservatively rated at 4.5 out of 5 stars. For such a young DFS app, Betcha hits a home run by providing an outstanding entertainment experience for its users.
With an experienced leadership team and a solid round of capital financing, Betcha may very well be the next big DFS app in the industry. Take advantage of our current featured promo code offer and find out for yourself why Betcha is one of the fastest-growing DFS apps in the industry.