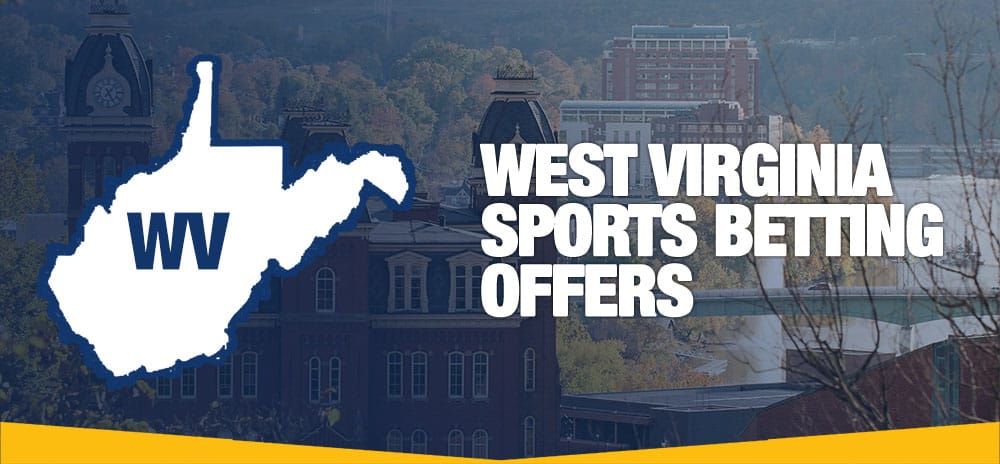 West Virginia made the move to legalize sports betting back in 2018 and has had online sports betting since 2019. Today, there are seven major online sportsbooks operating in the Mountain State. Find the best sports betting bonuses at each of West Virginia's seven online sportsbooks below—
West Virginia bettors must be 21+ and present to place wagers in the state. If you or a loved one is experiencing problems with gambling, call 1-800-GAMBLER or visit the National Council on Problem Gambling www.ncpgambling.org.
Bonus Types in West Virginia
There are so many different types of bonuses, that it can get overwhelming to keep track of them all. So we've put together a comprehensive list of all the different types of bonuses that you can find in West Virginia.
Welcome Bonuses. Most sportsbooks offer welcome bonuses to incentivize new players and encourage them to join up. These typically consist of bonus bet credits, deposit match bonuses, or a combination of both. Welcome bonuses and promotions are extremely common in West Virginia and can provide an excellent bankroll boost for players getting started.
Bonus Bets. Depending on the time of year, bonus bets are fairly common at online sportsbooks. They're basically bets that the sportsbook gives you in exchange for something such as signing up, making a deposit, or making a wager. For example, FanDuel will give you bonus bets of $200 on your first $5 wager. Bonus bets are an excellent way to add extra value to your sports betting experience, as they can provide great returns for a relatively small wager.
Deposit Match Bonus. Another type of bonus that can be found in West Virginia is a deposit match bonus. The online sportsbook will usually reward you with additional funds for making a certain minimum deposit. For instance, many sportsbooks will match your initial deposit 100% up to a certain amount.
No-Deposit Bonus. The king of all bonuses, the no-deposit bonus is incredibly rare but can be found in West Virginia. This type of promotion allows a player to claim bet credits without actually having to make any deposit. It's important to note that these types of bonuses usually come with specific terms and conditions, so it's worth reading through them before claiming the offer.
Referral Bonus. Some online sportsbooks in West Virginia offer referral bonuses for referring a friend to the site. Once your friend registers and makes a deposit, both of you can be rewarded with bonus bet credits or free spins on selected games.
Loyalty Program/VIP Rewards. Most online sportsbooks have some sort of loyalty program or VIP rewards scheme in order to reward their players. These rewards can include bonus bets, bonuses, and exclusive promotions. They are a great way to get extra value out of your sports betting experience as they reward you for playing more.
Cashback Bonus. Cashback bonuses are becoming increasingly popular at online sportsbooks in West Virginia. This type of promotion gives players the chance to get a percentage of their wagers back in the form of bonus bet credits or free spins. Cashback bonuses can be incredibly lucrative for sports betting patrons as they provide great returns on your losses.
Every sportsbook is different, but generally, most will provide some sort of bonus or promotion to reward their players. So it's worth taking the time to look around and find the best bonus for you. Bonuses are a great way to get extra value out of your sports betting experience, so make sure to take advantage of them whenever possible. You don't want to leave money on the table.
Why the DraftKings Bet $5 Get $200 Offer is West Virginia's Top Sportsbook Offer
The first thing to consider when analyzing each of the top offers from WV online sportsbooks is the intention of the offer. With promotions like those available at FanDuel and Caesars, new players are rewarded for depositing a larger amount of money. With the current bonus offer available at DraftKings, players can get $200 in Bonus bets for placing their first $5 wager.
DraftKings isn't just a one-trick welcome bonus pony, either! They have an impressive offering of player props on a daily basis, and their odds on futures wagers are also very competitive. Throw in the fact that DraftKings also has a very user-friendly sports betting app, and you can quickly see why we highly recommend them to all sports betting patrons.
There's no promo code needed for this bonus. Simply register at DraftKings, opt into the offer, and make your initial deposit. Your Bonus bets will be automatically added to your account after you make your first $5 wager. It's one of the best overall bonus deals in online sports betting!

Get $1,000 in 2nd Chance Bets at PointsBet
PointsBet is offering new West Virginia bettors a welcome bonus of $250 in second-chance bets just for opening an account this September. This is the perfect opportunity for sports fans to get in on the action, especially since the NFL regular season is about to start! Here are the steps to follow to lock in this top offer from PointsBet:
Here are the steps to follow to lock in this top offer from PointsBet:
Visit the PointsBet offer landing page
Sign up for a new account, make a deposit, and place an initial wager.
Receive up to $1,000 in 2nd Chance Bets split up into (5) separate wagers
The Bonus Bet is pretty standard. Bet up to $1,000 on any spread, total, or moneyline. If you lose your bet, PointsBet will reimburse your account with the bonus bets.
Beyond just the great bonus offer, PointsBet offers daily odds boost promotions that are available to both new and existing players. These promotions run daily and will boost your payout for selected bets.
Get the Best Overall Sports Betting Bonus Terms in West Virginia at BetRivers
When it comes to finding the most player-friendly terms in West Virginia, no other online sportsbook holds a candle to BetRivers. While their $100 Second Chance Bet isn't going to knock any sports bettor's socks off, the terms are excellent.
What makes the BetRivers bonus terms so special? Their rollover requirement is only 1x, which is the best in online sports betting. This means that you only have to wager through your entire bonus amount one time before requesting a withdrawal. Other online sportsbooks have rollover requirements of 10-25x.
Signing up with BetRivers is easy as pie! Head over to their website or download their app. There is no promo code required during your registration.
That will automatically give you a Second Chance Bet if your first bet loses. It's that simple, and the bonus money will appear in your new online sportsbook account if your first bet is a loss. That goes to show you why we think BetRivers is a must-have book for sports investors in West Virginia.



For the Best Online Sports Betting App in West Virginia, Check Out FanDuel Sportsbook
If it's the best sports betting app that you are after in West Virginia, you can't possibly go wrong with FanDuel. These folks have invested bundles of resources into their betting app, and it shows! The app never lags, is super easy to navigate, and allows folks to place wagers in a matter of seconds.
In addition to the app, FanDuel Sportsbook is also known for its generous promos for new users. Right now, all West Virginia sports gamblers who are new to FanDuel can get a Bet $5 Get $200 deal. You'll also get $100 off NFL Sunday Ticket.
One area that FanDuel has improved greatly in is its juice. While they used to be one of the more expensive sportsbooks as far as juice, they are now one of the most affordable. West Virginia sports bettors will especially love the lower juice that FanDuel offers on a wide variety of player props.
If You're a Big Fan of Odds Boosts, You Need Caesars Sportsbook
Odds boosts have risen in popularity among sports bettors, and it's easy to see why! Who doesn't love getting more money when they win? Caesars Sportsbook offers more daily odds boosts than any other online sportsbook in the West Virginia sports betting market.
For example, even on a slow Thursday in September , Caesars Sportsbook still had 21 odds boosts available for their players! That's very impressive and shows that Caesars knows how to keep their players engaged.
New clients at Caesars Sportsbooks can also enjoy a Bet $50 Get $250 offer! All you need is bonus code BVGET when you sign up! It's one of the best risk-free deals in the sports betting industry.
Tips for Using a Sportsbook Bonus Offer
With so many online sportsbooks and bonuses out there, it can be hard to know which one is best for you. Here are some tips to help you make the most of any sportsbook bonus offer:
Read the Terms and Conditions
The first step in taking advantage of any bonus offer is to read the terms and conditions carefully before signing up. This will ensure that you understand all of the rules, requirements, and restrictions that go along with the bonus. For example, BetMGM has a great welcome bonus for new players, but you have 7 days from the time you sign up to make your initial wager to take advantage of the bonus.
Check for Reasonable Rollover Requirements
The rollover requirement is one of the most important aspects to consider when evaluating a sportsbook bonus offer. A reasonable rollover requirement should be no more than 5x or 6x on your deposit plus the bonus amount. Anything higher than that is not worth the hassle and could be a sign of an unreliable sportsbook. BetRivers, for example, has an industry-leading 1x rollover requirement. That's insane!
Max Out Deposit Match and First Bet Bonuses
When a sportsbook offers you a deposit match or first bet bonus, make sure to take full advantage of it. Those types of bonuses often have the most generous wagering requirements and can give you a nice boost to your bankroll.
Don't Forget the Promo Code
Not all sportsbooks require a promo code to take advantage of their bonus, but some do. When you sign up, don't forget to enter the promo code and make sure you get the most out of your bonus. Caesars, for example, requires you to enter BVGET when you sign up in order to get their Bet $50 Get $250 offer. If you sign up and forget to enter that bonus code, then you're out of luck.
Take Your Time
Sportsbook bonuses are a great way to get extra value out of your sports betting. However, it's important to take your time and evaluate each bonus offer before signing up. Make sure you read all the terms and conditions carefully, as well as check for reasonable rollover requirements and maximum bonus amounts. That way, you can make sure you're getting the best deal possible.
---
West Virginia Sports Betting Bonus Offer FAQs
Online sportsbook bonus offers have a reputation for being tricky to negotiate. For the most part, the offers currently available in West Virginia are relatively straightforward. That being said, there are still a handful of notes new players should be aware of before signing up using any of these offers. We have addressed the majority of these in the FAQs found below.
How does a rollover requirement work?
Rollovers are a hassle to deal with, but luckily most of the sportsbooks featured on this page have moved away from them. With a rollover, you need to bet your bonus funds a minimum number of times before your funds are eligible to be withdrawn. Rollovers are common with deposit bonus offers and are typically between 2x and 5x here in the US.
What can I use my Bonus bets on?
Bonus bets can be used on any wager on any sport. The only restrictions that apply to Bonus bets are minimum odds requirements. Typically, your Bonus bet has to be used on a wager with -150 odds or better. In this case, a bet for -155 would not be eligible for a Bonus bet.
Does every West Virginia online sportsbook have a mobile app?
Yes, all 6 sportsbooks featured on this page have apps available for both Apple and Android users. Each app offers all of the features you will find on its website, including live betting, account management, and payment/payout options.
Who is eligible for a sports betting bonus at West Virginia online sports betting sites?
All new players who are physically located in West Virginia and are at least 21 years old are eligible to sign up for one of the promo codes featured on this page. Any of the online sportsbooks on this page would be a great asset to any West Virginian who is interested in sports betting.
How does the Caesars First Bet bonus offer work?
If you sign up using our Caesars promo code BVGET, you will receive a Bet $50 Get $250 deal. With this offer, Caesars will give you (5) $50 Bonus Bets after you place your first $50 wager. The terms are also very nice, as the playthrough requirement is only 1x. This offer applies to your first wager, so choose that first bet wisely.
How do I know I'm getting the best bonus offer available in West Virginia?
Our team talks with the West Virginia sportsbook operators on a regular basis. Anytime a better offer becomes available within the state, we update our Best West Virginia Sportsbooks page. Check it frequently to see all of the latest bonus offers. For the month of September , bettors in the Mountaineer State can find the best deposit bonuses at DraftKings and FanDuel.
Which West Virginia sportsbook has the best bonus offer terms?
Though their overall bonus amount is lower than other books in the state, no one holds a candle to the generous bonus terms of BetRivers! Their playthrough requirement is only 1x. After doing this, you can then withdraw any remaining winnings.
Can I play for free in West Virginia?
Unfortunately, not at this time because no sportsbooks are offering any no-deposit bonuses. However, that could possibly change as the NFL season draws near. Stay tuned to this page for more information, and be sure to check out our West Virginia Sportsbooks page as well.
Are bonus offers available to existing players?
Most bonus offers are only available to new players. However, most sportsbooks provide other promos like daily odds boosts for all players to participate in. For example, BetMGM offers a daily Lion's Boost, where they offer more advantageous odds on a particular game or parlay.
How often do sportsbooks change their bonus offers?
It depends on the sportsbook. While some books like FanDuel and DraftKings seem to change their bonus offers quite frequently, other books like PointsBet and BetRivers rarely change their bonus offers. The most significant changes tend to occur around big sporting events like the Super Bowl and the NCAA basketball tournament.
Do sportsbook bonuses expire?
Some of them do! Make sure that you fully understand each bonus offer you sign up for by checking the full terms and conditions on the sportsbook's website. Most of the time, Bonus Bets expire in 7-14 days.
Can I bet on college sports in West Virginia?
Yes, West Virginia sports bettors can wager on college sports with no restrictions. This is in stark contrast to Virginia sports betting, which prohibits wagering on any of the local in-state teams. Fans of the West Virginia Mountaineers were certainly glad about this.
What is the minimum amount I can bet on sports in West Virginia?
Most sportsbooks require a minimum bet of $1, but some may have higher requirements. Before you place a wager, be sure to check the minimum amount for that particular sport and betting type. Each online sportsbook generally has different minimum bet requirements, so be sure to check the rules for your chosen book.
How long does it take to receive my winnings?
It depends on the sportsbook. Most online sportsbooks in West Virginia usually process withdrawals within a few business days, but some may take longer. This also depends on which withdrawal method you choose. From what we've seen, those that use PayPal tend to get quicker payouts whereas those who choose ACH, take a bit longer.
Which is the best West Virginia sportsbook to bet with?
The "best" West Virginia sportsbook really depends on what type of bettor you are. If you're looking for a variety of markets and competitive lines, then PointsBet is probably your best option. For those that prefer bonuses and promotions, DraftKings may be the way to go. And if you love a good loyalty program, you're going to love Caesars as you can use your rewards to get cash back, hotel stays and other awesome perks. There's no one-size-fits-all sportsbook in West Virginia – it really depends on your individual needs.