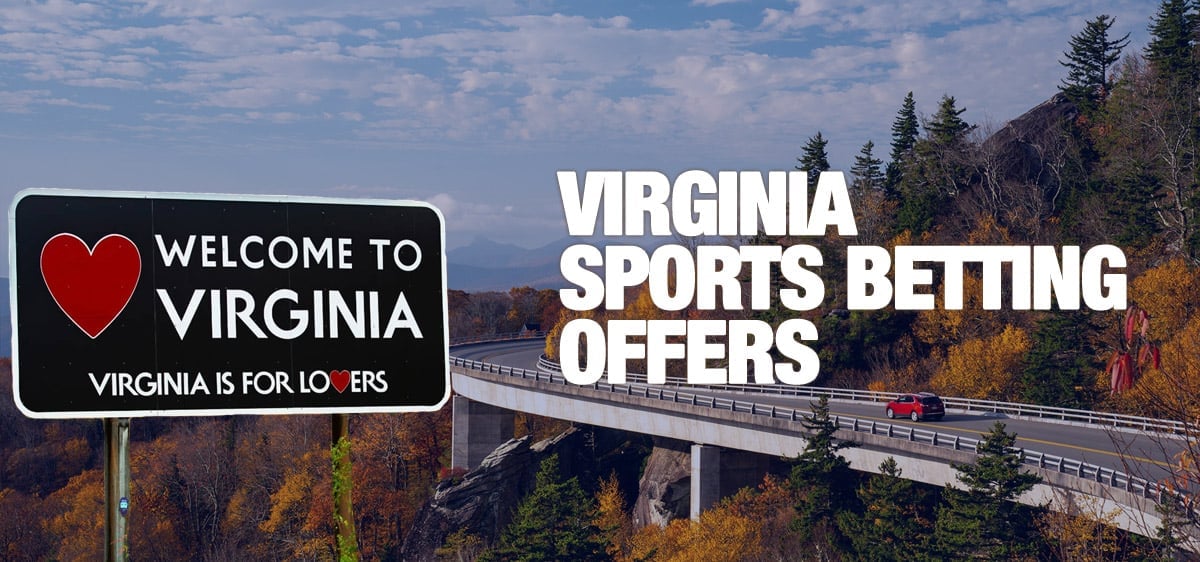 PointsBet launched in Virginia recently and there are now 11 licensed mobile sportsbooks in the state. Registering with multiple sportsbooks not only allows you to lock in each operator's current welcome offer, but allows you to shop bets at each sportsbook to find the best available odds. Here are our picks for the best sports betting bonus offers available in Virginia this June:

PointsBet Launches in Virginia with $2,000 Risk Free Offer
PointsBet recently became the 11th mobile sportsbook operator to launch in the Old Dominion state and offers real competition to brands like FanDuel, DraftKings, and BetMGM. The good news for VA bettors is that PointsBet is offering all new players up to $2,000 in Risk-Free Bets. Here are some things Virginians will love about PointsBet
First, PointsBet offers great odds on all MLB games. Once you log in to your PointsBet account, you'll notice that they offer some MLB odds at -105 juice instead of the standard -110. They are the only sportsbook to offer this and it gives them a massive advantage over other books that often offer -110 to -115 on the same wagers. Reduced juice is a huge win for sports bettors!
Second, PointsBet offers a proprietary betting format called Points Betting. With this format, the more your bet wins by, the more you win. Conversely, the more your bet loses by, the more you lose.
For example, if an NBA game has a total of 200 points and you bet the over, if the total covers by 20 points, you would win 2x your stake. If the total fails to cover by 20 points, you will lose 2x your stake. Points Betting is available for spread bets, total bets, and player prop bets.
Lastly, PointsBet offers odds boost opportunities throughout the week that you won't find anywhere else. These are offered for a specific wager and can be found on the promotions page of their website and app.
An example of this would be a same game 2-leg parlay. For instance, if the Wizards win and Kyle Kuzma scores over 15 points, instead of the parlay paying out +220 odds, it would pay out +300. This is a great way to win more by placing bets you already like.
Details for the Best Available Virginia Sportsbook Bonus Offers
In a market that features 11 of the biggest online sportsbooks currently operating in the US, it should come as no surprise that Virginia bettors have plenty of welcome offers to choose from.
Our two highest-rated offers available in Virginia this June come from PointsBet and Caesars. Find the details for each of these promotions below.
Current PointsBet VA Offer: Bet $2,000 Risk-Free
PointsBet has an incredible offer for folks in the great state of Virginia. New bettors can receive $2,000 in risk-free bets when they sign-up for an account. The promo code attached to this offer is BVIEW0.
Using the promo code and locking in your free cash is simple, just follow these four steps:
Visit PointsBet Sportsbook and register your new account.
Sign up using our promo code BVIEW0 to get up to $2,000 in Risk-Free Bets
The first risk-free bet is standard. Simply bet on any side, total, or moneyline. If your bet loses, PointsBet will refund your account with whatever amount you lost up to $500.
The second risk-free bet is a bit more complex. You can win up to $1,500 but you must use their unique points betting format. This means that your payout will be based on your team's margin of victory.
While this offer is relatively straightforward, here are some important terms that apply:
New players must be located in Virginia at the time of registration and when placing bets.
The bonus only applies to your first and second wagers with PointsBet. The first bet is capped at $500 and the second is capped at $1500.
Details for the Caesars $1,500 Risk-Free Bet Promotion
While the current promotions from PointsBet are great, some bettors may be looking for more than just a great offer out of their sportsbook. With Caesars, not only will you receive a risk-free bet of up to $1,500, but you are immediately added to the Caesars Rewards club. This is the top rewards program in the U.S. casino industry!
The current sportsbook promotion works exactly like the PointsBet offer in that you receive insurance on your first wager. Either you win your first bet, or Caesars provides a full refund, up to $1,500. Here is how this Caesars bonus offer works:
Visit Caesars Sportsbook and register a new account.
Use the promo code BVCZR.
Make an initial deposit of up to $1,500.
Receive a refund (paid as a free bet) if your first bet fails to cash.
Beyond the two VA promotions featured here, there are great offers available to Virginia bettors from just about every sportsbook licensed to operate in the state. The great thing about registering with multiple sportsbooks is not just that you get to take advantage of the different welcome offers, but that you get to shop each book for the best odds before betting.
Virginia Bonus Offers FAQ
Though Virginia has had legal sports betting for around 18 months, new players are sure to come out of the woodwork for the start of the 2022 NFL season. Because of that, we wanted to create the following FAQ section to answer all common questions in a quick manner.
How do we identify the best bonus offer in Virginia?
Our dedicated staff carefully assigns a ranking to each bonus offer that comes across our desk. While most sites only focus on the overall dollar amounts of each bonus, we give equal weight to things like offer terms and deposit requirements. Our goal is to give our readers an overall snapshot of each bonus offer in Virginia.
How do risk free bets work in Virginia?
Risk-Free Bets are a common new player promo in the industry. Basically, a sportsbook allows you to make your first wager with zero risk. For example, the current offer from Caesars lets you bet Risk-Free for up to $1,500. If your first bet loses, Caesars will reimburse you with a Free Bet to cover your loss.
Can I play for free in Virginia?
Yes, thanks to Unibet new players in Virginia can receive a $10 Free Bet just by registering for a new account. This is the only no-deposit bonus offer in the state at this time.
When are the best offers available?
Here is something that all sportsbooks have in common. The most lucrative bonus offers can be found just before the start of the NFL season. Be on the lookout for this sometime in August.
Steps to Get the Best Sportsbook Bonus Offer in Virginia
Virginia may be for lovers, but it's also for sports bettors too. As a sports bettor, finding the best bonus offer is key to compiling a larger bankroll. A bigger bankroll will help you ride the inevitable highs and lows of the business and give you a greater chance of having a winning season.
To ensure that you are getting the best bonus offer in Virginia, simply bookmark our Best Virginia Sportsbooks page and check it frequently. Our staff stays in touch with all of the sportsbook operators in the state to make sure that you receive the best bonus offer available. For June, the best bonus offers for Virginians are from BetMGM and FanDuel.