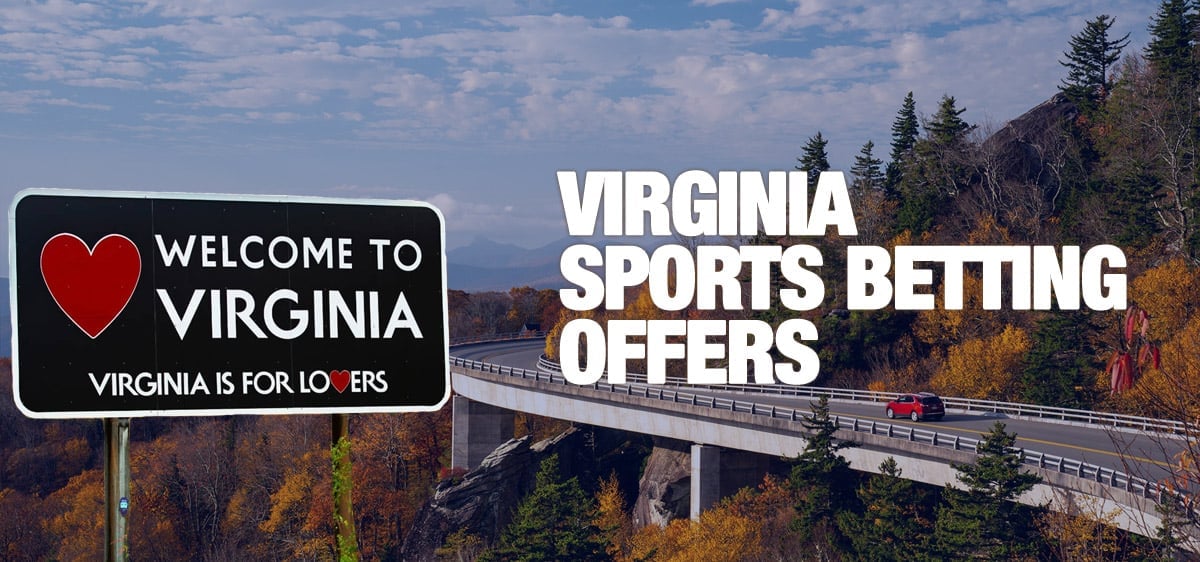 Best Virginia Sportsbook Bonus Code Offers
With PointsBet launching in Virginia this week, there are now 11 licensed mobiles sportsbooks in Virginia. Registering with multiple sportsbooks not only allows you to lock in each operators' current welcome offer, but allows you to shop bets at each sportsbook to find the best available odds. Here are our picks for the best sports betting bonus offers available in Virginia this December:

PointsBet Becomes Latest Sportsbook to Launch in Virginia
PointsBet recently became the 11th mobile sportsbook operator to launch in the Old Dominion state and offers real competition to brands like FanDuel, DraftKings, and BetMGM. The good news for VA bettors is that PointsBet has several promotions, beyond just the current welcome offers that make them an appealing choice.
First, PointsBet offers reduced juice on all NFL games every Sunday. Starting every Sunday morning and running through kickoff for each game, PointsBet reduces the juice for every game to +100 odds. They are the only sportsbook to offer this and it gives them a massive advantage over other books that often offer -110 to -115 on the same wagers.
Second, PointsBet offers a proprietary betting format called Points Betting. With this format, the more your bet wins by, the more you win. Conversely, the more your bet loses by, the more you lose.
For example, if an NBA game has a total of 200 points and you bet the over, if the total covers by 20 points, you would win 2x your stake. If the total fails to cover by 20 points, you would lose 2x your stake. Points Betting is available for spread bets, total bets, and player prop bets.
Lastly, PointsBet offers odds boost opportunities throughout the week that you won't find anywhere else. These are offered for a specific wager and can be found on the promotions page of their website and app.
An example of this is would be a same game 2-leg parlay. For instance, if the Raven win and Lamar Jackson rushes for 75+ yards, instead of the parly paying out +220 odds it would pay out +300. This is a great way to win more by placing bets you already like.
Details for the Best Available Virginia Sportsbook Bonus Offers
In a market that features 11 of the biggest online sportsbooks currently operating in the US, it should come as no surprise that Virginia bettors have plenty of welcome offers to choose from.
Our two highest-rated offers available in Virginia this December come from PointsBet and Caesars. Find the details for each of these promotions below.
Current PointsBet Guaranteed Payout Offers
PointsBet has two different offers available that each work the same way. With the first offer, bettors can receive $200 in free bets when they place a $20 wager on any sport. The promo code attached to this offer is BVFBMULTI1. With the second offer, bettors can receive $100 in free bets when they place a $1 wager on any sport. The promo code attached to this offer is BVBB1.
Using the promo code and locking in your free cash is simple, just follow these four steps:
Visit PointsBet Sportsbook and register your new account.
Sign up using our promo code, BVFBMULTI1 for the $200 offer or BVBB1 for the $100 offer.
Place the minimum bet required.
Once your bet locks, receive your free bets.
While these offers are relatively straightforward, here are some important terms that apply to each promotion:
New players must be located in Virginia at the time of registration and when placing bets.
The bonus only applies to your first wager with PointsBet. While the bet must meet the minimum amount ($1 or $20), there is no maximum for how much you can wager.
The bonus pays out in free bets, which expire 30 days after you receive them.
Caesars $1,001 Bet Match Offer
While the current promotions from PointsBet are great, some bettors may be looking for an even higher total bonus. With Caesars, you will receive up to $1,001 free on your first wager but, as this is a bet match offer, your bet has to cash for this one to payout.
Here is how this Caesars bet match bonus offer works:
Visit Caesars Sportsbook and register a new account.
Use the promo code CZR2.
Place your first wager and Caesars will match it, up to $1,001.
Win 2x your total stake thanks to the bet match.
With this bonus being contingent on your bet cashing it is important to remember that your first bet should be relatively safe. With this offer, if you place a $1,000 moneyline bet on a -130 favorite you like this week and it cashes, this relatively safe bet would payout $3,540 instead of $1,770.
Beyond these two promotions, there are great offers available to Virginia bettors from just about every sportsbook licensed to operate in the state. The great thing about registering with multiple sportsbooks is not just that you get to take advantage of the different welcome offers, but that you get to shop each book for the best odds before betting.