Las Vegas has long been the home to sports betting in the United States, but new technologies continue to bring sports betting closer to guests. Here are the sports bars in Nevada that are currently offering the best overall sports betting experience to their guests.
PKWY Tavern
9820 W Flamingo Rd, Las Vegas, NV 89147
It's no secret finding a bar that encapsulates everything you're looking for as a sports bettor is quite complicated. From the drink menu to the big screens playing your favorite sports, it's no easy feat to find that perfect fit.
However, since its debut in 2015, PKWY Tavern has become a staple of great drinks, great gaming, and a great place to watch the game. The staff is friendly and knows how to create an exciting environment for their guests. Chances are if you live in Las Vegas you've been to PKWY Tavern multiple times.
With over 250 beers in stock and over 150 on draft, how could you not visit often? If you're a betting person like myself, you've met your match in PKWY Tavern, which has partnered with BettorView to bring live betting odds, stats, and betting promotions right to the bar itself. I know it sounds too good to be true but I guarantee that when you make PKWY Tavern your home away from home, you won't regret it.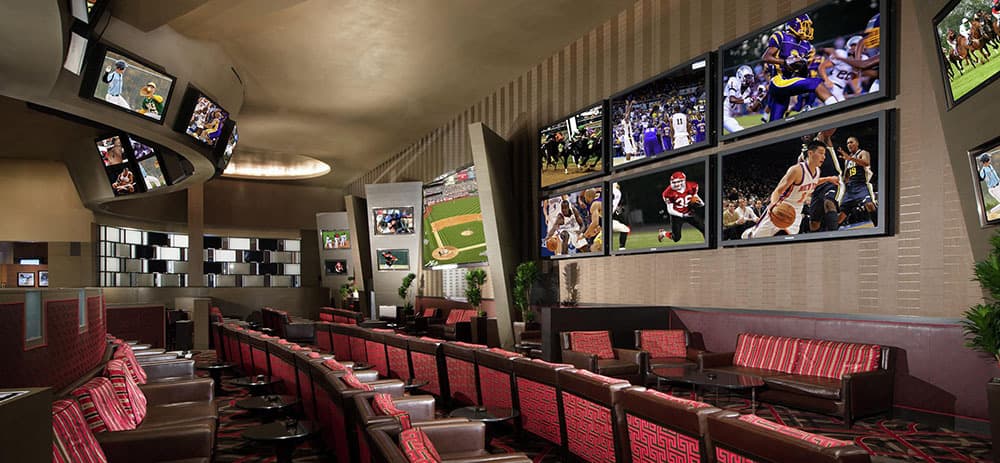 Aria Sports Bar
3730 S Las Vegas Blvd, Las Vegas, NV 89158
Nestled inside one of the most spectacular hotels on the Las Vegas Strip is a sportsbook that's as equally stunning as the hotel that houses it. The Aria, one of the most frequented tourist locations in Las Vegas has a sportsbook that is welcoming not only to tourists but also to locals. Upon walking inside, you're immediately overwhelmed by the 90 high-definition screens that broadcast every sport you could imagine.
A welcoming and accommodating staff fills the area and are ready to answer any questions you might have before you sit down and enjoy the games. For bettors that dislike sportsbooks that allow smoking, you'll be glad to know that the only thing filling the air in the Aria sportsbook is cheers (and the occasional four-letter word). This is a feature that I would like to see other locations (such as sports bars) implement, an area away from non-smoking bettors that those who partake can congregate in, much as you see in airports.
It would be good to remember that this location is more of a sports lounge than a standard sportsbook so if you have a group of friends to bring with you, the Aria is an ideal choice. Another point of note is that you won't find an uncomfortable seat in the house! Each row is filled with comfortable armchairs that guarantee you'll have an amazing experience enjoying your cocktail and watching the big-screens.
For those of you that aren't a fan of waiting in lines, there are kiosks inside the sportsbook and the casino, allowing you multiple options to place your bets. Need to withdraw your winnings in a flash? They've got you covered with those same kiosks, a feature that many smaller locations should look to add.
Although this sportsbook might not be your neighborhood sports bar, the amenities this location provides are more than enough of a reason to visit.
---
Browse the Top Sports Bars from Other States
Browse Latest Articles