Looking for the best spot in Florida to catch a Gators or Seminoles game? These sports bars are built not only the avid fan but for sports betting enthusiasts. With sports-centered atmospheres, giant TVs, and great food and drink, these sports bars are the best spots in Florida to catch a game.
Best SportsBooks in Pensacola Area
Ticket Sports Bar
7333 N Davis Hwy, Pensacola, FL 32504
Best Dish: Chicken Nachos
With 3 locations in sunny Pensacola Florida, Ticket Sports Bar is the ideal place for any sports bettor to take in their action when legal sports betting finally comes to Florida! Ticket Sports Bar's key phrase is that they are "Home to Every Fan" and they live up to that saying! In the meantime, if you are a daily fantasy fan this is a great bar to watch sports and enter those DFS contests with friends.
I have been fortunate enough to visit the Davis Highway location on multiple occasions. I was impressed by Ticket's delicious food and loved getting to watch my football wagers play out on the mega amount of big-screen high-definition TVs they have.
If you are a sports bettor in the Pensacola area, you have to check out Ticket Sports Bar! Hopefully, Florida will wise up and legalize sports betting in the near future because Ticket would be the ideal place to EAT, WATCH, and BET!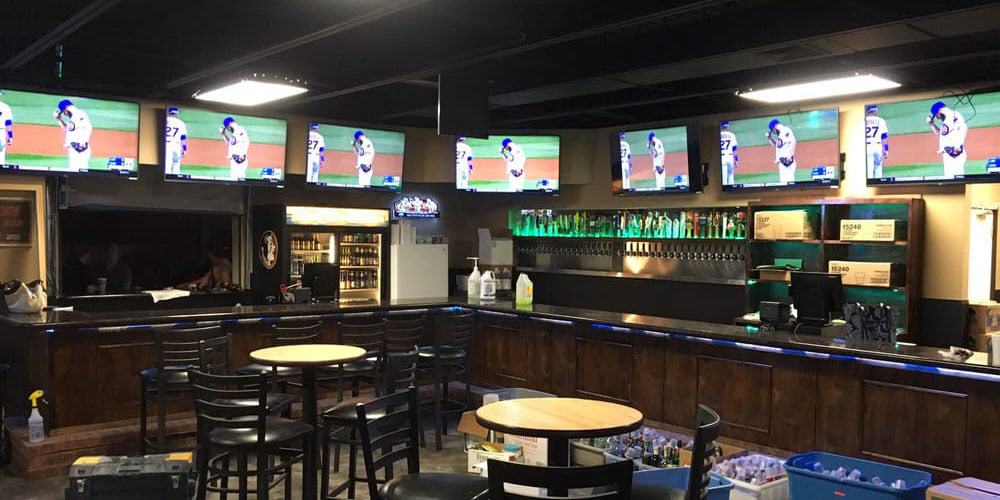 More Praise for Ticket Sports Bar
Here are some more reasons why Ticket Sports Bar would be a great place to visit if you are a sports bettor.
Extended Happy Hour - Most of the sports bars I have visited still adhere to the standard Happy Hour of 3pm to 6pm or so. Ticket boasts an 8-hour Happy Hour window from 11am to 7pm Every.Single.Day. Let's be honest: Betting is better with beer! Ticket offers 40 different beers on draft.
Amazingly Delicious Food - Ticket does NOT have your standard run-of-the-mill sports bar food. Yes, they offer the standard burgers, nachos, and pizza staples but the food is much higher quality than most sports bars. I have personally had their hangover burger and chicken nachos on many occasions, and both are top-notch.
Huge Number of TVs - Obviously, this is key for any sports bettor who has a lot of action on the line. Ticket has over 30 big-screen TVs, so you won't miss any big plays!
Outdoor Patio- It doesn't get any better than day drinking in the Florida sunshine while watching your football bets on TV! Ticket has an outdoor patio area with 5 big screens. The patio is key because if your significant other is not into sports, they have outdoor games like cornhole to keep them occupied.
Browse Latest Articles