Looking for some help making sense of the crazy NFL Week 15 slate? We are monitoring the COVID/reserve list, which seems to get a new addition every few minutes, and will adjust our prop bets, week 15 best bets, and fantasy lineups as news is released.
Find our current player prop picks for week 15 below and for those of you that are in non-betting states, all of these picks are available on Underdog and PrizePicks.
Tua Tagovailoa – O/U 240.5 yards
The Dolphins signal-caller has been the perfect game manager as of late, leading Miami to five-straight wins and catapulting them into playoff contention.
Miami faces off against a New York Jets squad that continues to find ways to lose games. Tua has completed at least 60% of his passes in 6 of the last 7 games to go along with over 220 yards in 5 of those, respectively.
Jaylen Waddle is out for the Dolphins this week, but they do still have some other weapons on the outside like Davante Parker and right end Mike Gesicki running down the seam.
With essentially their entire running back room out this week joining Waddle on the Covid-19 list, I'd expect the Dolphins to rely on the same short, safe passes they've become accustomed to.
Leaning heavily on their defense and Tua's accuracy, I can easily see him approaching 35-40 attempts in this one. If Tua can find a way to connect on at least one 30+ yard completion, I think he safely surpasses his 240.5 yard number. Take the over on this one.
OVER 240.5 PASSING YARDS
Taysom Hill – O/U 195.5 yards
Admittedly, Taysom Hill is not the greatest passer to grace an NFL field, relying on his legs just as much as his arm in most cases.
That said, the Saints quarterback was solid the last twos week through the air accounting for 264 and 175 yards, respectively.
Facing off against a Tampa Bay defense that is certainly more stout up front than in their depleted secondary, paired with the fact Tom Brady's offense will surely put up points, leads me to believe Hill will have ample opportunity in the passing game while playing catch up.
Hill will rely on Alvin Kamara through the air as much as his wide receivers and he is always a threat to take one for a big gain.
OVER 195.5 PASSING YARDS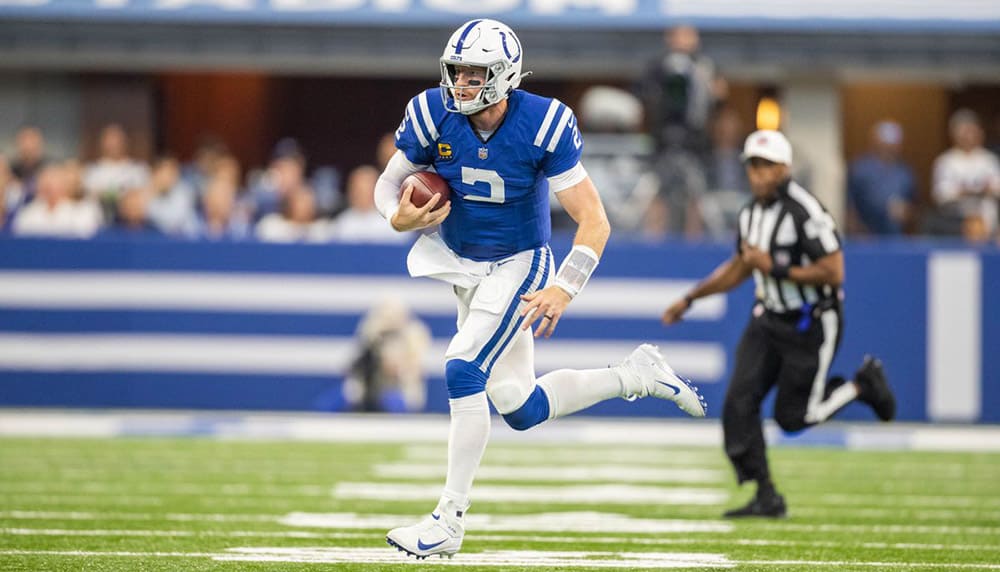 Carson Wentz – O/U 7.5 Rush Yards
This is a bit of a quirky one, but one that is higher on the confidence meter. The Patriots have surrendered an average of 12 rushing yards per game to opposing quarterbacks, with those players going over the 7-yard mark in seven games.
They've been even more susceptible to mobile quarterbacks over the past few weeks, allowing 39 and 24 rushing yards each to Josh Allen and Ryan Tannehill.
Carson Wentz isn't the most fleet of foot, but he has topped 7 rushing yards in nine games this year.
The focus will be on fellow backfield mate Jonathan Taylor, which may allow for some bootleg run options for Wentz. Quite honestly, we are just looking for one key scramble or broken-down play to get over the mark. I think we get that.
OVER 7.5 PASSING YARDS
Brandon Aiyuk – O/U 55.5 yards
Brandon Aiyuk has come on as of late, accounting for 62, 55, 91, and 85 yards in his last four games. Prior to that, he was having a very pedestrian season only topping 50 yards once.
That said, I fully expect the Niners to be in control in this game a rely heavily on Kyle Shanahan's typical run-first style.
Eli Mitchell should be back in the backfield and I just don't see many opportunities for Aiyuk to break free against this Atlanta defense.
Consider this a hunch, but I think there a good chance Aiyuk could be help well under 40 yards, making 55.5 a good number to grab.
UNDER 55.5 RECEIVING YARDS
Diontae Johnson – O/U 6.5 receptions
This one is a bit deceiving. You look at Diontae Johnson's target numbers (10, 11, 14, 13, 13) in recent weeks and think, "How could he not hit 7 receptions?"
But then you dig a bit more and realize he's just barely getting to that 7 number almost every week.
Tennessee's defense has shown the propensity to get run on quite a bit, so expect a heavy dose of Najee Harris in this one.
That said, Big Ben will surely target Johnson regularly in a must-win game for the Steelers. While it will be close, I think Johnson gets over that 7-catch plateau in this one.
OVER 6.5 RECEPTIONS