The loaded 13-game NBA slate for Wednesday features a handful of headliner matchups between top teams including the Cavs at Bulls, Grizzlies at Bucks, and Clippers at Nuggets. With such a large slate of games, there are hundreds of player prop bets available.
Picking through all of the games, individual matchups, and available props can be an exhausting task. Don't worry, we've done it for you. Here are our three favorite prop bets for Wednesday.
For our readers not located in a betting state, a version of each of these props is available on the PrizePicks app. PrizePicks allows you to parlay together player props to win up to 20x your entry fee.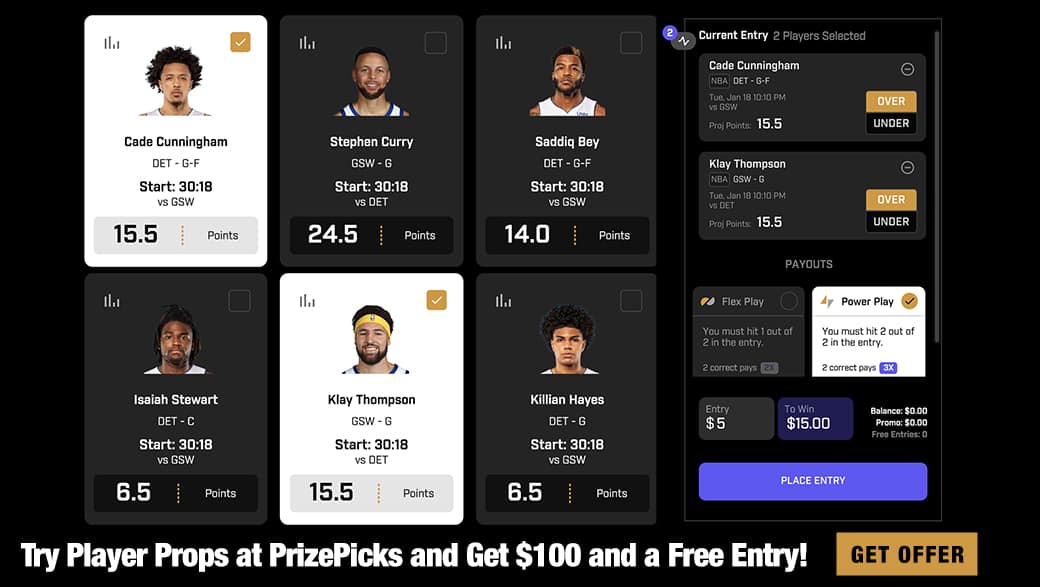 Robert Williams OVER 20.5 Pts+Reb
Alright, we'll admit, this isn't a very sexy play. With stars like Jayson Tatum and Jaylen Brown going in this one against the Hornets, most people would tend to lean towards one of their props, but to us; sexy is winning. And we believe this is a slam dunk.
In the last meeting between Boston and Charlotte, Williams finished with 12 points and 16 boards. Over the last 4 games, he is averaging 12 boards and 11.25 points per game and hit over 20.5 in 3 of the last 4. The only game he did not was against the Pacers who are allowing the 2nd least amount of points to opposing centers. The Pacers are also 10th in the league in rebounds allowed to centers.
In this matchup, we get Williams going against Charlotte who is dead last in points and rebounds allowed to opposing centers. Defensively the Hornets are 2nd to last in the league in points allowed and in total rebounds. Williams should feast on the inside with 2nd chance buckets.
Seth Curry OVER 2.5 3pt Made
Our dark horse picks for the NBA 3pt champion at All-Star weekend is the "other Curry". Seth has been stroking it from deep over the last 7 games, he has hit 3 or more in 5 of those 7 and is coming off an 0-2 night against Washington who gives up the 3rd least 3 pointers to opposing shooting guards in the league.
Danny Green will be unavailable for this game which should translate to more opportunities from deep for Curry in the game. In the other 2 games in which Green was out recently, Curry hit 5 threes in both games.
The Magic are a good matchup for this play as they are in the bottom 6 in the league in 3 pointers allowed per game. This will be the 3rd time Curry is going against the Magic this season and he has gone 3 for 5 from three in both games. We are going to roll with the "other Curry" in this one to light it up from deep.
Jalen Brunson OVER 24.5 Pts+Reb+Ast
Brunson has been a stat stuffer over the last 6 games. In all 6 he went over 24.5. He is averaging 27.3 over that 6-game stretch. Now, Brunson went below this number when the Mavs last met with the Raptors, but that was all the way back in October and Brunson's role has significantly increased since that game.
Brunson has been incredibly consistent and we expect him to do the same in this matchup with the Raptors. He has a knack for knowing his ability on any given night. Some players will continue to force shots when they are struggling. Not Brunson, he will focus more on getting others involved in turn increasing his assist total. Are his teammates struggling to knock down shots? He dives into the paint and picks up some boards. And if he is shooting well or has a decent mismatch, he will continue to attack the basket and pick up his scoring intensity.
We can always count on Brunson getting us at least 2-3 buckets backing down his man in the post for the fadeaway jumper in the paint. Fred VanVleet better get his weight up because Jalen is going to take him to the woodshed in the post on Wednesday night.