The NBA schedule for Tuesday Night is a bit top heavy with the Lakers at Nets and Mavericks at Warriors, but there is plenty of player prop action to be found at all nine games on the slate tonight.
Each of the prop bets featured on this page include the sportsbook where you can find the best available payout and they are each also available in Underdog Fantasy's pick'em style contests.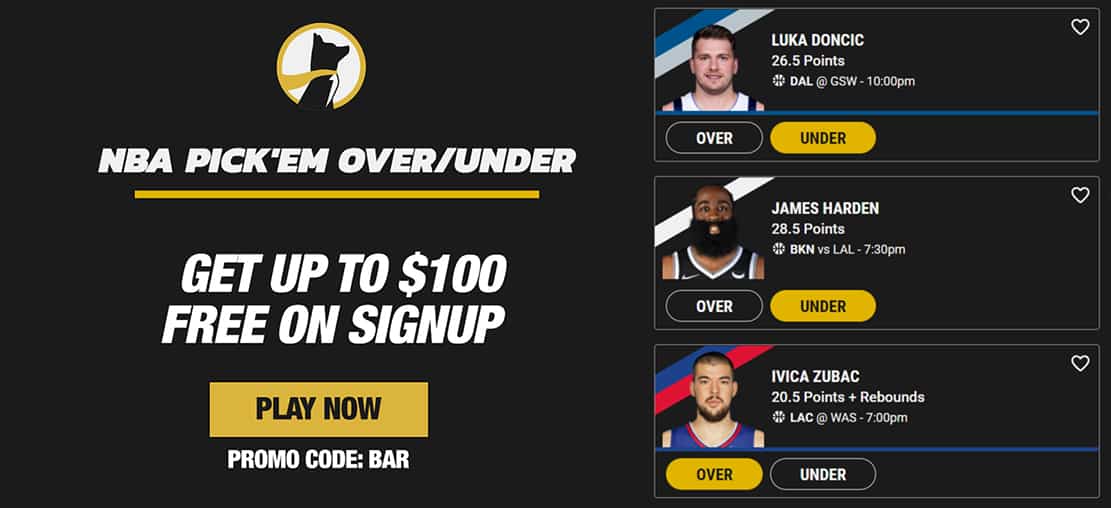 James Harden UNDER 28.5 Points
Best Available Payout - -115 at FanDuel
It's always scary taking an under in points when the player is a superstar capable of putting up 35 at the drop of a hat. However, in this spot, I really like Harden's under.
Let's take a look at what he has done recently. Over his last 10 games he is averaging just 22.8 points and has gone over 28 points only once over that stretch. In the game he had over 28, he shot 54% from the field. On the season, he is shooting just 41.9% from the field. This signals that the one game was more of an anomaly than a potential trend.
We also want to take a look at what he has done since Kevin Durant went down with his injury. Maybe he has picked up the scoring in his absence. The answer to that is no. In fact, he is average a tick lower at 22.5ppg.
It's not too much fun rooting for an under, but it is always nice to pick up a win!
Ivica Zubac OVER 8.5 Rebounds
Best Available Payout - -103 at Unibet
Zubac, on the season, is averaging 8.2 rebounds per game on just over 24 minutes per game. Recently, he has seen an expanded role and an increase in minutes. In turn, his rebounding numbers have increased as well. He is averaging 9.6 boards per game over his last 9 games.
More recently, Zubac has been a monster on the glass. He has gobbled up 14, 10, and 10 rebounds in his last 3 games. The biggest game just happened to be his latest game that took place against the Knicks who are 10th in the league in total rebounds per game. In this matchup, he faces the Wizards who are 19th in rebounds per game.
This number is far too low given his recent performances. I do not think we will see a game like last for Zubac where he grabs 14 but double-digits should be extremely doable in this one.
Luka Doncic UNDER 2.5 made 3 pointers
Best Available Payout - -148 at FanDuel
Don't get me wrong, I love Luka and I believe this game is going to be a great one but when looking at the numbers, this seems too good not to play. It is a bit juicy and for right reasons.
On the season, Luka is averaging just 2.3 made 3s per game on just under 8 attempts per game and holds a sub 30% shooting percentage. Over his last 10 games, he has gone over 2 just once. In that game, he took 10 attempts which is the most he has taken over that same stretch. Over that same 10 game stretch, he is averaging just 1.5 made 3s per game.
In this matchup, he is facing a team that is 2nd in the league in defending the perimeter. Golden State has held opponents to just 32% from deep over the course of the season and have been even better at home (31%). I believe Luka will still have a strong performance but the majority of his points are going to come from inside the arc and the foul line.
Best Long Shot Prop Bets for Tuesday
For those of you that may be looking for a bit riskier play, we do have two play props that we like with odds of +310 or longer. Both of these bets come from DraftKings Sportsbook
Dejounte Murray Triple-Double
Best Available Payout - +310 at DraftKings
Murray has picked up a triple-double in 2 of his last 3 games and 4 of his last 7. In his latest game, he was just 1 rebound shy of picking up his 3rd in a row. Last time the Spurs met the Rockets, Murray did finish with 32-10-11 cashing the triple-double prop.
At over 3:1, this prop is more than worth of a dart!
Miles Bridges 1st FG of the Game
Best Available Payout - +500 at DraftKings
The ugly cousin of the NRFI (No Runs First Inning) plays from MLB seems to be the 1st FG of the game in the NBA. The positive here is it happens much quicker and you can get really great value. The negative, the variance is incredibly high.
However, I like what I have seen recently from the Hornets in terms of 1st possessions lately. Bridges made the 1st FG in their last game against the Hawks on the opening possession. Previous to that, he scored the 2nd bucket of the Hornets and 3rd of the game against the Thunder. Against the Celtics in the game before, Bridges took the 1st attempt but missed. Prior to the Celtics game, Bridges was successful again in scoring the 1st FG.
At 5:1 and the shortest odds in the game, I believe there is good value in Bridges getting the 1st bucket once again.