The Sweet 16 got off to a great start on Thursday night with both #1 seeds falling and both #2 seeds advancing to the Elite 8. We've already covered our best bets for Friday night, but for those of you looking to find even more action, the majority of US sportsbooks are offering a variety of player props for every tournament game.
Before we jump into our picks, we have to shoutout PrizePicks for having a massive selection of props available for these Sweet 16 games. For those that haven't played on PrizePicks, it is essentially player prop parlays. There is no juice with the props on prizepicks, two correct pays 2-to-1, three pays 5-to-1, and four pays 10-to-1. You can also use the flex play option to win even if you miss one or two picks.
Unlike the limited selections at sportsbooks, PrizePicks has props for points, rebounds, assists, points + rebounds + assists, fantasy score, made 3s, blocks + steals, and free throws made available for every March Madness game. Get $100 free with the offer below.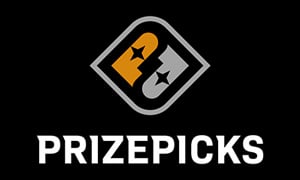 Get $100 of Free CBB Props at PrizePicks
Use the Promo Code EWB
Nate Watson Over 12.5 Points (+100)
As we discussed in one of last week's posts, people have been disrespecting this Providence team all year long and it doesn't make a bit of sense. The Friars don't have a gaudy statistical profile, but they play solid defense and know how to win tight games. We think Nate Watson has a big game against Kansas on Friday night.
The 6-10 260 pound senior is averaging 13.5 points per game this season, which makes you wonder why this point total has been set a full point lower than that. It's probably because Watson only scored 10 points against Richmond last Saturday and 6 points against South Dakota State in the opening round on Thursday.
However, keep in mind that the Friars won both of those games comfortably. Watson only played 19 minutes against Richmond and 25 minutes against SDSU. Against a dominant team like Kansas, expect Watson to be on the floor for most of the game. We see Watson finishing with at least 15 points so take the Over.
Izaiah Brockington Over 16.5 Points (-104)
The Iowa State vs. Miami matchup could end up being the best game to watch on Friday evening. While we respect the season that Miami has had, we think their lack of defensive prowess will catch up to them in this one. Brockington is the leader of this Cyclones team and we think he turns in a big performance against the Canes.
Just how bad is Miami's defense? They allow 70.6 points per game, which ranks 192nd nationally. They also rank 301st in effective field goal percentage allowed and 256th at defending the 3. Brockington is a decent three-point shooter (36.7%), so he may be able to take advantage of the Canes' weakness in that aspect.
Brockington has played in 34 games this season. He's scored 17 points or more in 19 of those games. That's enough to make us take the Over in this one!
Jaime Jaquez Under 14.5 Points (+100)
Jaquez has been on a major roll lately but we think he could have a hard time scoring against North Carolina. As a 6-7 guard, Jaquez usually has no trouble creating his own jump shots. However, the Tar Heels have a 6-8 guard named Leaky Black that should be able to keep Jaquez under wraps for most of this game.
On the season, Jaquez is averaging 14 points per game, which is why the number is being set at 14.5. However, through 33 games, Jaquez has stayed under this point total in 18 of them.
In what should be a great basketball game, we'll go with Jaquez to score Under 14.5 points at the plus money price! Best of luck with all your Sweet 16 action!
Zach Edey Over 22.5 Points + Rebounds + Assists
This one feels a little too easy, which has us nervous. Saint Peter's doesn't start a player over 6'8" and Edey stands 7'4". The Peacocks are 82nd in the country in rebound %, and that number isn't adjusted for the soft schedule they played. Purdue is the nation's best rebounding team, and that starts with Edey who has averaged 10 per game over his last 6.
Edey put up 21 points + rebounds + assists against Texas despite not registering an assist and playing only 15 minutes. He put up 26 (in 20 minutes) against Yale in the opening round of the tournament. While he's only had one assist in his last 7 games, he had 12 assists in the 4 prior to this stretch and is certainly a capable passer. In the end, we think he gets there with points + rebounds alone tonight and think he could have a double-double by halftime given the mismatch he will have inside.
Check Out All of Our Sweet 16 Picks
In addition to these four Sweet 16 player props, we have best bets for the Thursday games as well as the Friday games. You can also shop the current odds for every game of the tournament using our free odds tool. This tool compares odds from the top sportsbooks across the US to find the best odds and lowest juice for every game.