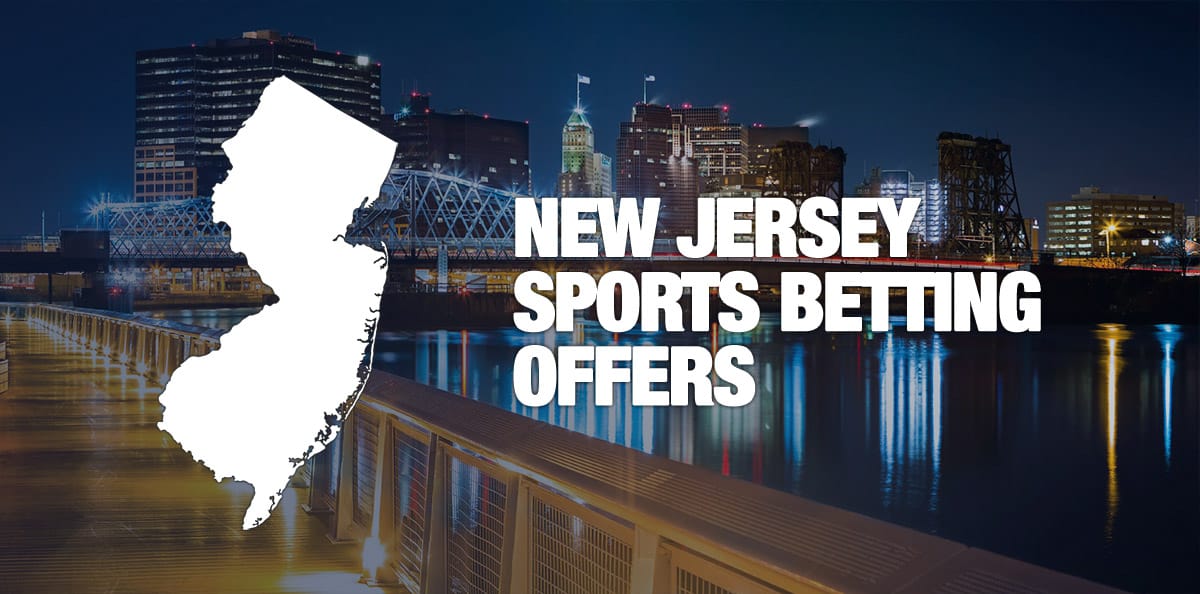 New Jersey was the first U.S. state to legalize online sports betting and today offers more sportsbook options than any other state. New Jersey sportsbooks took over $1 billion in bets in each of the first three months of last year's NFL season.
Any experienced sports bettor will tell you that the best sportsbook offers tend to come as we get out of the NFL season and move closer to the NFL season. We rank every promotion in the table below.
New Jersey bettors must be 21+ and present to place wagers in the state. If you or a loved one is experiencing problems with gambling, call 1-800-GAMBLER or visit the National Council on Problem Gambling www.ncpgambling.org.
Top NJ Sportsbook Bonus Offers for September
Understanding the Offers from Online Sportsbooks
Almost all online sportsbooks have some sort of offer or promotion to attract new customers, or to reward existing customers for their loyalty. The offers come in various forms and can range from a cashback bonus, bonus bets, deposit bonuses or special rewards points.
To help you make sense of all the offers, we've broken down some of the most common terms and conditions.
Bonus Bets. Many sportsbooks will offer a bonus bet when you sign up or renew your account. This can be in the form of "no sweat bet" in which you get a bonus if your bet loses, or somewhat of an odds boost in which they'll give you extra bonus cash if your first bet wins - as in the case with DraftKings, which we'll cover shortly. These bonus bets are usually tied to specific events or games, and have time limits attached.
Deposit Bonuses. This is one of the most common types of bonuses you'll find in NJ sportsbooks. Essentially, this bonus will give you a set percentage of your initial deposit back as cash or bonus bets. Most of the time these are in the form of a 100% match up to a certain amount. Online casinos really love these types of bonuses. We've seen them match deposits up to $1,000. Sure, there are some terms associated with these bonuses, but they're generally quite favorable.
Cashback Bonuses. This type of bonus is usually tied to the number of bets you place or the amount of money you wager. The sportsbook will give back a certain percentage of your losses as cash or bonus bets. It's important to note that most sportsbooks have minimum requirements for these bonuses
No-Deposit Bonuses. One of our favorite types of bonuses, no-deposit bonuses require no initial deposit to be made. Instead, you receive a set amount of bonus money after signing up. This is an easy way to test out a new sportsbook without footing any of the bill. Keep in mind that these usually come with strict wagering requirements before you can withdraw your winnings and they tend to be much lower than your traditional bonus.
Welcome Bonuses. This is an overarching term that covers different types of offers, such as deposit bonuses and no-deposit bonuses. Essentially, this is the sportsbook's way of welcoming new customers to their platform.
Second Chance Bonus. These are a lot like bonus bets, but instead of being tied to specific wagers or outcomes, they are more generally based on the amount of money you have wagered and lost on the first bet. For example, let's say you bet $50 on a game and lose, instead of giving you credit to bet on another game, they'll deposit $50 to your account to use however you want. They're very similar to cash-back bonuses, but with a slightly different structure.
Referral Bonuses/Loyalty Programs. This type of offer is all about rewarding existing players for bringing more people into the community. Referral bonuses often come in the form of bonus bets or cash deposited into your account. Loyalty programs are more about rewarding players for their continued action with the sportsbook. Every bet you make earns credits which can be redeemed for cash, merchandise, and other prizes. One of our favorite loyalty programs is Caesars Rewards which has some amazing rewards for members.
So, if you're looking to make the most of your sports betting experience, we highly recommend taking advantage of these offers and promotions. Now that you have an idea of the different bonuses available, you can make an informed decision on which offer is for you.
We'll give you some tips on how to best use your bonuses as well.
Current New Jersey Online Sportsbook Offers
Now that we've got that out of the way let's take a look at what the current New Jersey sportsbooks have to offer. Since sportsbooks are always changing their offerings, we'll keep this list up to date with the latest offers.
Bet365 Online Sportsbook in New Jersey

We're starting this list off right with Bet365. They're one of the best sportsbooks in the industry; however, they're limited to only Colorado, Ohio, Virginia - and you guessed it - New Jersey. That's great news for you as a sports bettor. What's even better is that they're offering new customers $200 in bonus bets when they bet $1 on any game. That's an incredible deal that is exclusive to new members. You don't even have to use a promo code for this bonus.
DraftKings Online Sportsbook in New Jersey
One of the biggest names in DFS is also one of the biggest names in online sports betting. DraftKings Sportsbook is now available in New Jersey, and they're offering new customers the chance to rack up an extra $200 when they bet just $5. When you place your first $5 bet, DraftKings will credit your account with another $200 in bonus bets.
FanDuel Online Sportsbook in New Jersey
Another DFS giant, FanDuel, is offering their own type of welcome bonus. They're giving new customers their signature Bet $5 Get $200 deal." They'll also give you $100 off NFL Sunday Ticket.
BetMGM Online Sportsbook in New Jersey
Oh, one of our favorite sportsbooks, BetMGM, is now available in New Jersey and they're offering new customers a $1000 first bet offer. This is essentially the same promotion that FanDuel has going on in New Jersey. What we love the most about BetMGM is their app. It's seamless and easy to navigate, making it one of the best sports betting apps in the market. If you want your second chance bet, you will have to use our exclusive promo code, EWBET1, to take full advantage of it.
Caesars Online Sportsbook in New Jersey
Probably one of the most popular sportsbooks in NJ, Caesars is offering new customers a massive deal just for signing up with our bonus code - BVGET. Not one to be outdone by BetMGM and FanDuel, Caesars is offering new customers a Bet $50 Get $250 deal. This bonus is essentially the same as FanDuel's and BetMGM's second chance bet but with a bit more cash behind it. There's a reason they're one of the most popular sportsbooks in NJ.
PointsBet Online Sportsbook in New Jersey
PointsBet, the sports betting powerhouse that was recently purchased by Fanatics, is one of the biggest sports betting sites in the nation. That's right, they operate in tons of states and not just New Jersey. They also offer new customers an easy $250 in bet credits if their first bet loses. Of course, it's worth noting that this comes in as $50 bets spread across five wagers, but it's still a great bonus. If you want to get in on this action - and we recommend you do - you'll have to use our promo code BVIEW1.
Unibet Online Sportsbook in New Jersey
Unibet is one of the smaller online sportsbooks, but they're quickly making a name for themselves in the industry. New customers can take advantage of their Bet $25, Get $100 Matched deal when they sign up. They don't even need a bonus code to walk away with the extra money. All they have to do is place their first bet of $25, and if it wins or loses, Unibet will give them up to $100 in bonus credits. It's one of the best deals out there for new NJ sports bettors. And guess what - no bonus code is required.

BetRivers Online Sportsbook in New Jersey
Last on our list, but certainly not least, is BetRivers. This sportsbook has been gaining traction in the New Jersey market lately, and they're offering a great welcome bonus for new customers. When you sign up with BetRivers, you can get a $250 second chance bet. That means all you have to do is place a bet up to $250, and they'll match your bet if you lose. Easy as that. What's even better about BetRivers and what they're known for is their industry-leading 1x rollover requirement. That means you can take your bonus money and do whatever you want with it, with no strings attached. It's the perfect way to get started with BetRivers sports betting in NJ!
New NJ Sportsbook Promotions for the 2023 NFL season
Since the NFL season is right around the corner, many sportsbooks are about to start ramping up their promos for the season. Some sportsbooks may offer deposit bonuses, while others could offer parlay odds boosts and free bets. Keep your eyes peeled for new promotions, as they can really help you get ahead in wagering. One thing's for sure - no matter what promo codes are available or what site you use; the best bet is to get the most bang for your buck from the NJ sportsbooks.
As these new bonuses and promotions come to light, we'll make sure to update this page with all the latest information. So check back often to stay up to date on the best sports betting deals in New Jersey.
What Makes the Current DraftKings Promotion the Best Offer in NJ?
Follow these steps to lock in your $200 in Bonus bets at DraftKings today:
Sign up at DraftKings and make a minimum deposit of $5. Register from the offer landing page.
After making your first $5 bet, DraftKings will give you $200 in Bonus bets
Enjoy your increased bankroll!
Given that the previous DraftKings deposit bonus was only a 20% match, this current Bet-Get is a fantastic opportunity for new sports bettors in New Jersey to jump on board one of the top sportsbook apps in the business. You won't be disappointed!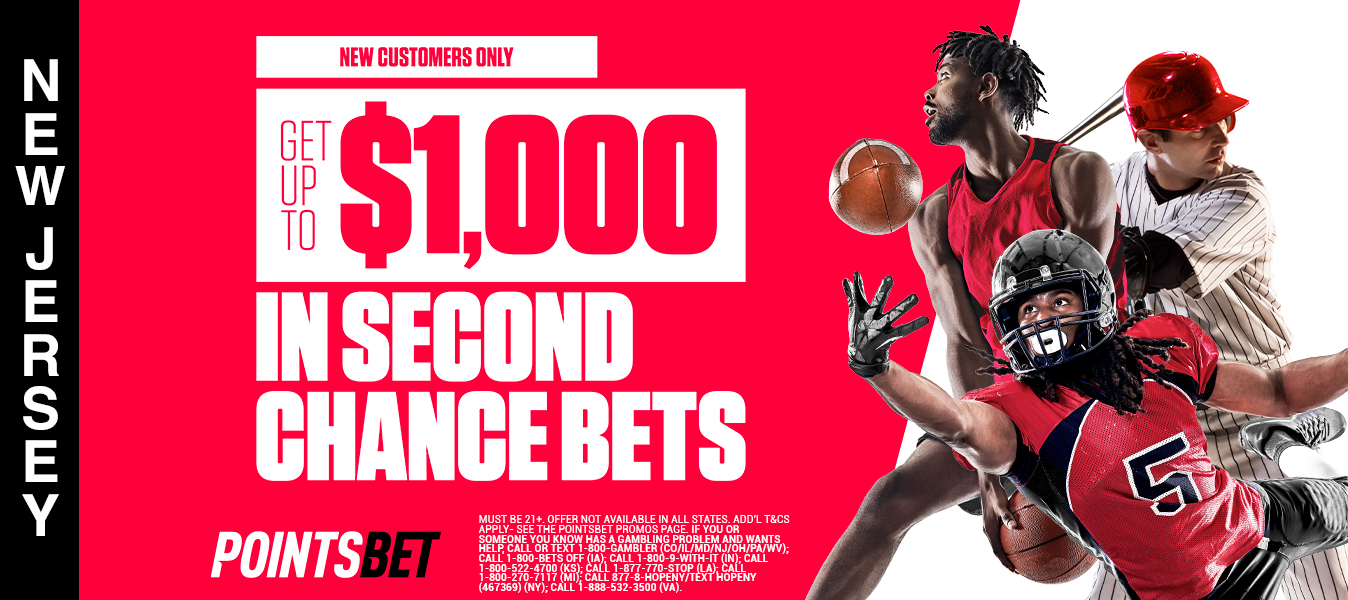 How the Current PointsBet New Jersey Offer Works
With the PointsBet promotion currently available in New Jersey, new players can receive up to $250 in 2nd Chance Bets. This is a fantastic opportunity for folks from the Garden State to try out PointsBet.
Here are the steps to follow to lock in either of the current PointsBet bonus offers available in New Jersey:
Sign up at PointsBet and get your 2nd Chance Bets Up To $250.
Use the bonus code BVIEW1 to receive up to $250 in 2nd Chance Bets
Make a Deposit into your new PointsBet account.
The bonus offer is split into (5) 2nd Chance Wagers.
If your first bet loses, they'll match however much you wagered up to and including $250.
Tips for Using Your New Bonus at New Jersey Online Sportsbooks
We get sports bettors asking us all the time how best to use their new sportsbook bonuses. Here are our top tips—
Don't Forget the Offer!
We can't stress this enough! One of the biggest mistakes made by new sports bettors is forgetting to use a bonus code when signing up. Make sure you know what the offer is and enter the correct promo code at signup. That way, you can lock in your bonus and get the most out of it.
Be Mindful of Rollover Requirements
Most online sportsbooks have a rollover requirement for their bonuses. This means that you'll need to bet your bonus money a certain number of times before being able to withdraw it. Make sure you read the terms and conditions of each offer so that you can take advantage of your bonus in the best way possible. It would suck to get a bonus only to realize you have to roll it over 25 times to withdraw it.
Bet Wisely
No matter how big your bonus is, it won't do you any good if you don't bet wisely. Make sure to shop the odds and pay attention to line movements so that you can get the most out of your bonus money. Also, keep in mind that bonuses are not meant to be used as a guaranteed way to win money. Bet only on the sports and games you're familiar with. So, if you're a huge fan of the NHL, focus on betting on NHL games. If you're unfamiliar with the MLB teams, don't bet on them just to get a bonus.
Don't Leave Money On the Table
Finally, make sure you take full advantage of all the bonus offers available to you. With so many sportsbooks competing for your business in New Jersey, there are plenty of great bonuses out there with big rewards - don't miss out on them! This also holds true for maxing out any match bonuses. If a sportsbook offers you 100% up to $500, then sure you deposit $500 to receive the full bonus amount. That way, you'll get your money's worth out of each offer.
---
FAQs for New Jersey Sports Betting Bonus Offers
While New Jersey may be the first state to legalize sports betting, the total handle and number of new bettors registering daily indicate the market is still growing. Below are a handful of FAQs most new bettors have regarding how sportsbook bonus offers work.
Who Qualifies for a SportsBook Bonus in New Jersey?
To be eligible to receive a bonus offer from any of the sportsbooks in New Jersey, you must be at least 21 years of age, located within New Jersey state lines, and be a new user of the sportsbook.
How Does a 2nd Chance Bet Work?
Second chance bet promotions will refund your initial bet if you fail to win. These offers typically only apply to your first wager with a sportsbook. A 2nd chance bet caps at whatever you initially deposit with the sportsbook, up to a certain amount.
How Does a Bonus Bet Offer Work?
The offer currently available from Caesars in New Jersey includes Bonus bets. In this case, you need to register using the bonus code listed, make an initial deposit, and place the minimum bet required. Once the bet closes, your Bonus bets will be credited to your account. Anything you use with your Bonus bet is yours to keep.
Which New Jersey SportsBook Offers the Best Bonus Offers?
While our favorite New Jersey sports betting offer for New Jersey this September is the Bet $5 Get $200 Bonus from DraftKings, this varies based on the season and promotions available. Typically speaking, PointsBet, FanDuel, DraftKings, and BetMGM run the most generous New Jersey sports betting promotions.
Do any New Jersey sportsbooks offer no-deposit bonus offers?
Not at this time. Check back next month, though, because some sportsbooks may offer no-deposit bonuses just before the start of the NFL season.
How do we identify the best bonus offer in New Jersey?
Our team closely studies each bonus offer and gives each one a rating based on the total dollar amount, player-friendliness of terms, and how much of a deposit is required. While it would be easy to just search for the highest bonuses in terms of dollars, we believe in giving our readers a full snapshot of each bonus offer in New Jersey.
How often do sportsbooks change their bonus offers?
This depends on the sportsbook and its marketing philosophy. Conglomerates like FanDuel and DraftKings change their offers quite frequently, while other books like BetMGM and BetRivers rarely change their bonus offers.
Can you withdraw winnings from a bonus bet?
Yes, you can withdraw winnings from any bonus. Just make sure you have met the rollover requirements that the sportsbook enforces. Read the full terms and conditions of your bonus offer to clarify how many times you have to play through your deposit and bonus.
Steps to Get the Best Bonus Offer in New Jersey
Being a sports bettor in the Garden State definitely has its advantages. However, with so many sportsbooks to choose from, finding the best bonus offer can be a bit overwhelming. Luckily, our team will do all of the hard work for you!
Our staff stays in constant communication with the managers of all of the New Jersey sportsbooks. This helps us ensure that our readers will receive the best bonus offers available. Check our Best New Jersey Sportsbooks page frequently for updates.
For the month of September , our best overall bonuses for folks in New Jersey are from DraftKings and FanDuel. Both of these are worth looking into to help expand your bankroll.
Browse Offers in Other States
How do the sportsbook promotions available in New Jersey stack up to those across the country? Browse the best bonus offers for every state with legal sports betting below. We keep each of these pages updated daily to ensure bettors can always find the latest and greatest promotions available in their state.