Wednesday brings us a two-game NBA Playoffs slate and this will be an important one with both series tied at two wins apiece. Atlanta travels to Philadelphia after a relatively easy home win where the final score seemed closer than it was, while the LA Clippers are planning on taking a 3-2 lead on the road after winning both of their home games in blowout fashion. As a reminder, you can shop the latest odds to find the best line under each breakdown.
Atlanta at Philadelphia - Pick: Atlanta +6
Best Odds for 76ers at Hawks - 6/16/2021
We've known earlier that Joel Embiid will be playing through a partially torn meniscus and that he might need offseason surgery. While Embiid was listed as questionable in all games so far in this series, he was able to give it a go and was explosive and dominant through the first three matches.
Things changed in game four, where the franchise big just seemed hurt. Embiid finished the game with just 17 points making a total of 4 field goals out of 20 attempts. What is more concerning that he missed on all twelve of his second-half shot attempts and was a –16 on the floor through the final two-quarters of the game?
Some injury experts forecasted that this meniscus tear could get worse the deeper this series goes, and after seeing Embiid's game four performance it is difficult to feel good about the rest of the series.
The final three games of this series will be played every other day and there will be travel involved between all three games. This is far from ideal, but the Sixers need to figure out a way to keep Embiid's knee together.
Credit to Atlanta
We have to give a lot of credit to Atlanta as the Hawks brought a much better offensive showing in game four. The low number of three-point attempts taken was a big minus on the Hawks' side earlier in the series, but in game four Atlanta managed to take 40 three-point attempts, which is certainly the sign of a healthy offense. The shooting percentages still weren't stellar, but the ball movement improved.
Twenty-two-year-old superstar guard Trae Young finished the game with 25 points and 18 assists. Besides Young, much of the success came due to forward John Collins dominating the offensive boards with five offensive rebounds creating important second-chance opportunities for his team. We've seen coach Nate McMillan using Danilo Gallinari's size more efficiently on the defensive end and the overall rotation and switching improvements have been mostly working for the Hawks.
We are taking the points with Atlanta expecting them to at least cover game five. While the rest of the Philly lineup is still capable without Embiid, we just don't see them getting a blowout victory over this Atlanta squad unless the Philly star is close to a 100%.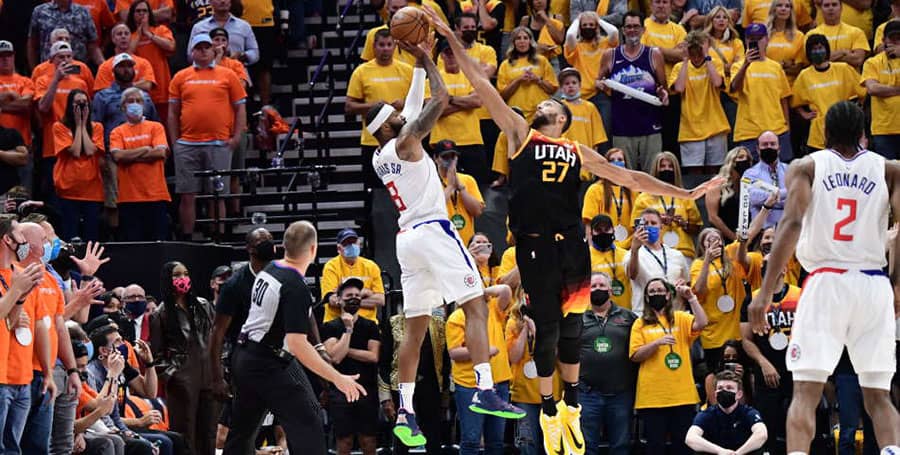 LA Clippers at Utah Jazz - Pick: LA Clippers ML
Best Odds for Clippers at Jazz - 6/16/2021
We've mentioned in our game four previews that Kawhi Leonard and Paul George both scoring over 30 points in the same game only happened five times so far since the two started playing together two seasons ago. This includes game three where the Clippers managed to get a blowout victory.
Well, the same thing repeated in game four, and LA managed to get a relatively easy W behind 31 points from both Leonard and George. The duo combined for 16 rebounds, 7 assists and 3 steals as well while shooting above 45% from the field and over 40% from three-point range.
Lue Figuring out his Rotation
We've seen the exact same starting lineup and rotation from LA coach Tye Lue in game four than what he rolled out for game three. The adjustments seem to work and Lue nailed the small-ball lineup of Jackson – George – Leonard- Morris – Batum. This is now the second-best starting lineup in the playoffs behind Phoenix's starters if we go by the plus-minus rating system.
It is important to mention that Patrick Beverley - who recently returned from an injury – played an important part on the defensive end visibly frustrating Utah star Donovan Mitchell. Mitchell ended up finishing the game with 37 points, but he was a –15 on the floor and only shot 34.6% from the field.
Health Issues Holding back Utah
Mike Conley still hasn't played in the series and this being an extremely physical and grueling matchup we have a tough time seeing him coming back for game five while looking good as well. Even if Conley can play, his role will be limited and we could see him being a bit rusty.
The other major issue for Utah is that Donovan Mitchell's ankle is clearly bothering him. The Jazz superstar did roll it again in this game and he said in a post-game interview that he is in pain every time when he is landing on it.
With a less than 100% healthy Mitchell and a Mike Conley that is questionable at best, we have to go with the LA Clippers in game five. We are expecting an outright victory as the Clippers roll out their fully healthy new rotation that has been working wonderfully through the last two games. In the end, it really seems like health will be the deciding factor in both of Wednesday's playoff matchups.
Browse Latest Articles