With a loaded Friday night slate of NBA games, there is no shortage of player prop action across sportsbooks and DFS prop apps tonight. The ESPN double-header will feature the Lakers at the Hornets at 7:30 p.m., followed by the Knicks at the Bucks at 10:00 p.m. Other headline-worth games include the Celtics at the Hawks, Clippers at Heat, and Jazz at Grizzlies.
This article will break down our picks for the best prop bets available tonight, including a +475 prop on Jusuf Nurkic and our popular first scorer bet of the night which features +1000 odds.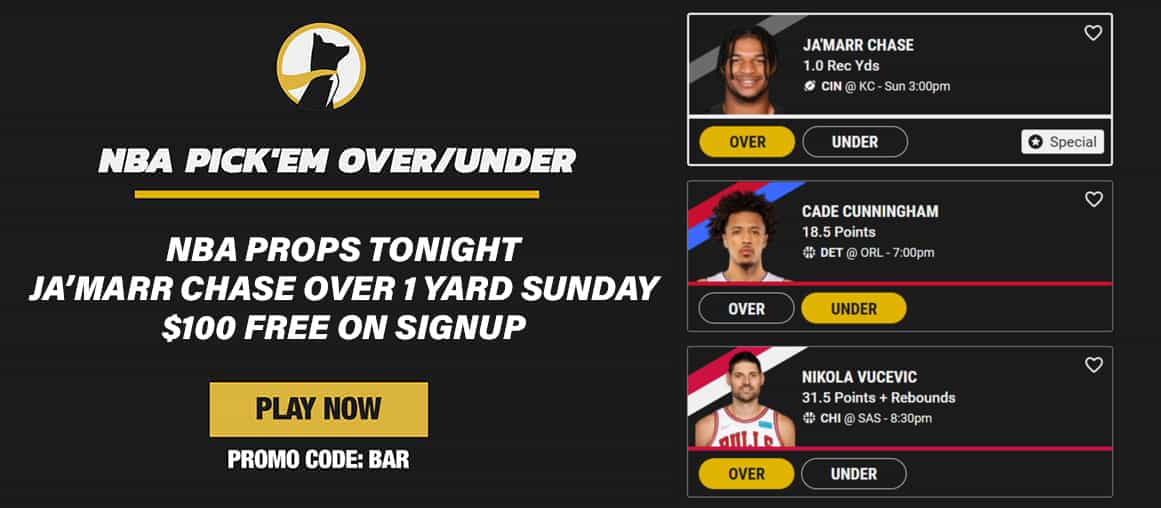 Cade Cunningham UNDER 17.5 Points
Best Available Number: -110 at Caesars
Cunningham is coming off a career-high 34 against the Nuggets on Tuesday night. He has also surpassed 17 points in 3 straight games. It seems way too easy of a number at 17.5 and is likely a trap. You would think a player that has been scoring as much as Cunningham has lately, this number would be closer to 20 here. On top of that, the book has a higher juice on the under than the over (-115 / -110). Let's also take note that in his previous game against Orlando, he only managed 12 points on 3 of 14 shooting and no one on the team reached 18 or more. Orlando also happens to allow the least number of points at home in the entire league.
Nikola Vucevic OVER 12.5 Rebounds
Best Available Number: +110 at FanDuel
Vucevic is averaging just 11.4 rebounds per game but has been an absolute glass eater recently. He has had games of 15, 15, and 13 over his last 3 games. It was a favorable matchup for Vucevic and his style of play. The Spurs allow the 4th most rebounds to the opposition this season and 3rd most offensive rebounds. Vucevic can be a pest on the offensive glass. He had 5 offensive boards against the Thunder recently. I like the way Vucevic has been trending on the glass and the numbers that the Spurs have allowed make me comfortable with this one.
Jusuf Nurkic NO Double-Double +475
Best Available Number: +650 at FanDuel
Nurkic has only picked up a double-double on 22 of the 45 times the bet has been available on the market. He is coming off a game where he did not get a double-double due to only having 8 boards.
In his last game against these Rockets, he failed to reach a double-double, scoring 12 but only grabbing 9 boards. The Rockets have not allowed a double-double that included rebounds in their last 4 games.
The value here is just too much to pass up at almost 5 to 1 odds, I'll throw the dart and hope to check the stat line later to see him in single digits for boards.
Keldon Johnson OVER 1.5 Made 3s
Best Available Number: -149 at Caesars
Johnson has had 2 or more 3s in all 10 of his last games and he is shooting them at a 44% clip this season. He has hit this over 57% of the time this season and has had the best ROI% on this bet among those that have either the same win percentage (57%) or more.
The Bulls allow an average of 11.4 makes 3s per game and Johnson is 3rd on the Spurs with made 3s per game but surpasses both McDermott and Vassell in terms of minutes per game. He should have plenty of opportunities to knock down two 3s again tonight.
1st Scorer Prop: Bobby Portis
Best Available Number: +1000 at FanDuel
Portis has hit this in 3 of the last 6 games for the Bucks. The only other player that may be worth the value here would be Middleton at +700 strictly because he gets the most opportunities. He has only cashed in once this season, but recently he has been the go-to guy on the 1st offensive set. But I am playing to the value here with Portis likely knocking down a 3 to get the 1st score.