Tonight's NBA slate includes nine games in total, headlined by an ESPN double-header that will feature the Grizzlies at the Knicks and the Nuggets at the Jazz. We have three player props from this slate that really stand out, as well as a first scorer prop bet that is worth considering. Included with each pick is the sportsbook that offers the best odds for that specific prop.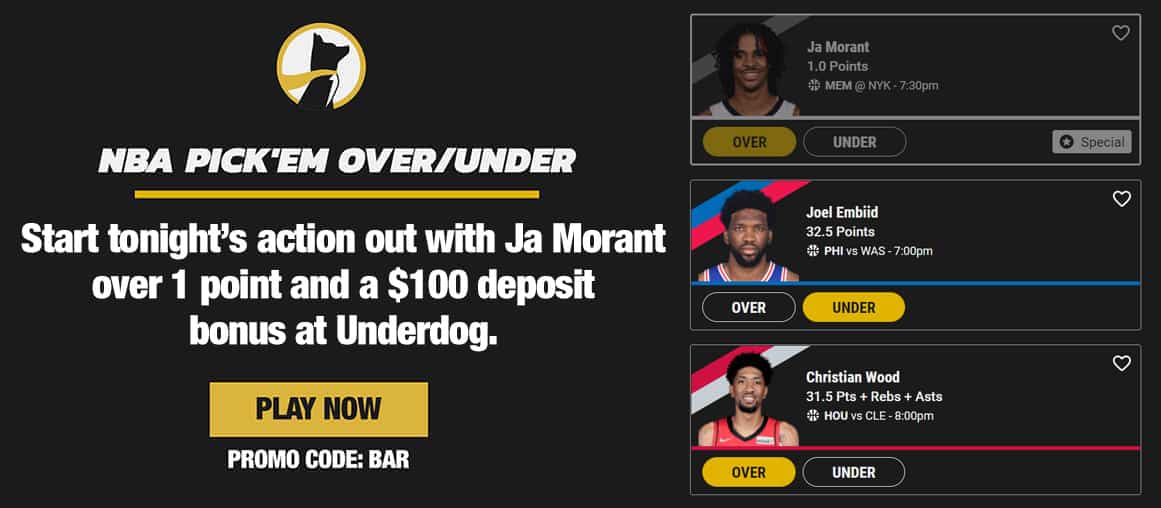 Joel Embiid UNDER 32.5 points
Best Available Number: -105 at Caesars
Embiid sat out the last game for rest. This marked his 3rd time doing so this season. In his previous 2 games returning from the game off he had 17 against Miami and 18 against Chicago.
In his previous game against Washington on January 17th, he had 32 points. However, he went 3 of 4 from three, where he is averaging just 1.3 of 3.4 per game from long distance. Let's also factor in the 10.5 point spread that could lead to a large lead by the 76ers and limited time later in the game for Embiid. I believe the one game off throws Embiid's rhythm off here again and he fails to go over this number.
Harrison Barnes OVER 0.5 Steals
Best Available Number: +120 at BetMGM
Barnes has picked up a steal on 18 of 39 times this prop has been available. He faces the Nets tonight, who are the 3rd worst at allowing opponents to pick up an average of 8.58 steals per game.
In the Nets' previous game against the Suns on Tuesday, every Suns starter finished with at least 1 steal in the game. In the game prior to that, the Nuggets picked the pocket of Nets players on 8 occasions between 6 players. And going back a 3rd game, against the Lakers, they allowed every Lakers starter to pick up at least one steal and added 3 bench players to that as well. The Lakers had a total of 12 steals in the game.
Barnes should be able to pick up a steal here even if it's by accident and at plus money, it is hard to turn down.
Christian Wood Double-Double
Best Available Number: -170 at FanDuel
Christian Wood has picked up a double-double in 6 of his last 8 games, including 2 straight. On the season, he is averaging 17.7ppg and 10.4rpg. In the last 8 game stretch, he is averaging 12.25 rebounds per game.
In Cleveland's recent games, they have allowed opponents to pick up double-doubles at a decent rate. In the last game against the Pelicans, Josh Hart picked up one and Valanciunas was just 1 board short of one. Against the Pistons, prior to the Pelicans game, both Cade Cunningham and Isaish Stewart got there with points and boards. Cunningham also added 10 assists to pick up a triple-double.
1st Scorer Prop: Evan Fournier
Best Available Number: +800 at BetMGM
I like what I have seen recently from Fournier in the Knicks early possessions. He has taken the 1st or 2nd shot for New York in 4 of their last 5 games. The tip percentages do not really favor either team and the Grizzlies have been a bit all over the place with their early possessions. If I had to take a Memphis player, I would take the long odds-on Adams at +1000 who has been involved earlier than normal lately.