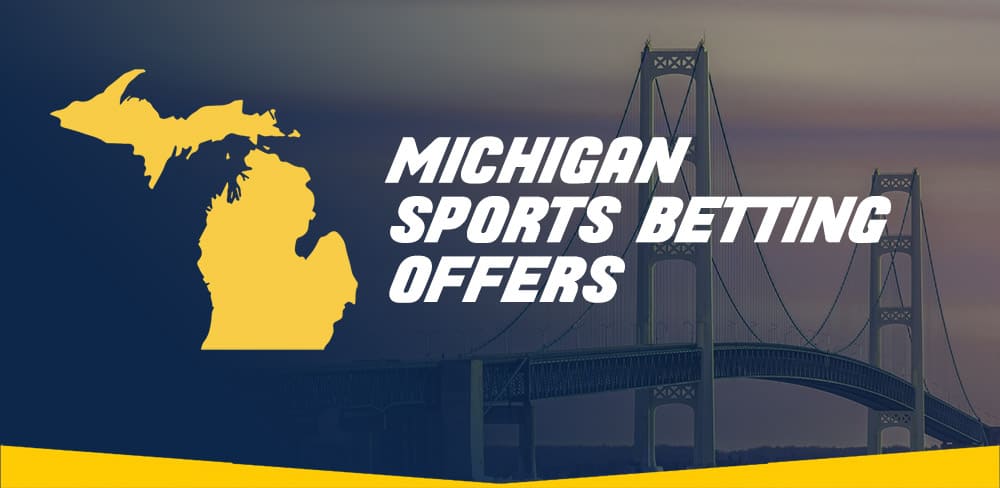 With 15 legal online sportsbooks available in Michigan, there is always a great bonus available to help build your bankroll. Our team collects and rates all of these offers on a daily basis to bring our readers the best promotions available to the Great Lakes State. We want to make sure that you get the best bang for your buck!
The rankings found below only include the sportsbooks we recommend in the state of Michigan and not only reflect the quality of the bonus offer but the terms attached to the offer. Keep that in mind when reviewing the rankings below. However, we're sure you'll find which is the best Michigan sportsbook bonus for you. Here are our picks for the best online sports betting bonus offers available in Michigan this January:
How We Rank Michigan Online Sports Betting Bonus Offers
Our staff updates every online sports betting offer available in Michigan on a daily basis. Anytime a new bonus becomes available, our team updates it in this directory and rebuilds the rankings from scratch.
Checking this page on a regular basis will help you find the top sports betting offers in Michigan. We take our online sports betting seriously, and we want to make sure that when you're ready to bet, our readers get the best bonus available.
The key factors considered for each MI promotion include the total value of the offer, terms, and rollover required for the offer, and the overall quality of the app.
We work with the top online sportsbooks across the country, as well as Michigan sports betting apps, and have a firm understanding of what a high-quality offer looks like. A large offer is nice, but it's not that great if the terms are heavily slanted in the sportsbook's favor.
Think about it. Just because you get a $200 deposit match bonus shouldn't be a reason to run to that online sportsbook if the rollover on their Michigan sports betting bonuses is 25x. Now, a $100 deposit match bonus that has a 2x rollover is a much better sports betting offer because you'll most likely be able to see that money in your bank account.
Don't forget, not all online sportsbooks are the same!
With that in mind, here are the details and key terms for our top-rated Michigan online sports betting offers. Any of these would help bring a big boost to your sports betting bankroll and give you a better chance of ending the season with money in your account.
What Makes the Current DraftKings Promotion the Best Offer in MI?
One of the biggest names in the Michigan sports betting world is the DraftKings Sportsbook. Not only do they have a great user-friendly app, but their promotions are also top-notch.
The current offer from DraftKings MI is one of the best you'll find in the state right now. The offer gives new members $150 in free bets!
Follow these steps to lock in your $150 in Free Bets in Michigan today:
Sign up at DraftKings and make a minimum deposit of $5. Use the code 200BV1 for this promotion when you register from the offer landing page. The entire process should only take a few minutes of your time.
DraftKings will give you $150 in free bets after you make your first $5 wager if your team wins!
Seriously, who doesn't enjoy free bets? They're essentially free money if you make your wagers properly. DraftKings is offering an amazing deal right now, and we urge all sports bettors in Michigan to take advantage of it before the offer expires.
Plus, the terms attached to this promotion are relatively easy to meet. You can easily convert those free bets into real cash if you know what
This is a huge step up from the older DraftKings Sportsbook welcome bonus, which was only a 20% match. Jump on it today before football season gets cranking! It's currently one of the best deposit bonuses we have ever seen in the state of Michigan.
Folks in The Great Lakes State will love the insane amount of player prop options that DraftKings Sportsbook offers on a daily basis. There truly is something for everyone at DraftKings, which is why they are one of the most popular sportsbooks in the world. They offer a wide range of online casino games as well, which many bettors don't even know about.  When we say they have something for everyone, they really do.

PointsBet Bonus Offer - $2,000 in Risk-Free Bets
If you live in Michigan and would like to try out PointsBet with no risk, this latest bonus offer may be perfect for you! Just sign-up for a new account and use the promo code BVIEW0 to get up to $2,000 in Risk-Free Bets.
This is easily one of the best deals in the sportsbook industry, and it's not even a deposit bonus! After all, who doesn't love a free bet as a sportsbook bonus? What's nice about this offer is that it is split up into two free bets, which is one of the sweetest deals in online gambling. Chances are, you won't find something like this anywhere else.
So, make sure to take advantage of the PointsBet Risk-Free Bet bonus before it disappears! It's one of the best promotions in MI right now and won't be around for too long. With up to $2,000 in free bets up for grabs, you'd be a fool not to grab this bonus deal.
Terms of the PointsBet $2K Risk-Free Offer
Between the program Mel Tucker is building at Michigan State, the program Jim Harbaugh has built at Michigan, and the Detroit Lions' rebuild (led by former Wolverine Aidan Hutchinson), Michigan is the mecca of football in the US.
With that in mind, this new $2,000 in Risk-Free Bets bonus offer from PointsBet should be a favorite amongst bettors in the Great Lakes State. Here are some of the highlights of the Terms of this offer.
The Risk-Free $2,000 offer is split into (2) separate sports betting wagers. The first one is a standard bet that can be used on any point spread or total and is capped at $500. This means that if your first bet loses, PointsBet will credit your account with whatever amount you lost, up to $500. It's just like other free bets.
The second part of the bonus is a Risk-Free wager of up to $1,500, but you must use the points betting format. With the points betting format, your payout is based on the margin of victory. For example, let's say you bet on the Wolverines -2, and they end up winning by 10 points. That payout will be much larger than if the Wolverines had only won by 3 points!
It's not complicated, and every online sportsbook welcome bonus, and the risk-free bet has its strings attached. Considering the free money you'll receive, we think the terms are quite reasonable. So, don't wait too much longer and take advantage of this amazing deal from PointsBet!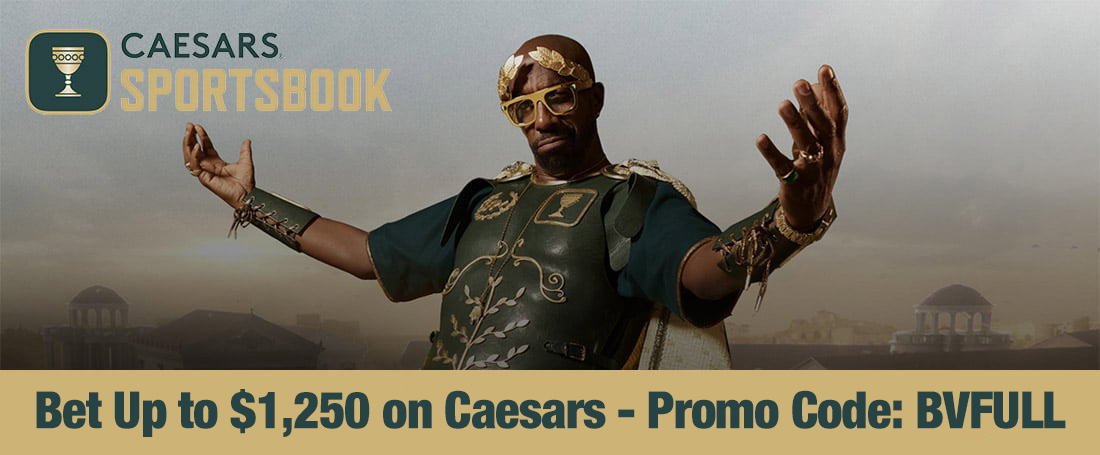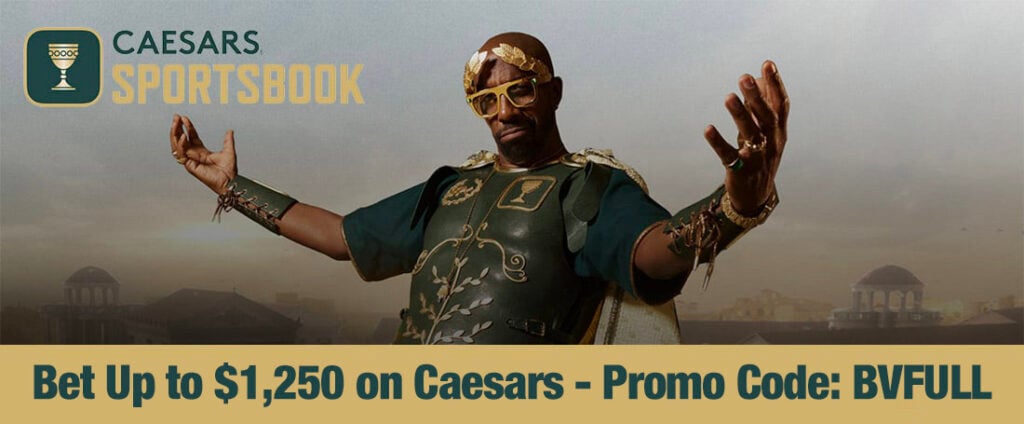 Caesars Sportsbook Bonus Offer - $1,250 First Bet and Access to Caesars Rewards
The third Michigan sports betting promotion we want to highlight is the $1,250 First Bet offer from Caesars.
The terms attached to this bonus are extremely straightforward. Caesars will insure your first bet, up to $1,250. If your first bet with Caesars Sportsbook does not cash, they will give you a free bet back equal to that initial wager. That is an insanely generous deal, especially considering the fact that this is a no-deposit bonus, and you don't even have to enter any promo code.
Also, when you join up with Caesars Sportsbook, you gain access to all of the amazing benefits associated with their Rewards program. This means that as soon as you join up and make a bet, you are already collecting reward points. These points can be exchanged for cash back, free bets, and bonus offers that will make your betting experiences much more enjoyable.
Not to mention, Caesars is one of the most trusted names in the gaming industry, and they have been around for decades. Whether you're a first-time bettor or a seasoned pro, they have something for everyone.
To receive your $1,250 insured wager, register using the promo code BVFULL. If you visit this offer's landing page on Caesars, the promo code will automatically be added for you. Caesars is all about making things as easy as possible for their customers.
With this offer, if your first bet fails to cash, Caesars will refund the entire wager. The refund is paid as a free bet that must be used once before it can be withdrawn. This is one of the top offers in online gambling, and it just shows that Caesars Sportsbook is serious about signing up new players.
It is worth noting that only your first sports bet with Caesars casino and sportsbook will qualify for this promotion. If you are wanting to receive the maximum bonus possible, we recommend placing a relatively safe, high-dollar wager with your first bet. This minimizes your risk while still offering a sizeable bonus for your online sports betting.
Between the risk-free bet offer and the Caesars reward program, you can't go wrong by taking advantage of this incredible deal. Sure, other online sportsbooks have great offers, but none of this caliber. That is why we suggest you join up with Caesars Sportsbook today and take full advantage of their fantastic offers!
Sportsbooks With the Top Sports Betting Bonus Offers for Existing Michigan Players
One thing many new bettors overlook when registering at a new sportsbook is the types of promotional offers available to existing customers. These include reload bonuses, odds boost offers, payout boost offers, and free contests and giveaways. Of course, these Michigan sportsbook promos are important and great for Michigan bettors, but they still miss a major part of the population.
We often get so caught up with a risk-free bet or first deposit offer that we forget to look at the types of bonuses sportsbooks are offering existing customers.
Luckily, there are several Michigan sportsbooks and sports betting apps that offer some amazing promo codes and rewards for their loyal customers. Like the Caesars rewards program that Michigan bettors are automatically entered into. That is a program that takes care of existing customers.
However, for this, we're going to take a look at the offers from BetMGM.
Daily Offers from BetMGM
BetMGM is one of the most creative online sportsbooks in the industry when it comes to incentivizing its players to get into the action. You can always find a list of bets that BetMGM has boosted the odds for on the promotions page of their website and app.
This proves that BetMGM is one of the top sports betting apps in the industry.
These offers often include player props, two-leg parlays, and team props, and a typical boost will move a bet that is +180 to +300 or +500 to +800. While it certainly is not always the case, you can certainly find some bets that you planned to make that are already boosted in the BetMGM app.
So if you've been visiting Michigan's online sportsbooks for a while and looking for the best sportsbook bonus offered to current Michigan bettors like yourself, then this is the perfect place to start! With so many great promos and offers available, you can be sure that BetMGM is a great choice for any serious sports bettor.
Michigan Sports Betting Bonuses FAQ
Though the Michigan Gaming Control Board brought legal sports betting to Michigan around 18 months, more and more new sports bettors are popping up all over the state.
Because of this, lots of folks will have questions about bonus codes from all of the online sportsbooks.
The following FAQ section will help provide some info regarding sports betting bonuses in Michigan. As the Michigan Gaming Control Board revises rules and regulations regarding online sportsbooks in Michigan, we'll keep you updated and post the latest info that we have. After all, we want you to take advantage of every bonus code offer that you can!
How do I get the best sports betting bonus offer in Michigan?
To ensure that you are getting the best bonus offer in the Great Lakes State, check our Best Michigan Sportsbooks page before signing up for a new account at any sportsbook. We work closely with each and every Michigan sportsbook to make sure we are offering our readers the top bonuses in the industry. For January 2023, the top offers for Michiganders are from DraftKings and FanDuel.
Are sports betting bonus offers available to existing players?
Though most bonus offers are centered around new players, there are some nice promos available to existing players at each Michigan sportsbook. For example, BetMGM offers a Lion's Boost every day for all players, where they boost the odds on a selected game or parlay. This is a good opportunity to add to your winnings each day.
Can I play for free in Michigan?
Unfortunately, there aren't any no-deposit bonus offers going on in Michigan at the moment. Stayed tuned, though, because that could change as the 2022 NFL season gets closer. Sportsbooks tend to sweeten their offers around January of each year.
How often do online sportsbooks change their bonus offers?
Most sportsbooks change their bonuses 4 or 5 times a year around major sporting events like March Madness and the Super Bowl. However, some books keep the same offers pretty much year-round. BetRivers and PointsBet are good examples of steady offers, while FanDuel and DraftKings seem to change their bonuses almost every month.
What is the best way to use a risk-free bet?
How you use Michigan sportsbook promotions is completely up to you.
Just be sure you read the terms and conditions of the Michigan betting bonuses you signed up for. Some legal online sportsbooks won't allow Free Bets on certain wagers.
For example, some online sportsbooks in Michigan stipulate that your Free Bets must be used on wagers with -150 or less juice. So when you're going through trying to find the best Michigan sportsbook promos, keep in mind their terms.
What payment methods can I use on a Michigan sports betting app?
Every sportsbook in the legal sports betting industry is different.
However, all of them accept major credit/debit cards to make deposits into your online sportsbook account. Most sportsbooks also accept some online banking options as well. As a whole, the process is pretty seamless and headache-free, which makes legal online gambling even more enjoyable.
Do all of these online sportsbooks offer mobile apps?
Yes, every online sportsbook on our list not only offers a website for you to bet online but a mobile app as well. Each of these sites has an app for both iOS and Android devices. All of these apps can be found on the Apple App Store or the Google Play Store.
Can I bet on college sports in the state of Michigan?
Yes, Michigan has no restrictions when it comes to betting on college sports! Fans of the Michigan Wolverines and Michigan State Spartans can enjoy betting on their favorite teams! This makes college football even more exciting!
Which is better: DraftKings Sportsbook or FanDuel Sportsbook?
Both are outstanding options, so it really depends on what your needs are as a sports bettor. DraftKings Sportsbook offers more player props and futures, but FanDuel often has better juice. Most serious gamblers have an account with both of these giants of the industry.
How can Michigan sports bettors win more money in 2022?
Sports betting is a lot like life. There are no shortcuts on the road to true success. Like other investments, sports betting requires a dedication to the craft and tons of research. Most successful sports bettors have access to a ton of different sportsbooks. This allows them to almost always get the best of the number, which can often be the difference between a losing season and a winning one. Before placing any wager, make sure you shop around.
Browse Offers in Other States
How do the sportsbook promotions available in Michigan stack up to those across the country? Browse the best bonus offers for every state with legal sports betting below. We keep each of these pages updated daily to ensure bettors can always find the latest and greatest promotions available in their state.