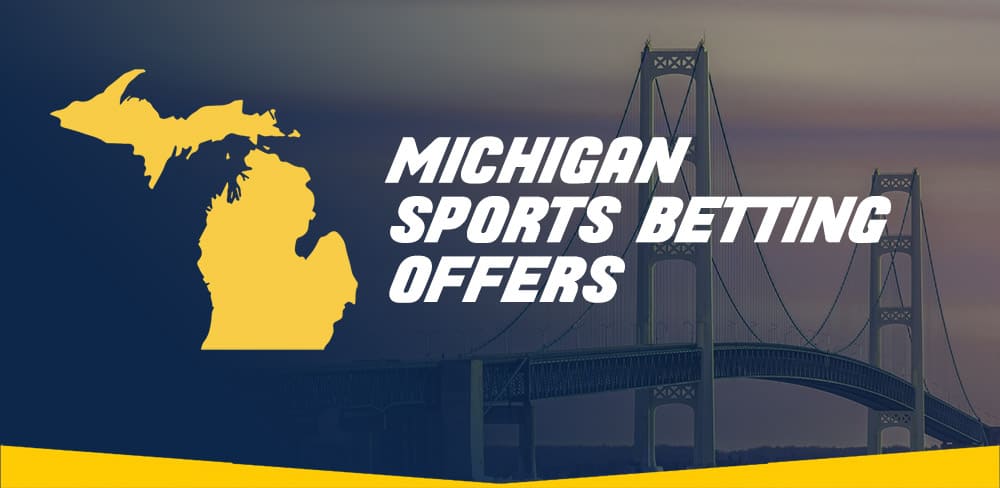 Best Michigan Sportsbook Bonus Code Offers
With 14 mobile sports betting options available to Michigan bettors, there is almost always a great bonus offer available to help build your bankroll with a new sportsbook. Our team collects and rates all of these offers on a daily basis to bring our readers the best promotions available to the Great Lakes State.
The rankings found below only include the sportsbooks we recommend in the state of Michigan and not only reflect the quality of the bonus offer but the terms attached to the offer. Here are our picks for the best sports betting bonus offers available in Michigan this December: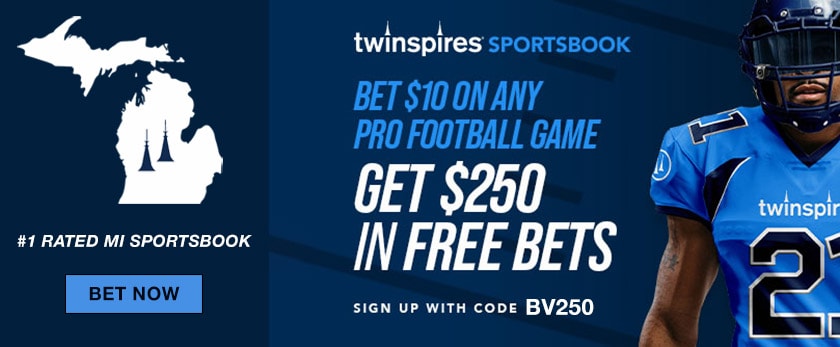 TwinSpires Bonus Offer - Details for Michigan's Top Rated Promotion
Beyond the fact that this is truly the best sportsbook offer available in Michigan this December, we are huge fans of the TwinSpires sportsbook in general. They took the strategies that made their horse betting app the best in the industry and applied them directly to the sportsbook. In short, the app looks great, is easy to use, and is backed by the industry's best customer support.
The current TwinSpires promotion offers players $250 in free bets for simply opening an account and placing any $10 NFL wager. While there are a handful of sportsbooks that offer $1,000 to $5,000 in bonus money, you need to deposit $1,000 to $5,000 to receive that full bonus. The TwinSpires offer has a $10 minimum deposit, which has made it extremely popular with non-professional bettors in Michigan.
There are a handful of terms you should be aware of before you sign up for this bonus and place your first bet.
You must use the promo code WINGS250 when you sign up at TwinSpires to receive this bonus.
This offer is only available to new TwinSpires sportsbook players. You also need to be located in Michigan when you open your account and anytime you place a bet.
To receive the $250 bonus, your first wager must be placed on an NFL game with odds of -150 or better. This means if your first wager has odds of -160 or worse, it will not qualify for this promotion.
If you want to wager more than $10 on your first NFL bet, that is allowed, but your first wager must be at least $10.
Your $250 bonus is paid out in free bets that can be found in your account on the website or app once your first bet is paid out.
PointsBet Bonus Offer - Perfect Offer for Michigan and Michigan State Fans
While we are big fans of both of these offers and recommend signing up with both sportsbooks while these promotions run, the one downside to the TwinSpires offer is that it is limited to NFL bets. If you are looking to bet on Michigan or Michigan State football, or any other college football game, this PointsBet offer may be for you.
Outside of including CFB, the PointsBet bonus offer works exactly like the TwinSpires promotion. Simply sign up using our promo code BVFBMULTI1, place the required $20 bet, and receive $200 in free bets. Again, this offer is limited to new PointsBet sportsbook users that are located in Michigan.
PointsBet NBA Offer for Michigan
Between the program Tom Izzo has built at Michigan State, the program Juwan Howard is building at Michigan, and the Detroit Pistons' rebuild (led by Cade Cunningham), Michigan is the mecca of basketball in the US. With that in mind, this new NBA bonus offer from PointsBet should be a favorite amongst bettors in the Great Lakes State.
Register using the promo code BVBB1 and receive $100 in free bets with your first $1 NBA wager. This offer has the same terms attached to it as the NFL and CFB offer and is only available to new players that make a minimum deposit of $5.
Caesars Sportsbook Bonus Offer - $5,000 Bonus and Access to Caesars Rewards
The third bonus offer we want to highlight is the $5,000 risk-free bet promotion from Caesars. The terms attached to this bonus are extremely straightforward. Your first bet with Caesars is risk-free. The cap on the bet is equal to your deposit, up to $5,000.
To get your $5,000 risk-free bonus, simply register using the promo code CZR2. If you visit this offer's landing page on Caesars, the promo code will automatically be added for you when you register.
It is worth noting that only your first bet with Caesars will qualify for this promotion. So, if you are wanting to receive the maximum bonus possible, we recommend placing a relatively safe, high-dollar wager with your first bet. This minimizes your risk while still offering a sizeable bonus.
Beyond the risk-free bonus offer, one change Caesars made this August was to include all sportsbook users in their rewards program. This means you earn Caesars Rewards, which are easily the industry standard, for betting using their sportsbook.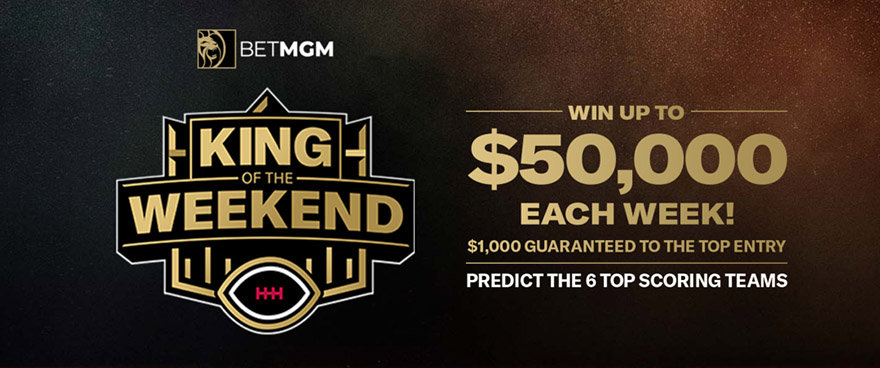 Sportsbooks With the Top Bonus Offers for Existing Michigan Players
One thing many new bettors overlook when registering at a new sportsbook is the types of promotional offers available to existing customers. These include reload bonuses, odds boost offers, payout boost offers, and free contests and giveaways.
Daily Offers from BetMGM
BetMGM is one of the most creative sportsbooks in the industry when it comes to incentivizing their players to get into the action. You can always find a list of bets that BetMGM has boosted the odds for on the promotions page of their website and app.
These offers often include player props, two-leg parlays, and team props, and a typical boost will move a bet that is +180 to +300 or +500 to +800. While it certainly is not always the case, you can certainly find bets that you planned to make that are already boosted in the BetMGM app.
Weekly Promotions from PointsBet
Few sportsbooks are aggressive with their existing-player offers as PointsBet, and that has been on display throughout the 2021 NFL season. Through the entire first month of this NFL season, PointsBet offered their player zero-juice lines on all games. This meant that every Sunday, you could place the NFL spread, total, and moneyline bets of your choice at +100 odds.