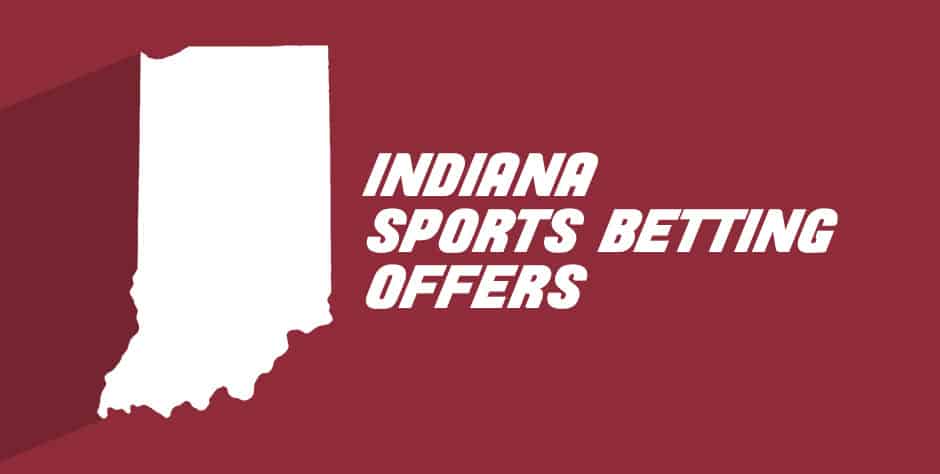 Best Sportsbook Bonus Code Offer From Every Indiana Sportsbook
Indiana is home to one of the largest sports betting markets in the US. With 11 retail sportsbooks and 10 mobile operators, sports bettors have no shortage of betting options. The Hoosier State set a record-high total handle in September, with over $355 million worth of wagers.
Whether you are new to sports betting, or just looking to test out a new sportsbook, finding the right welcome bonus is a critical step to building your bankroll. To help with that search, we have ranked the top sports betting bonus offers available this December.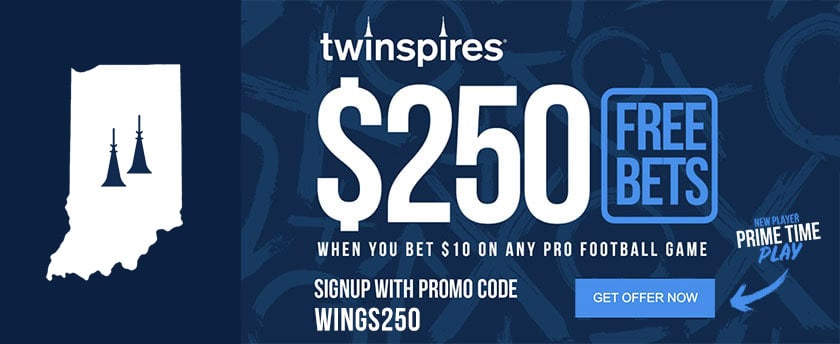 Details and Terms for Every Indiana Sportsbook Promotion
When considering any welcome bonus from the sportsbooks listed above, it is important to understand the terms attached to each offer prior to opening your account.
With some of these offers, there are very specific steps you need to follow to receive your bonus. For others, you will need to play through your entire deposit several times before receiving your bonus. We break down the terms attached to each promotion, for every Indiana sportsbook, below.
Current TwinSpires Bonus: Bet $10 to Get $250 in Free Bets
TwinSpires announced this promotion ahead of the start of the NFL season, and it has been our top-rated bonus offer in the state throughout the entire 2021 season. The steps to receive this offer are relatively straightforward but pay close attention to the terms listed under the steps.
Follow these four steps to ensure you receive the $250 bonus when you register today:
Sign up at Twinspires using the promo code WINGS250.
Make a deposit $10 or more.
Place any $10 NFL bet.
After the bet is paid out, check your account for $250 in free bets.
It is important to keep in mind this offer only applies to your first Twinspires bet. The bet must be $10 and on an NFL game with a spread of -150 or better. Any bets placed with odds -160 or lower will not qualify for the promotion. Only new players located in Indiana at the time of wagering are eligible for this offer.
---
Current PointsBet Bonus: Bet $20 to Get $200 in Free Bets
The current 'bet $20 to get $200' offer from PointsBet is our second-highest rated promotion available from a US sportsbook this December. The offer is valid on both NFL and CFB wagers, but you must be a new player that is eligible to bet in Indiana to receive the bonus.
This offer is not available on the PointsBet website and app, you must follow these steps to sign up for this promotion:
Register at PointsBet using the landing page for this exclusive offer.
Be sure the promo code BVFBMULTI1 is entered into the promo code box at registration.
Fund your PointsBet account by depositing at least $20.
Place any $20 NFL or CFB spread or total bet.
Receive $200 in free bets that can be used to place any bet on the PointsBet app.
As long as you follow those steps, you are guaranteed to receive your free bets when you register this December. Be sure to open the PointsBet app daily to check out the available promotions in Indiana. These can include odds boost offers for in-state games and primetime NFL games.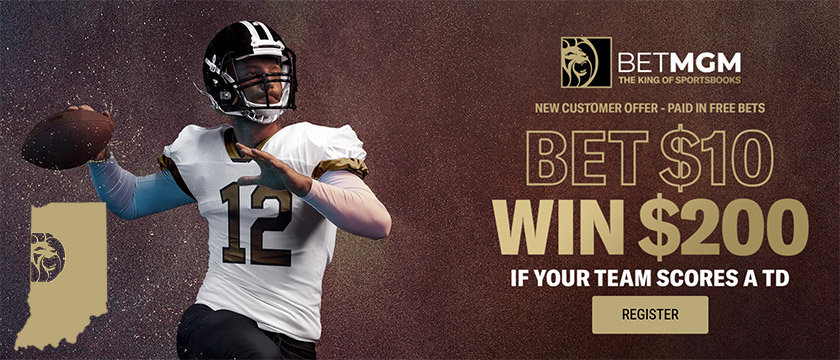 Current BetMGM Bonus: Bet $10 to Get $200 in Free Bets
The current promotion from BetMGM Indiana works exactly like our top offers from TwinSpires and PointsBet. The biggest difference here is that you do not need to use a promo code, as long as you register using our landing page at BetMGM the offer will be locked in. Follow these steps to find the offer page and receive your $200 in free bets:
Visit our BetMGM offer page and click the Register button. You can sign up through email, PayPal, or by using your Yahoo Sports account.
Make an initial deposit of at least $10 using any of the payment methods, which include credit, debit, PayPal, and more.
Place any $10 wager, as long as your team scores a touchdown you receive $200 in free bets.
Current FanDuel Bonus: Bet $2 on Any NBA Game, Get $150 Free
This is the latest offer from FanDuel sportsbook, which will only run through the first week of the NBA season. This is an extremely aggressive offer from FanDuel and should be extremely popular in the Hoosier State. Note that, unlike the offers listed above, this promotion pays out cash, not site credit or free bets.
Be sure to follow these steps to ensure are signing up for the $150 bonus offer as FanDuel is always running a wide variety of promotions in Indiana:
To find this offer, visit the FanDuel NBA offer page and click the 'Bet Now' button.
Complete the registration process, verify you are located in Indiana and make an initial deposit of at least $5.
Place any $2 NBA moneyline wager.
If your team wins, get paid a $150 bonus on top of whatever the bet pays out.
Like every offer listed on this page, only new players are eligible to receive this bonus. FanDuel will verify your location and identity prior to being eligible to wager on the site or in the app.
---
Current Caesars Bonus: Bet Up to $5,000 Risk-Free
While the free NFL jersey promotion from Caesars has expired, the $5,000 risk-free bet offer is still available in Indiana. This is currently the highest-rated risk-free bet promotion available in the Hoosier State and is also the top offer for users that are making a large initial deposit.
There are really two things to keep in mind with this offer. First, the risk-free bet only applies to your first wager with the Caesars sportsbook. Second, the refund, should your bet not cash, is paid out in site credits. What this means is that you will need to bet the bonus funds at least one time before they can be withdrawn.
To register today and receive your risk-free $5,000 bet, simply visit Caesars Sportsbook and register with the promo code CZR2. Once you have registered and made your initial deposit, you are ready to use your risk-free bet.
---
Current DraftKings Bonus: Place Any $1 Bet, Get $100 Free
The current DraftKings bonus offer will pay out $100 on your first $1 wager. This wager can be used on any sport including NFL, college football, NBA, PGA, or MLB. There is no promo code needed to take advantage of this promotion. Simply visit DraftKings and opt into the promotion at registration.
DraftKings will add this ticket to your account, it can be redeemed at any time by simply clicking Redeem Offer. Keep in mind your bet will need to cash for this offer to payout. That being said, you can place a $1 moneyline bet on a college football game with a 30-point spread and guarantee you receive the bonus.
As with the offers from TwinSpires, PointsBet, and BetMGM, the bonus is paid out in credits that can be used to place wagers in the app. Anything you win using your bonus is yours to keep.
---
Current Unibet Bonus: Bet Up to $600 Risk-Free
While this risk-free bet offer from Unibet is unlikely to turn many heads, the terms attached to your bonus are extremely player-friendly. Unlike many of the risk-free bet promotions you see in the US sports betting industry, this Unibet offer only requires your bonus funds to be played through one time before withdrawing.
The risk-free bet you receive must be used on your first wager and caps at 100% of your total deposit, up to $600. If your bet loses, Unibet will refund the amount of the bet. These funds are added as site credit, but anything you win using the credit is yours to keep.
---
Current BetRivers Bonus: 100% Deposit Match, Up to $250
While we have this promotion from BetRivers rated last in Indiana, it is still worth considering if you are looking for a solid sportsbook with a basic deposit bonus offer. The great thing about this BetRivers bonus offer is that, like Unibet, your bonus funds only need to be bet one time to be withdrawn.
For instance, if you make a $100 deposit at BetRivers, they will give you another $100 in site credit. If you use the credits to place a $100 moneyline wager with +100 odds, the bet will pay out a total of $200. That $200 is yours to keep or use at BetRivers. While this offer has a relatively low multiplier and cap, it is currently the easiest sports betting promotion to use in Indiana.