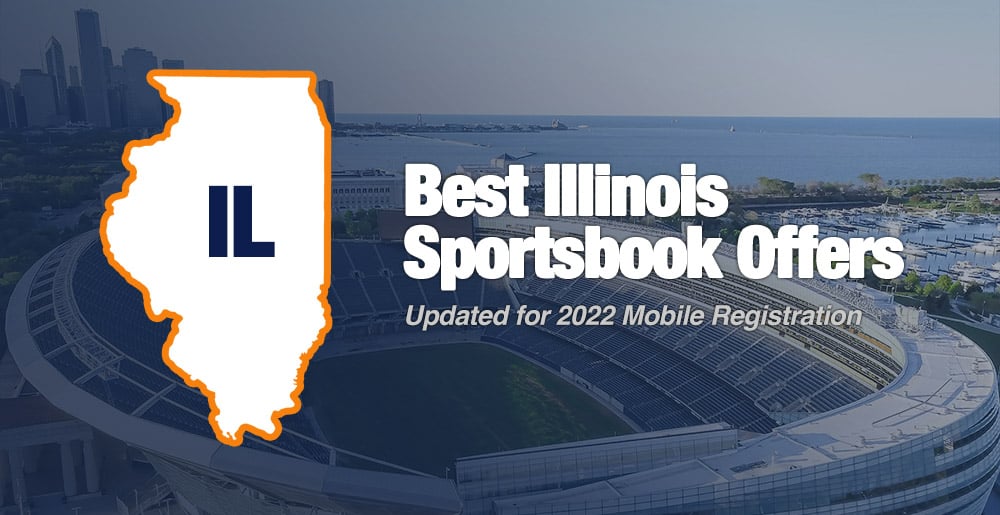 Mobile registration is back in Illinois, and with that comes access to promotions from sportsbooks across the state. Track current bonus offers from every IL sportsbook here, ranked from best to worst. We update every promotion and add exclusive offers that you won't find anywhere else on our Illinois Sportsbooks page, so be sure to check back frequently to be the first to know when a new offer gets added.
Illinois bettors must be 21+ and present to place wagers in the state. If you or a loved one is experiencing problems with gambling, call 1-800-GAMBLER or visit the National Council on Problem Gambling www.ncpgambling.org
Bookmark this page as we add new promotions from the top sportsbooks in Illinois on a daily basis!
Latest Sportsbook Bonuses in Illinois
If there's one thing we've learned, it's that the sports betting industry is constantly creating new and innovative promotions. Every month, new bonuses are popping up in Illinois. We've put together a list of some of the newest offers you can find on the top-rated sportsbooks.

BetMGM Online Sportsbook
One of our favorite sportsbooks in the Prairie State is BetMGM. They are offering a $1,000 first bet offer. This means that when you make your first bet, they'll match it up to $1,000 if you lose. You do have to use our exclusive promo code, EWBET1, to unlock it, though.
Caesars Online Sportsbook
One of the biggest names in the gaming industry, Caesars, has a great welcome offer. When you sign up with them, you can Bet $50 and Get $250 in Bonus Bets. You can unlock this welcome bonus with the bonus code BVGET when you sign up.

DraftKings Online Sportsbook
If you're looking for bonus bets, DraftKings has your back. They are running a special bonus bet offer that gives players $200 in bonus bets when they bet $5. That's as close as you can get to a no-deposit bonus without it being a no-deposit bonus.
PointsBet Online Sportsbook
One of the sportsbooks that don't get enough credit for their bonuses is PointsBet. They are offering up to $250 in second-chance bets. That means you either win your first bet or get a refund in bet credits. That's a pretty sweet deal! However, be sure to use our promo code, BVIEW0, when you register to get the bonus.
BetRivers Online Sportsbook
BetRivers has the same promotion that PointsBet has with their second chance bet. You'll get up to $500 in bonus bets if your first bet loses. The biggest difference with BetRivers is that you don't need a bonus code to get in on the action. Also, what separates them from the rest of the pack is that they have an industry-leading 1x rollover requirement.

FanDuel Online Sportsbook
Another one of our favorite bonuses on offer is from FanDuel. This promotion gives players a fantastic Bet $5 Get $200 deal. FanDuel is known for changing its welcome bonuses, so be sure to jump on this one while you can. You don't even need a bonus code to take advantage of it. They'll also give you $100 off the NFL Sunday Ticket.
DraftKings Still Has the Best Overall Illinois Sportsbook Offer
DraftKings' current promotion is our top-rated offer in Illinois. New players who sign up are eligible to receive $200 in bonus bets after making a $5 bet.
Like the FanDuel offer, this promotion is only available to new players who have not previously registered at DraftKings Sportsbook in Illinois. Current DFS players are eligible to receive the bonus with both FanDuel and DraftKings.
Here is how to sign up for the current DraftKings bonus offer in IL:
Visit either the DraftKings Sportsbook website or app.
You will need to verify your location and identity as part of the registration process.
Make Your First Deposit and a $5 wager.
DraftKings will load your account with $200 in bonus bets.
The total bonus amount on this offer makes it the best odds boost promotion currently available in Illinois. That being said, you shouldn't limit yourself to just one sportsbook.
Best IL 2nd Chance Bet Offer: PointsBet Sportsbook
There are a handful of 2nd chance bet offers available in Illinois this September, but the best comes from PointsBet. With the current PointsBet offer, new Illinois players who register using the promo code BVIEW1 will receive up to $250 in second chance bets.
Follow these three steps to sign up at PointsBet today and receive your 2nd chance bets:
Register at PointsBet from the offer landing page and use the promo code BVIEW1.
Make an initial deposit with PayPal, Visa, or Mastercard. Keep in mind that your 2nd chance bets cannot exceed the amount of this initial deposit.
Place your first bet and, if it does not cash, receive a full refund within 72 hours.
Get a Bet $5, Get $200 Deal at FanDuel
One of the most popular sports betting apps, FanDuel, offers a pretty solid bonus offer of its own in Illinois. New customers can get $200 in bonus bets after placing a $5 wager with FanDuel.
After making your first deposit, go ahead and make your first wager. FanDuel will give you bonus bets and $100 off the NFL Sunday Ticket! That's hard to beat!
The terms of this offer are straightforward, and there is no promo code needed when you sign up. Register, place your bet, and enjoy your bonus bets. When available, these offers are always featured at the top of this page, so be sure to check back regularly to see when the next offer goes live!
Caesars Sportsbook Announces New Illinois Promo Code Offer
Caesars Sportsbook is located in Elgin, IL, about 45 minutes west of Chicago. For Illinois bettors who have not been able to make the trek out to register, the mobile registration restart offers you the opportunity to sign up with the Emperor of Sportsbooks.
The new promo code offer from Caesars went live recently, and the sportsbook expects the offer to run through the end of the NFL season. New players who register at Caesars will be eligible to receive a Bet $50, Get $250 deal.
Not only is this one of the largest total bonus offers available in Illinois, but it also has player-friendly terms attached to your bonus funds. The site credit you receive if your bet first bet loses needs to be wagered only once before it can be withdrawn.
Like the other bonus offers listed on this page, only new players who are located in Illinois are eligible to receive this offer. This new offer is a great way to build a bankroll ahead of the rapidly approaching NFL season.
Types of Promotions and Bonuses in Illinois
There are all sorts of different promotions and bonuses available in Illinois. Some sportsbooks will offer reload bonuses, matchup bonuses, or other incentives to entice you to join their site.
Others may offer loyalty programs that reward you for betting on their platform over time. Whatever the case may be, make sure you are taking advantage of any offers that come your way.
To help you out, we've put together a list of the various types of bonuses and promotions that are available at online sportsbooks in Illinois. Make sure you read through it carefully so you can maximize your bonus opportunities while betting in the Prairie State.
Welcome Bonuses
These types of bonuses are typically offered to new players who sign up for an account on a sportsbook. They come in the form of bonus bets, cashback offers, or other incentives to get you started betting. Welcome bonuses are often subject to certain conditions and time limits, so make sure you read through all the fine print before taking advantage of them.
Reload Bonuses
Similar to welcome bonuses, reload bonuses are designed to reward players for depositing additional money into their accounts. These offers may come in the form of bonus bets, cashback offers, or other incentives. Most of the time they're a deposit match bonus that matches up to a certain percentage. These are great for existing players, but they're generally not as good as welcome bonuses.
Bonus Bets
These gems of the bonus world are exactly what they sound like. Bonus bets are exactly that, bonus bets. Often times you have to do something to trigger the bonus, such as sign up, make a deposit, or make an initial wager. For example, FanDuel has its Bet $5 Get $200 offer. This means if you place a first time $5 wager, they'll give you $200 in bonus bets. Bonus bets are great for when you're feeling a bit risky but don't want to risk your own money.
Cashback Bonuses
These offers give players a portion of their losses back in the form of bonus credit. Cashback bonuses are often tiered, meaning the more you bet and lose, the higher the percentage of cashback you will receive. It's important to note that these offers usually come with a time limit and wagering requirements.
Rewards Programs
Some online sportsbooks will reward their loyal players in the form of points, free bets, or other bonuses. These rewards are typically earned by playing regularly and betting a certain amount. Points can then be redeemed for things like bonus bets, cashback offers, or even merchandise from the sportsbook's store. For example, Caesars has one of the best rewards programs in Illinois. When you join their sportsbook, you'll start earning points for every bet you make. These points can then be redeemed for bonus bets or even real-world stays at their resorts.
Tips for Using Your New Bonus Code in Illinois
If you're like us, you love a solid bonus code. We get it. However, before you run out and start throwing money around, we wanted to share some of our best tips and strategies for making the most of bonus offers like these.
Research Each Sportsbook
Before you jump on a bonus, make sure you are signing up with a reputable online sportsbook in Illinois. We have outlined our top picks for each offer on this page, which should give you a good starting point to research the different options available.
Read the Fine Print
Every bonus offer has its own unique set of terms and conditions. Make sure you read through all of the fine print and understand exactly what is required to receive your bonus funds before you sign up for an account. There are often time limits attached to bonuses, so if you don't use it in a specified amount of time, you will lose it.
Take Advantage of Bonuses
Bonus codes are a great way to add extra value to your sports betting bankroll. Make sure you take advantage of the bonus when it is offered and enjoy playing with extra cash in your pocket. If we had a dollar for every story we've heard of someone signing up for a sportsbook only to forget the bonus code, we'd be millionaires. So don't be that person. Take advantage of the bonus codes and enjoy your extra funds!
Bet on What you Know
Having a $1,000 no sweat bet or second chance bet is tempting, but it's important to remember that sports betting is still gambling. Don't get too carried away with the bonus funds, and make sure you are making educated bets with your own money. Have fun, but be smart about it. If you don't follow the NBA closely, don't try to wager on the games. Stick to your strengths and bet on what you know.
Set a Limit
It's too easy to get caught up in the thrill of a bonus offer and end up betting more than you can afford. Set a limit for yourself before placing your bets, and stick to it. There is nothing worse than winning a big bet only to realize you lost too much money in the process!
---
FAQs for Illinois Sportsbook Offers
Folks in Illinois may be curious about how bonus offers work. Though bonus offers are a huge advantage to players, it can sometimes be tough to understand all of the fine print. This FAQ section will help with that!
Can I withdraw a sportsbook bonus?
No, you can't withdraw any bonus dollars immediately. This is because each sportsbook requires you to play through the bonus funds at least once before requesting a withdrawal. However, once all play-through requirements have been satisfied, you are free to withdraw your funds.
How does the DraftKings deposit bonus work?
DraftKings recently improved their deposit bonus for new players. All first-time depositors will receive $200 in bonus bets after making a $5 bet.
How often do you update your offer rankings?
Our staff constantly monitors the bonus offers of the sportsbooks we partner with. We change the rankings whenever we deem necessary, which could be as often as monthly or even weekly.
What is a 2nd chance bet?
Second chance bets are becoming more popular in the industry. If you lose your first wager with a sportsbook, they'll reimburse your account with bonus Bets to cover the loss.
Which Illinois sportsbook has the best app?
Right now, we have DraftKings rated as the best sportsbook app in Illinois. The app is remarkably fast and user-friendly. Sports bettors also love the variety of prop options that DraftKings offers.
When did legal sports betting begin in Illinois?
Illinois legalized sports betting in 2019, and the first bet was placed in March 2020. Since then, the state has taken in more than $10.5 billion in sports betting handle.
Which Illinois sportsbook has the best bonus?
That really depends on what kind of bonus you're looking for. For example, PointsBet offers one of the top second-chance welcome bonuses in the state. On the other hand, DraftKings offers a great bonus on your first bet.
Can I use multiple promo codes for a single sportsbook?
Unfortunately, no. Each sportsbook has strict rules regarding the use of promo codes. Generally speaking, you can only use one code per platform. That's not to say someone else can't use the same promo code. In fact, most sportsbooks actually encourage it. However, if you try to redeem multiple codes for the same account, your bonus will likely be voided.
Can I use a sportsbook bonus on all games?
It depends on the terms and conditions of the offer. Most bonuses come with restrictions that only allow them to be placed on certain types of wagers or games. The sportsbooks do this so that they don't take too much of a risk from players taking advantage of the offer. You want a bonus and they want you to stick around. Everyone wins.