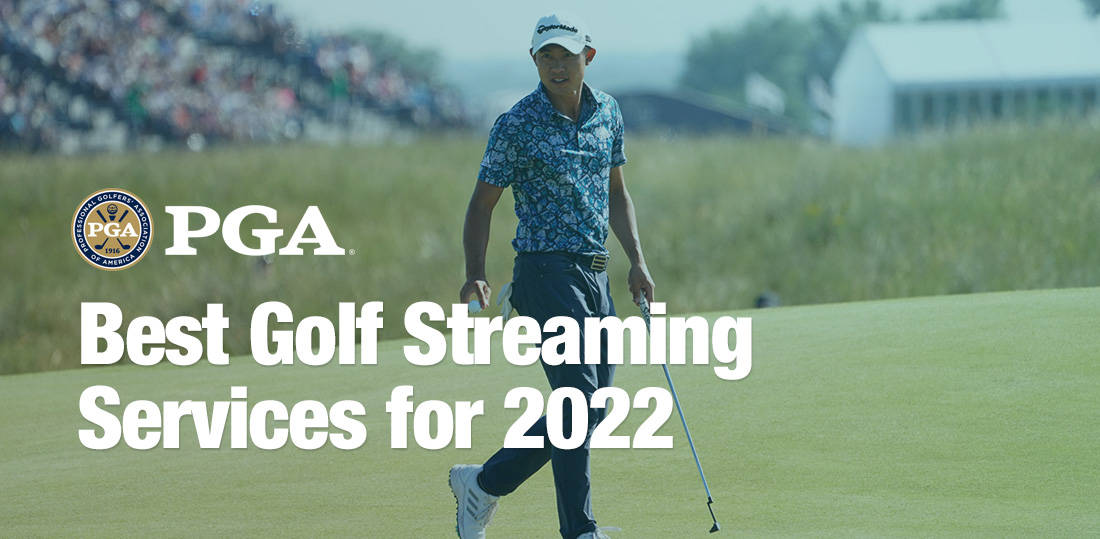 The sport of golf has never been more popular. The PGA Tour was the first sports organization to resume activity during the COVID-19 pandemic. Because of this, the sport was able to add new fans and increase ratings.
Since streaming services have gotten so sophisticated, more and more folks are choosing to cut the cord to save some money. With so many streaming services on the market, it can be tough for avid golf fans to find the best choice. Here are the three best golf streaming services for 2022.
Best Overall Golf Streaming Service for 2022: fuboTV
With so many amazing options out there, it's difficult to decide which streaming service is the best overall choice for golf fans. However, fuboTV gets the nod because of its massive amount of channels. In most major markets, fuboTV offers over 240 total channels and over 50 sports channels. Golf fans can stream each and every PGA Tour tournament as well as all the major World Golf Classic events.
Golf Channels Included: ESPN, FOX, CBS, NBC, Golf Channel
Price: $64.99 for Starter, $69.99 per month for Pro, $79.99 per month for Elite
Apps Available On: iOS, Android, MAC, Chromecast, Roku, Amazon Fire, Apple TV, Android TV, Samsung Smart TV, XBOX, Vizio TV, HISENSE, LG TV
DVR: 250 to 1,000 hours, depending on which package you choose
Overall Grade: A+
If you're a devoted golf fan who never wants to miss any of the action, fuboTV is the best overall choice for you. At nearly $65 a month, fuboTV is not the cheapest option out there but it's right in line with competitors like Hulu and YouTube TV.
We love that the Starter package comes with 112 channels, which will provide all of the golf coverage that a person needs. FuboTV also provides a free 7-day trial, which is nice for golf fans who want to try it out with no financial commitment.
Are you ready for some more amazing news about Fubo? They've recently launched Fubo Sportsbook in both Iowa and Arizona! New customers in those states can get a $1,000 Risk-Free Bet when they sign up for a new account.
Sports bettors will love being able to access Fubo Sportsbook's live odds while watching their favorite sporting events on fuboTV! EatWatchBet readers can sign up using the promo code EWB123 and get your risk-free bet and one month of free FuboTV!
---
Most Cost-Effective Golf Streaming Service: ESPN+
Did you know that PGA Tour Live is now on ESPN Plus? This news is huge for hardcore golf fans because it allows them to stream all PGA Tour tournaments for the incredibly low price of just $6.99 per month. ESPN Plus subscribers get access to featured holes, featured groups, and special early-round coverage that isn't available on any other network.
Golf Channels Included: PGA Tour LIVE Only
Price: $6.99 Per Month or $69.99 Per Year ($5.83 per month)
Apps Available On: iOS, Android, Chromecast, Roku, Amazon Fire TV, Apple TV, Android TV, Samsung Smart TV, XBOX, Facebook Portal, Oculus, Playstation, Xfinity
DVR: None, but all events can be watched On-Demand after they have aired.
Overall Grade: A-
For hardcore golf bettors, we highly recommend adding ESPN Plus to your TV arsenal. It's the only way you can catch all of the early golf action during each PGA Tour tournament.
If you want to sign up for ESPN Plus, try to do it before August 23, 2022. On that date, the rate will increase to $9.99 per month and $99.99 per year. Sign up before then to save a few bucks!
Most of the time, ESPN Plus starts streaming golf coverage three or four hours before the Golf Channel starts its coverage on Thursday and Friday. This is key for sports bettors who like to place round-by-round bets on their favorite golfers.
The only reason we didn't give ESPN Plus an A+ rating is because it doesn't provide as much golf coverage on the weekends. It still gives you a featured group and maybe a featured hole on Saturdays and Sundays, but if you want to see the home stretch of the final round, you'll need to have access to CBS, ESPN, and NBC.
---
Best Choice for Golf Fans with Families: Hulu with Live TV
Golf fans that have a spouse and kids need to find creative ways to get to watch golf on the weekends. Simply put, you need to find a way to keep the whole family happy. Have you ever tried to watch more than 20 minutes of golf with your whole family in the room?
Heck no! Most kids aren't patient enough to watch golf and your spouse would probably rather watch their favorite shows instead of Rory McIlroy blasting another long drive. The perfect solution to this problem is Hulu Live TV.
Golf Channels Included: ESPN, FOX, CBS, NBC, Golf Channel
Price: $64.99 and Up, depending on how many channels you want
Apps Available On: Apple iOS, Apple TV, Android, Xbox, Nintendo, Samsung TV, Chromecast, Echo Show, Fire Tablets, Fire TV / Stick, Roku, LG TV
DVR: 50 to 200 hours, depending on which package you choose
Overall Grade: B+
For golf fans with families, Hulu Live TV is probably the best option. While fuboTV is much better for hardcore sports fans, Hulu has plenty of channels to keep your spouse and kids entertained while you watch golf.
Hulu Live TV also has access to Turner networks like CNN, TNT, and TBS. FuboTV does not currently offer these channels. Hulu Live TV is a fantastic choice for folks who want to cut the cord but don't want to lose any of their favorite networks. We highly recommend Hulu with Live TV!