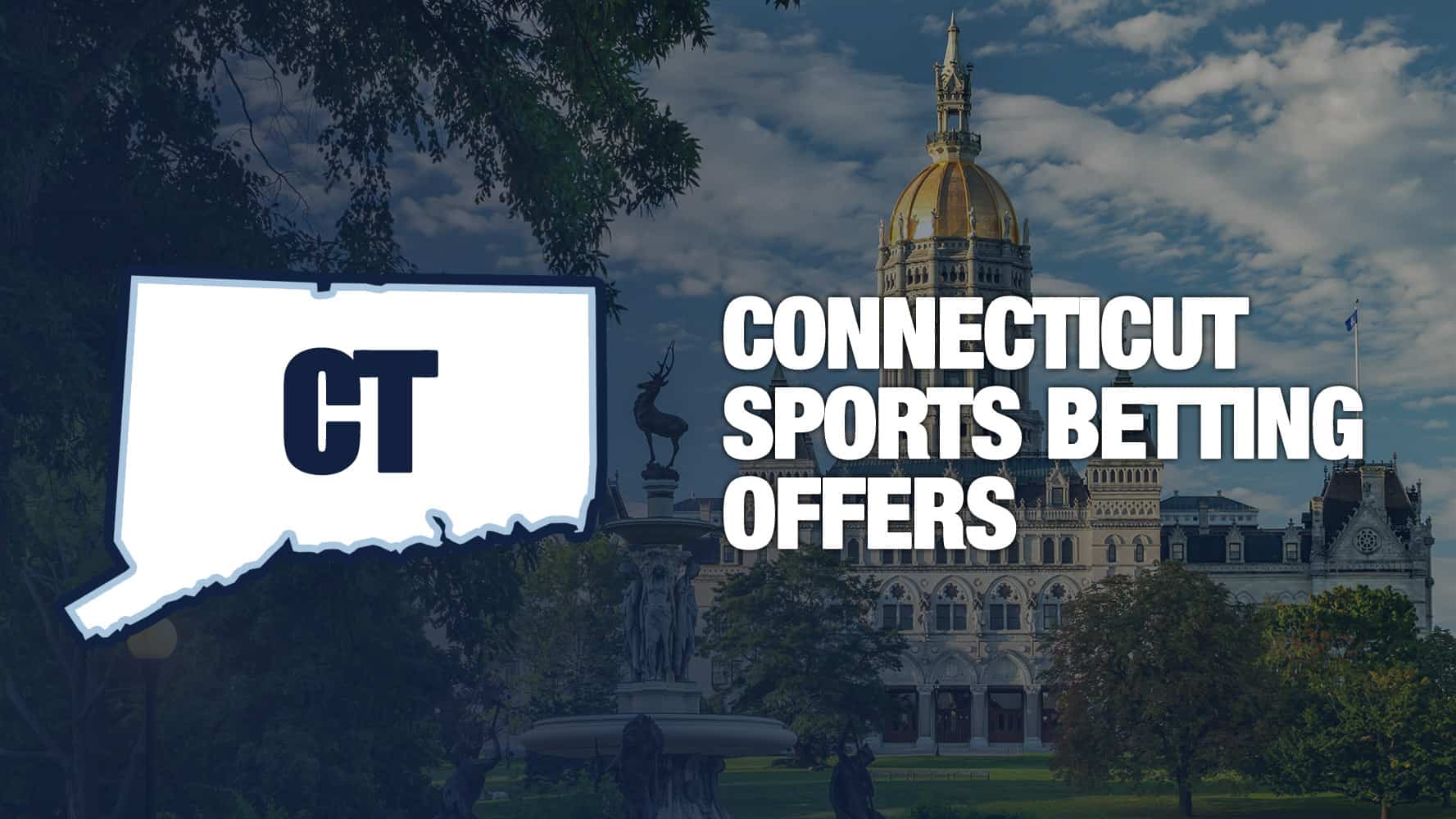 Sports betting is finally legal in Connecticut, and bettors have their choice between three of the industry's top sports betting apps for 2023. This includes the two largest sportsbooks in the US (FanDuel and DraftKings) and BetRivers, who, as part of Rush Street Interactive, currently offer mobile sports betting in 13 US states. The rankings below show the best bonus offers available from each of Connecticut's sportsbooks.
How We Identify and Rank the Best Connecticut Sportsbook Bonus Offers
Our team works directly with all three Connecticut sportsbooks to ensure our readers always get access to the best available promotions across the state. We have had three new offers already this May, two of which will run through the end of the NFL season.
When comparing bonus offers, it is important to keep in mind the terms attached to each promotion, the total available bonus, and any rollover requirements. After considering all of these factors, our team identifies and ranks the best available offers in Connecticut.
Types of Bonuses in Connecticut
There's no shortage of bonus offers in Connecticut. Sports betting sites are competing to become the top dog, and they offer all sorts of promotions to attract new players. Some sportsbooks offer deposit match bonuses, while others provide free bets or risk-free bet rewards.
Sure, it can get confusing. That's why we have put together this list of the different types of bonuses to help you find the best offer for you.
Welcome Bonuses. We like to start with the welcome bonuses because they're the most prominent and usually the largest. Most of the top sportsbooks offer some sort of welcome bonus, typically a deposit match or a bonus bet. Of course, these welcome bonuses change over time.
Deposit Match Bonus. These types of bonuses typically come out around the NFL season and offer a percentage match of your initial deposit, usually up to a certain amount. For example, DraftKings might offer a 100% deposit match up to $500 or more. This means that if you deposit $500, you will get another $500 in bonus money.
No-Deposit Bonus. One of the best bonuses out there is the no-deposit bonus. As the name suggests, you don't need to make a deposit to receive this type of bonus. You just create an account, and they will give you a certain amount of money — usually around $10 or $20 — to get started with sports betting. No-deposit bonuses are fairly rare, but when they do appear, they are usually worth taking advantage of.
Bonus Bets. Free bets are usually attached to welcome bonuses and promotional offers. They offer bettors the chance to make a free sports bet up to a certain amount, usually no more than a couple of hundred dollars. Often times they're offered in the form of a second chance bet or in FanDuel's case, a "No Sweat Bet." These are when you place a bet with your own money and lose, the sportsbook will credit your account with a bonus bet of the same value.
Reload Bonus. For existing customers, sportsbooks also offer various reload bonuses. These offers usually come out around major events like the Super Bowl and provide a percentage match of your next deposit, usually up to a certain amount. Reload bonuses are not as common as welcome bonuses but can be extremely lucrative for existing players. They're also typically not 100% like a deposit match bonus, but instead around 30% depending on the sportsbook operator.
Cashback Bonus. Cashback rewards are another great way to get some free money from sportsbooks. Most of the time, these rewards take the form of a rebate on your losses. For example, if you lose $50 on a bet, the sportsbook might give you back 10% or more in bonus funds. Cashback bonuses can be great for long-term bettors who place a lot of bets, as they can recoup some of their losses over time.
If there's one thing about sportsbooks, is that they're always coming up with new and exciting bonuses to give to new and existing sports bettors. These are just some of the most popular promotions that you'll find in Connecticut, but there are many more out there. So keep an eye out for new offers, and don't be afraid to shop around for the best deal.
Latest Offers and Promotions from Connecticut Sportsbooks
Offers change on a regular basis. Sometimes it's weekly; other times, it's monthly. Regardless, there are always new and exciting offers for Connecticut sports bettors.
To help you stay ahead of the game, we have rounded up the latest offers and promotions from Connecticut sportsbooks.
DraftKings Online Sportsbook in Connecticut
One of the biggest names in the industry, DraftKings Sportsbook has been a major player in the Connecticut sports betting market since launching its online platform. With this being said, it's no surprise that they offer some of the best offers and promotions around. Right now, DraftKings is offering $150 when you place a $5 bet and win that bet. It's almost like an odds boost but slightly different. What we love the most about it is that you don't need to deposit any extra money in order to get the bonus. Just a simple $5, and you can start your betting off with $155 if you're lucky and win.
BetMGM Sportsbook in Connecticut
Another online sportsbook in Connecticut that offers some great bonuses is BetMGM Sportsbook. Right now, they're offering up to $1000 for your first bet. That means you sign up for BetMGM, make a deposit, place a bet, and if that bet loses, BetMGM will give you up to $1000 of that bet back in the form of a bonus. It's a great way for new players to get into sports betting without putting too much of their own money on the line. You either win or you get the additional bet credits. It's like you can't lose!
FanDuel Online Sportsbook in Connecticut
FanDuel, like DraftKings, got its start in DFS. However, since then, they have also launched an online sportsbook. They offer some great bonuses and promotions as well, such as their "No Sweat Bet," where if you lose your first bet that is up to $1000, FanDuel will credit your account with a bonus bet of the same value. This is great for new players who may be hesitant to wager such a large amount on their first bet. With this offer, you can test the waters without worrying too much about your initial investment.

BetRivers Sportsbook in Connecticut
One of our favorite sportsbooks in Connecticut is BetRivers Sportsbook. Right now, BetRivers is offering a $500 second chance bet. This is a bonus bet that is a lot like the FanDuel "No Sweat Bet" offer. If you lose your first bet up to a value of $500, then BetRivers will credit your account with a bonus bet of the same amount. What we love the most about this offer is that BetRivers has the lowest rollover requirement out of all the sportsbooks in Connecticut. That's right, you only need to roll over your bonus bet 1x before it's yours to keep! So if you're looking for a great second chance offer, then BetRivers Sportsbook is definitely worth checking out.
How to Sign Up to Receive the DraftKings Bet $5, Get $150 Offer
The new DraftKings promo code offer includes a $150 bonus on your first $5 wager if your team wins and is our top-rated sportsbook promotion in Connecticut. Make your first $5 wager, and DraftKings will give you $150 in Bonus bets if your team wins. To ensure you receive this offer when you sign up this May, follow these steps carefully:
Sign up at DraftKings and be sure to use the promo code 150BV1 at registration.
Make your first deposit.
DraftKings will give you $150 in Bonus bets after you make a $5 bet if your team wins.
Note that bonus funds received through this promotion are not eligible to be withdrawn and must be used in the DraftKings app. While you may not immediately withdraw your bonus, anything you win with those funds is yours to keep.

How to Sign Up for the $500 Second Chance Bet Bonus from BetRivers
While BetRivers may not have the name recognition that the other two Connecticut sportsbooks enjoy, their top bonus offer for May is on par with the promotions at both FanDuel and DraftKings. New players that follow the steps listed below will receive a 2nd chance bet of up to $500.
Sign up at BetRivers Sportsbook, there is no promo code needed if you register using our link.
Make an initial deposit of at least $10. Keep in mind your bonus is equal to the amount you deposit.
Receive a Bonus bet if your first bet loses.
Anything you win using your bonus is yours and can be withdrawn immediately.

Tips for Using Your New Bonus Offer
With all of these great offers, it can be tempting to jump right in and start betting. However, if you want to get the most out of your bonus offer, there are a few things to keep in mind.
Max Out the Bonus
Our first tip for anyone just getting started is to make sure you max out the bonus. This means that if you're eligible for a $500 bonus, make sure you deposit at least $500 in order to get the maximum benefit. It's the same principle when an employer matches on a 401K. You don't want to leave money on the table. Since most deposit bonuses are a one-time offer, make sure you get the most out of it.
Take Advantage of Promotions
Most sportsbooks will have ongoing promotions that can easily be overlooked. Make sure to check out a book's Twitter and Facebook pages for any special offers or bonuses they are offering. It may not be as lucrative as the original signup bonus, but these promotions can help to increase your bottom line over the long run.
Start Small
All of these bonuses are a great way to get started without worrying too much about your initial investment. So take advantage of them and make sure you're comfortable with sports betting before taking on higher-risk bets. Of course, max out a second chance bet - you don't have anything to lose - but beyond that, only go in with what you are comfortable risking.
Don't Forget the Bonus!
We hear horror stories all the time about people forgetting to use their bonus at all. Don't forget that you have an offer; make sure to take full advantage of it before it expires. Once you sign up and forget the promo code, you'll be out of luck.
Connecticut Bonus Offers FAQ
After some frustrating false starts, sports betting was finally legalized in Connecticut about 9 months ago. Since the industry is still fairly new in Connecticut, folks are bound to have questions. The following FAQ section will help Connecticut sports bettors get the info they need to find the best bonuses!
How do I go about finding the best bonus offers in Connecticut?
If you live in Connecticut and bet on sports, make sure you are getting the best bonus offer available. An easy way to do that is to check our Best Connecticut Sportsbooks page frequently. Our team constantly talks with the managers at each sportsbook in Connecticut to make sure we are listing their top bonus offers.
What are the best bonus offers currently in Connecticut?
As for May, the best bonus offers in Connecticut come from FanDuel and DraftKings. Take advantage of both of these during the NFL season. Signing up for both of these books will give you a huge advantage!
Which Connecticut sportsbook has the best offer terms?
BetRivers has the most player-friendly bonus offer terms. They have an industry-low rollover requirement of only 1x. That means you have a better chance of actually getting to keep some of your bonus funds.
What is a rollover?
To keep players from immediately withdrawing their bonuses, all sportsbooks require a certain amount of rollover. This means that you have to play through your bonus funds a selected number of times before requesting a payout. BetRivers only requires you to play through their $500 bonus once!
Do sportsbook bonuses expire?
Yes, some bonuses do expire. This is especially true of Bonus Bets, which are typically only good for 7-14 days after being issued by the sportsbooks. Read over the terms and conditions of your bonus offer for further details.
What payment methods can I use on a Connecticut sports betting app?
While most sportsbooks differ in what types of cashier options they offer, almost all of them accept major credit/debit cards and some form of online banking. Others also accept PayPal and even Crypto.
Can I use two bonuses at once?
No, most sportsbooks only allow one bonus active at a time. Therefore, you should choose the bonus that fits your betting style and maximize it before signing up for another. Be sure to check any terms and conditions associated with each bonus before taking advantage of them.
How do I make sure I get the best value out of my bonus?
The best way to make sure you get the most value out of your bonus is to read through the terms and conditions carefully. Pay attention to rollover requirements, expiration dates, minimum bet amounts, and other restrictions that may apply. If you know what these are ahead of time then you can plan accordingly and get the most bang for your buck. Also, don't forget to max out a second chance bet - you never know what could happen!
Can I share a bonus code with friends?
Of course! Just like we get exclusive bonus codes for our readers, you can also share them with your friends and family.
What if I have a gambling problem?
If you or someone you know has a gambling problem, please reach out for help. The Connecticut Council on Problem Gambling (CCPG) is here to provide resources and support if needed. You can visit their website at ctproblemgambling.org or call the confidential gambling helpline at 1-800-346-6238.
Browse Offers in Other States
How do the sportsbook promotions available in Connecticut stack up to those across the country? Browse the best bonus offers for every state with legal sports betting below. We keep each of these pages updated daily to ensure bettors can always find the latest and greatest promotions available in their state.