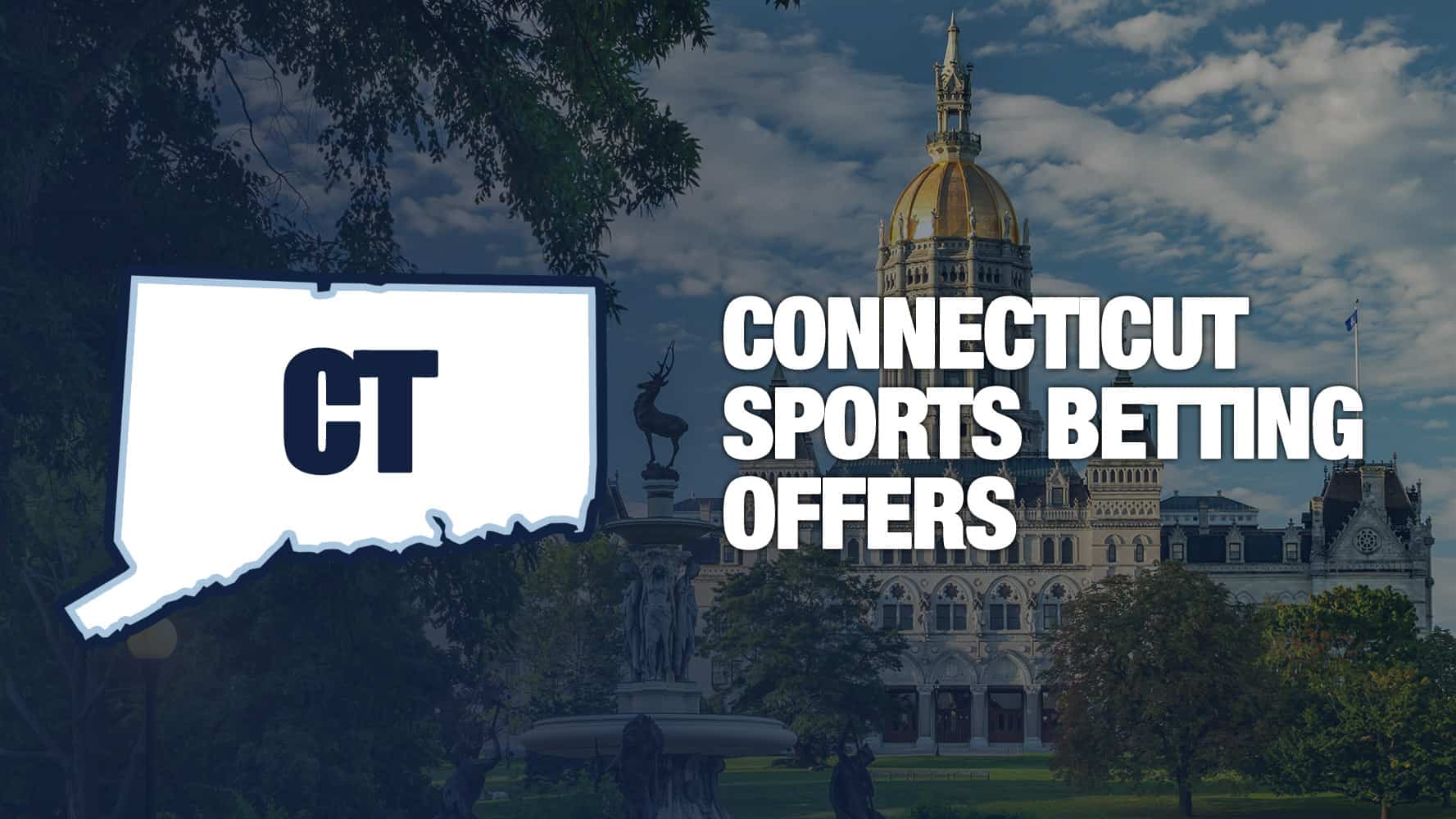 Sports betting is finally legal in Connecticut, and bettors have their choice between three of the industry's top sports betting apps for 2022. This includes the two largest sportsbooks in the US (FanDuel and DraftKings) and SugarHouse, who, as part of Rush Street Interactive, currently offers mobile sports betting in 13 US states.
The rankings below show the best bonus offers available from each of Connecticut's three sportsbooks.
How We Identify and Rank the Best Connecticut SportsBook Bonus Offers
Our team works directly with all three Connecticut sportsbooks to ensure our readers always get access to the best available promotions across the state. We have had three new offers already this June, two of which will run through the end of the 2022 NBA Finals.
When comparing bonus offers, it is important to keep in mind the terms attached to each promotion, the total available bonus, and any rollover requirements. After considering all of these factors, our team identifies and ranks the best available offers in Connecticut.
How to Sign Up to Receive the DraftKings $1,000 Deposit Bonus Offer
With a deposit bonus of up to $1,000, this current DraftKings promotion is one of the highest bonuses available from a Connecticut sportsbook., Unlike previous odds boost offers from DraftKings, this promotion only applies to the MLB season. To ensure you receive this offer when you sign up this June, follow these steps carefully:
Sign up at DraftKings and be sure to use the promo code 1000BV at registration.
Make your first deposit.
DraftKings will give you a 20% match of that first deposit that caps at $1,000.
Note that bonus funds received through this promotion are not eligible to be withdrawn and must be used in the DraftKings app. While you may not immediately withdraw your bonus, anything you win with those funds is yours to keep.
How to Receive Your $200 Bonus from FanDuel
The current Bet $5 to get $200 offer from FanDuel is one of the best total bonus promos available in Connecticut this June. With this offer, FanDuel will give you $200 in Free Bets just for making your first $5 bet on an NBA Finals game. Follow these steps to sign up for this exclusive offer:
Be sure to register from our FanDuel offer page to verify if the promotion is still available.
Make an initial deposit of at least $5.
Place any wager on an NBA Finals game using the FanDuel sportsbook app, which is available on Android and iOS.
Win or lose, you'll get $200 worth of Free Bets loaded into your account.
As with every sportsbook promotion, this offer has terms attached that you should be aware of. First, only new players registering with FanDuel for the first time are eligible for the bonus. You must be located in Connecticut (or another FanDuel betting state) at the time of registering and betting. Lastly, the bonus could take up to 72 hours to process once your bet closes.
How to Sign Up for the $250 Deposit Bonus from SugarHouse
While SugarHouse may not have the name recognition that the other two Connecticut sportsbooks enjoy, their top bonus offer for June is on par with the promotions at both FanDuel and DraftKings. New players that follow the steps listed below will receive a 100% deposit bonus, up to $250.
Sign up at SugarHouse, there is no promo code needed if you register using our link.
Make an initial deposit of at least $10, keep in mind your bonus is equal to the amount you deposit.
Receive a 100% bonus of up to $250, paid as site credit.
Anything you win using your bonus is yours and can be withdrawn immediately.

Types of Sports Betting Promotions Available in Connecticut
While the deposit match offer has remained a constant from SugarHouse, both FanDuel and DraftKings offer a wide variety of promotions. Their featured offers change week-to-week and oftentimes even on a daily basis. Each type of promotion comes with unique benefits and drawbacks that you should be aware of before registering. Here is a rundown of every type of promotion available at a CT sportsbook this June:
Deposit Bonus Offers
A deposit bonus is the most common type of sports betting promotion. These are typically paid out as a percentage of your total initial deposit. For instance, the current SugarHouse offer pays out a 100% deposit bonus, up to $250. The current DraftKings DFS deposit bonus pays out a 20% bonus that caps at $500.
The three things to look for with any deposit bonus offer are the percentage matched, bonus cap, and how/when you receive your funds. In the previous example, SugarHouse gives you your $250 bonus immediately but requires you to wager it once before withdrawing. DraftKings, on the other hand, will give you $4 of your bonus for every $100 you bet.
Risk-Free Bet Offers
Risk-free bet promotions are growing in popularity both with sportsbooks and bettors. These are relatively simple promotions that will refund your initial wager, up to a certain amount. FanDuel previously had a risk-free bet offer that would refund your first bet if it failed to cash, up to $1,000. With the current selection of Connecticut sportsbooks, the refund is paid as a site credit that must be used in the sports betting app.
Odds-Boost Offers
Odds-boosting offers have been, by far, the most popular type of sports betting promotion throughout the 2022 MLB season. Our top-rated offer for both FanDuel and DraftKings is currently an odds-boosting offer.
With these promotions, you will bet a certain amount to get an increased payout. FanDuel's odds boost offer will pay you $200 on any $5 NBA Finals wager, even if your team loses.
One important term to look for is how the bonus is paid out. For example, FanDuel's bonus offer pays out cash that you can use in the app or withdraw. DraftKings bonus offers are paid out in site credits that must be used in-app before they are eligible to be withdrawn.
Free Bet Offers
Free bet offers work similarly to risk-free bet offers. New players who sign up using a free bet promotion will receive a free bet for simply registering and placing any wager. There are times when a free bet requires you to place a bet and other times when sportsbooks will offer a free bet simply to register in Connecticut.
Connecticut Bonus Offers FAQ
After some frustrating false starts, sports betting was finally legalized in Connecticut about 9 months ago. Since the industry is still fairly new in Connecticut, folks are bound to have questions. The following FAQ section will help Connecticut sports bettors get the info they need to find the best bonuses!
How do I go about finding the best bonus offers in Connecticut?
If you live in Connecticut and bet on sports, make sure you are getting the best bonus offer available. An easy way to do that is to check our Best Connecticut Sportsbooks page frequently. Our team constantly talks with the managers at each sportsbook in Connecticut to make sure we are listing their top bonus offers.
What are the best bonus offers currently in Connecticut?
As for June, the best bonus offers in Connecticut come from FanDuel and DraftKings. Take advantage of both of these during the MLB season. Signing up at both of these books will give you $350 in Free Bets, which is a huge advantage!
Which Connecticut sportsbook has the best offer terms?
SugarHouse has the most player-friendly bonus offer terms. They have an industry-low rollover requirement of only 1x. That means you have a better chance of actually getting to keep some of your bonus funds.
What is a rollover?
To keep players from immediately withdrawing their bonuses, all sportsbooks require a certain amount of rollover. This means that you have to play through your bonus funds a selected number of times before requesting a payout. SugarHouse only requires you to play through their $250 bonus once!