Underdogs were 108-87-1 on the season prior to the week 14 slate but went 2-10 ATS and 0-12 straight up. Over bettors also saw a change in fortune last week as only 40% of overs cashed through the first 13 weeks but went 9-3 in week 14.
While we are not ready to jump ship on our love for the under, we do have two favorites in our picks for best bets from the NFL Week 15 slate.
Clearly, the biggest story around the NFL is the 37 positive COVID-19 tests and the effect that will have on this week's slate of games. As we saw last week, a COVID-19 outbreak will not only have a huge impact on the games themselves but on the odds throughout the week. The Lions opened as a touchdown underdog to the Broncos last week but were a double-digit underdog by kickoff, with 21 players reportedly having the flu and another 6 testing positive for COVID-19.
Keep an eye on the NFL's COVID-19 list, there are several websites that do a great job of tracking every addition to the list. It would be wise to hold off on betting until this weekend but if you are looking for a few games to jump on early, we have three best bet picks that are worth considering.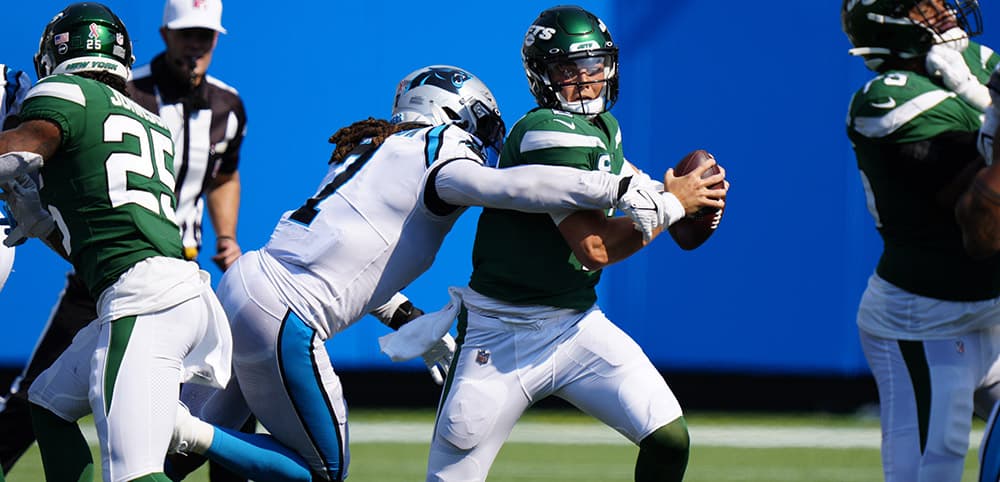 New York Jets at Miami Dolphins (-8.5)
We had the Dolphins circled when the look-ahead lines were published for the Week 15 slate and would recommend backing them all the way up to 11 points here. Unfortunately, the Dolphins are on COVID watch and could be without all three of their running backs on Sunday.
Even without their top-3 running backs, Miami should blow the Jets out this week. These two teams are heading in completely opposite directions at this point in the season.
The Dolphins have won 5 straight and have had the league's third-best scoring defense over that stretch.
The Jets have lost 5 of 6 and have the league's worst scoring defense, allowing 30.5 points per game.
Looking at the two team's ATS trends, the Dolphins have covered 5 of their last 6 as a home favorite. They are also 5-0-1 ATS in their last 6 overall. The Jets are 1-5 ATS in their last 6 games and are 1-4 ATS on the road this season.
The look-ahead line was set at 7 points last week, it opened at 8 points, and has jumped to as much as 9 points already. There is only one side to bet here and the number will continue to move away from the Dolphins so get in early.
Live Odds for Jets at Dolphins - NFL Week 15 Best Bets
Tennessee Titans (-1.5) at Pittsburgh Steelers
We mentioned in the intro that betting favorites has been a disaster this season, but should have been more specific. Betting home favorites has been a disaster, covering just 42% of the time.
That being said, backing Tennessee as a road favorite has been a losing effort as they are just 2-4 ATS over the last two seasons. We think that trend breaks this week as they face a Steelers team that is an absolute dumpster fire right now.
You wouldn't have expected to say this coming into the season, but the Steelers are a bottom-three defense in the NFL right now. They are 31st in scoring defense over the past month and 30th in total defense. Over that stretch, they have allowed 185 rushing yards per game and a 5.5 yard per carry average.
Meanwhile, the Titans, who are starting to get healthy, have allowed the league's second-fewest yards over that stretch. The offense has struggled over that stretch but did get Jeremy McNichols, Julio Jones, and guard Nate Davis back last week.
Pittsburgh has been miserable against the spread at home this season. They are 2-5 overall and 0-5 as a home favorite. While they aren't the favorite here, they are only getting 1.5 points. We would bet this one up to a field goal.
Live Odds for Titans at Steelers - NFL Week 15 Best Bets
Houston Texans at Jacksonville Jaguars Under 39.5
As we mentioned earlier, under bettors have crushed this season and there may not be two better under teams than the Texans and Jaguars. These two are a combined 7-19 over/under and if we look specifically at Houston in away games and Jacksonville at home, that number moves to 2-10 on the season.
The problem for sportsbooks is that they don't set totals too far below 40 points and these two teams combine to score just under 28 points per game. They couldn't set this number low enough.
Our primary concern heading into this one was that Lawrence would have his way with the Texans secondary but, following a four-interception performance last week, we think Urban Meyer will be more than happy to keep the ball on the ground in this one.
Give us the under in a game you couldn't pay us to watch. This number has actually moved towards us in the last 24 hours with FanDuel Sportsbook moving it from 39 to 39.5.
Live Odds for Texans at Jaguars - NFL Week 15 Best Bets