The dogs days of summer can be rough on hardcore football fans. Though it seems far away, the kickoff of the 2021 NFL season will happen in only three months. The good news is you don't have to wait until September to get your bets down for Week 1.
NFL point spreads for Week 1 have been up for quite a few weeks over at FanDuel. For avid sports investors, now is a great time to capture some value before the lines start moving quite a bit. Here is a link for you to check out the Week 1 lines as well as our four favorite bets.
Live Odds for Every NFL Week 1 Game
Live Odds from FanDuel SportsBook
| Away | Home | Total |
| --- | --- | --- |
| Cowboys (+7) | Bucs (-7) | 52 |
| Chargers (-1) | Washington (+1.5) | 45 |
| Eagles (+3.5) | Falcons (-3.5) | 48 |
| Steelers (+7) | Bills (-7) | 48 |
| Jets (+4.5) | Panthers (-4) | 43 |
| Jaguars (-3) | Texans (+3) | 46 |
| 49ers (-7.5) | Lions (+7.5) | 46 |
| Vikings (-3) | Bengals (+3.5) | 48 |
| Seahawks (-2.5) | Colts (+2.5) | 52 |
| Cardinals (+3) | Titans (-2.5) | 51.5 |
| Dolphins (+2.5) | Patriots (-1.5) | 45.5 |
| Broncos (-1.5) | Giants (+1.5) | 42.5 |
| Browns (+6) | Chiefs (-5.5) | 53 |
| Packers (-3) | Saints (+3) | 50.5 |
| Bears (+7) | Rams (-7) | 45 |
| Ravens (-4.5) | Raiders (+4.5) | 51 |
| Broncos (-1.5) | Giants (+1.5) | 42.5 |
Top Favorite: Kansas City Chiefs -5.5 over Cleveland Browns
Best Odds for Cleveland Browns at Kansas City Chiefs - NFL Week One
Get on this bad boy before it hits -7! Why in the world are the Chiefs favored by less than a touchdown at home? Arrowhead will be rocking and the Chiefs are going to be out for blood after losing the Super Bowl in an embarrassing fashion. Head coach Andy Reid won't have any trouble getting the Chiefs motivated this year!
The Browns improved dramatically in 2020 by posting an impressive record of 11-5. QB Baker Mayfield is learning to not force as many tight throws into coverage and that resulted in him throwing fewer picks last season. However, we still don't think the Browns are quite ready for primetime.
Chiefs QB Patrick Mahomes had another stellar season by throwing 38 touchdowns and only six interceptions. We expect a great Week 1 showing from Mahomes and his favorite targets like Tyreek Hill, Travis Kelce, and Mecole Hardman. Also, Clyde Edwards-Helaire will continue to improve and be an extra weapon for Mahomes out of the backfield. Chiefs will take this one by double-digits, 34-21.
Best Total: Arizona Cardinals / Tennessee Titans OVER 51.5
Best Odds for Arizona Cardinals at Tennessee Titans - NFL Week One
This is our favorite total on the Week 1 board. The Titans' offense surprised a lot of people in 2020 by averaging nearly 30 points per game (4th in the NFL). Derrick Henry continued to stiff-arm his way to another amazing season by putting up career highs in yards (2,027) and rushing touchdowns (17).
Titans QB Ryan Tannehill looked more comfortable in the pocket and burnt plenty of defenses deep by hooking up with WR A.J. Brown. Tannehill should have an even bigger 2021 season now that the Titans have acquired future Hall of Fame wideout Julio Jones!
Tennessee's defense was one of the worst in the league last year and that makes us love this Over bet even more! The Titans' defense ranked 24th in the league in 2020 by giving up 27 points per game. Though they have made a few off-season moves to address it, the Titans' secondary still won't be that great in 2021.
Kyler Murray and the Arizona Cardinals offense took another step forward in 2020. The Cards improved their record from 5-10-1 in 2019 to a respectable 8-8 last season. Murray threw 26 touchdowns in 2020 while running for 11 more scores.
The former Heisman winner shouldn't have any trouble putting up points on this horrendous Titans defense. Bringing in veteran WR A.J. Green to pair up with DeAndre Hopkins will also give Murray more dangerous options to throw to downfield. Also, be on the lookout for rookie Rondale Moore to make some noise in his first game. We see this game sailing way OVER the posted total, Titans 35 Cardinals 31.
Best Underdog: Seattle Seahawks (+2) over Indianapolis Colts
Best Odds for Seattle Seahawks at Indianapolis Colts - NFL Week One
Getting Russell Wilson as an underdog against a mediocre Colts squad seems too good to be true but we'll bite! We think the Hawks should be a slight favorite in this matchup, so there's a bit of value at this number.
New Colts QB Carson Wentz seems like a great guy, but we have lost faith in him as an NFL quarterback. Wentz looked awful with the Eagles in 2020 and threw 15 picks! His QBR was a putrid 49.6 which was almost the lowest of his entire career. The Colts also lose one of their best all-time receivers with T.Y. Hilton deciding to retire.
Seattle has plenty of issues to work out, but they still have one of the best quarterbacks in the business. Wilson may be 32-years old but he's showing no signs of slowing down after throwing a career-high 40 touchdowns in 2020. It's mind-boggling to think that Wilson did not receive a single MVP vote.
The Hawks also drafted a nice weapon by bringing in D'Wayne Eskridge to complement Tyler Lockett and DK Metcalf at receiver. Seattle's defense may continue to struggle at times this season, but we don't see the Colts' offense being able to exploit it too often. The moneyline may be worth a look here, Seahawks take this one outright, 28-24.
Los Angeles Chargers -1 over Washington Football Team
Best Odds for LA Chargers at Washington Football Team - NFL Week One
There should be plenty of value in this number as we expect it to be at Chargers -2.5 or -3 before kickoff. The Chargers are poised to have a breakout season while the Washington Football Team looks to be in disarray. We normally pass on West Coast teams traveling to the East Coast for an early kickoff, but there is too much value on the Chargers in this spot.
Chargers QB Justin Herbert was named the AP Offensive Rookie of the Year last season and deservedly so. Herbert showed a remarkably high maturity level for a rookie by tossing 31 touchdowns and only 10 interceptions. If the Chargers can improve a bit on defense, they could surprise a lot of folks and make the playoffs this year.
We love Ryan "The Beard" Fitzpatrick, but can he help this terrible Washington offense? The 2020 Washington offense ranked 25th in the NFL in points per game with an average of 21.1. Those numbers probably won't improve much in 2021.
Fitzpatrick is a great pickup but he's not a miracle worker. The Washington defense will continue to be tough, but we see Herbert finding the end zone on several occasions. Chargers cruise to a double-digit road victory in this one, 24-13.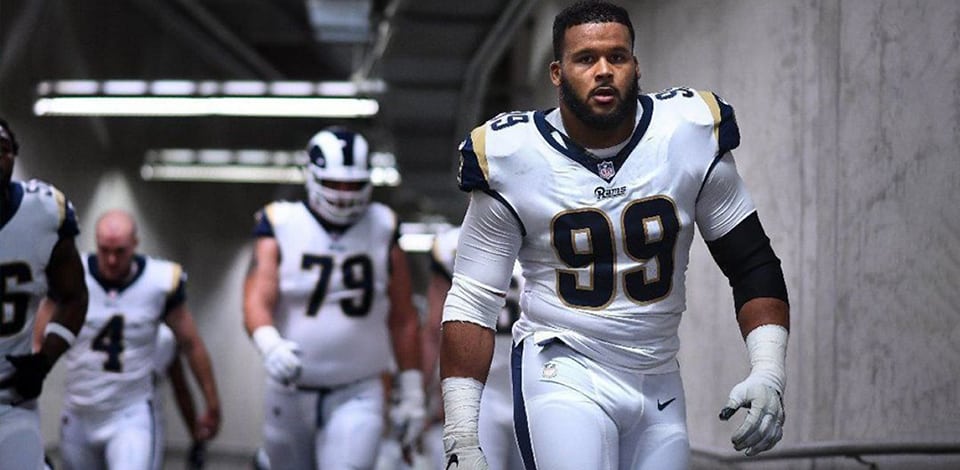 Bonus Week 1 Total Bet: Chicago Bears / LA Rams - UNDER 45
After some extra hours of judiciously studying the NFL Week One odds, we have to add this Under on the first Sunday Night Football game of the new season. There are several reasons to like the Under in this matchup.
Best Odds for Chicago Bears at LA Rams
1. Defense
Both of these teams have superior talent on the defensive side of the ball. The total of 45 is low but we see this game ending 21-17 so there's plenty of value on the under.
In 2020, the Rams ranked first in the league in pass defense (190.7 passing yards allowed per game). They also ranked third against the run (91.2 rushing yards allowed per game).
Chicago wasn't bad against the run either (15th in the NFL with 113.4 rushing yards allowed per game). Da Bears were also 12th in the league against the pass (231.6 yards passing allowed per game).
2. Lack of Offense
In 2020, both the Bears and the Rams struggled on the offensive side of the ball as they ranked 22nd and 23rd respectively. Sure, both offenses will be improved in 2021 because of new quarterbacks. However, keep in mind that this is Week One and it normally takes three or four games for new quarterbacks to hit their stride with a new offense.
New Rams QB Matthew Stafford is going to play very little this preseason, if at all. Stafford has a great arm, but there's no way he'll have all the rust knocked off in Week One.
The Bears starting QB situation is up in the air. Though all of Chicago is ready for the Justin Fields show, Matt Nagy swears that Andy Dalton will be the starter in Week One. Regardless of who the Bears put under center, Aaron Donald will be in the backfield wreaking havoc as he always does.
This one's a no-brainer! Put us down for a 1-unit bet on the UNDER 45 and let's root for a boring Sunday Night game! Best of luck!
Browse Latest Articles