The NFL Week 8 slate kicks off with a massive Thursday night showdown between the Green Bay Packers (6-1) and Arizona Cardinals (7-0). With only the Ravens and Raiders on bye, we have a 13-game Sunday schedule capped off with the Cowboys at the Vikings in prime time. The Giants will travel to Kansas City to square off with the struggling Chiefs for Monday Night Football.
In total, the Week 8 slate currently features six home underdogs and four double-digit spreads. I'll share my best bets from this slate including my pick for Thursday night and two AFC North teams worth backing.

Bet $1 on Thursday Night Football, Get $100 from PointsBet
PointsBet is offering all new players an instant $100 bonus with a $1 bet on any sport. Here is how the offer works:
1.   Register at PointsBet
2.   Use the promo code BVBB1
3.   Place a minimum $1 bet on any sport
4.   Get $100 in free bets
Live Odds for Packers at Cardinals - Week 8 TNF - 10/28/2021
Green Bay Packers @ Arizona Cardinals (-6)
We have a good Thursday night football game! The NFL has become notorious for poor play on Thursday Night Football, although the matchups have been slightly better in 2021 than in years past. Through seven games it appears that we have a matchup of the class of the NFC.
Before I get into my pick, let me give this preface about Arizona. I do not think they will go undefeated and win the 2021 Superbowl. I'm not a huge fan of Kliff Kingsbury and I think that Kyler Murray is still prone to making mistakes with the ball.
That being said, they have looked incredible through 7 games. The biggest surprise has probably been their pass defense. Losing an aging Patrick Peterson has proved to be to their advantage as the Cardinals are quietly the second-best passing defense in terms of expected points on passing plays. Much of this can be attributed to their pass rush which is rated fourth in the league in adjusted sack rate and are fifth in sacks, overall.
The Cardinals' defense is rated as the second-best both in defensive DVOA and in expected points against. This is paired with one of the best offensive units, on paper, in recent memory. Kyler Murray is second in the league in passer rating, moving the ball around to his receivers. AJ Green is finding a resurgence in this Cardinals offense and is competing with the likes of DeAndre Hopkins on snap percentage and targets. This is a scary unit to face right now, at home, and on short rest.
Ever since an embarrassing Week 1, the Green Bay Packers have been on a roll. Their defense has played great and the Aaron Rodgers to Davante Adams connection has been better than ever. However, in Week 8, Adams will be sidelined after testing positive for COVID-19. This line opened up at -3.5 and immediately jumped up to -6.
First and foremost, it's incredible to see a wide receiver, no matter the caliber, be solely responsible for a line move of such magnitude. Unfortunately for the Pack, their passing game begins and ends with Davante Adams. WR2 Allen Lazard was also placed on the COVID list, meaning that Rodgers will need to rely on Marquis Valdez-Scantling and Robert Tonyan a little too much for my liking.
The Packers' defense has been good in terms of points allowed on the season, but who have they played? Are we ready to crown the Packers' defense supreme after stopping the likes of the Lions, Steelers, Bears, or Washington? Not so fast. The Packers rank 24th in defensive DVOA and only 16th in expected points contributed by their defense.
I won't suggest that the Packers are a terrible defense, however, I do expect their points-allowed stats to start to catch up to their talent level. On a short week and missing their most important offensive piece (with respect to Lazard), I don't mind laying the points here with Arizona.
I'm playing the Cardinals -6 for 1u. I don't mind laying -6.5 but if this line moves through -7, I no longer would recommend it. Packers are playable at +7.5.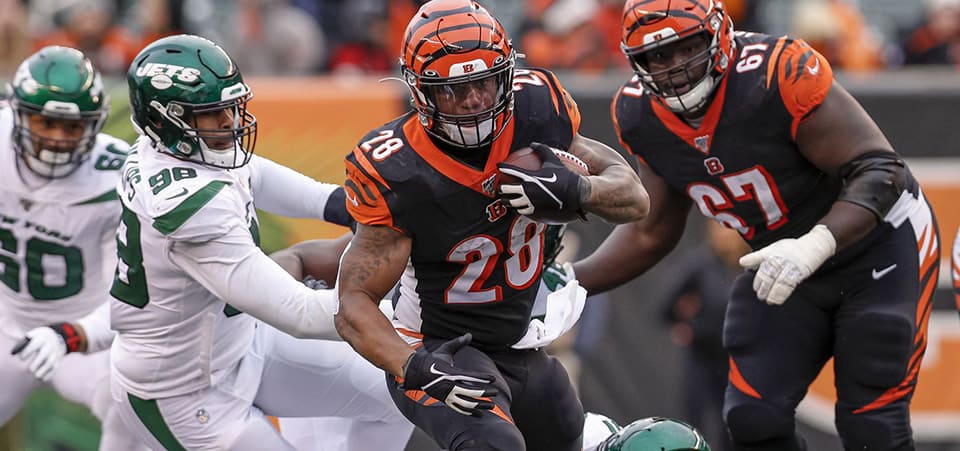 Best Bets From the NFL Week 8 Sunday Slate of Games
Here is a couple of other good lines that I don't think will stick through the week:
Live Odds for Steelers at Browns - NFL Week 8 - 10/31/2021
Pittsburgh Steelers at Cleveland Browns -3.5
The Browns offensive line is simply that good. They can run their 3rd string running back out there with ease, beating up on a decent Broncos run defense. I think a line as short as -3.5 implies that the sportsbooks expect Baker Mayfield to be out. The Browns run-heavy scheme will protect a competent, yet unspectacular Case Keenum.
If the Browns injury reports are positive and we see either Baker or Nick Chubb suit up, expect this line to move towards the Browns. If both of them remain out, I still think the books leave the hook. Nobody is rushing to bet on this Pittsburgh team. Their run defense is good, not great, and should put up a fight against Cleveland. However, their offense is just abysmal and cannot seem to get anything going when the ball isn't in the hands of Najee Harris.
Some touts might tell you there's "value" on the Steelers because you're getting the hook on the key number of three here. The numbers just don't add up. The Browns are more than four points better than the Steelers with or without their starting quarterback. Grab this number and hope for a good injury report. At the worst, we take a little more on our position at -3.
Live Odds for Bengals at Jets - NFL Week 8 - 10/31/2021
Cininnati Bengals -10 at New York Jets
Hold your breath Jets fans. This could get ugly. When you lose the worst quarterback in the NFL in terms of QBR and the NFL leader in turnovers, yet your offense gets WORSE, you're in big trouble. The Jets will put their trust in Joe Flacco if he's available, or Mike White.
The Bengals have been surprisingly good on defense in 2021 and the Joe Burrow to Jamarr Chase combination has been lethal. The Bengals could be in for an emotional letdown spot after a huge road win against the Ravens. This is also their 3rd straight road game before they turn home to face the Browns. If you're a subscriber to trends, this fits both a let-down spot AND a look-ahead spot.
Despite this, I think the Jets are simply just that bad. Normally I wouldn't want to be caught red-handed with a double-digit spread in the NFL. Shop around for a -9.5 and play through -10. Nobody is laying ten with the Jets folks. This line can only go one way. Bet it early.
Browse Latest Articles