Tennessee and Seattle could not have started their seasons on further ends of the NFL spectrum. While we won't know for another few months, it looks like Jon Robinson's decision to bring in Julio Jones while failing to truly address the pass rush and secondary may backfire.
Meanwhile, Russell Wilson looked flawless in his first game under new offensive coordinator Shane Waldron. Wilson went into Indianapolis and came out with a QB rating of 152.3 against a defense that surrendered an opponent QB rating of just 90.2 last season.
We will get into our breakdown and picks, but let's first take a look at where the spread and total for this game currently sit.
Live Odds for Titans at Seahawks
Playing in Seattle after looking like dog water, it is going to be tough for sportsbooks to take Tennessee at +4.5 this week, and we have already seen the majority of books move the line to +5.5. Even at +5.5, the majority of books have it juice at -105, begging bettors to take the Titans.
That being said, the Seattle secondary (at least on paper) is still a disaster, and if the Titans' offensive line can find a way to give Tannehill some time, he should be able to move the ball this week.
This game looks like it could set up as a shootout, and we have seen the total move from 49 to 54 at most sportsbooks. If you are looking to get action on the over, FanDuel still had it at 53.5 at time of publishing. They were also are one of the only books to still have Seattle listed at -4.5, while BetRivers has the lowest juice on Tennessee at +5.5. Here is a look at where the odds currently sit for this matchup:
Best Odds for Seattle Seahawks vs Tennessee Titans - 9/19/2021
Shop Live Odds for Every NFL Game

Place a $20 NFL Week 2 Bet and Get $200 Free from PointsBet
PointsBet is offering new players that register this week a $200 bonus just for placing any $20 NFL or College Football wager. Follow these easy steps to lock in your bonus:
1. Register at PointsBet
2. Use the promo code BVFBMULTI1
3. Place any $20 bet
4. Get $200 in free bets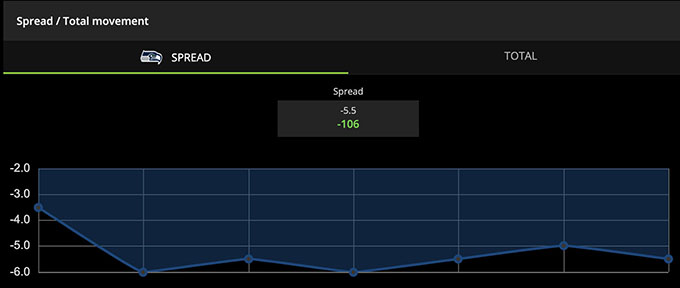 Seahawks Impressive in Week 1 Win at Indianapolis
Russell Wilson is back! The Seattle QB is known to be a strong starter and once again the Seahawks left no doubts that they will be one of the top teams in the NFC. Wilson has completed 18/23 of his pass attempts for 254 total yards, three touchdowns, and of course, zero turnovers. The future Hall of Famer averaged 11 yards per pass attempt and completed four 20+ yard passes.
The receiving core also performed at a high level despite D.K. Metcalf not being 100% healthy after showing up on the injury report on Friday with a questionable tag. Metcalf still found the end zone and had 60+ yards as the #2 WR on the squad.
Tyler Lockett was, once again, Russel Wilson's favorite target in Week 1. Lockett scored two touchdowns and racked up 100 yards on 4 receptions, giving him a league-leading 158 receiver rating. The Seattle receiver group averaged a whopping 14.1 yards per reception and reached first downs on 67% of their receptions.
The ground game was similarly impressive, averaging 5.2 yards per carry. Chris Carson was once again the man with 91 yards on 16 total carries. The 26-year-old racked up an impressive 71 yards after contact.
While we knew that the Seattle offense will be a top unit, the team's defense also performed very well in Week 1. While it is only a one-game sample size, it is nice to see the team improving on their 2020 defensive stats across the board. Seattle only allowed 6.6 yards per pass attempt (compared to 7.1 last year), 10.0 yards per reception (versus 10.7 in 2020), and 3.8 yards per carry after allowing 3.9 yards per carry last year.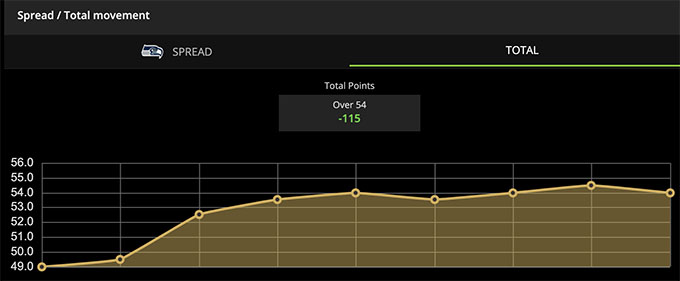 Can the Titans Rebound from Week 1 Disaster?
While the Seahawks were shining in Week 1, the Titans couldn't really put anything together against Arizona. Tennesse only put up 13 points in 60 minutes as every important player on its offense was disappointing.
Tannehill completed 21 of 35 passes for a total of 212 yards, while he only had one touchdown pass to go with one interception and two fumbles. He had a 61% completion rate and his average depth of target was just 6.1 yards. Many expected regression from Tannehill and the Titans offense as a whole and while we are not quick to judge, this really could end up being a down year for the veteran QB.
The receiving core was supposed to be a strong 1-2 punch headlined by newly acquired Julio Jones and A.J. Brown, but it was completely shut down by the opposing defense. The Tennessee receiving core combined for just 9.9 yards per reception after averaging 12.1 yards last year. Brown only had 49 yards on 8 targets, while Jones had 29 yards on 6 targets. The Titans lost Arthur Smith, their offensive coordinator in the offseason and first-year OC Todd Downing couldn't put things together in Week 1.
Things weren't going well on the defensive end either. Tennesse allowed an average depth of target of 9 yards and gave up 13.8 yards per reception. The Titans lost the ground battle as well in Week 1, but they got outgained by a whopping 2.90 net yards per passing play.
Our Pick for Colts at Seahawks: Seahawks -4.5
The pre-season look-ahead line for this contest was Seattle –3.5. We are currently asked to lay an additional point, but the spread is not crossing any key numbers. At anywhere under a touchdown, we will go with the Seahawks. Based on Week 1, regression really seemed to hit this aging Tennessee core and adding a 32-year-old Julio Jones might not be the answer they were looking for. Derrick Henry might also be human after all and Seattle is still a top five run defense. Go with Seattle and lay the points!
Browse Latest Articles