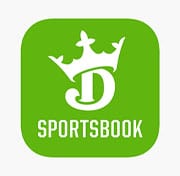 Bet $1, Win $100
Get 100-to-1 Odds on a $1 Bet Tonight!
Hawks coach Nate McMillan coached an almost perfect game Wednesday night when Atlanta upset Milwaukee 116-113 behind a 48-point Trae Young performance. Young was unstoppable and the Bucks didn't make enough adjustments mid-game, but does Atlanta have enough firepower to continue upsetting Milwaukee? Let's find out!
Use the live odds below to shop odds for game 2 from every US sportsbook to find the best spread and lowest juice for every bet available in this game.
Best Odds for Atlanta Hawks at Milwaukee Bucks - 6/25/2021
Atlanta at Milwaukee – Pick: Milwaukee –7.5
Milwaukee started game one with traditional drop coverage, but Young barely missed any shots with Brook Lopez trying to guard him. Trae is not always this clutch when it comes to his floater game, but on Wednesday night he was unbeatable.
The Bucks simply failed to capitalize on Lopez's size on the offensive end and defensively he was a huge liability. Just like Jeff Teague, who only played six minutes guarding Trae Young, but it was the biggest mismatch you can imagine on a basketball court.
Meanwhile, the Bucks have been struggling to hit a shot. Milwaukee had the higher quality looks and especially Middleton was taking wide-open threes mostly, but the sharpshooter just didn't hit them. Middleton finished the game shooting 6/23 going 0 for 9 from three-point range.
Looking forward this makes us pretty confident in the Bucks as we are talking about a wing that is shooting 40% from downtown through his career. If he was just average in game 1, the Bucks easily would be up 1-0.
Lineup Adjustments
In the fourth quarter of game one, Bucks coach Mike Budenholzer started benching Lopez and playing Giannis in the center position. We believe that the Holiday-Connaughton-Middleton-Tucker-Giannis lineup will work through the series.
In game one they were great on both ends of the floor, but rebounding suffered slightly with Lopez off the floor. Ultimately, the Hawks ended up outrebounding Milwaukee 51-45. The Bucks are grading third in defensive rebounding percentage in the league and we are expecting them to get through the early rebounding woes.
On the Atlanta side, coach McMillan will need to figure out something to plug the holes that result from Bogdan Bogdanovic's knees being shot. Bogdanovic managed to play 27 minutes, but he was just 1 of 6 from the field and he was a non-factor on the defensive end.
We would fully expect the Bucks to exploit him being unable to move in game two, just like they did the same against James Harden (who is nursing a hamstring injury and had similarly limited mobility) in the Brooklyn series.
McMillan might get help from Cam Reddish, who is now available after missing four months with right Achilles soreness. The sophomore shooting guard has been out since February, but before going down with injury he averaged 11 points and 4 rebounds in 29 minutes per game. With Bogdanovic hurting and De'Andre Hunter not being available for the series, we would expect Reddish's minutes to quickly become meaningful.
The Future is Bright for the Bucks
Going into the series we expected the Bucks to dominate the paint getting easy looks and while the results weren't spectacular, the shot selection from Milwaukee has been optimal. The Bucks put up 39% of all their shots within four feet of the rim. Their field goal percentage was not as spectacular as we are used to, but this is the way to beat this Hawks team that lacks big bodies.
On the other end, 46% of Atlanta's shots came from midrange jumpers. While the Hawks have been hitting 53.5% of these including 66.7% of their long midrange shots, both of those marks are well above their averages (43.4% & 44.2%) and we can expect regression.
We are also expecting the luck to turn for Milwaukee. The Bucks have been shooting 37.5% from three-point range through the entire season up to this point, while in game one they have only made 8 out of 36 attempts from downtown (22.2%).
Bucking Forward!
It is clear that Brook Lopez shouldn't play 20+ minutes per game in this series and that Jeff Teague cannot share the floor with Trae Young. Milwaukee still has underutilized weapons in Pat Connaughton and Bryn Forbes and we are expecting to see more of those guys in game two.
Two-time MVP Giannis Antetokounmpo finished game one with 34 points, 12 rebounds, and 9 assists. As long as he is similarly effective going forward and we are getting the minor changes in the rotation we are expecting, the Bucks should be able to turn this series around.
We are going back to the well and laying the points will Milwaukee. The Bucks have been sticking to a smart game plan in game one, but their shots were simply not falling. We've already seen in the Brooklyn series that while coach Budenholzer isn't the greatest at adjusting mid-game, he is delivering great changes between games.
We are expecting Milwaukee not just to win game two, but to cover the spread as well. Lay the points!
Browse Latest Articles