If there is one Week 1 matchup where there are a lot of questions around both teams, it is the Eagles-Falcons derby, without a doubt. Both sides have new head coaches, offensive coordinators, and defensive coordinators as well, plus a handful of significant offseason roster moves behind them.
Professional bettors tend to lean towards the dogs when there are so many unknowns in a given matchup and at this point, the Eagles really look like the side to back in this one.

Bet $10 On Eagles at Falcons and Get $250 Free at TwinSpires
TwinSpires is offering an instant $250 bonus to new users that place any $10 NFL bet. Here is how to take advantage of this offer:
Use the promo code SIGNUP250
Place any $10 NFL bet
Get $250 in free bets
Current Odds for Eagles vs Falcons
As with any NFL bet, it is crucial to shop live odds before putting any money on either the Eagles or Falcons in this one. The odds below show the best available line on each side of the week one Eagles at Falcons game, with the lowest juice displayed if multiple books offer the same odds.
You can shop odds for every game using our free NFL odds checker. Odds are updated in real-time and can be filtered to only show sportsbooks available in your state.
Best Odds for Philadelphia Eagles at Atlanta Falcons - 9/12/2021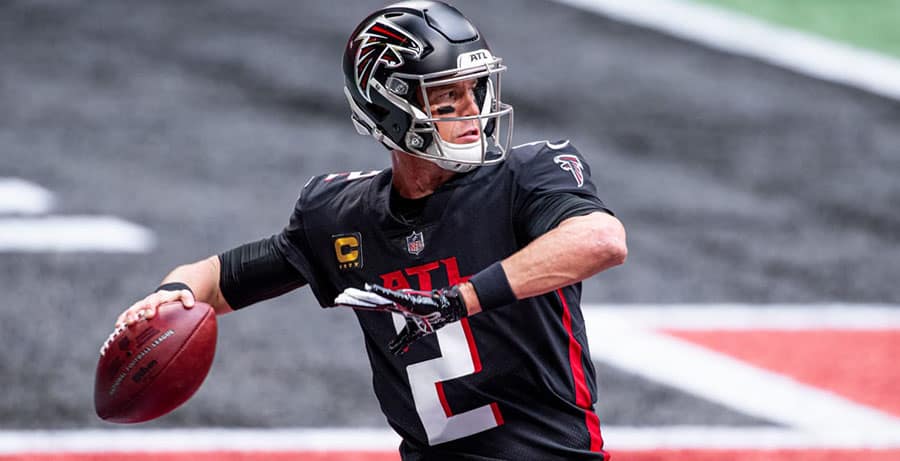 What to Expect From Falcons in Week 1
The Falcons decided to go with Arthur Smith as their new head coach. Smith did spend his past two seasons as the offensive coordinator of the Tennessee Titans, but this will be his first head coaching job. The Titans were flourishing under Smith and managed to score the second-most touchdowns, while only trailing Kansas City in yards per play.
Smith will be joined by offensive coordinator Dave Rangone - who already worked with him in Tennessee -, and defensive coordinator Dean Pees who originally retired from the NFL back in 2019. Pees has a stellar record as a DC as he commanded eight defenses that were top ten in a season, but he won't have too much to work with in Atlanta.
The Falcons were unlucky in 2020, underperforming their Pythagorean record of 7.5 wins by 3.5 victories. The DVOA model of Football Outsiders also estimated that the team should have won around 7 games, yet Atlanta finished the season 4-12.
The biggest culprit was the non-existent pass defense. The Falcons gave up the third-most completions, the most passing yards (4697), and the most 20+ yard passes (66) through the 2020 season. Sadly, besides the hiring of the new coordinators, the team didn't really address the lack of talent on the defensive end of the ball.
On the offensive end, superstar WR Julio Jones left the team and we are left with a receiving core of Calvin Ridley, Russel Gage, and Kyle Pitts. While Pitts – who was the #4 pick in this year's draft and is one of the most promising young tight ends in the league – is a great story, he will likely need time to get used to the speed of the game at the professional level.
We also have doubts about Russel Gage as a #2 option behind Ridley, who will have to single-handedly carry this team on most days, especially as Atlanta's rushing attack also seems severely lacking. Things could get better later in the season, especially if Matt Ryan can stay healthy, but we wouldn't expect this squad to be ready for Week 1.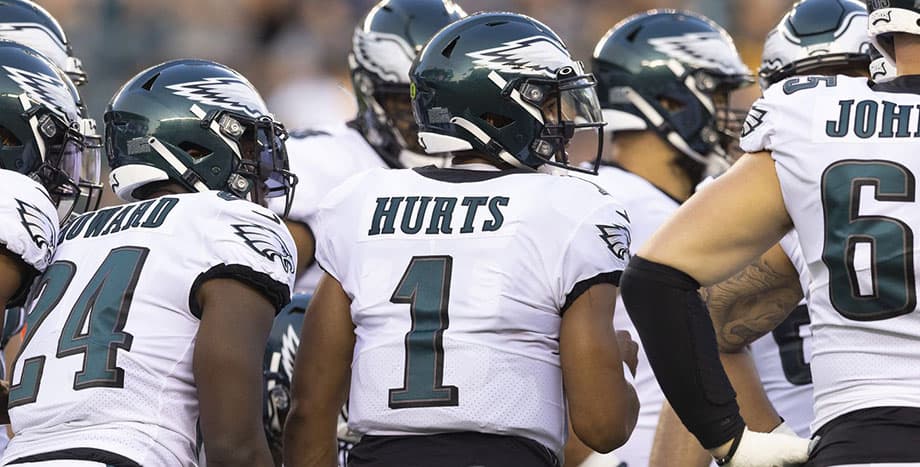 What to Expect from Eagles in Week 1
Philadelphia will be coached by Nick Sirianni, former OC under Frank Reich in Indianapolis (and San Diego). The team also added Shane Steichen as an offensive coordinator. Steichen is known for his role in the development of 2020 rookie of the year Justin Herbert and should be able to help QB Jalen Hurts immensely.
We don't know a lot about the passing game of Hurts, but with multiple rushing records on a collegiate level, we know that he has got legs. Even if Hurts's arm won't hold up at a big-league level, he should be able to run the ball and do it efficiently against a Falcons team that doesn't have the personnel to slow him down.
Hurts will be helped by a borderline top 10 offensive line, RB Miles Sanders, and a receiving core that is headlined by DeVonta Smith, Jalen Reagor, and tight end duo Dallas Goedert & Zach Ertz. Most importantly though, Philadelphia is on a completely different level defensively than Atlanta.
Our Pick: Eagles Moneyline (+165)
Give us the Philadelphia Eagles on the money line! The Eagles are finally fully healthy (which wasn't the case in multiple seasons) and we like their new coaching staff that should be able to unlock the potential of the 23-year-old Hurts. Atlanta's offense looks slightly below average and the team lacks any kind of talent on the defensive side. In a game with so many questions, we have to back the ugly road dog.
We found this bet at +165 at BetMGM, but it was listed at +155 at most US sportsbooks. Yet another good example of how it pays to shop every NFL bet to ensure you are getting the best possible payout.
Browse Latest Articles