The start of the 2021 NFL Season may still be four months away, but bettors can find plenty of action throughout the weekend with the top sportsbooks in the industry having odds available throughout rounds 2 - 7.
Given the way round one played out, with the majority of teams focusing on areas of need vs best player available, we love the team's next pick odds on FanDuel. There are three teams picking in the top 10 of round three with glaring needs, and obvious players available that will fit those needs.
New York Jets - Cornerback (+170)
The Jets have plenty of needs, and could address the interior offensive line here, but corner is clearly the weakest spot on this roster and you could argue is one of the weakest position groups in the NFL.
The Jets current projected starting corners had an average coverage grade of 49.2 last year according to PFF. Easily the worst in the NFL. Asante Samuel will be on the board when they pick and he represents their last opportunity to address the position in this year's draft. At +170, you are getting solid value here given the obvious need at the position.
Detroit Lions - Wide Receiver (-125)
While it's hard to love these odds, particularly given the Lions desire to find kneecap biters in this draft, Detroit has to address the wide receiver position in round two. If you look at the available receivers in this year's class it's Elijah Moore, Terrace Marshall, Rondale Moore, and then a massive drop off to players like Dyami Brown, Josh Palmer, Nico Collins, and Anthony Schultz.
We think worst case scenario for Detroit is that Marshall and Rondale Moore are still on the board, but there is a chance that if the Broncos don't grab him at 39, Elijah Moore falls to them at 41. That would be an instant pick-is-in situation for the Lions.
New York Giants - Offensive Lineman (+125)
The obvious areas of need for the Giants heading into this draft were edge rushers and interior offensive linemen. With two viable right tackles on the board, there should be no doubt Landon Dickerson falls to them at 42.
Dickerson would give the Giants flexibility as he can play center or guard, and would give them an instant replacement for Kevin Zeitler, who signed with the Ravens this offseason. If the injury history is a concern, Creed Humphrey is another IOL that can play either guard or center that will be available when the Giants pick tonight.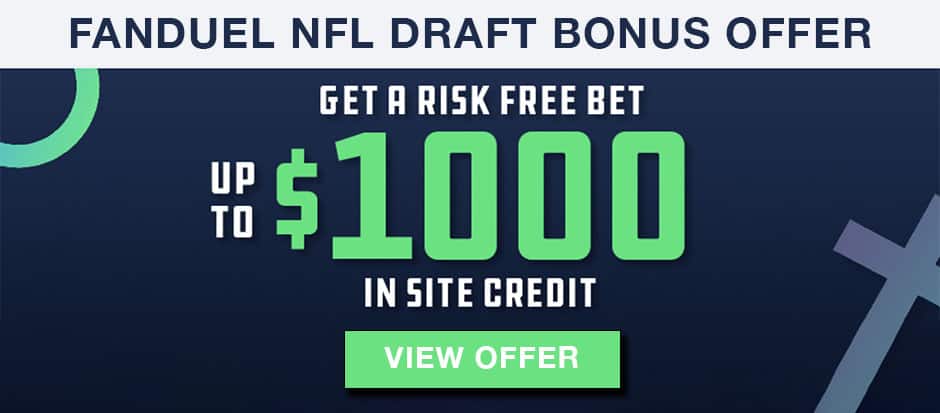 Best Long Odds Bets Available for Day Two
One of the most entertaining bets available on FanDuel is the exact order QB/RB/WR wager. This bet offers odds on combinations of the following players.
QB: Davis Mills, Kyle Trask, Kellen Mond
RB: Javonte William, Michael Carter, Kenneth Gainwell, Trey Sermon
WR: Elijah Moore, Terrace Marshall, Rondale Moore, Dyami Brown
Mond/Williams/Moore (+500)
If you put Javonte Williams and Elijah Moore in pen as the next RB/WR combo off the board, the clear bet to make is Mond/William/Moore at +500. Rarely do QB's taken outside of the first round work out, but when they do it is typically a guy that can move. Mond rand for over 1,600 yards and 22 touchdowns at Texas A&M, while Mills and Trask combined to run for less than 150 yards in their careers.
Trask/Williams/Marshall (+1000)
We don't see any situation where Javonte Williams is not the next RB off the board. So, if you see Trask as the clear best QB available, this bet should peak your interest.
Both Moores are inside receivers, which means if the next team selecting a WR needs an outside receiver, Marshall is likely to be their guy. According to PFF, Trask is the best available QB, Williams is the best available RB, and Marshall is the 6th best available player (just two slots behind Elijah Moore). At +1000 odds, a $10 bet pays out $100.
Browse Latest Articles