Week 10's Monday Night Football looks strong on paper with the 3-5 San Francisco 49ers hosting the 7-2 Los Angeles Rams. Both teams are coming off losses, but both have a lot to look forward to.
The 49ers are almost fully healthy for the first time this year and with a strong late-season run they can easily grab a Wild Card spot given how soft and open the NFC is. As for the Rams, they are only one game behind Arizona for the division crown and they could easily overtake Arizona here if they end up pulling off this win.
NFC West leading Arizona has the 5th most difficult remaining schedule in the league and there is a decent shot that Kyler Murray is forced to miss at least one, but likely two more games. This could bode well for both of these teams, especially the winner of this Monday night matchup.

Bet $1 on Monday Night Football, Get $100 Free at PointsBet
PointsBet is offering all new players an instant $100 bonus with a $1 spread bet on any sport. Follow these steps to lock in $100 free on your first wager:
Register at PointsBet
Use the promo code BVBB1
Place a minimum $1 bet on any sport
Get $100 in free bets
Live Odds for Los Angeles Rams at San Francisco 49ers - 11/15/2021
What to Watch for From the Rams on Monday Night
The Rams had everything going for them in their Week 9 matchup against the Tennessee Titans, who were playing their fourth straight game as huge underdogs, but LA fell short behind Matthew Stafford's first clunker in a Rams uniform. Stafford only completed 43% of his passes and had a -0.39 EPA per pass. He threw no touchdowns, but had two interceptions and was sacked five times.
Still, looking at the big picture, this Rams offense is one to fear. LA ranks 2nd in offensive DVOA only trailing the defending champion Tampa Bay Buccaneers. Sean McVay's boys are also 4th in defensive DVOA making them easily a top-five team in football. LA's 7-2 record seems decent, but projection models estimate them to 8.5 expected wins, meaning that we still could have an underachiever on our hand.
Stafford has been playing well through the season with an 8.5-yard average depth of target and a 68% completion rate. He is throwing for first downs on 42% of his successful passes and the much-praised receiving core headlined by the likely offensive player of the year Cooper Kupp and Robert Woods also excel week in and week out. The Rams receivers are averaging 12.6 yards per reception (up from 10.6 yards from last year) reaching first downs at a whopping 62% rate after successful receptions.
Besides the giant upgrade in QB and the offensive improvements, we also have to note that this Rams defense has been rock solid through the first nine weeks of the season. LA is only allowing a 7-yard average depth of target and just 10.3-yards per successful reception.
The run game also complements the passing game solidly with both Darrel Henderson and Sony Michel doing a nice job when McVay decides to use them in his schemes.
What to Watch for From the 49ers on Monday Night
As for San Francisco, you also have to give them praise also, despite their pedestrian record, their underlying numbers are all solid. The 49ers stand at 3-5, but Football Outsiders estimates their record to 5.2-2.8, meaning that this squad was simply getting unlucky so far.
The 49ers only have one key offensive injury in right tackle Mike McGlinchey, who tore his quad last week, but things are looking up for San Francisco as their schedule gets a bit lighter.
Offensively, Jimmy G has made a small leap this year, but most of the credit goes to the receiving core of Deebo Samuel - Brandon Aiyuk and George Kittle. With their help, San Francisco is averaging 1.3 yards more per reception and a full percent higher first down rate than last season.
Best Bet for Monday Night: Rams (-)
Still, we have to go with the LA Rams to win and cover this one. Our model agrees with the market line with a slight lean towards the favorite at this point, but San Francisco's 17th-ranked defense gives us pause heading into this matchup, especially with Stafford & the Rams coming off such an embarrassing loss. Lay the points!
As for the total, we would also lean towards the over at 49. Both of these offenses are fully healthy and have been underperforming based on their underlying metrics. We think this could turn into a shootout, with the Rams covering and a final score of 29 to 25.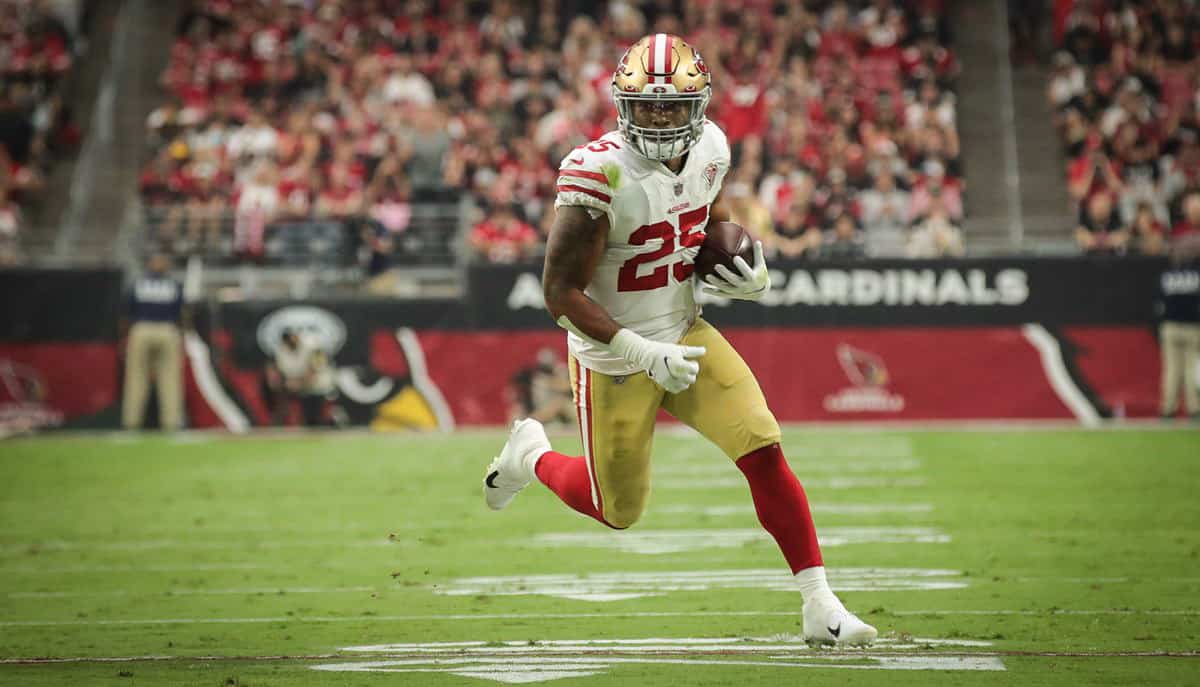 Best Player Prop Bet for Monday Night - Rams at 49ers
Monday Night Football features two of the league's top 8 passing attacks over the past month in what could turn into an NFC West shootout. So naturally, we are looking to the rushing attacks on both sides for our player prop best bets.
Elijah Mitchell - Over 64.5 Rushing Yards
This pick clearly comes with a decent amount of risk. Mitchell has been boom or bust this season, finishing either 20 yards under this number or 40 yards over it in every start. He is also nursing a rib injury but was able to register an LP in the Rams' first practice this week.
That being said, we think Shannahan comes out extremely run-heavy on Monday night and won't hesitate to give Mitchell 20+ carries. Facing an explosive Rams offense, the 49ers would be wise to play ball control and keep their struggling defense off the field for long stretches.
San Francisco ran the ball 37 times in the first meeting against the Rams last season and then 33 times in the second meeting. Mitchell is clearly the only back Shannahan trusts right now, and if they call another 30+ runs here we think he sees 20+ carries and given his season average of 5.4 YPC, he should easily go over his rushing total prop.
Darrell Henderson - Under 78.5 Rushing Yards
This feels like a bit of a trap number from Vegas. Henderson is averaging 70 rushing YPG on the season, and San Francisco has been the league's second-worst run defense over the past month, giving up over 160 rushing YPG.
However, Henderson has seen his snap share drop to 60% each of the last two weeks, with Sony Michel stealing 16 carries over that stretch. Clearly, Henderson is the more talented back, but given his injury history and role in this offense, we think this is a calculated move by McVay to keep Henderson healthy.
It is also worth noting that, as bad as San Francisco has been against the run, they have been equally bad against the pass. They are bottom-10 in the NFL in passer rating allowed at 101.9 and that number has jumped to just under 107 over the past month. If Stafford is shredding this secondary through the air, there may be no need to overwork Henderson here.
If he ends up with 12-15 carries on Monday Night it likely will not be enough volume to cross his 78.5 rushing prop total. This is simply a spot where we love the player, love the matchup, but hate the number.
Browse Latest Articles